11 Stunning Kurta Sets to Grab from Amazon Great Republic Day Sale 2023
Looking for a stunning ethnic set for your wardrobe? Shop for these beautiful kurta-and-dupatta sets on Amazon's Great Republic Day Sale at affordable prices.
Updated on Feb 01, 2023 | 09:08 AM IST | 120.5K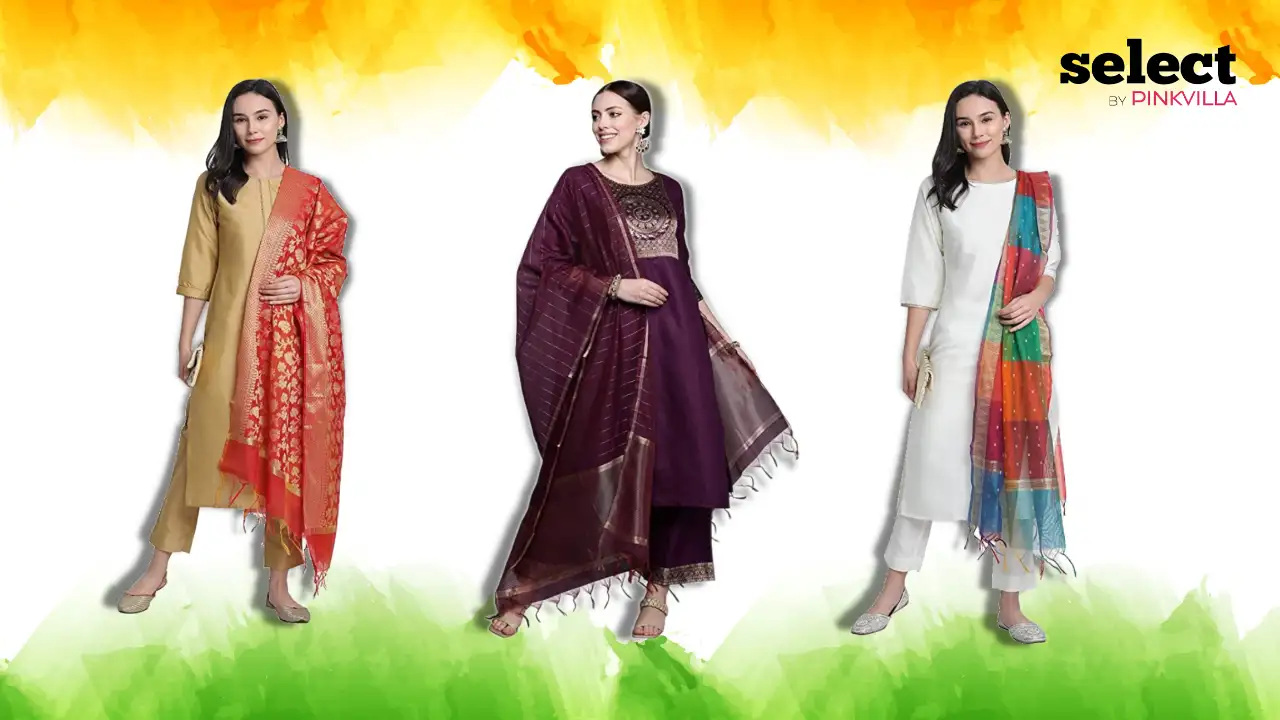 Kurta sets are an essential must-have for every Indian wardrobe. They are extremely versatile and suitable for numerous occasions such as formal events, casual brunches with friends, religious ceremonies, festivals, etc. When made with comfortable materials such as cotton and viscose rayon, these outfits are luxuriously comfortable and breathable to wear. What makes kurta sets special is that even if you go for a relatively minimalistic style, the unique silhouettes, tie-ups, and drapes make your outfit stand out without much effort. To reap these benefits, you can avail of the best kurta sets at affordable prices from Amazon's Great Republic Day Sale. Keep scrolling to see our product recommendations.
11 Chic Ethnic Sets Worth Buying from Amazon Great Republic Day Sale 2023
1. INDO ERA Straight Kurta-palazzo with Dupatta Set
Crafted with weaves of silken golden threads on a rich purple canvas, this stunning dupatta set by INDO ERA looks perfect for festive occasions. The outfit is made with a cotton blend material that provides softness and breathability, as well as a firm shape. While the kurta has an intricate embroidered design at the neckline, sleeves, and border, the dupatta has a minimalistic wave design that complements the kurta.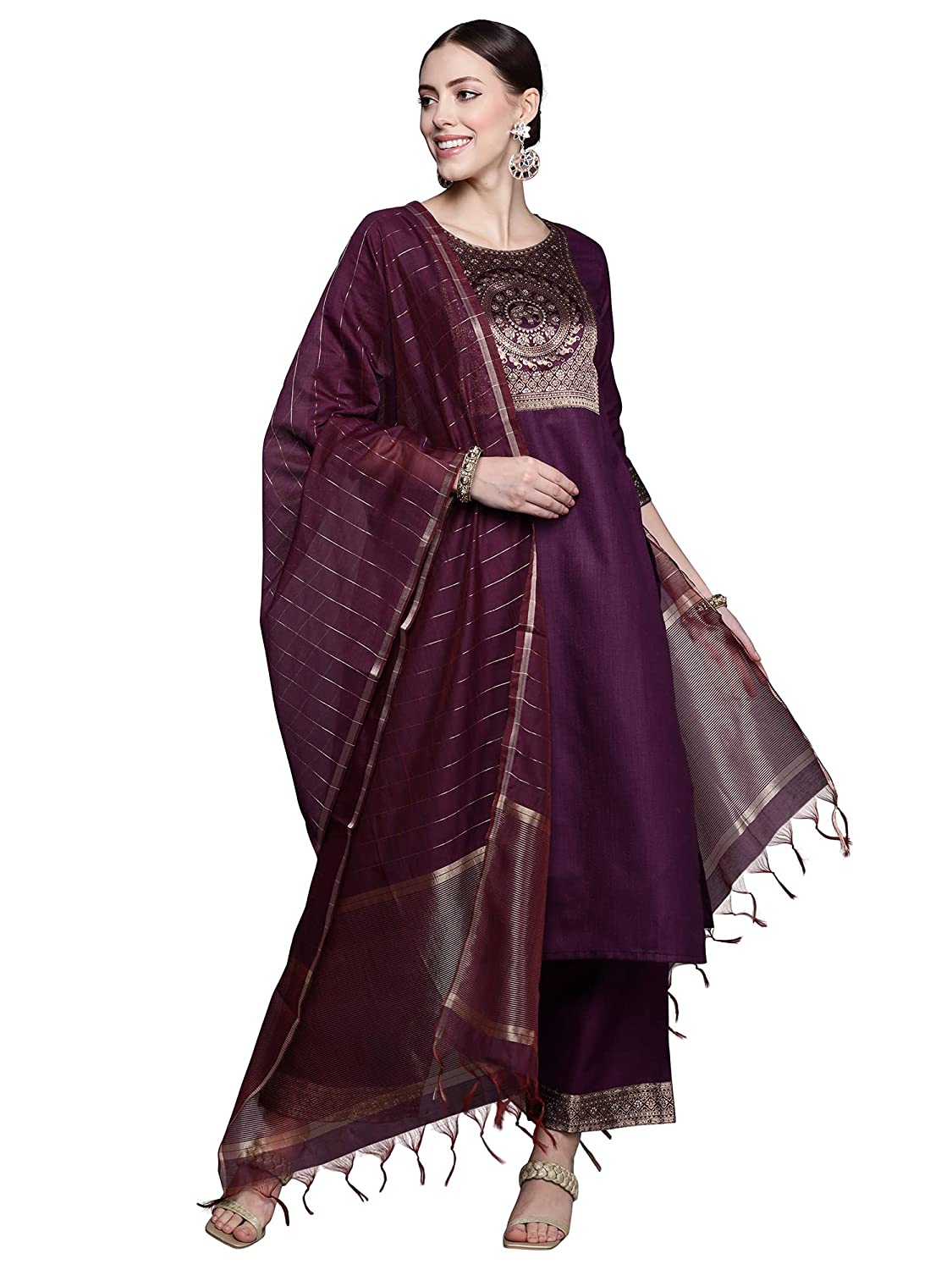 Original Price : Rs. 3,999
Offer Price : Rs. 849
(as of 14/1/2023 10:30 IST)
2. GoSriKi Printed Straight Kurta and Dupatta Set - Sky Bird-GO
This dupatta set by GoSriKi comes with a pair of trousers and a sheer dupatta. With an attractively soothing contrast of light blue and white, the kurta and trousers have an intricate print of symmetrical floral motifs. These patterns are neutralized by the solid-colored dupatta for a balanced aesthetic. Also, the straight silhouette and sweetheart neckline of the kurta looks good on most body types. The cotton-blend kurta is soft and comfortable — perfect to wear on a casual day.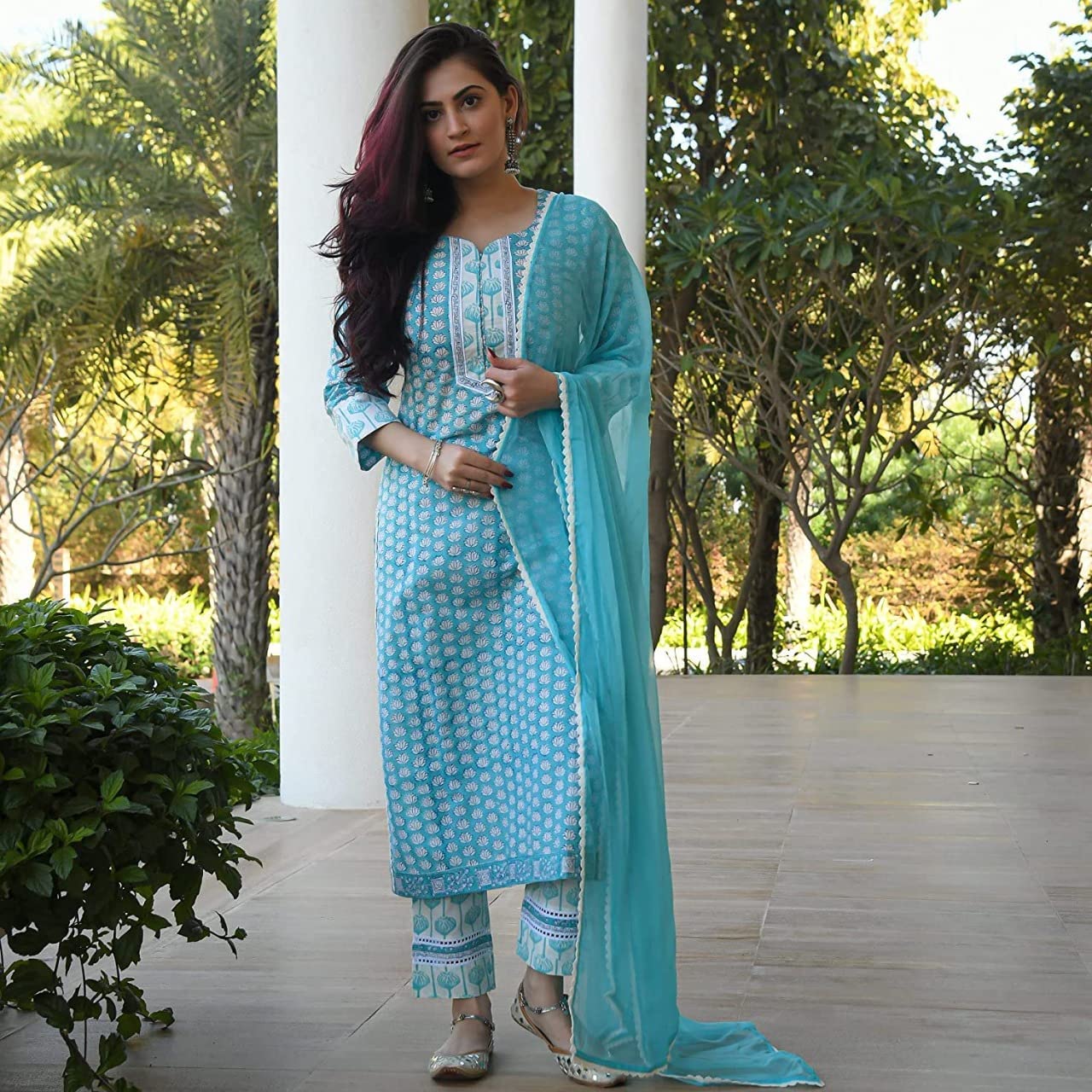 Original Price : Rs. 2,599
Offer Price : Rs. 629
(as of 14/1/2023 10:30 IST)
3. Khushal K Flared Kurta-palazzo And Dupatta Set
The stunning black and gold contrast of this dupatta set by Khushal K makes it perfect for most ethnic occasions. The kurta has a comfortable, body-hugging design that enhances your natural curves and gives a gorgeous silhouette. Its borders are intricately designed with traditional motifs that are contrasted by the subtle design of the dupatta. Despite its rich look, you can rock this outfit at an affordable price by buying it from Amazon's Great Republic Day Sale.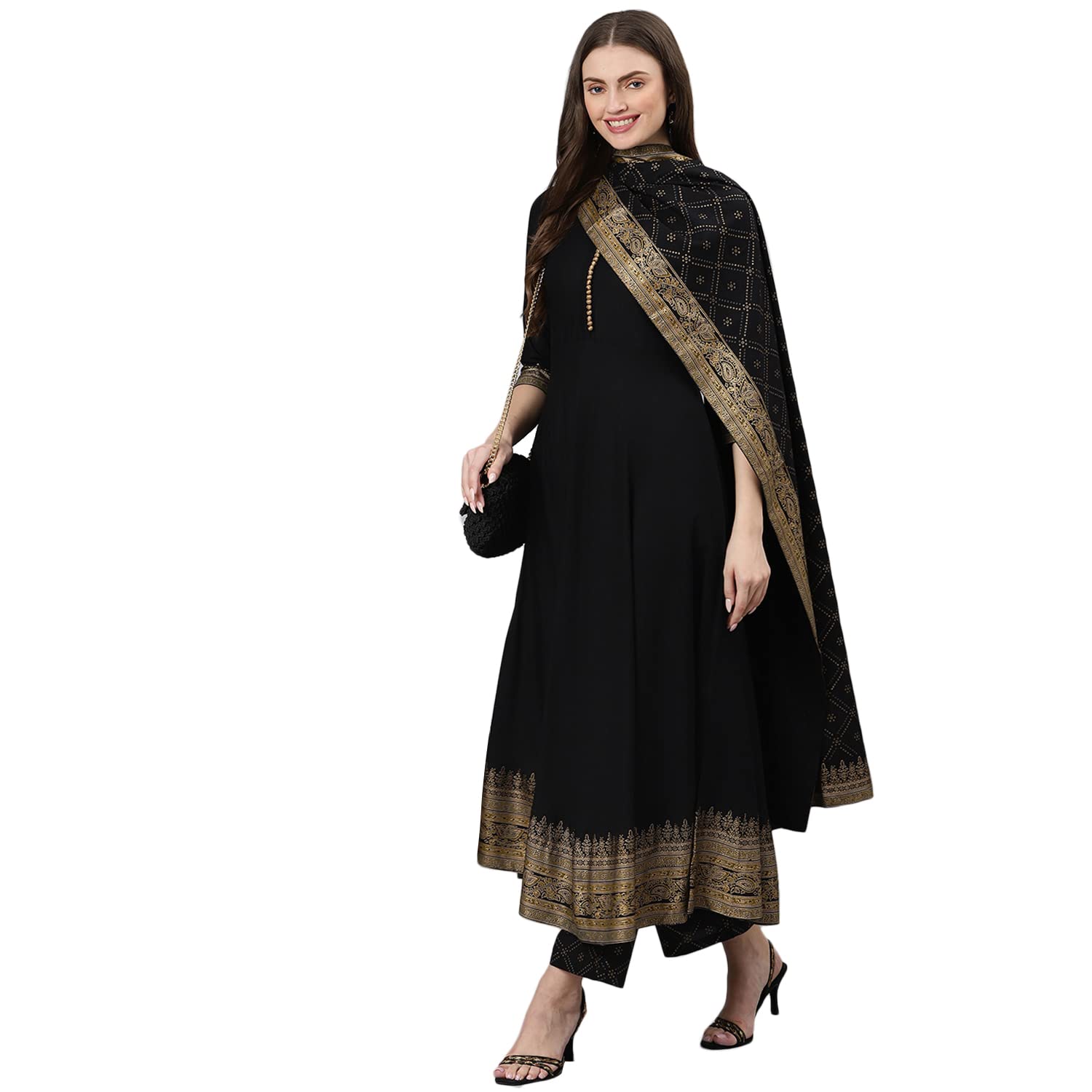 Original Price : Rs. 5,099
Offer Price : Rs. 1,426
(as of 14/1/2023 10:30 IST)
4. Janasya Off-white Straight Kurta Dupatta Set
Made with lustrous artificial silk, this kurta dupatta set by Janasya is an ideal outfit choice for formal and festive occasions, like Republic day. The outfit consists of a silky, pure white kurta with a bateau neck — spruced with embroidered golden borders. While the pants are made in the same fashion as the kurta, the multi-colored, sheer dupatta makes a stunning contrast on the white canvas. The outfit has the perfect look to make a wardrobe must-have.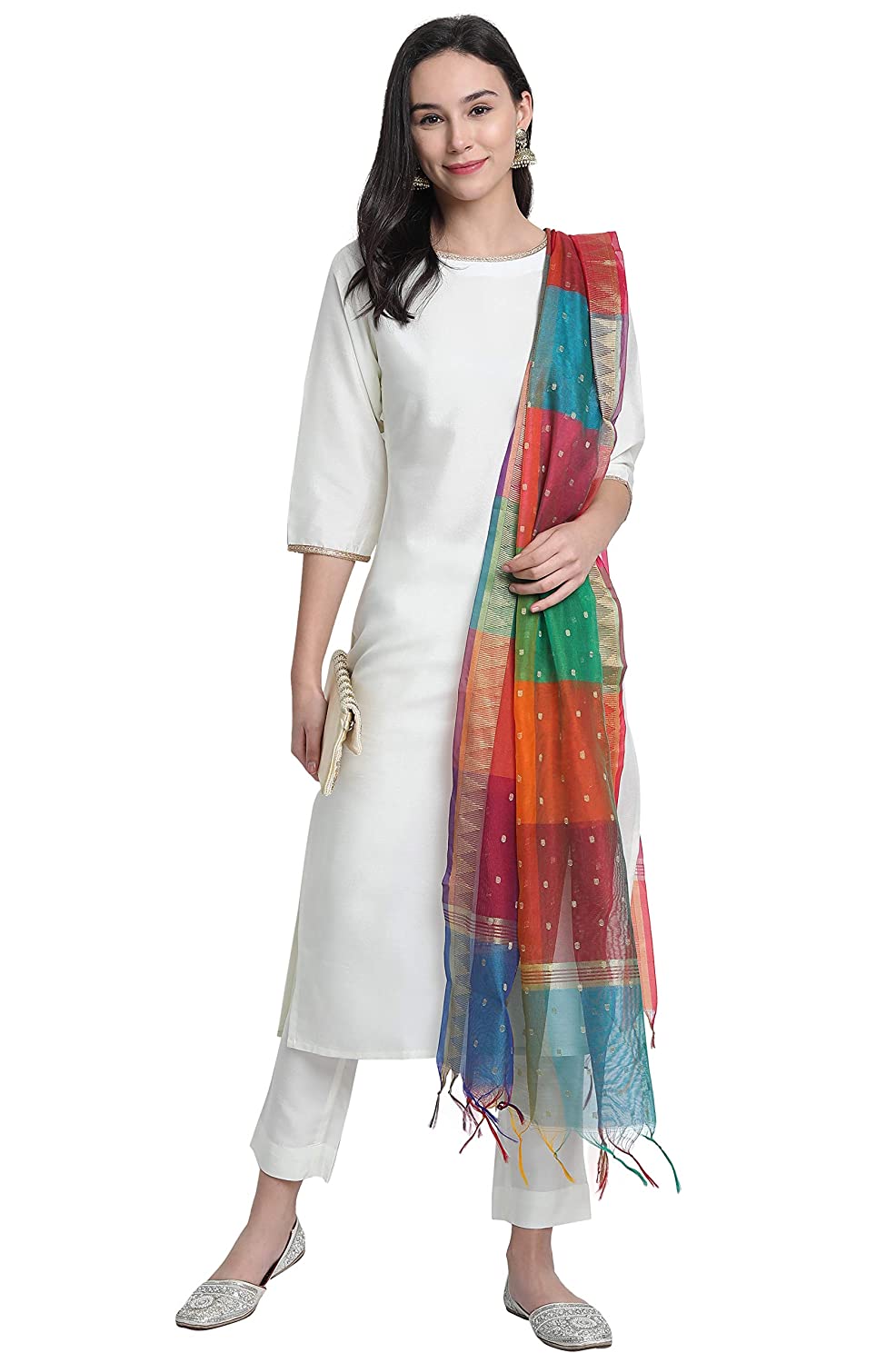 Original Price : Rs. 2,499
Offer Price : Rs. 839
(as of 14/1/2023 10:30 IST)
5. GoSriKi Printed Bandhani Palazzo Set
For more traditional occasions, this playful kurta and dupatta set by GoSriKi is an incredible outfit choice. The kurta has a beautiful, flowy Anarkali silhouette that drapes upon a pair of loose-fitted palazzos, for a gorgeous, layered attire. Its vibrant orange color is enhanced by the Bandhani prints and analogized by an off-white dupatta drape for a pretty ethnic look.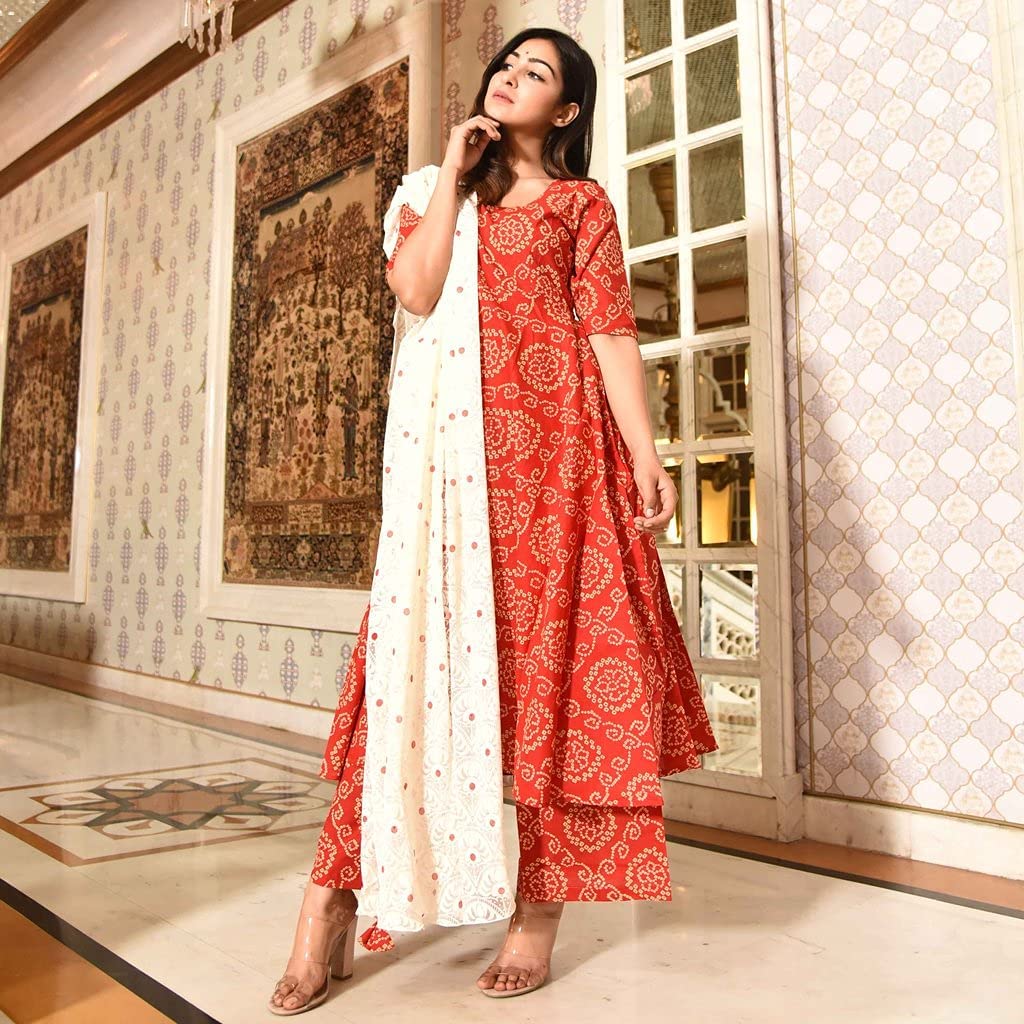 Original Price : Rs. 2,599
Offer Price : Rs. 619
(as of 14/1/2023 10:30 IST)
6. Stylum Flared Kurta And Dupatta Set
With a monotone red color trend adorned with subtle golden prints, this kurta set by Stylum gets its minimalistically exquisite charm. The outfit has a bateau neck with three-quarter sleeves and a pleated flared bottom — a body-hugging silhouette that enhances one's natural curves. Its back has two rows of tassel strings, which gives it a playful aesthetic. The kurta gets its cross-body drape with a lightly printed dupatta — both made with breathable rayon fabric for long-lasting comfort.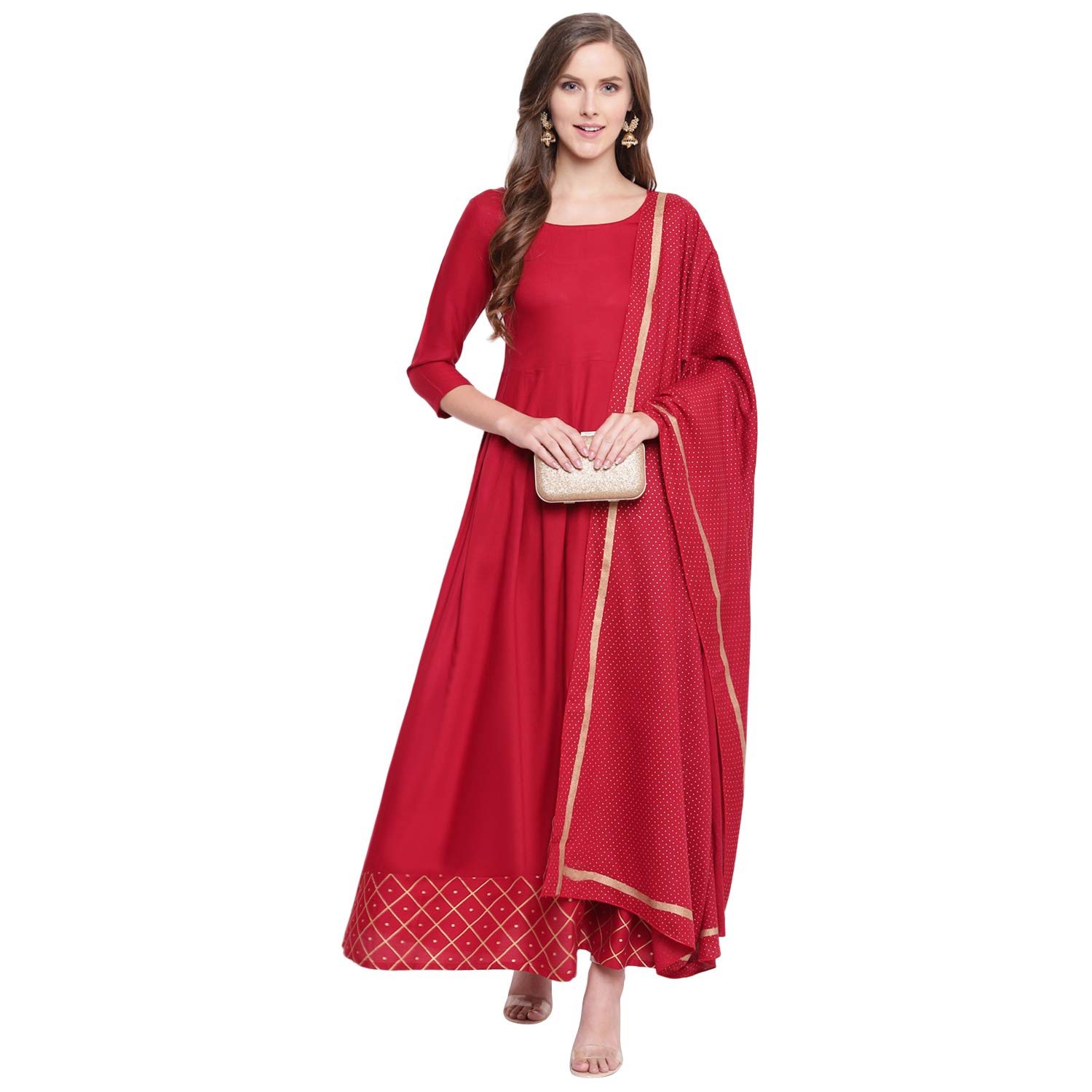 Original Price : Rs. 2,500
Offer Price : Rs. 749
(as of 14/1/2023 10:30 IST)
7. Janasya Straight Kurta And Dupatta Set
This poly-silk kurta by Janasya comes with a shiny dupatta drape for a glamorous ethnic look. Despite the minimalist, solid, cream-colored design of the kurta and trousers, it has a sophisticated luster to them. The embroidered red dupatta has dazzling golden threads woven into it, giving it a beautiful floral theme. With this combination, the outfit gives you an incandescent look that makes you stand out.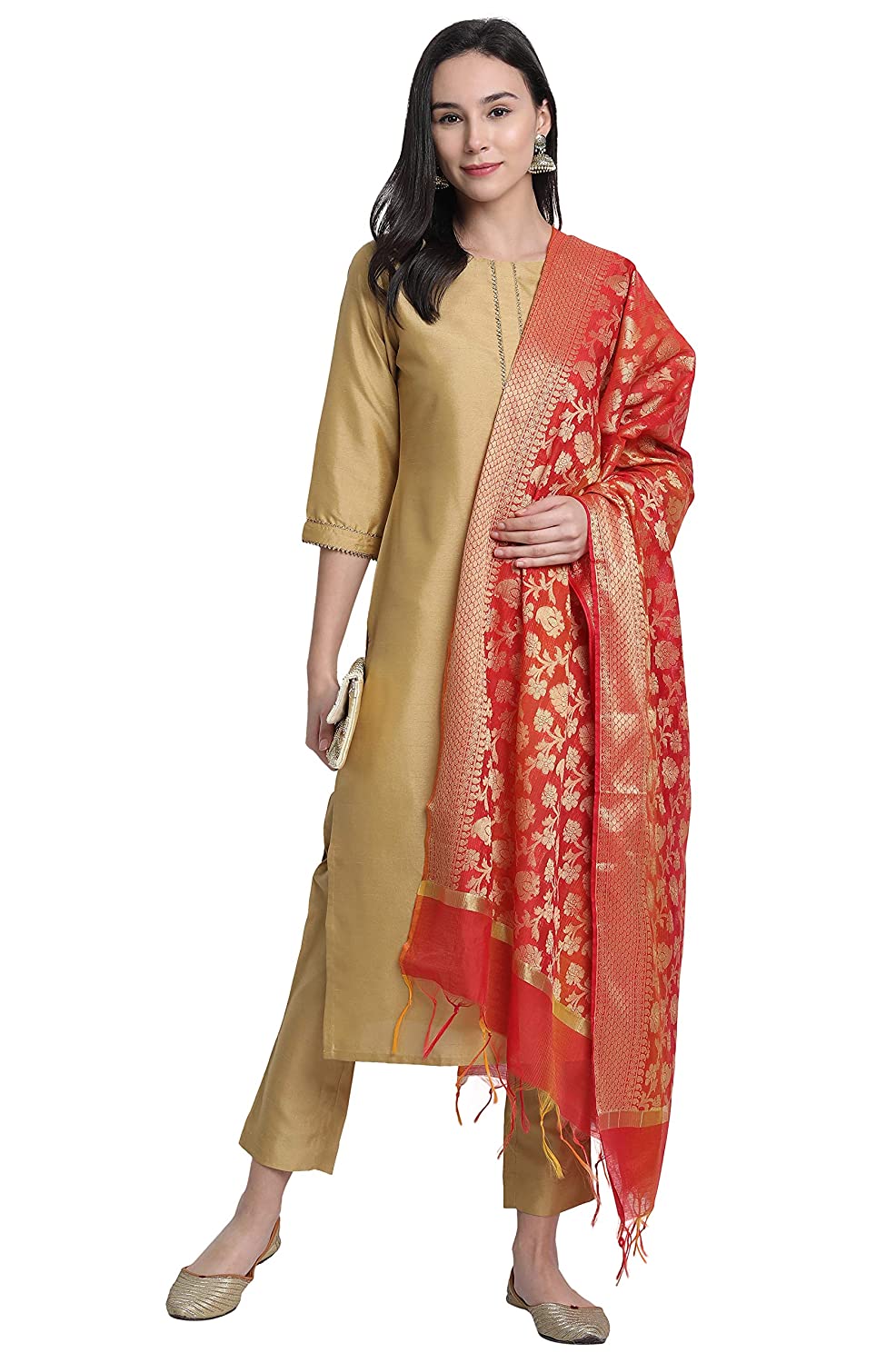 Original Price : Rs. 2,799
Offer Price : Rs. 999
(as of 14/1/2023 10:30 IST)
8. Yash Gallery Plus Size Anarkali Kurta
This Anarkali kurta by Yash Gallery has a chic angarkha design with three-quarter sleeves and a flowy bottom, for an exquisite traditional silhouette. The tassels as well as the tactile borders have an intricate ajrakh print that stands out against the minimalistic black canvas of the kurta — for a sophisticated attire. This outfit is made with a breathable rayon fabric that keeps you comfortable, and its discounted availability on the Great Republic Day Sale 2023 keeps your pocket comfortable too.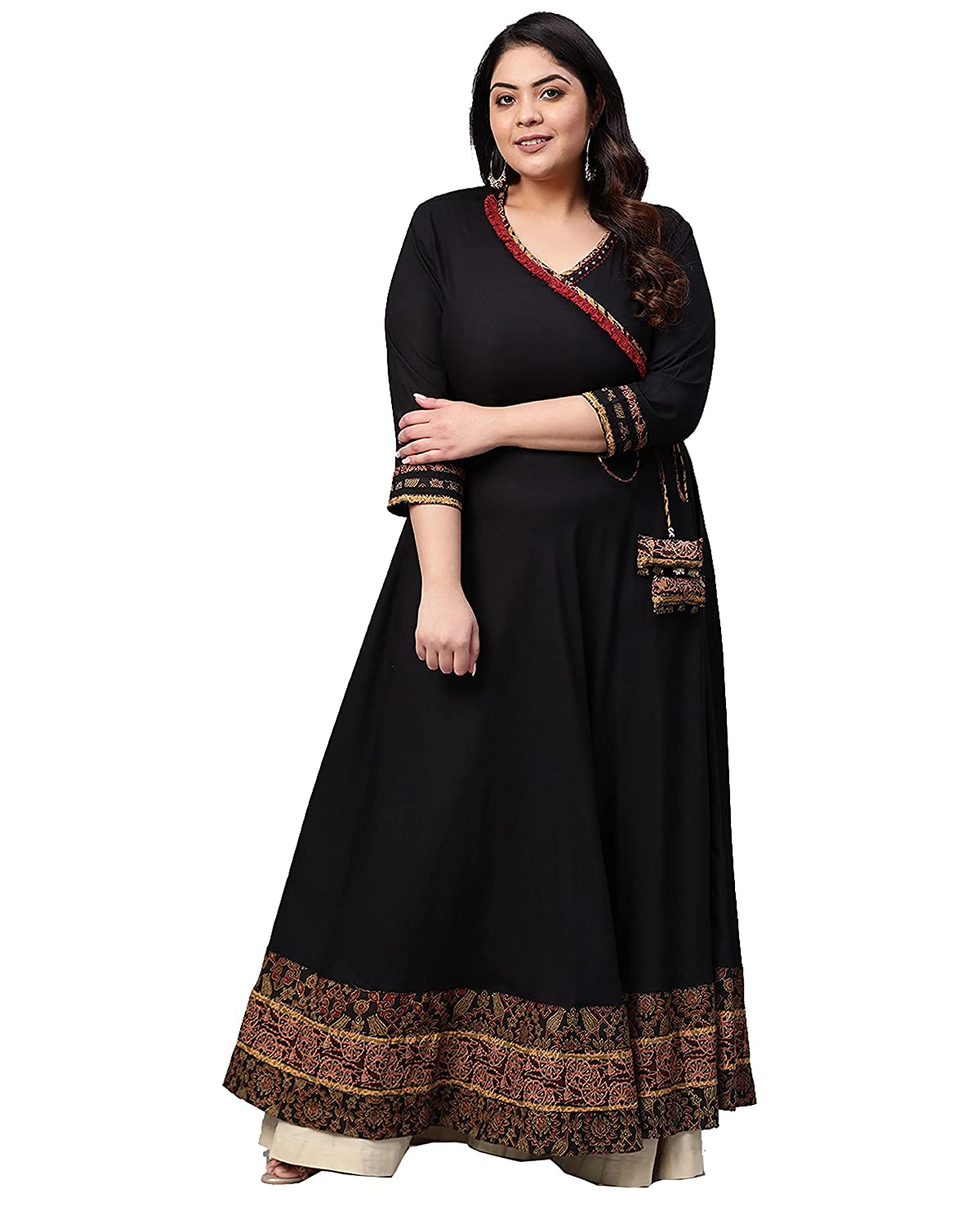 Original Price : Rs. 2,199
Offer Price : Rs. 949
(as of 14/1/2023 10:30 IST)
9. Aurelia Embellished Kurta-palazzo And Dupatta Set
This emerald-green kurta by Aurelia looks stunning with its crossbody, cream dupatta. The kurta has a banded collar with three-quarter sleeves and a straight-fitted silhouette, making the kurta a go-to outfit choice for work, casual outings, or a religious event. Its round neckline accentuates the shape of your neck and brings your jewelry to the spotlight. The floral motifs of the kurta get an analogous balance with the silky, translucent waves of the dupatta that completes the look.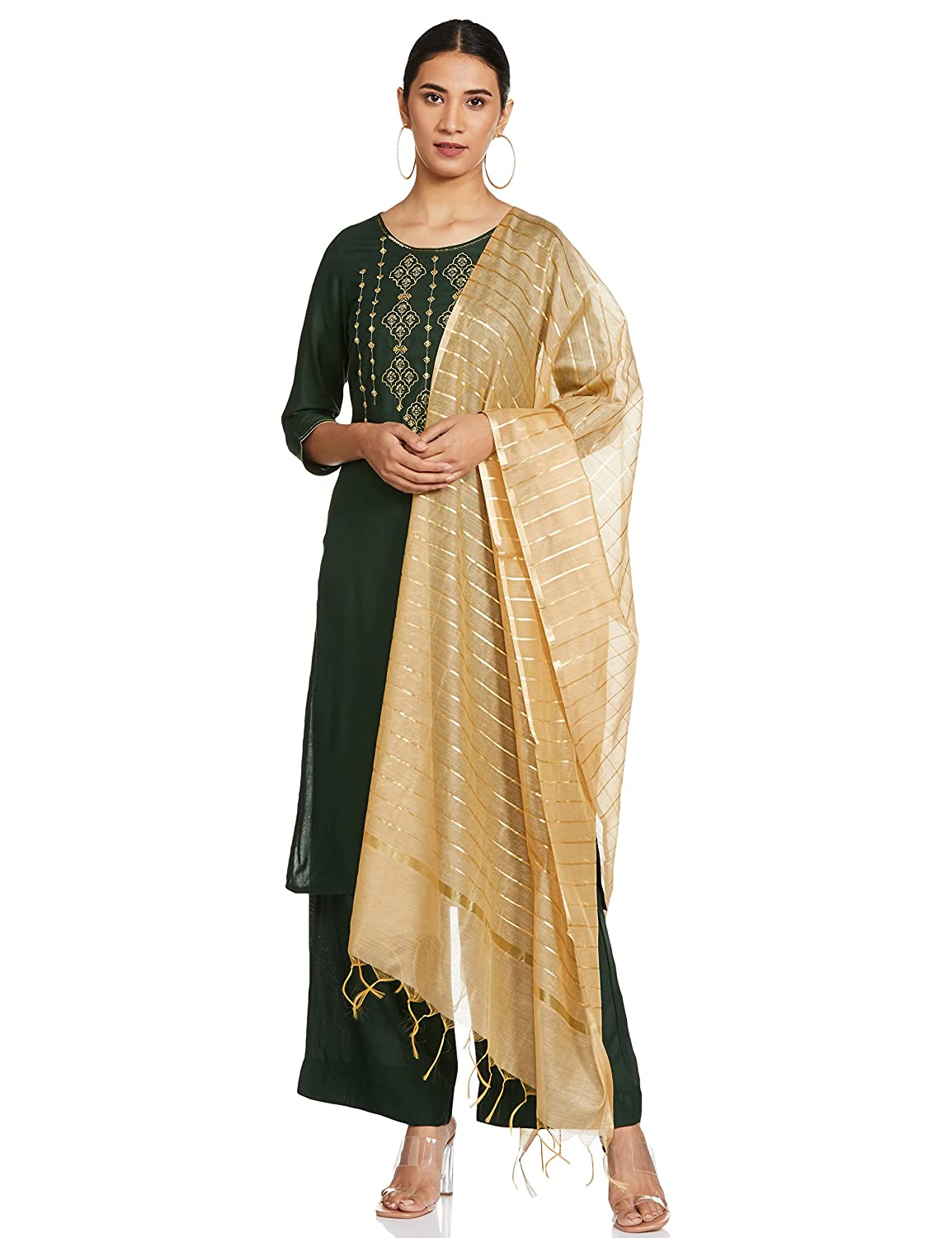 Original Price : Rs. 3,299
Offer Price : Rs. 1,319
(as of 14/1/2023 10:30 IST)
10. Khushal K Mandarin Collar Kurta Set
This solid white kurta by Khushal K has a mandarin collar and subtle golden weaves, which makes it perfect for a formal event. When draped with a vibrant, pink and orange bandhani dupatta, the outfit gets a beautiful contrast and looks suitable for most occasions. Made with high-quality rayon, the kurta set is luxuriously comfortable and skin-friendly, which makes it a go-to ethnic choice.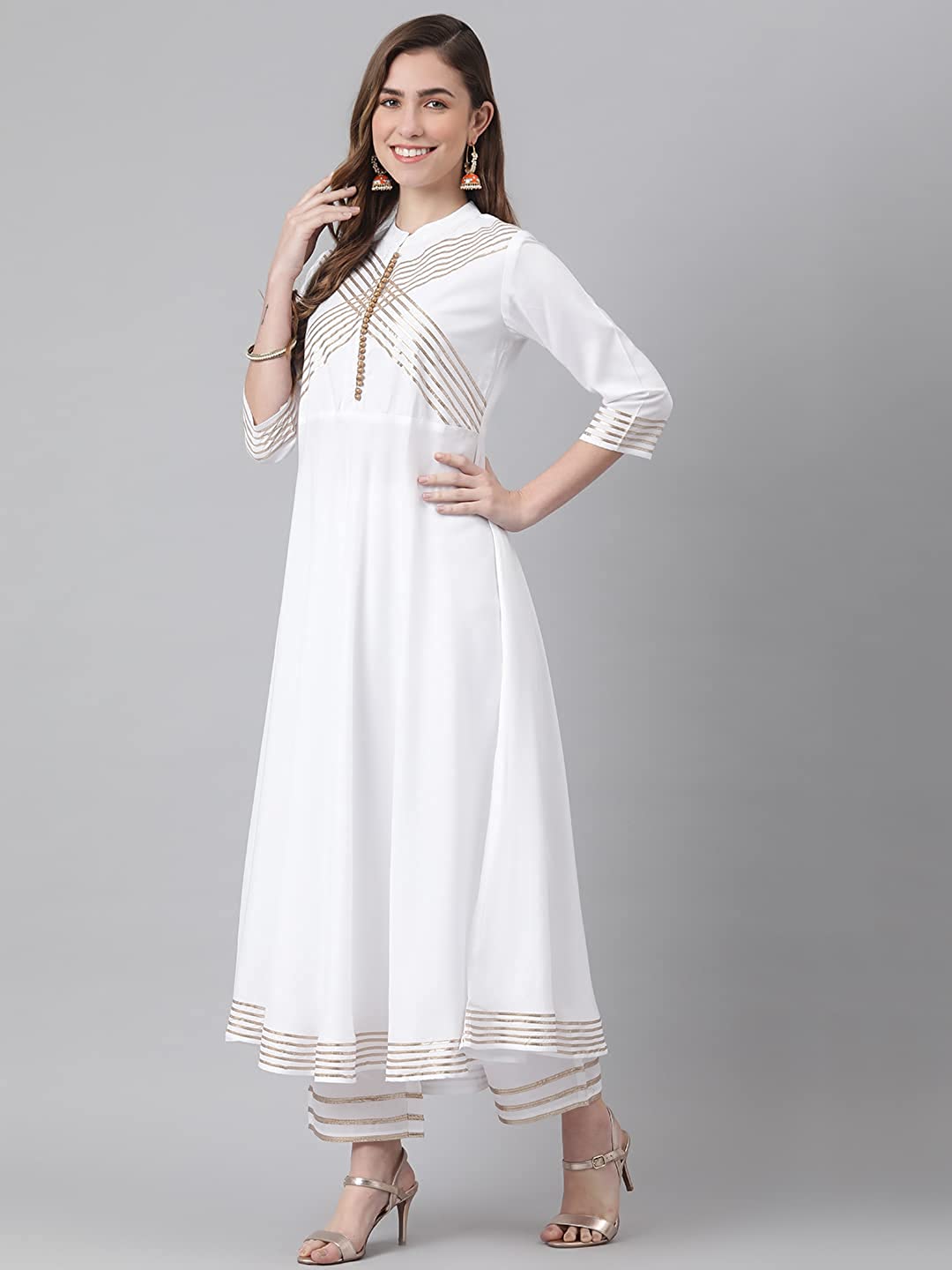 (as of 14/1/2023 10:30 IST)
11. Amayra Straight Kurti-palazzo And Dupatta Set
With ikat-inspired geometric and floral patterns, this straight-fitted kurti by Amayra gets its sophisticated and classy aesthetic. Despite the intricate themes of woven motifs, the dupatta set has a minimalistic look to it, which makes it an incredible choice to wear at work or at a casual event. The fuss-free silhouette looks good on all body types, and the breathable rayon fabric keeps you comfortable all day.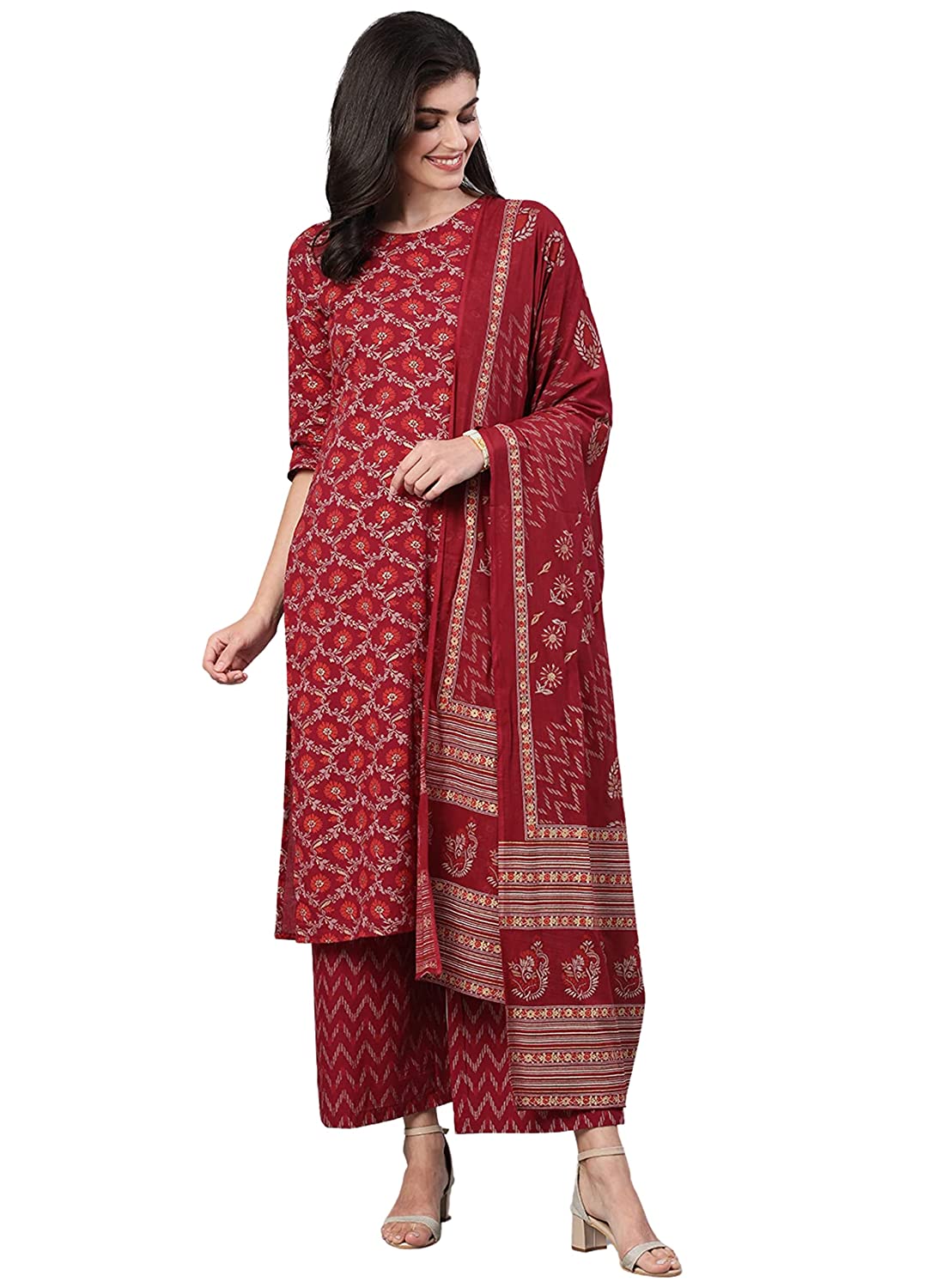 (as of 14/1/2023 10:30 IST)
The above-mentioned kurta and dupatta sets consist of a variety of silhouettes, designs, weaves, and ethnic prints to spruce up your wardrobes. Ensure you check the sizes, material, and their suitability with your body type before buying the products. You can get the best deals on them with Amazon's Great Republic Day Sale going on. Happy shopping!
About The Author
Anoushka is certified in Professional Skincare and is a Mass Media (Journalism) graduate from Mumbai University. As a...n experienced writer, she is an advocate of sustainability in skincare, haircare, fashion, and lifestyle. She loves mind-stimulating conversations, trivial or intense, which fuel her creative ideas. In her leisure time, she enjoys yoga, sitcoms, reading, early morning beach walks, and cafe hopping.
Read more
Top Comments
There are no comments in this article yet. Be first to post one!