21 Stunning Hairstyles to Complement Your Saree
Planning to wear a saree and turn heads at the next traditional event? Here are some gorgeous and easy-to-do hairstyles to complement your saree look!
Updated on Feb 22, 2023 | 11:05 AM IST | 999.2K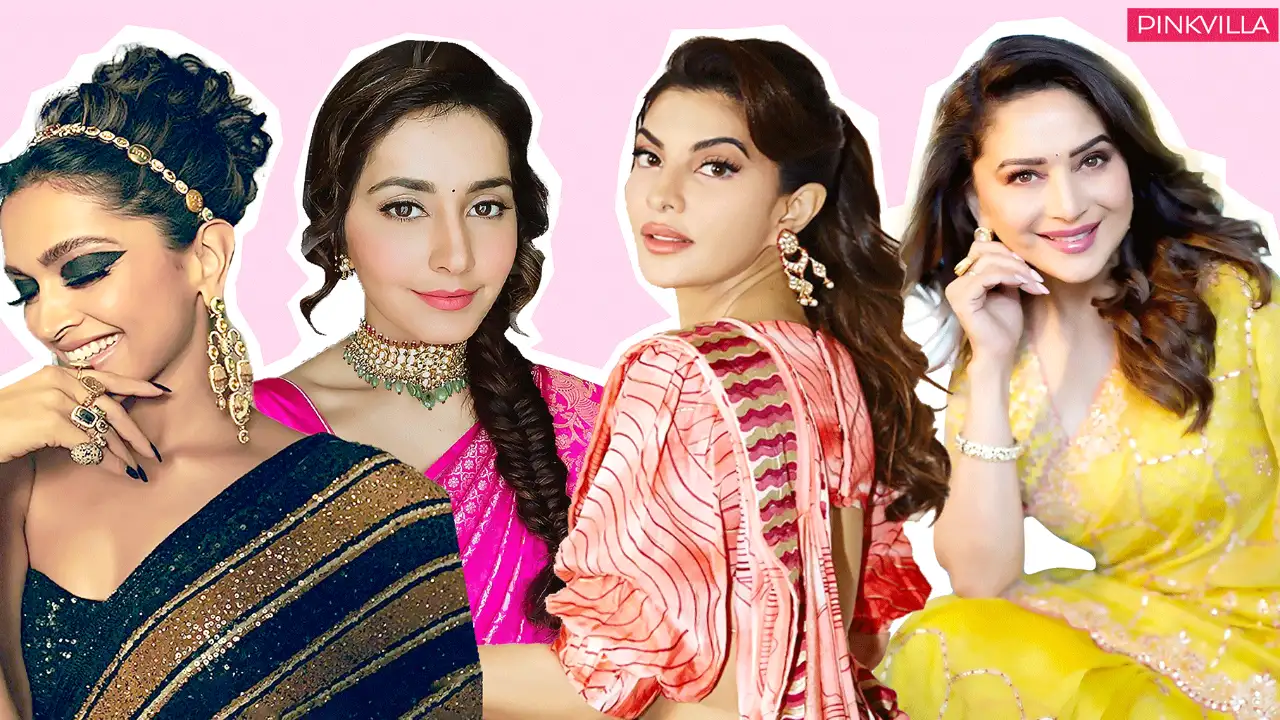 A saree is not an outfit, it's an emotion; when draped right, nothing can beat the look of a saree, and when paired with the right hairstyle, it can give you a perfect jaw-dropping look. There are many hairstyles to complement your saree which can be done in a jiffy and yet make you look incredible. 
Draping on a saree can make a woman look modest, traditional, classy, stylish, gorgeous, and elegant — all at the same time. Generally, when wearing a saree, women go for a sleek bun, a low ponytail, or half up half down hair, but there are plenty of other hairstyles for Indian saree outfits that you can try to take your styling game to another level and get loads of complements. Are you ready to explore these hairstyles? Here we go!
The Best Hairstyles to Complement Your Saree And Make You Look Astonishing
1. Messy Side Braid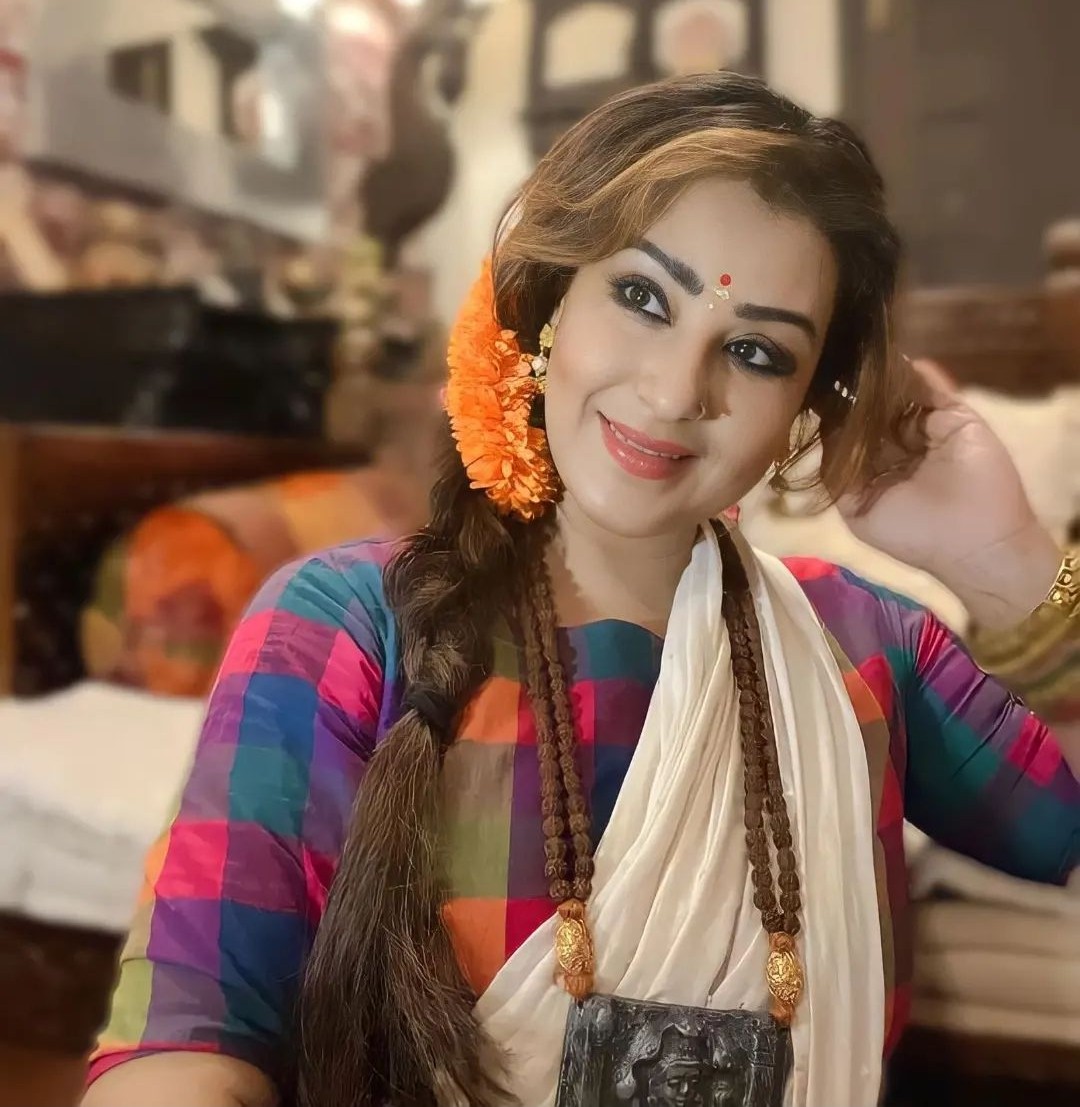 You can never go wrong with braids, as this is one of the most beautiful hairstyles that is made by working with three or more strands of hair. Although this hairstyle suits everyone, it adds more allure to people with long, round, and oval face shapes. No matter what the occasion is or the season is, this hairstyle is apt for all. Make a braid as you normally would, and tug out a few strands of hair from the braid to give it a messy look. When we talk about hairstyles, messy means classy!
2. Bangs
If you think bangs are only for western outfits, then it's time to rethink your style game. This hairstyle is simple, yet can add glamor to your saree look. Do you like straight bangs or side bangs? It doesn't matter because either of these will work on a saree. Let your hair flow and flaunt your bangs to make everyone's heads turn. Especially, if you have wavy locks, then this is one of the best hairstyles to opt for. You can wear this hairstyle for an engagement party or even an office party.
3. Curls for Short Hair
A few people might believe that short haircuts don't pair well with traditional outfits like a saree, but the truth is far from that. You can rock a saree in any haircut you want. If you have short hair with curls then you have a hairstyle that many people dream of. Blessed are those who have natural wavy curls as they steal hearts with their tresses everywhere they go. This is one of the best hairstyles to complement your saree during the summer and spring seasons. 
4. Messed Up Low Bun
We don't like being in a messy place or being in a messy situation, but speaking of hairstyles, all things messy are loved by everyone. Be it a daytime casual function or a late-night family occasion, a messy low bun is a hairstyle that will give you the perfect look. For this, all you need to do is make a low ponytail and roll it up into a bun; the catch here is that you need to do this messily. Insert bobby pins carefully, and if you want a more scruffy look, then mess it up more with your hands. Don't go overboard with the process lest you want to mess it all up. 
5. Long And Flowy Hair
Many times, simplicity is the key to looking astonishing! For this hairstyle, you don't need to do anything and the best part is that it suits all occasions, can be worn in any season, suits both thin and thick hair, and most importantly, is suitable for all face types. Do a middle partition of your hair and let your tresses fall beautifully. If you are missing the oomph factor in this one and want to glam it up a bit, then you get hair straightening or hair curling done. A tip: wear a maang tika with this hairstyle, and give yourself a complete traditional look. 
6. A Low Ponytail
Now this one is not a very common hairstyle to be worn on a saree, but it looks classy and elegant, so you must give it a try. A low ponytail done neatly can make you glow so much that it would be difficult for anyone to take their eyes off you. Do a middle part and gather your hair at the nape of your neck. Tie it up with a black rubber band or a floral band and you are ready in a jiffy. For a more voluminous look, secure the hair with a clip at the back instead of using hair ties. The best part is that this look goes for all types of hair, be it wavy, curly, or straight. If you want, you can let loose a few side locks, but even without that extra effort, this low ponytail is  without any doubt one of the best hairstyles to complement your saree.
7. Loose Curls
You can never really go wrong with loose curls because it is a hairstyle that's a perfect fit for all face shapes. The look is subtle and stylish, and it is very easy to make it. Grab two-inch sections of your hair, and curl the lower half gently. Comb through your hair gently to open them up and have an attractive look. 
8. Voluminous Updo with Side Bangs
The elegance that oozes out of a voluminous updo with bangs is unbeatable. Brush your hair properly to untangle them and gather all your hair to make a bun. Tie it with a hair tie and secure them properly using bobby pins. This hairstyle looks best when it is neatly done.
9. Braided Bun
Braided bun looks astonishing when paired with Indian outfits. This is a simple hairstyle to make and goes best with wavy and thick hair. In braided updo, you need to pull your hair towards the back and braid it nicely into a knot. This hairstyle looks great on all types of sarees. 
10. A High Ponytail
A high ponytail is a go-to hairstyle when you are in a hurry or when you just want to keep things simple without compromising on your style. This charming hairstyle can be tried for cocktail parties and is suitable for people with square, oval, and round face shapes. To create this look, all you need to do is take all your hair back and tie it up in a high pony. Wear a red or green bindi to look stylish and traditional, both at the same time. 
11. Fishtail Braid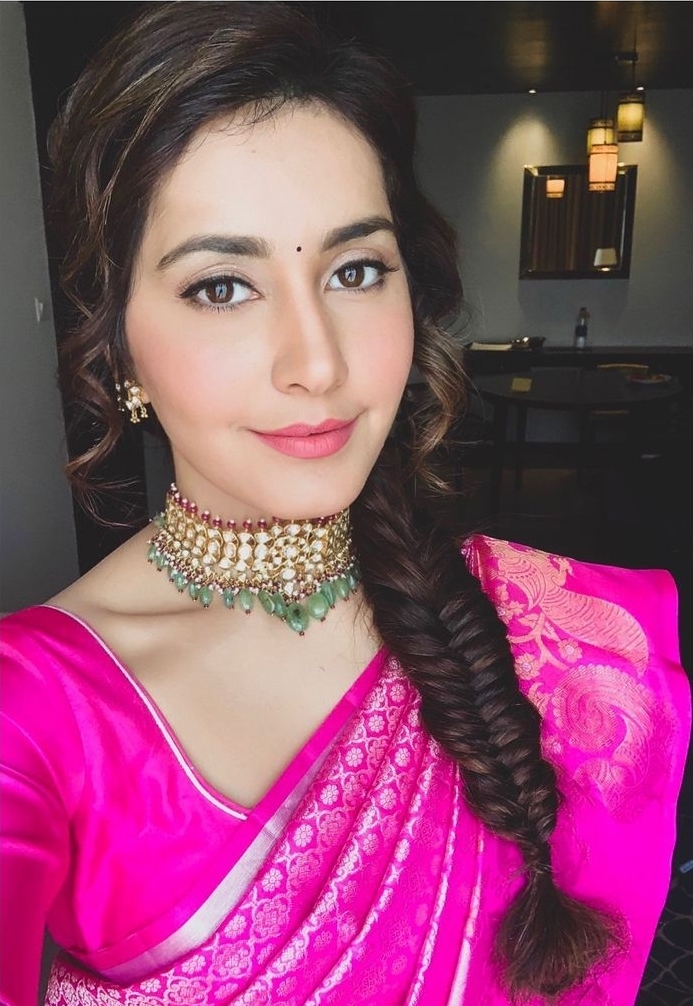 This hairstyle works best with a silk saree and is suitable for people with long or oval face shapes. Be it an engagement ceremony or a festival, you can pull off this hairstyle, anytime and anywhere. Also, it is not that complex to make — the braiding technique is similar to that of a classic braid, with a minor difference that in this, the braiding is done using two strands instead of three. To add more drama to your look, you can decorate your braid with tiny flowers or beads.
12. The Marvelous Side Bun
This hairstyle will make you feel on top of the world as it suits all face shapes and haircuts. Pair it with a teeka headdress to add some glam to your look. This is a hairstyle that will always be fashionable and can be made without any hassle. All you need to do is make a side ponytail and roll it up nicely into a bun. You can keep it messy or give it a clean look!
13. The Traditional Bun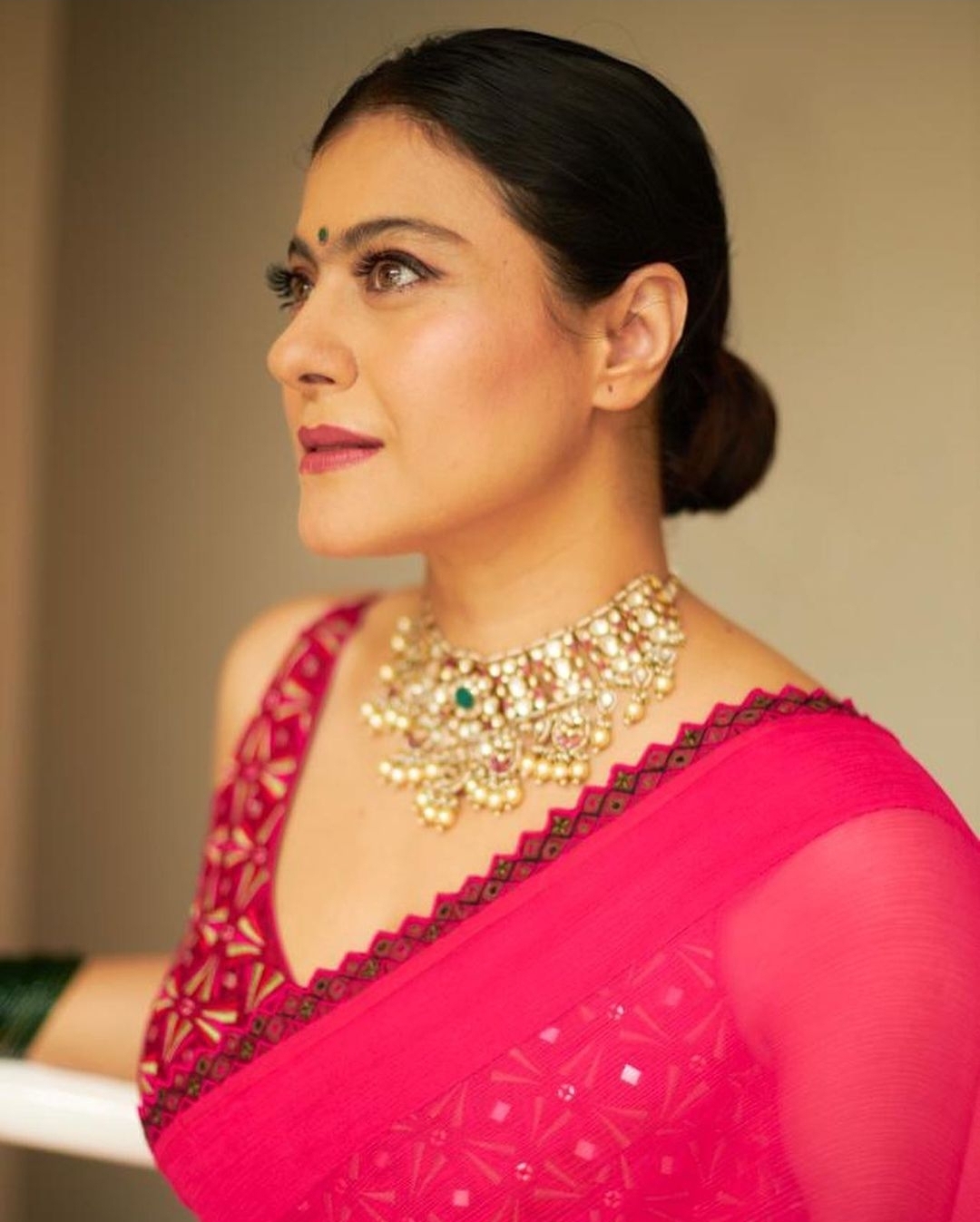 Keep things simple and sober with a traditional bun. Bun hairstyle pairs well with all types of sarees and gives an overall sophisticated look. Simply pull your hair together and roll them up in a bun nicely. Pin it up using bobby pins to keep the hair secure. 
14. Sleek Bob
This is a modern trendy hairstyle for saree for people with short hair. You really have nothing much to do with this one as this is a simple look with your hair trimmed up to make it in short bob form. This hairstyle is suited for women with all face shapes and can be worn to any occasion.  
15. Bun with Side Locks
This is one of the best saree hairstyles that is apt for any face shape. It pairs best with wavy and curly hair and can be worn for every occasion. Roll a messy bun and pull out some side locks to give it a complete look. You can use a styling gel to keep your hairstyle maintained for a longer time.
16. A Crown Braid
This is such a captivating hairstyle that you'll want to make it every day. One of the perfect bridal hairstyles, this hairdo is a great fit for people with round and oval face shapes. If you are planning to wear a heavy saree with jewelry, then this is the perfect hairstyle to opt for. 
17. Gajra Bun
Flowers on the hair give a traditional and modest look. This is one of the most common hairstyles that people love because of its simplicity and gorgeousness. The most important thing is that this updo looks great on every face shape. You just need to make a bun, and wrap a gajra (floral garland) around it. Use bobby pins to secure your hair. 
18. Ringlet Curls
Did you know ringlet curls are also known as corkscrew curls? They also go by the name princess curls and make you look like a diva in the blink of an eye. This is a perfect style for all face shapes, especially round and oval ones, and suits all occasions. Do not forget to use a volumizing spray or cream before trying on this hairstyle as this will make your hair more bouncy. To create this look, you will need a curling iron.Add soft wavy curls from the mid-lengths to the ends of your hair. Once you are done with this, run your fingers through the curls to soften them.  Finish with a hydrating mist to get a complete look. 
19. Half Up Half Down
What does the name suggest, any guesses? This is a combination of two styles, wherein the tresses are pulled up nicely at the top of the head and pinned neatly, while the rest are left loose. This is a flattering hairstyle that draws all attention to the face and highlights your striking features. This hairdo is best for wavy and curly hair and is suitable for all face shapes. 
20. Flowers on Hair
You must be thinking about what's new in this hairstyle as an untidy, messy look is a common hairdo. But, you can make it extra special by adding a few fresh flowers to your curls. You can choose any flower that you think will go best with your outfit, and make this hairstyle. Floral curls are definitely one of the most beautiful hairstyles to complement your saree. 
21. Puff Bun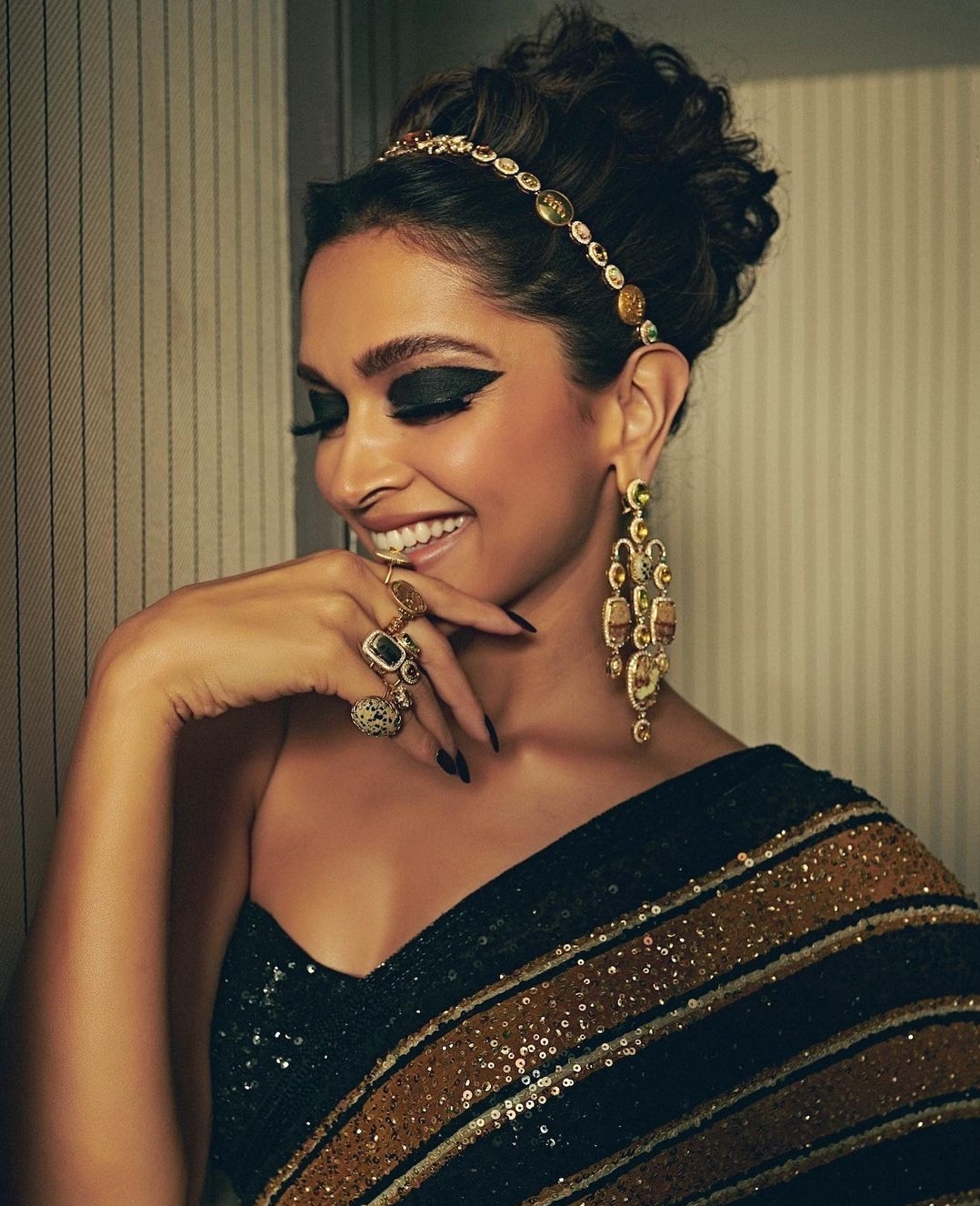 Nothing can beat the finesse of a puffed bun. This is one of the best Indian bun hairstyles for a saree outfit and looks marvelous. It suits all face shapes, and you can try this over any saree. For this look, you'll first need to spray some volumizing spray on your hair, and then make a mid-level ponytail and roll it nicely into a bun. Use bobby pins to secure the bun. This is an ideal hairstyle for all types of occasions. 
Conclusion
Indian saree is one of the best outfits to look magnificent, and there are a plethora of hairstyles to complement your saree. The next time you are in a hurry to attend any event or ceremony, do not panic about the hairdo and take inspiration from the hairstyles mentioned above. If you are meaning to add a feather to your cap with your style statement, then these are the hairstyles to try. Choose any of the above-mentioned chic hairstyles and flaunt your tresses in style.
ALSO READ: 20 Different Types of Braids for Hair That Are a Timeless Beauty
FAQ's
Does straight hair look good with a saree?
Yes, straight hair looks great with a saree. You can simply do a middle partition and slay the day if you have straight hair. Alternatively, you can style straight hair with buns, braids, twists, or ponytails.
---
How can I style my saree with short hair?
You can style your saree easily with short hair with hairstyles like half-up braid, french twist, simple side braid, deep side part, and Chinese top knot.
---
About The Author
Chhavi is a certified Skincare Coach and she's also certified in Makeup Artistry. Her fascination with skincare
...
Read more
Top Comments
There are no comments in this article yet. Be first to post one!