BTS' SUGA poses with Luka Doncic at the NBA game in LA; Jin assigned as a teaching assistant?
BTS' SUGA enjoys the NBA game in LA while BTS' Jin makes strides in his 5th division training center.
Published on Jan 13, 2023 | 05:00 PM IST | 742.7K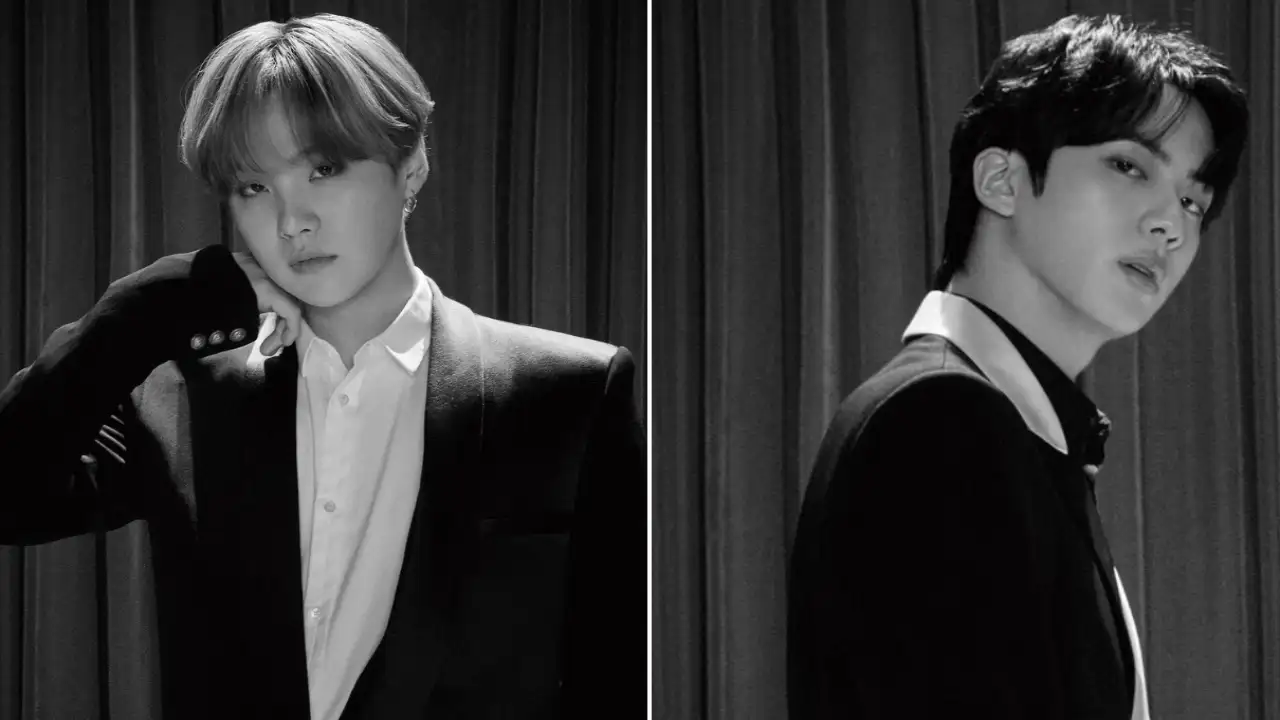 BTS' SUGA watched the NBA's Los Angeles Lakers vs. Dallas Mavericks match held in Los Angeles, California live on January 13. He kept a serious look throughout the game and quickly followed the movements of the players with his eyes.He also received a LA Lakers jersey as a gift. He especially met and took pictures with NBA superstar Luca Doncic (Age 24, Dallas Mavericks). SUGA visited LA to attend a fashion-related event, and was known to visit the NBA site despite his busy schedule.
Suga's love of basketball is well known not only to the BTS fandom 'ARMY' but also among basketball fans. Last September, he met Stephen Curry (35, Golden State Warriors), another NBA superstar, in Japan. Stephen Curry directly signed the uniform and presented it to SUGA, and SUGA responded by giving a BTS album containing his autograph. At the same time that SUGA met Curry in Japan, he also met Sakamoto Ryuichi, a world-renowned film composer and New Age pianist in Japan. At the time, it was reported that they met privately at SUGA's request, but it became known when Sakamoto wrote an anecdote about meeting SUGA at the final episode of "How Many Times Can I See the Full Moon?" Sakamoto remembered SUGA as "a young man who was serious about music".
On January 5th, a video titled "[Suchwita] EP.2 SUGA with Shin Dong Yeop" was posted on the YouTube channel 'Bangtan TV'. 'Suchwita' is an abbreviation of 'time taken by SUGA,' and is SUGA's personal content. Prior to the full-fledged progress, SUGA was thrilled, saying, "As a regular program, a set was created. The first guest is Shin Dong Yeop." Shin Dong Yeop showed a strong friendship, saying, "I came because I said 'Suchwita'. These days, there are shootings every day. But when SUGA calls, I have to come."
He talked with Shin Dong Yeop and confessed his concerns. Referring to the fact that he worked outside, SUGA said, "If the song goes well, it's my issue. If it doesn't work, it's my fault." he said. Also, "Actually, there was no one I could call a senior. There wasn't really anyone I could ask questions about. I've been at the top for 31 years. I still think about 'Should I continue this?' for 10 years. I am 30 years old. How can I get this far?" SUGA also said, "We also thought about our strengths and weaknesses a lot. The peak of a singer's prime is not long. That's why I always worry a lot. I worked hard and that's how it was. This time I'm living thankfully. When this is over, I worry a lot about what to do. "I don't think more people will listen to my music as time goes on. Being greedy for more than that is greed. Someone will listen to it. I think it should go that way," he said honestly.
Jin's military service:
On December 13th of last month, Jin entered the 5th Infantry Division Recruit Training Center in Yeoncheon, Gyeonggi-do and began his military service. Jin's enlistment was the first among BTS members. On October 17 of last year, BIGHIT MUSIC said, "We inform you that BTS has started detailed preparations to fulfill their military service obligations."
Jin also revealed his plans and thoughts while thinking of enlisting in the first place through fan communities, etc. "Here and there people said, 'Isn't it right not to go?' or 'Isn't it right to go? There is no sense of injustice, and although it is regrettable, it is fortunate that the fans do not see the performance of tears." Ahead of his enlistment, Jin revealed his short-cut hair, realizing the brief breakup, and began his military duty by enlisting in the boot camp amid the members' send-off.
It was always a hot topic to see him undergoing basic military training for five weeks. In the image of Jin wearing a beret and military uniform and sitting with his classmates at the training center to take pictures, we could see his appearance as 'Soldier Kim Seok Jin' rather than 'BTS Jin'. Due to his exemplary military life, Jin was appointed as a company commander trainee and led his classmates. Jin participated in each training with the motivation of trainees who were not members of 'BTS'. From shooting training to CBRN training, especially in CBRN training, the image of the classmates washing their faces in the pouring water attracted attention. Jin successfully received his basic military training by completing a 20km tactical march.
After completing his basic military training, Jin is known to continue the rest of his military life as an assistant instructor in the training center for new recruits. According to a media report on the 13th, Jin will serve as an assistant in the 5th Division Recruit Training Center, where he received basic military training. Jin will complete his recruit training on the 18th and will serve as an assistant instructor in the same battalion from January 19th. In this regard, Big Hit Music, the agency of BTS, said, "It is difficult to confirm." Meanwhile, other members of BTS will also perform their military service sequentially according to their own plans. Jin's expected discharge date is June 12, 2024.
ALSO READ: Cafe Minamdang's Seo In Guk and Parasite's Park So Dam to star in JTBC's new fantasy drama?
Stay updated with the latest Hallyu news on: Instagram, YouTube, Twitter, Facebook and Snapchat
What do you think of the news? Let us know in the comments below.
About The Author
A BMM graduate, Anoushka has been writing professionally for over 2 years. K-Pop and K-Dramas consume her day and she... enjoys writing articles about it. So far, she has written close to 3000 articles. She loves films, music, art, and food! She spends most of her time either discovering a new film or burying her nose in a gripping novel.
Read more
Top Comments
There are no comments in this article yet. Be first to post one!