Suchwita Ep 2 Highlights: BTS' SUGA, Shin Dong Yup recall first drink; Fans rave about rapper's shirtless photos
SUGA has decided to drop one bomb after the other today as he successfully sent the internet into a frenzy over his new photos.
Published on Jan 05, 2023 | 10:58 PM IST | 582.7K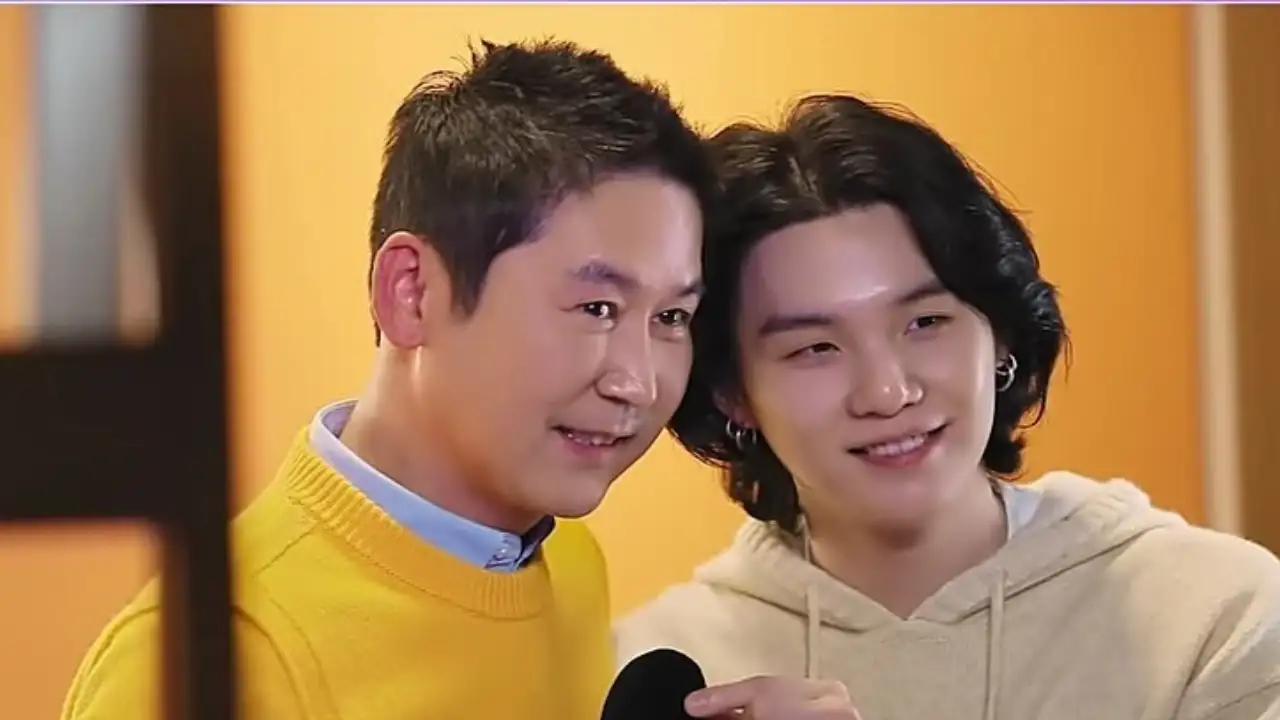 BTS member SUGA has returned to our screens with more fun, insights, chat, and alcohol through his own talk show. Previously introduced as 'Suchwita', it stands for 'Time to get drunk with SUGA'. While the pilot episode aired on December 5, the show has now returned after a month's break and is expected to become a weekly catch-up with the BTS member.
Suchwita Episode 1
As soon as the teaser of the show where Daechwita, who fans like to call one of SUGA's alter egos, was released, fans celebrated. To add to their excitement, fellow BTS member RM was introduced as the first guest. The long time friends met as colleagues and deep-rooted confidantes exchanging light talk about their past and RM's solo debut with 'Indigo'. The bond between the two BTS members was very evident throughout and it became a catch-up by the end of it.
Suchwita Episode 2
With the familiar tone of SUGA's widely acclaimed track 'Daechwita', SUGA returned to the newly established set of 'Suchwita' A more homely but luxurious feel to it, stacks of alcohol were stacked up. One particularly made itself known was the one signed by BTS' RM as the bottle he brought to drink with his hyung in the first episode. It was later introduced as one of the traditions of the show, as SUGA made a keepsake of the alcohol brought by the guests on his show. As previously teased, the drinking-talk show returned for its second episode and officially its first guest. Introduced as "South Korea's top MC who's well-versed in both taste and style" by SUGA, comedian, host, and popular TV personality Shin Dong Yup was invited. SUGA further clarified that while the show is called 'Drinking with SUGA', non-drinking guests may also bring tea for some fun chat with the rapper.
Shin Dong Yup's career
The comedian first made his debut in 1991 and after 31 years in the industry, learning, growing, and making a name for himself, is a very well-known personality. His participation in shows like 'Happy Saturday', and 'Guys n Girls' gave him the initial push in his career. However, it was 'Animal Farm' that launched him into the spectrum of fame, and 21 years later he is still going strong at it. His popular programs include, 'Immortal Songs: Singing the Legend', which he has been hosting since 2011, 'My Little Old Boy' since 2016 and more recently, 'DoReMi Market' where he participates as a cast member since 2018.
SUGA's first drink
As SUGA and Shin Dong Yup get comfortable following small talk, he asks about the comedian's first drink which dates back to his middle school days when his father first offered him a glass of soju. Meanwhile, the BTS member's experience is not too different as he mentioned being offered the first drink, a glass of beer, by his own father. Enjoying some oysters and reminiscing about their past, the two chat their way through a bottle of white wine.
PSY's words to SUGA
Two people, heavily focused on their careers, can never not talk about their work. Sitting in a guest's seat, when he is usually at the other end, Shin Dong Yup's remarks about it being comfortable strike hard. At the same time, his comments about the pressure that working with someone brings seem to hit home for SUGA who mentions how he finds it to be his responsibility for the success or failure of his collaborative work. 
A particularly notable comment by soloist PSY who is SUGA's latest collaboration for 'That That' finds its way into the conversation as the producer recalls being told in jest, "If the results aren't the ones you said it would be, I'll be coming for you." The pressure of being a part of BTS is not lost on the members.
Advice to SUGA
Longstanding MC and a senior in the industry, on being asked Shin Dong Yup's advice for the younger star. The older artist wishes everyone would have the courage to apologize no matter the age of the person whom they have wronged. Respect stands of great importance according to the popular host.
SUGA's shirtless photos
Apart from dropping bops, left, right and centre, the BTS member has been steadily dropping hints about what could be his upcoming release. Via photos shared on his personal Instagram account, SUGA has made the BTS ARMY swoon daylights over his flawless images. Adding another set to it today, the BTS member shared some shirtless photos with not much of it revealed in an artistic update on his feed. Hair slicked back, blue flowers adorning his neck, his torso seems bare and teasing the fans. A veil of pink spun fluff covers his head in the following snaps. While no one knows what purpose these hold, SUGA managed to successfully shock his fans, once again.
ALSO READ: Suchwita Highlights: BTS' RM talks about writing Indigo; SUGA delves into new facts about Daechwita
About The Author
After completing her engineering, Ayushi followed her passion for journalism and has been a professional writer for o...ver 3 years now. She is a K-drama binge-watcher and grooves to all genres of the K-music world. You can discuss unpopular opinions with Ayushi while she keeps looking for the next artist/show to dive deep into.
Read more
Top Comments
There are no comments in this article yet. Be first to post one!