Strong Girl Nam Soon Ep 13-14 review: Byeon Woo Seok and Lee Yoo Mi in epic final showdown
Strong Girl Nam Soon starring Lee Yoo Mi, Kim Jung Eun, Byeon Woo Seok dropped the latest episode of the action rom-com. Here's a recap of Episodes 13 and 14, as we review them further.
Updated on Nov 20, 2023 | 07:01 PM IST | 542.3K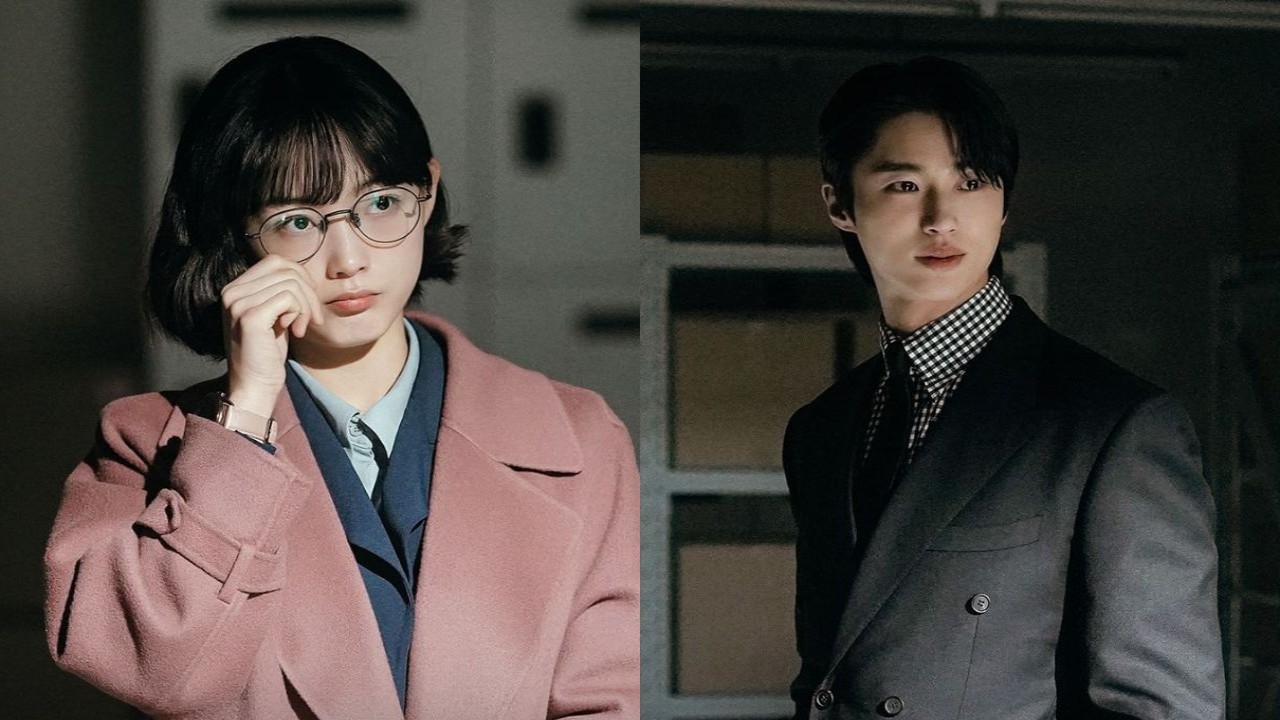 Key Highlight
Strong Girl Nam Soon Episodes 13-14 heads steady into finale

Byeon Woo Seok discovers Lee Yoo Mi's identity

Ong Seong Wu gets ready to disclose the truth
Name: Strong Girl Nam Soon
Premiere Date: October 7, 2023
Cast: Lee Yoo Mi, Kim Jung Eun, Kim Hae Sook, Ong Seong Wu, and Byun Woo Seok
Director: Kim Jeong Sik and Lee Kyung Sik
Writer: Baek Mi Kyung
Genre: Drama, comedy, crime
No. of Episodes: 16 (Airs every Saturday-Sunday)
Where to watch: Netflix, JTBC
Recap of Strong Girl Nam Soon Episode 13
Episode 13 of Strong Girl Nam Soon starts with a glimpse of the Doogo's lab while Kang Nam Soon (played by Lee Yoo Mi) and Kang Hee Sik (played by Ong Seung Wu) recline on the bed, savoring a tender moment. Engaged in these sweet exchanges, they express their love for each other in Mongolian. Hwang Geum Joo (Kim Jung Eun) on the other hand is waiting for Jung Na Young (Oh Jeong Yeon) who sends her a text message informing them she is not feeling well. Meanwhile, Hwang Geum Joo takes the stage as the sole presenter, unaware that in the backdrop, Na Young is unconscious in the back of a taxi, with the vehicle's owner reaching out to Geum Joo as Na Young via text.
Later, Na Young regains consciousness in her car, discovering that she has been drugged by Shi O's (Byeon Woo Seok) associates. She receives a call from Shi O post which realizes she is now compelled to comply with their every command. Meanwhile, the revelation of Shi O's involvement in drug trafficking using a jacket, along with the startling revelation that influential figures in Korea have been aiding him, becomes headline news following its broadcast on Geum Joo TV.
Later, Hee Sik finds himself reprimanded by his superior for defying orders. However, he maintains his composure and asserts that he is focused on genuine police work, contrasting it with the protection afforded to drug lords like Shi O. Shi O calls a meeting of all those involved with him and orders them to deny everything while trying to find Nam Soon for him. 
In the office, Nam Soon takes a bold risk by taking Shi O's phone to copy all the data. Swiftly and discreetly, she returns it to his desk just in time to avoid detection. However, her actions do not go unnoticed, as her superior witnesses her conversing with Hee Sik on the phone about this operation. Shi O takes Nam Soon to the Doogo lab with him whereas Hee Sik checks out the evidence Nam Soon has sent to him. Shi O's people started targeting Nam Soon's family starting with Gil Joong Gan (Kim Hae Soo). Kang Hee Sik discovers a number from Si O's phone records that belong to a Korean person. He digs deeper into it. Shi O and Nam Soon both meet Beom, who repeatedly calls Shi O. Geum Joo talks to Hee Sik about her company facing a broadcasting ban, but she's determined to keep fighting. Hee Sik shares information about sea hares with her.
While exploring the facility, Nam Soon enters the lab where the sea hare antidote is produced. Geum Joo decided to monitor the upcoming import of sea hares. Meanwhile, Joong Gan is under surveillance by an unknown observer. ShiO drops Nam Soon home, and before she enters, she inquires about the woman, to which Shi-oh reveals she's someone who keeps an eye on him, along with disclosing his ties to the mafia. As Shi O drives away, Hee Sik calls, asking if Nam Soon can find out when the next shipment of sea hares is scheduled.
Shi O makes a threatening call to Na Young, instructing her to go live and deny the accuracy of the news report on Doogo. Meanwhile, at the office, Nam Soon charms Ms. Baek and smoothly shifts the conversation to imports. She discovers that sea hares are scheduled to arrive on the 25th of each month at Busan Port from Taiwan and the Philippines. Joong Gan, upon getting into her car, is suddenly confronted at knifepoint by Kyle and one of his associates. They transport her to an abandoned warehouse, Joong Gan confidently emerges from the warehouse, leaving behind the aftermath of the confrontation.
A series of events unfold simultaneously. Na Young arrives at the news studio, appearing uneasy. Shi O meets with Jeong Ho's younger brother, and at that moment, his employee informs him about a discovered video. Meanwhile, Nam Soon and Nam In embark on a search for their father but are unable to locate him.
Hee Sik announces to his team that he's leaving the police force and will pursue the investigation independently. He "recruits" all his teammates. As Na Young begins the broadcast, Geum Joo senses that something is wrong. Shi O, upon receiving a screenshot from his employee and noting the phone number from Jeong Ho's brother, finally realizes Nam Soon's true identity in the concluding moments of episode 13.
Recap of Strong Girl Nam Soon Episode 14
Shi O becomes heartbroken and infuriated upon discovering that Tsegtseg is Nam Soon and starts devising more dangerous schemes. Geum Joo senses something wrong with Na Young and, upon investigation, learns about Shi O's plans. Swiftly leveraging her connections, she manages to rescue Na Young's younger sister.
Executing their strategy, Geum Joo's TV broadcasts news about Doogo and highlights the stagnancy of the legal system. Hee Sik and his team head to Geum Joo's residence, where they are provided with a concealed bunker to intensify their efforts on the case. Nam Soon and Nam In locate their father socializing with the bodyguards and discover that they are heading to Busan. The following day, during a press meeting, Shi O declared that the jacket news was a false lead circulated by Geum Joo in vain.
In Busan, Nam Soon contacts Hee Sik urgently, instructing him to upload the video of the lab even if it jeopardizes her cover. Simultaneously, Hee Sik acquires the list of Doogo VIP clients. The detective team enlists Nam Gil to expose the crimes of the judge overseeing Shi O's case. Consequently, the judge, involved in drug-related activities, is removed from the case, and Justice Lee takes over.
Meanwhile, at the broadcasting station of Shi O's client, Hee Sik and his team strategically placed the video evidence of the drug lab and broadcast the news exposing the drug business. This sparked a major controversy in South Korea, leading to the arrest of the detective team for leaking such crucial videos. Upon arriving at their guest house, Nam Soon is overjoyed to discover her Mongolian mother present. The following day, Nam-soon and her Mongolian mother venture out to explore Busan, while Geum Joo heads to the harbor to inspect the import. 
To her surprise, she spots Song Bread there. They rendezvous at a cafe, where he discloses that he is an orphan who used to sell chocolate pie in Russia, expressing his lack of knowledge about Shi O. Later on, Hwa Ja/ Myung-hee is seen socializing with her associates. She appears markedly different and appears to be leading a content and happy life. Unfortunately, later she is stabbed by Ryu Shi O's men and Shi O watches her slowly die. Meanwhile, Shi O's associates also abduct Jun Hee, but fortunately, Joong Gan intervenes and rescues him from their clutches. Following their arrest, Hee Sik and his team were released and reinstated to the drug case. 
Shi O learns about the new judge's directive to arrest all members of the drug ring. In response, he ingests the drug and murders the judge. Manipulating Hwa Ja's mobile phone, he sends a message to Nam Soon, claiming to have killed Hwa-ja and stating that Nam Soon is the next target. Furious upon reading the text, Nam-soon braces herself for Shi O's next move as they go in for a showdown.
Strong Girl Nam Soon Episode 13-14 review
The show resolves many of its deeper issues as the show comes down to its conclusion. The drug investigation still seems pretty open-ended even after nearing the end. Shi O has finally discovered Nam Soon's true identity, and the anticipation builds as we look forward to seeing her shed the Tsetseg facade and confront him head-on. The dynamic is intriguing, especially as Shi O, amid his clash with both Pavel and Hwang Geum Joo, is the one who seems powerless. The upcoming episodes promise to unveil the true extent of his strength and reveal the dynamics of their relationship.
Most of the episodes focused on Nam Soon and Shi O's development with each other and the viewers have developed a softer side for the villain which is understandable given his cruel childhood and constant betrayals he had to face. Now as Nam Soon and Shi O's final confrontation comes face to face it will be interesting to see how the entire story will play out. Another plot point is the three lead women of the series working together to bring down evil will also be an anticipated development as the show reaches its finale. 
Stay updated with the latest Hallyu news on: Instagram, YouTube, Twitter, Facebook and Snapchat
ALSO READ: Strong Girl Nam Soon Ep 11-12 review: Lee Yoo Mi's family rescues brother, Byeon Woo Seok charges ahead
About The Author
Pratyusha Dash is an English Literature Graduate from Vivekananda Institute of Professional Studies with a deep passion for Korean
...
Read more
Top Comments
There are no comments in this article yet. Be first to post one!