105+ Best Texts to Make Him Smile And Think about You All Day
Do you love making your guy feel cherished? Here are some of the most perfect texts to make him smile, feel special, and melt his heart in just a few seconds!
Updated on Jun 23, 2023 | 12:33 PM IST | 4.6M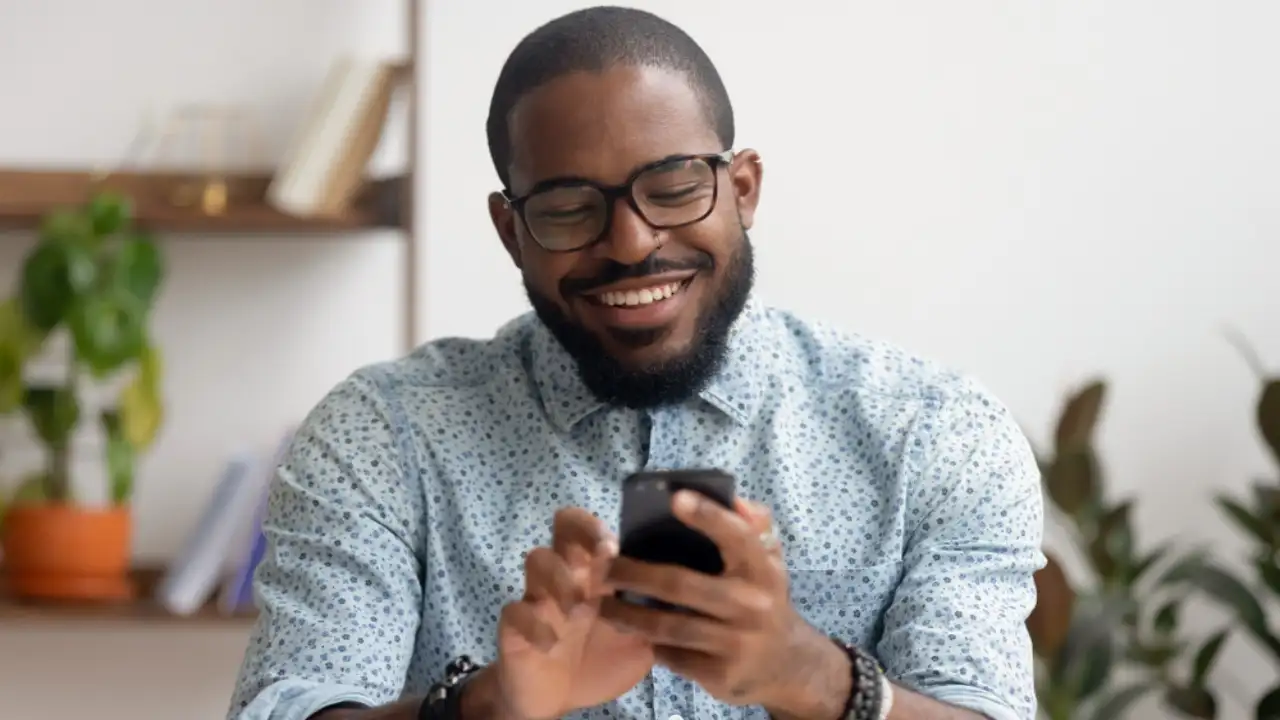 Nobody likes to be apart from their loved ones for too long. If you are away from your partner and are missing him, you can send texts to make him smile and get a conversation rolling! Not only will such text messages leave him beaming and starry-eyed, but they will also make him feel good about himself. Moreover, texting is a simple way to assure him that he is on your mind, no matter the distance between the two of you. The right message at the right time can also get his attention back to you and help keep the spark in your relationship alive. 
According to clinical psychologist, Dr. Samar Hafeez, "Remote romance can thrive with the help of the right mindset and right partner, as the accessibility and popularity of electronic media are at its pinnacle, couples are easily able to keep in touch with each other via text messages and video calls. Having fun with the partner, intentional communication, and quality of conversation matter the most when you are away from your loved one."
However, texting a guy can, at times, be tricky because you want to avoid coming off as too needy or desperate. But, fret not. The best text messages for this purpose are those that are funny, romantic, flirty, sweet, or just plain cute. From "I love you more than anything in the world" to "I miss your handsome face already", there are a wide variety of texts that you can send to make your guy's day undoubtedly better than how it is already going! Read on!

105+ Non-cringey Texts to Make Him Smile And Feel Loved
Trust us — these text messages will have your guy grinning ear to ear for hours on end.
Romantic Text Messages to Make Him Smile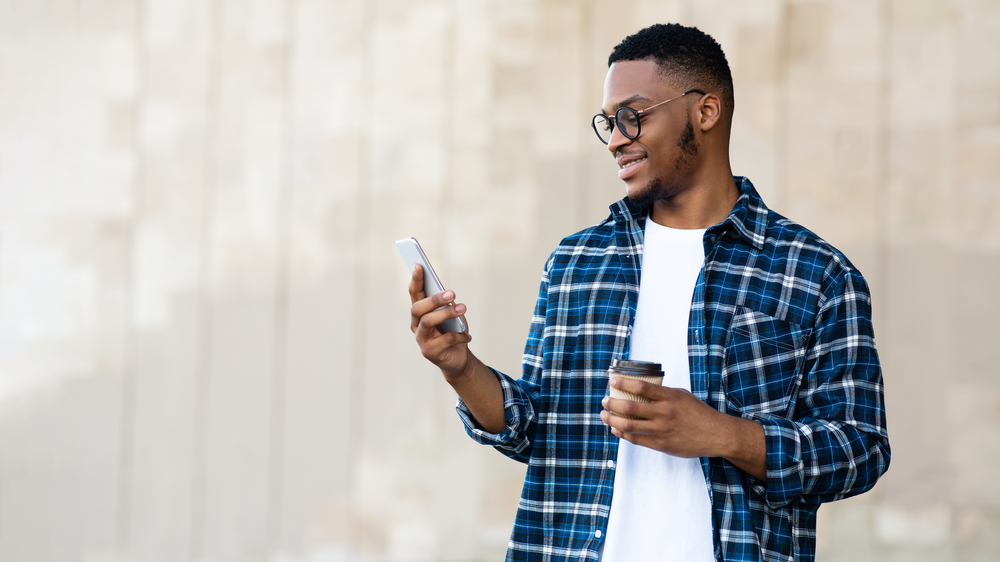 If I fall for you, do you promise to catch me?
Ain't nobody wanna see us together, but who cares, sweetheart? I got you forever!
My love for you is simply unconditional. For me, you are perfect, even with flaws!
I enjoy our happy moments and I miss your arms holding me in our sad moments.
All of me loves all of you. 
Your hug is my home.
I love and cherish each and every moment that we spend together.
From the moment we met, it has been me and you. And I want it to be this way till the end of time!
I feel so safe when you are around me.
You are the first person I think about when I wake up and the last one before falling asleep. I love you, honey!
Your smile takes my troubles (and my breath) away!
We love each other for who we are. If that is not magic, then what is, baby?
My love, I feel so proud that you are mine.
I always get lost in your smile, darling. When you see this message, send me your smiling selfie!
I am my favorite person. Luckily for you, you are my favorite too!
I promise to always be there for you, no matter what.
I cannot picture living a life without you by my side.
I will never fail to tell you how much I am in love with you.
I want you to love me. I want you to trust me enough to let me love you, and I want you to stay here with me so we can build a life together. That is what I want. - Francine Rivers
I am trying to stop myself from brooding about you too much. But in vain.
Flirty Text Messages and Quotes to Make Him Laugh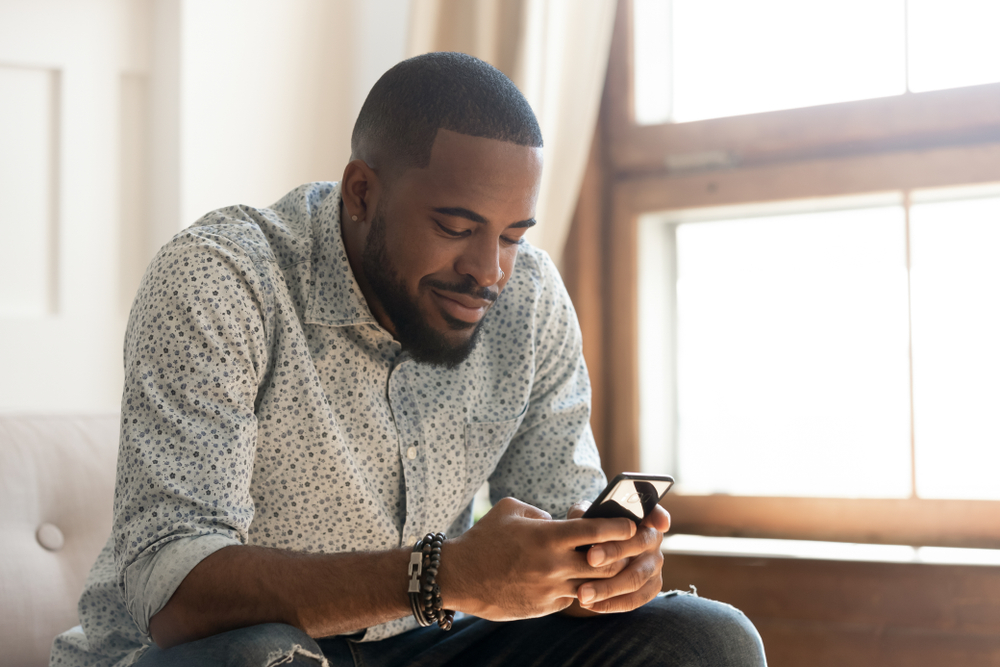 21. "I got my eyes on you. You are everything that I see; I want your hot love and emotion endlessly." - Drake
22. "If you were a bullet, I would shoot myself to have you in me." - Maygin Nikki
23. The spaces between my fingers are only meant to be filled with yours!
24. Great boyfriends are tough to find. I guess I am the world's most outstanding detective!
25. There may be multiple romantic things to say to you, but today I will go with a loud and clear "I love you!"
26. I am still wearing (only) the smile you gave me!
27. If I got a dime for every moment I desired and dreamed about you, I'd be so rich!
28. I am wondering if you know that you are more appealing to me than the sweetest honey.
29. Daisies are red, hydrangeas are blue, and honey may be the sweetest, but nothing is more pleasurable when compared to you!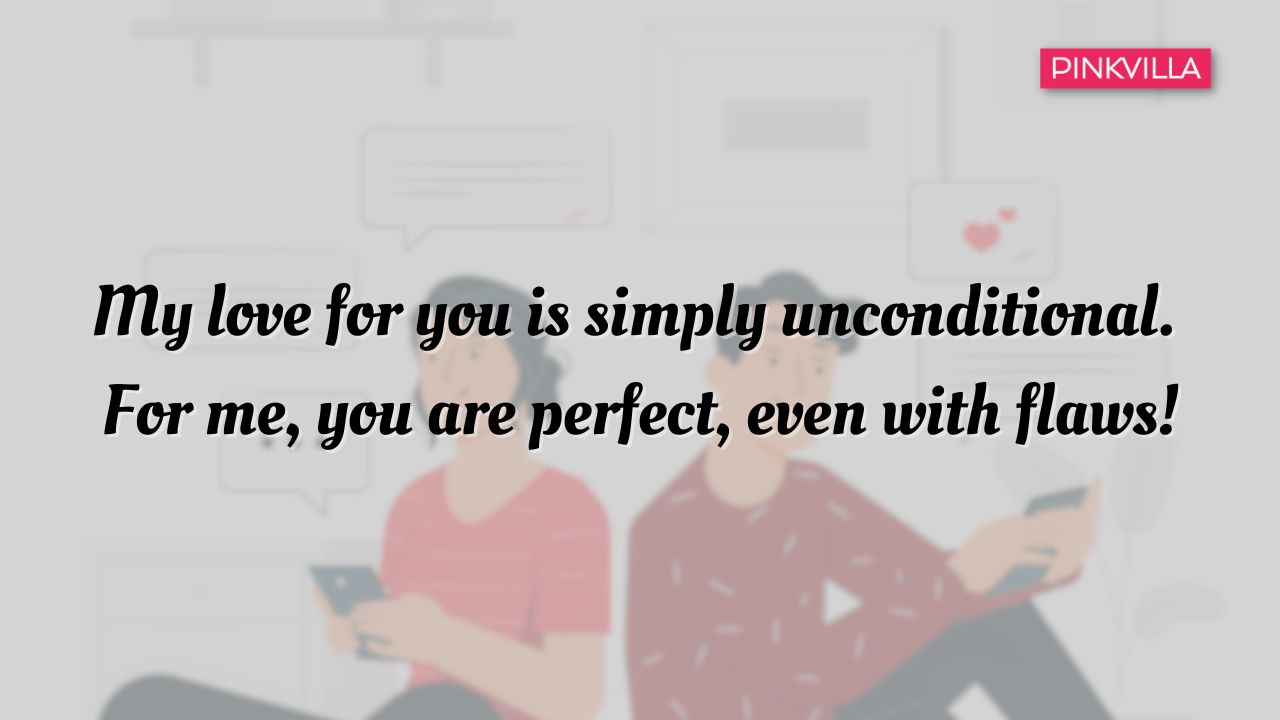 30. Not just butterflies  — I can feel an entire zoo in my body, heart, and mind when I am with you!
31. With every passing minute, I am nearing the time when you will kiss me again!
32. I am not teasing you; I am just being extra warm to Mr. Extra Adorable.
33. I have been so occupied throughout the day. Would you mind distracting me a bit with your smile, baby?
34. "I guess your name is Google. Because you have everything that I am searching for." - Ryan Gosling
35. My only desire is to snuggle close to you whenever we are together.
36. "I am so in love with you that every time I look at you, my soul gets dizzy." - Jesse Tyler Ferguson
37. I wish you were a movie. I would have watched you over and over and over again without getting bored.
Cute Text Messages to Make Him Smile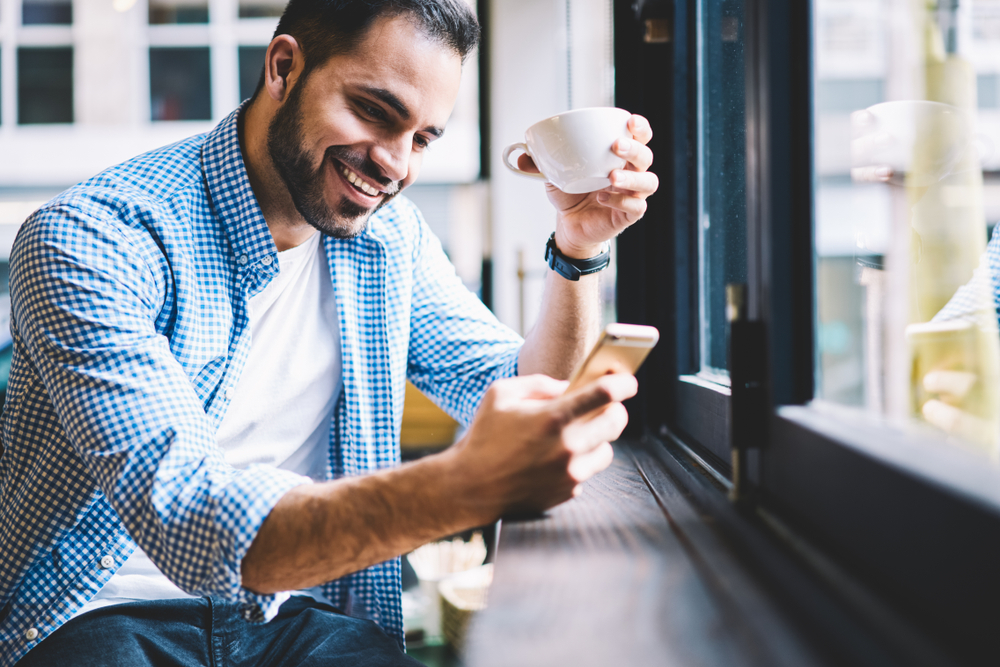 38. You won me over and loved me when I didn't even know how to accept myself. I love you, darling!
39. I will always stand right by your side and willingly make compromises for our relationship to work.
40. I will always be right here with you, sweetheart.
41. Do you believe in the supernatural? I guess some power has bound us together forever!
42. If your world becomes silent and you feel teary-eyed, just remember you can always come to me.
43. How can I let everyone know that you are mine and only mine?
44. Heaven has gifted me with the absolute best guy!
45. You are so special, and I love you way more than you can ever imagine!
46. Hey babe, thank you so much for showing me how happy life can be when you marry your best friend!
47. I will never not remind you that I will be your awesome wife someday!
48. My darling, it is impossible for me to fall out of love with you!
49. You do know you have my whole dame heart, right love?
50. Do you know how foolishly I am smiling while sending you this text?
51. When you make me laugh and smile, my entire life seems worthwhile!
52. Someday we will thank destiny for putting us together, right honey?
53. You are the reason I laugh and cry at the same time. But I still love you, silly!
54. I wish I could hold you closer to me right now.
Sweet Text Messages to Make Him Smile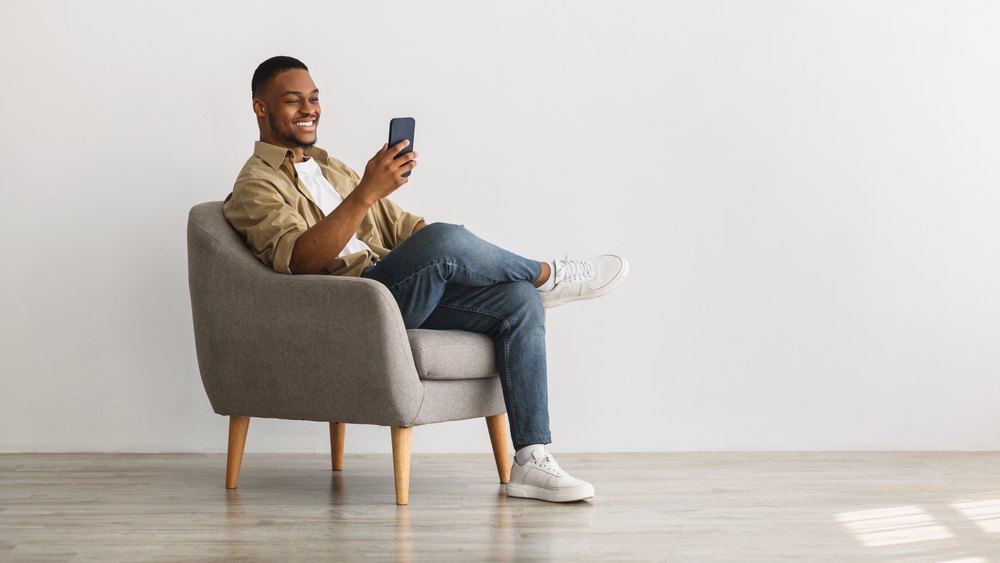 55. "Baby, I am addicted. I am out of control. You're the drug that keeps me from dying." - Enrique Iglesias
56. Do you know how happening you make my weekends? Why is it not Friday yet?
57. Do you miss me as much as I miss you?
58. I hope you do not feel tired baby because you are constantly running in my mind.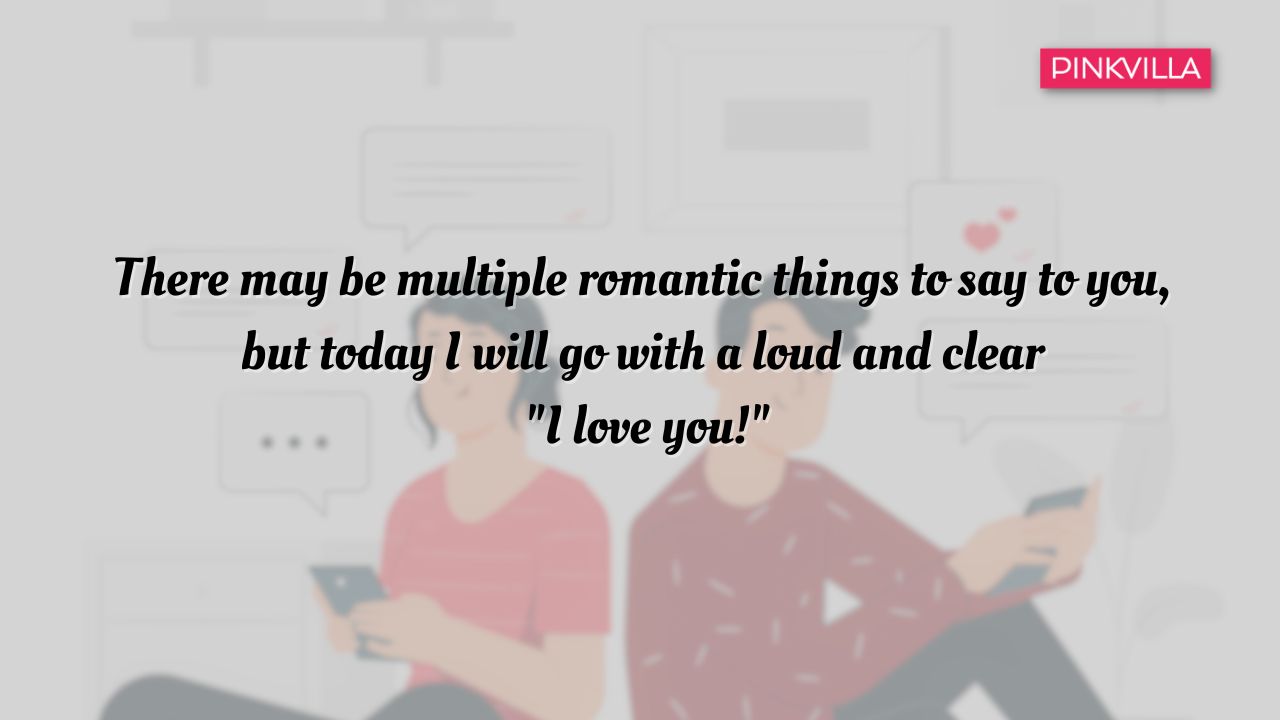 59. Tell me you will be home soon, honey. I have planned something for us tonight.
60. Maybe tonight I can wear my red dress and you can wear a tux. Let's relive our first date today!
61. "I wanna grow old with you. I wanna be looking into your eyes. I wanna be there for you. Sharing in everything you do. I wanna grow old with you." - Westlife
62. This text is to tell you that I think about you throughout the day, my love.
63. I will smother you with uncountable kisses and cause as much trouble as I can because you, my darling, are a boxer!
64. People think that we are crazy. But we know they do not comprehend the connection that we share!
65. "Baby, you light up my world like nobody else." - Harry Styles
66. I know you are the one for me because you have twisted my world upside down for good.
67. Since I met you, I cry a little less, laugh a little harder, and smile all the more; my life is better just because I have you in it. 
68. Honey, I just want to snuggle with you and watch you tell me how your week went. Our kinda date!
69. You are my one and only in millions. Good morning, love!
70. I forgot to kiss you this morning before heading to work. When you come home, I'll kiss you twice!
71. Are you God in human form? Because every single thing that you touch becomes exquisite!
72. I want to cuddle with you all night long while making you laugh at my poor jokes. Sounds like a date?
Simple Text Messages to Make Him Smile at Work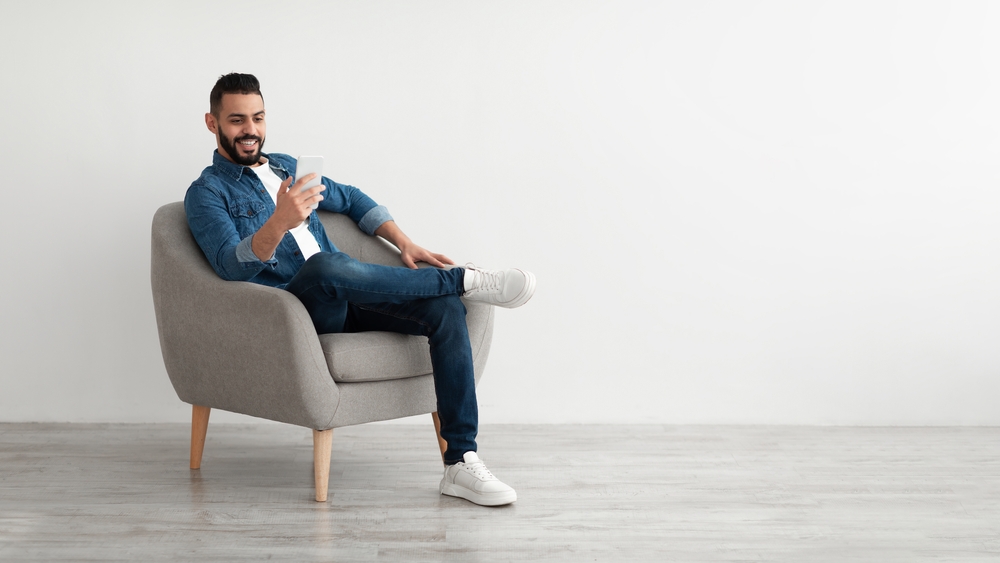 73. Buzz buzz...it's me checking up on you because nothing feels worse than not being with you.
74. Baby, can you video call me so that I can kiss you?
75. Hey love, I am missing you already. Have a great day at work. I cannot wait for you to come home to me.
76. I know you are the busiest person while at work. I just wanted to tell you how much I love you. And you better be ready to give me your undivided attention the moment you come home!
77. Hey there, my beautiful person! I hope you have a fantastic day today at work. Here's a good luck kiss from me!
78. I am completely addicted to my coffee/tea. But, do you know, I may love you even more than it?
79. If you are having a rough day at work today, I just want to let you know that you truly are wonderful at everything you do!
80. My heart is pounding non-stop, waiting and counting the seconds till you will come back home.
81. You know how I miss being in your arms every second until you come back home!
82. I miss you so much. But you know what? Even though your work has you from 9 to 5, I will have you for my whole life!
83. Just wanted to check up on you because I simply cannot stop thinking about you!
84. Hello, my dream guy! Did I tell you today how proud I am of you and everything you do?
85. You are the finest man a woman can ever ask for!
86. You know, I had started missing you even before you left for work this morning. Come home soon, love.
87. While you are busy working, I am busy being grateful to every lucky star that brought you into my life. I love you, baby.
88. Do you still get excited every time my name pops across your phone screen? I know I do!
89. While you are busy at work, I was thinking I should write a book covering all the things I absolutely adore about you.
90. I saw a bug right now. I wonder if I ever thanked you for willingly eradicating bugs for me. If not, thank you so much, baby. Come home soon, that bug is staring at me!
Best Long-Distance Relationship Text Messages to Make Him Smile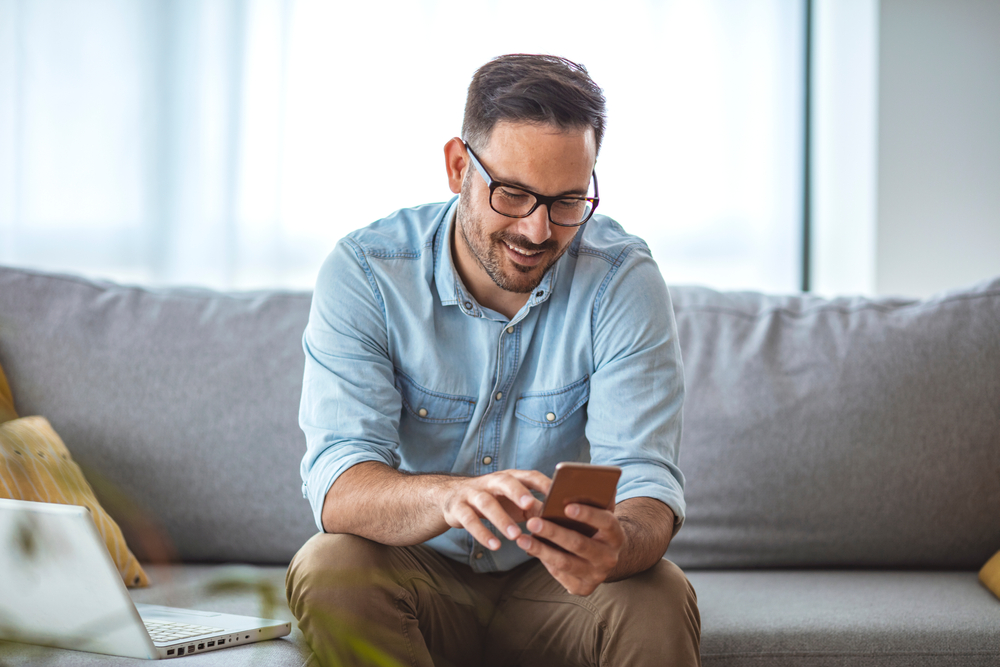 91. My only desire is to live my fairytale life, in which you are by my side every day. I do not want this distance between us anymore, love.
92. I am waiting for the moment you come home. I will attack you with loads of hugs and kisses! Brace yourself, babe!
93. I am looking forward to the days when I will wake up in your arms.
94. I just got out of the shower, but I cannot seem to find my towel. Honey, would you want to come and help me dry off?
95. Do you know that I am upset with you today? As your punishment, I want you to mess up our bed tonight with me!
96. Are you becoming more handsome by the day, or is my eyesight becoming weak?!
97. Honey, I wish to spend some quality time with you today. Should we finish our chores early and indulge in a fun long-distance relationship game for couples?
98. Hey handsome! How about some good online time later tonight?
99. No one has ever made me feel the way you do my love! I miss you.
100. You looked dashing in your morning selfie. Send me more, baby!
101. I have almost forgotten the taste of your lips on mine. We need to meet soon, sweetheart!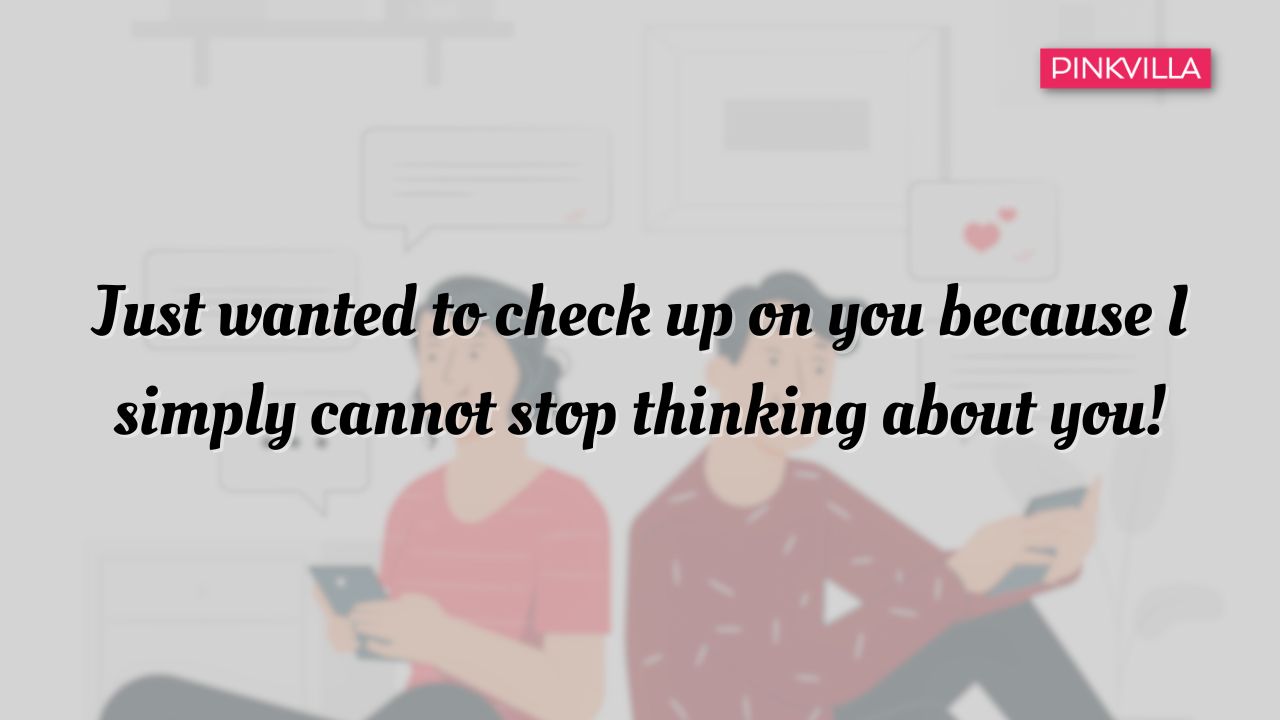 102. I will send you an Evite invitation today. Let us go on a date, darling!
103. You forgot to send me a kiss this morning. How about you make it up to me by sending kisses now?
104. You look so good in that new t-shirt but it is so annoying because you are so far away from me!
105. I wish you were here by my side because your mere thoughts are turning me on!
106. Another day, I woke up breathless after dreaming about you the entire night.
107. What would you say if I told you that I want you for dinner tonight?
108. At least visit me during the weekend, honey. I wish I could spend a great weekend with you.
Conclusion
He is the one who makes you smile and laugh. You want him to have a good day, and you want to make him feel special. That is why you need to send these adorable messages and texts to make him smile and blush throughout the day. We hope these 105+ examples of messages will keep your precious partner happy. Make sure you send some of these texts as an affectionate voice message (starting right with good morning) and a loving heart to make your man feel loved and adored all day long!
ALSO READ: 15 Most Important Things in A Relationship That Make It Blissful
FAQ's
What do I text a guy to melt his heart?
You can text sweet and romantic messages to your guy to melt his heart. For example, say, You are my whole world, You cannot imagine how much in love I am with you, I wish you were here and I would have hugged you so tightly, or I cannot control my heartbeat when I think of you.
---
How do you make a guy blush?
Complimentary, flirty, and sexy text messages always do the trick when you want to make your man blush. Here are some examples of the same - I have been thinking of all the things we could do if you were here right now, You looked so hot today that I am still trying to cool off, or Although the weather yesterday was chilly, I felt warm in your embrace. Moreover, you can also tease him by sharing your selfie, telling an inside dirty joke, sending him kisses, or sexy emojis.
---
Top Comments
There are no comments in this article yet. Be first to post one!