35 Best Forgiveness Quotes to Read If You Wish to Move On
Move beyond past hurts and free yourself from the ongoing loop of resentment, anger, bitterness, and guilt with these sought-after forgiveness quotes!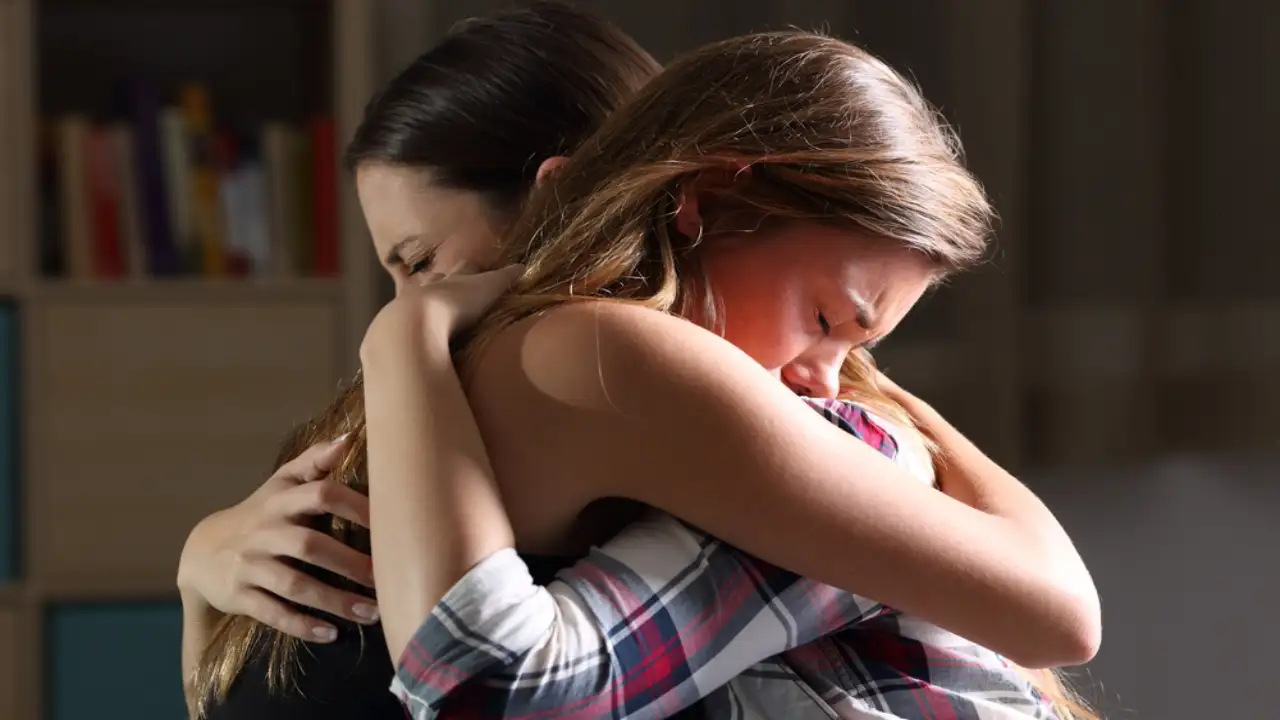 Forgiveness is an emphatic and transformative deed that is crucial to cultivate meaningful relationships. When you forgive someone or yourself for wrongdoing, you make way for personal growth and emotional well-being. Through the power of forgiveness, you can achieve a sense of inner peace and healing and let go of past grievances, allowing you to move forward with a renewed perspective.
In this list of quotes about forgiveness, you will find deep insights from renowned individuals that highlight the importance of forgiveness and its remarkable impact on the human spirit. Moreover, this collection of forgiveness quotes intends to highlight the significance of forgiving others as well as yourselves for the betterment of your emotional and psychological well-being. So, let bygones be bygones, and open the door to forgiveness with these powerful quotes!
35 Best Forgiveness Quotes that Will Help You Free Yourself from Your Past
Forgiveness Quotes to Let Go of the Past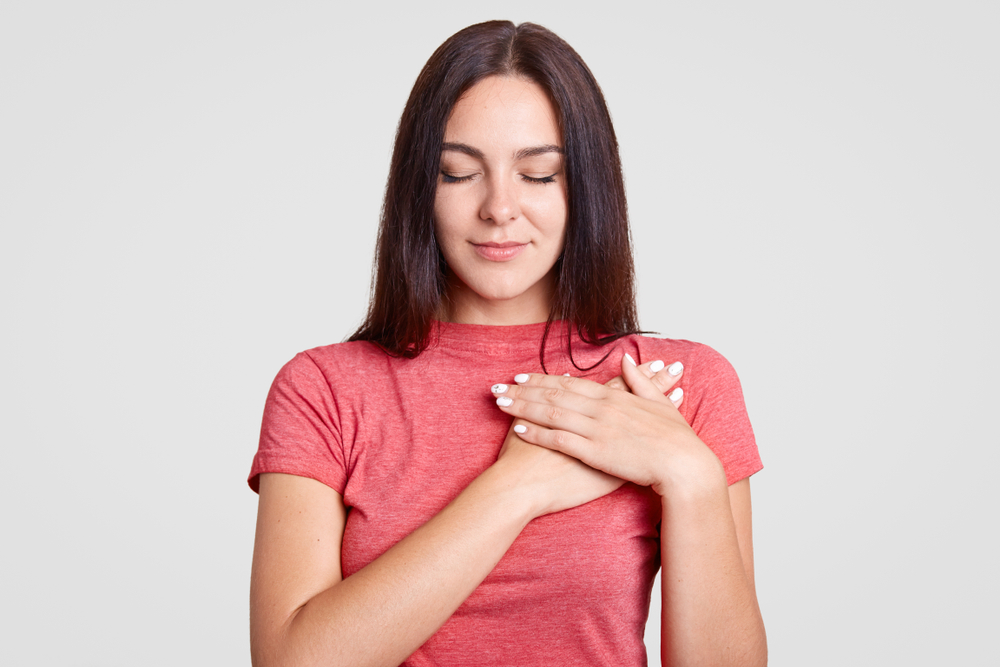 "We must develop and maintain the capacity to forgive. He who is devoid of the power to forgive is devoid of the power to love." — Martin Luther King Jr.
"Never does the human soul appear so strong as when it forgoes revenge." — Edwin Hubbel Chapin
"It is one of the greatest gifts you can give yourself, to forgive. Forgive everybody." — Maya Angelou
"Surely it is much more generous to forgive and remember than to forgive and forget." — Maria Edgeworth
"True forgiveness is when you can say, 'Thank you for that experience'." — Oprah Winfrey
"The weak can never forgive. Forgiveness is the attribute of the strong." — Mahatma Gandhi
"To err is human; to forgive, divine." — Alexander Pope
"It's not an easy journey, to get to a place where you forgive people. But it is such a powerful place because it frees you." — Tyler Perry
"Forgiveness is above all a personal choice, a decision of the heart to go against the natural instinct to pay back evil with evil." — Pope John Paul II
"Forgiving isn't something you do for someone else. It's something you do for yourself. It's saying, 'You are not important enough to have a stranglehold on me.' It's saying, 'You don't get to trap me in the past. I am worthy of a future.'" — Jodi Picoult
Forgiveness Quotes to Move On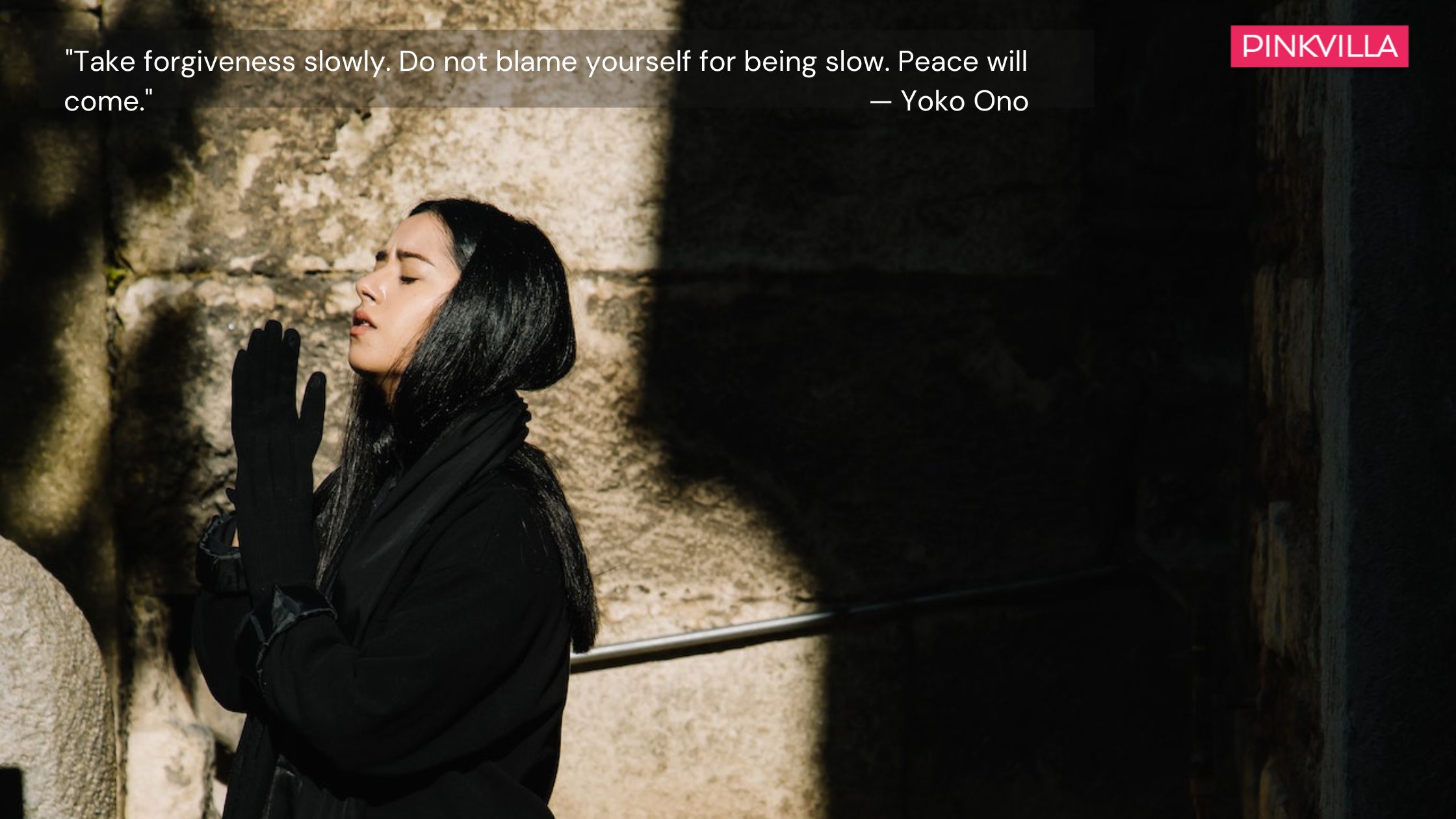 11. "Take forgiveness slowly. Do not blame yourself for being slow. Peace will come." — Yoko Ono
12. "Forgiveness does not mean ignoring what has been done or putting a false label on an evil act. It means, rather, that the evil act no longer remains a barrier to the relationship. Forgiveness is a catalyst creating the atmosphere necessary for a fresh start and a new beginning." — Martin Luther King Jr.
13. "There is no love without forgiveness, and there is no forgiveness without love." — Bryant H. McGill
14. "Throughout life people will make you mad, disrespect you, and treat you bad. Let God deal with the things they do, because hate in your heart will consume you too." — Will Smith
15. "If we really want to love, we must learn how to forgive." Mother Teresa
16. "I believe forgiveness is the best form of love in any relationship. It takes a strong person to say they are sorry and an even stronger person to forgive." — Yolanda Hadid
17. "We win by tenderness. We conquer by forgiveness." — Frederick William Robertson
18. "If one by one we counted people out / For the least sin, it would not take us long / To get so we had no one left to live with. / For to be social is to be forgiving." — Robert Frost
Forgive and Move On Quotes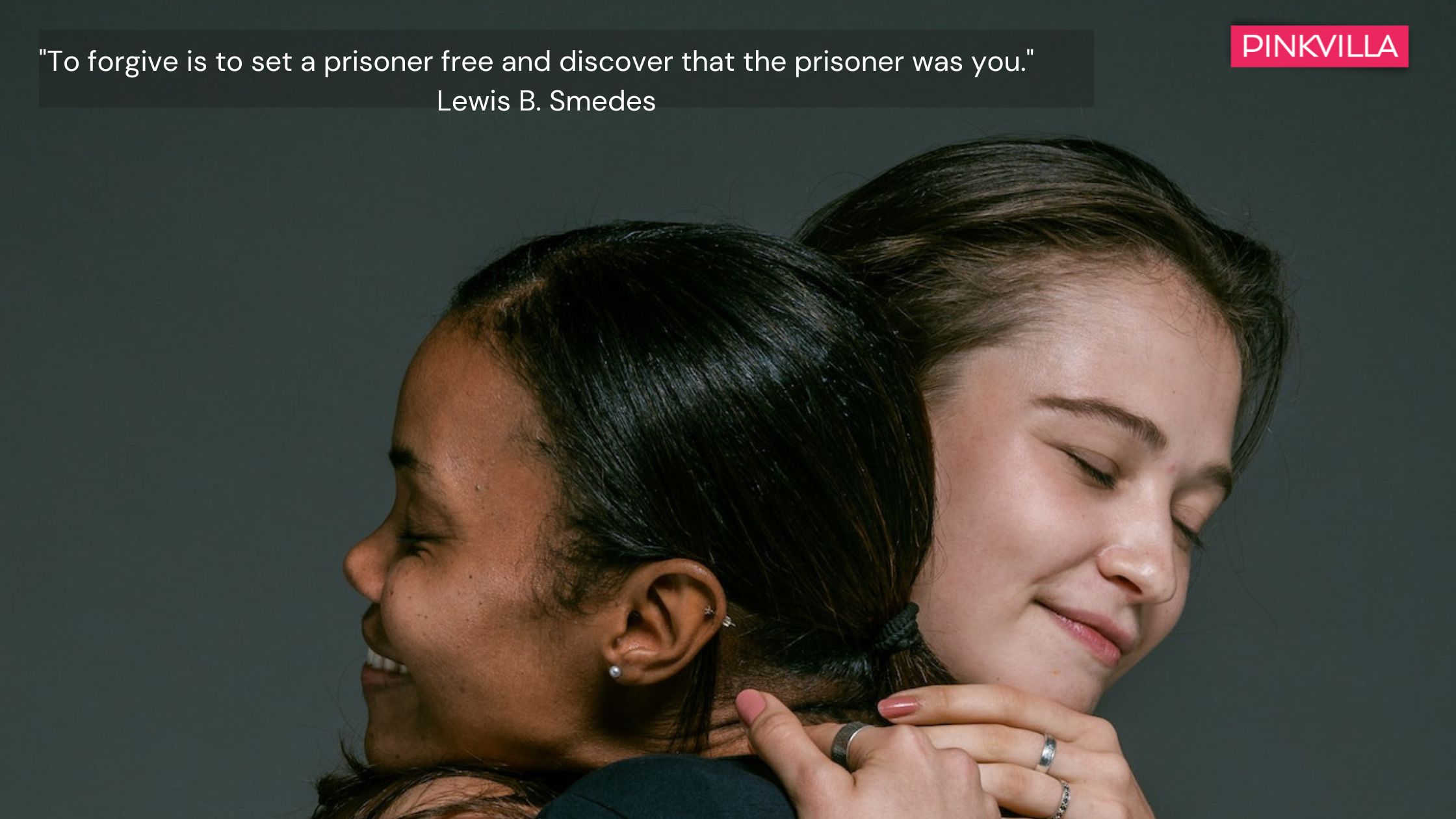 19. "To forgive is to set a prisoner free and discover that the prisoner was you." Lewis B. Smedes
20. "I think the first step is to understand that forgiveness does not exonerate the perpetrator. Forgiveness liberates the victim. It is a gift you give yourself." T. D. Jakes
21. "Without forgiveness life is governed by an endless cycle of resentment and retaliation." Roberto Assagioli
22. "Forgiveness is healing...especially forgiving yourself." Alyson Noël
23. "As I walked out the door toward the gate that would lead to my freedom, I knew if I did not leave my bitterness and hatred behind, I'd still be in prison." Nelson Mandela
Quotes on Forgiveness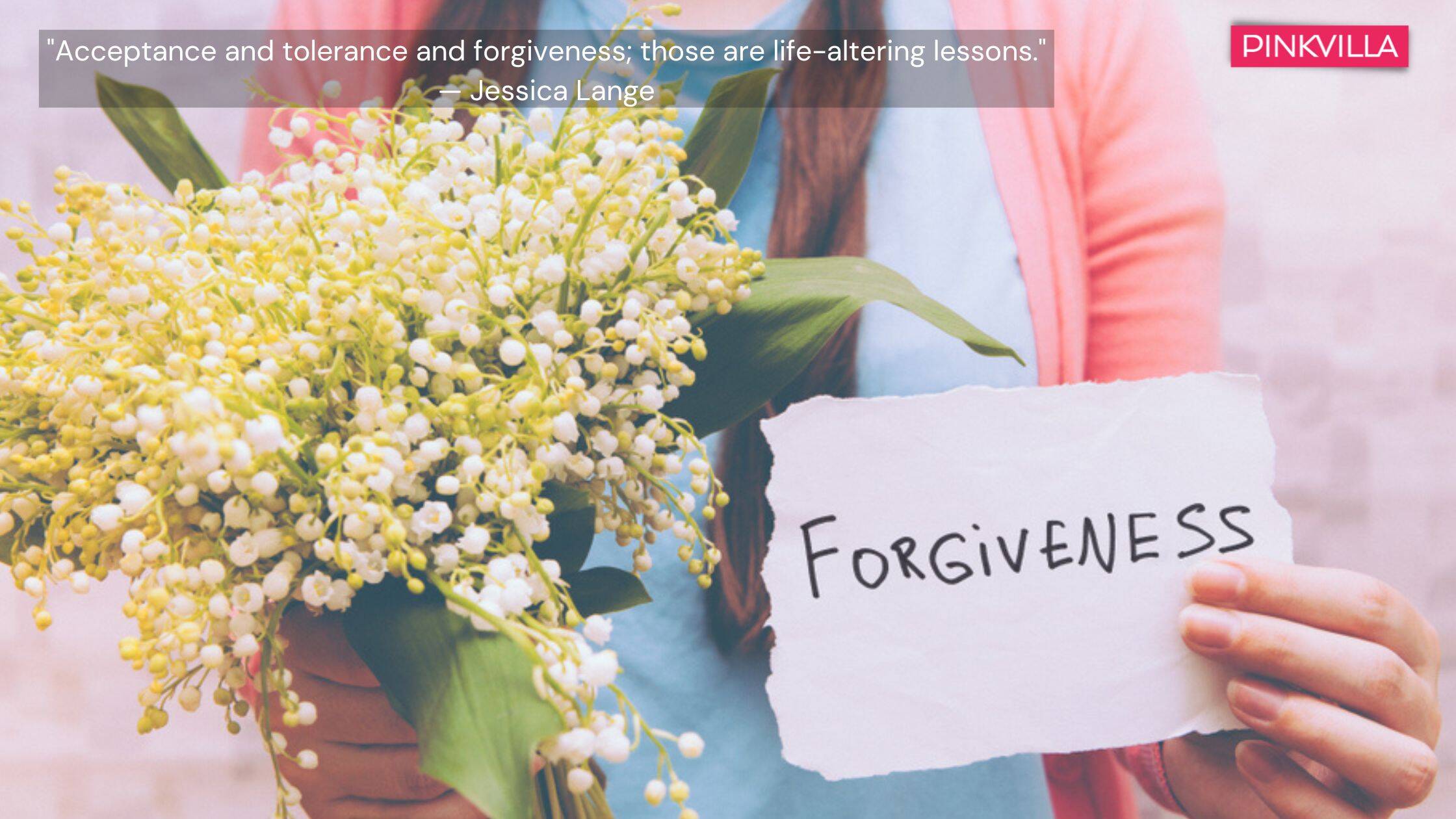 24. "How unhappy is he who cannot forgive himself." — Publilius Syrus
25. "Forgiveness is a powerful expression of the love within our soul." — Anthony Douglas
26. "There is no revenge so complete as forgiveness." — Josh Billings
27. "Forgiveness is not approving what happened. It is choosing to rise above it." — Robin Sharma
28. "Acceptance and tolerance and forgiveness; those are life-altering lessons." — Jessica Lange
29. "Never forget the nine most important words of any family: I love you. You are beautiful. Please forgive me." — H. Jackson Brown Jr.
30. "Forgiveness is the fragrance that the violet sheds on the heel that has crushed it." — Mark Twain
31. "Always forgive your enemies – nothing annoys them so much." — Oscar Wilde
32. "Forgiveness is the needle that knows how to mend." — Jewel
33. "Forgiveness is a funny thing. It warms the heart and cools the sting." William Arthur Ward
34. "Forgiveness is not weak. It takes courage to face and overcome powerful emotions." — Desmond Tutu
35. "Forgiveness is a strange thing. It can sometimes be easier to forgive our enemies than our friends. It can be hardest of all to forgive people we love." — Fred Rogers
Conclusion
Forgiving someone is powerful as it not only frees the one being forgiven but also the one extending the pardon. The concept of forgiveness has been explored and discussed by numerous great thinkers and authors, providing valuable insights into the significance and impact of this liberating act. In the above compilation of quotes on forgiveness, we took you to delve into the words of wisdom that capture the essence of forgiveness and the potential it holds for personal growth and healing. Moreover, rediscovering the true essence of forgiveness through these quotes will empower you to grow, overcome obstacles, and embrace life's challenges with a renewed sense of positivity and compassion. So, let your haunted past go, forgive yourself and others, and heal your heart and mind to enjoy a peaceful present and future!
ALSO READ: Global Forgiveness Day: Effective Ways to let go of grudges and forgive someone who hurt you
FAQ's
How do you forgive someone who hurts you emotionally?
Forgiving someone who hurt you emotionally is immensely challenging. However, you need to accept that the harm is done, and the more you hold on to that hurtful feeling, the more you are breaking your own heart. So, acknowledge your sentiments and understand what exactly hurt you. Once you understand the root cause, try to forgive that person by taking away any power or control they may have on your life, i.e., shut them out completely (at least until you grieve and move on). Take your time to work on your emotions. Most importantly, do not push away people who care. Seek help and come out stronger!
---
How do you let go and move on?
Letting go and moving on is not always easy. However, with the following tips and tricks, you can start healing and break free from the past. Firstly, distance yourself from the one who hurt you. Focus on yourself, your work, life, and those who care about you. Practice mindfulness. Do not rush. Take your time to grieve and allow yourself to let your emotions flow. Practice self-care and pampering. Once you start feeling slightly better and in control, you can also have an open and honest conversation about why they hurt you. Forgive yourself and them, let go, and move on to lead a happier life.
---
Can you ever truly forgive someone?
There is no one answer to this question. Whether or not you can truly forgive someone depends on the individuals involved and the magnitude of the hurt caused as well as the consequences of the mistakes made. However, with enough time and compassion, it may be possible to truly let go of past grudges and find the strength to forgive, if not forget.
---

---