BIGBANG's Taeyang drops solo teaser images for VIBE with BTS' Jimin: 5 reasons to look forward to the collab
BIGBANG's Taeyang has unveiled more sneak peek photos for his next release, VIBE. Another thing to look out for is that it's a collaboration with BTS' Jimin.
Updated on Jan 06, 2023 | 05:39 PM IST | 265K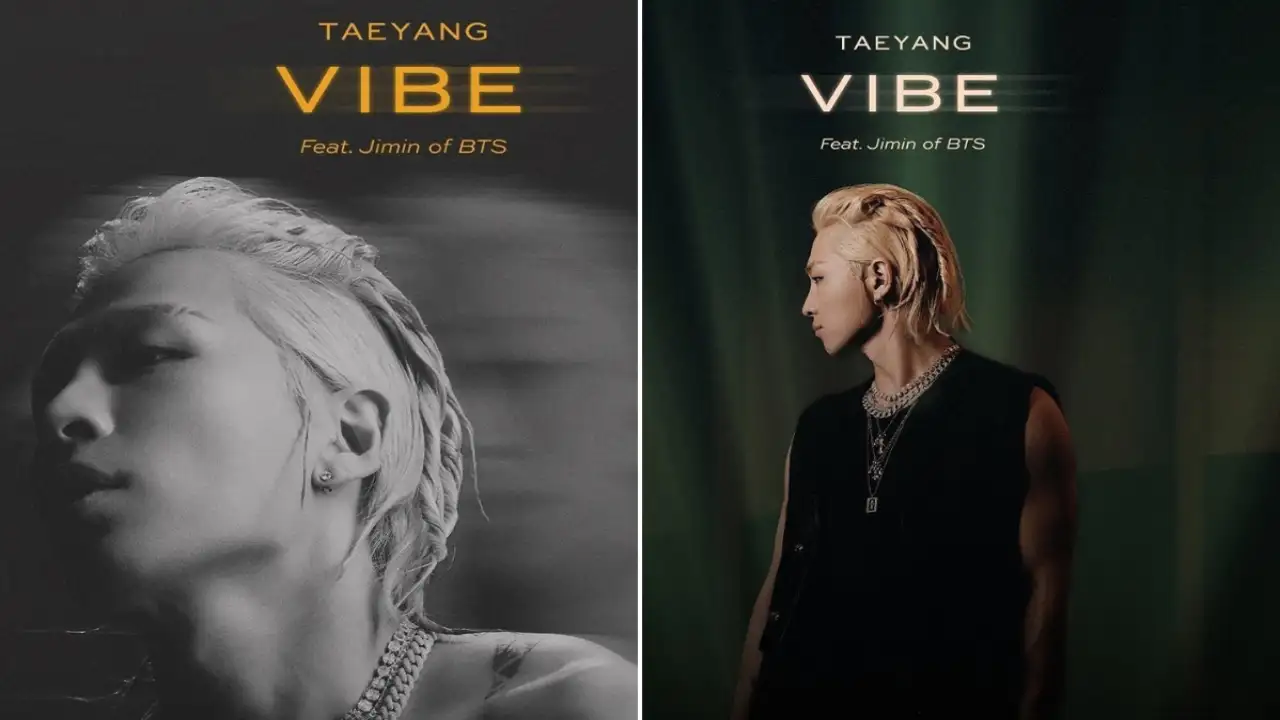 K-pop lovers are always up for a new song from their favourite singers. Well, we have teaser images of BIGBANG's Taeyang's soon-to-be-released single 'VIBE' in collaboration with BTS Jimin. Taeyang himself shared the images on his own Instagram account.
Here's why you should be thrilled about this new song!
The 'VIBE' behind Taeyang's solo teaser image 
Taeyang of BIGBANG just released two additional solo teaser visuals for his next digital single 'VIBE', which features Jimin of BTS. The monochromatic headshot photograph he shared yesterday perfectly captures the true intensity that the song might have. The slightly blurred effect gives us twisted aesthetics and a sensuous atmosphere, showcasing a strong and delicate emotion.
The second teaser photograph he shared today, in contrast, has a stunning aurora light effect that creates a sleek yet ethereal ambience. His chiselled jaw is highlighted by the side profile, and his unparalleled fierce charm is highlighted by the sideways cold glance.
Jimin and Taeyang 'Vibe' together
Finally, Jimin and Taeyang will combine their musical abilities into a song. The teaser images have already attracted interest on a global scale. Taeyang's new single has a fresh and distinctive appeal. The pictures convey a strong and delicate feeling while establishing a stylish and dreamlike mood. It will undoubtedly become a smash hit tune!
On one side, we have Taeyang (Dong Youngbae) from the famous K-pop band BIGBANG. The idol is well-liked and has achieved success as a solo performer. On the other side, we have Park Jimin, one truly talented member of BTS. He has distinguished himself for his adored ensemble as a dancer and singer. Jimin has demonstrated amazing talent not just in Bangtan songs but also in his solo songs and some fantastic collaborations with other musicians.
This will be Taeyang's first solo release in six years and Jimin's first song in six months. Despite having a smaller repertoire, the vocalists' flawless vocals have never failed to dazzle audiences. Taeyang's groovy voice and Jimin's unique and delicate vocals are going to be a perfect combination.
The hotness of TaeyangXJimin
The pair were shown posing together in the first teaser photo which announced the release to the world. It showed the two vocalists standing close to each other while dressed in red and black. The atmosphere of the concept suggests that this is going to be a terrific song with a lot of energy, and they both look extremely nice.
The announcement poster shows Taeyang and Jimin posing against a yellow background with dazzling lights. Jimin is seen wearing an all-black avatar and a striking, vivid red leather jacket that is worn off one shoulder as usual. Taeyang wears a similar black attire that fits the concept and is elevated by his slicked-back blonde hairstyle. The second teaser image for 'VIBE' has prepped us in advance for the anticipated banger of the year.
Jimin's Dream Collaboration
Back in 2013, right around the time of his debut with BTS, the idol had admitted that BIGBANG's Taeyang was the K-pop superstar he looked up to, revered the most, and had then hoped to perform together on the same stage! This endeavour is nothing less than Jimin's ultimate dream collaboration since he will be working with the guy who inspired him throughout his formative years in the business.
The already Hype of the song VIBE
All of this felt like a dream or a rumour a few days ago. Recently, some pictures that Taeyang posted that gave us a peek at the behind-the-scenes activities from his recording studio went viral. In them, he can be seen working on a new song with a musician who strikingly resembles Jimin. The BTS vocalist was quickly identified by his fans. Additionally, J-Hope liked the image, supporting fans' suspicions that the two will be working together soon.
And it was later on confirmed by Taeyang's agency THEBLACKLABEL with the first teaser of the song hitting social media on January 4. Even BTS' official handle confirmed the collaboration with BIGBANG member Taeyang. The song is set to drop on January 13 at 2 p.m. KST (10:30 am IST).
What intrigued us most was the fact that the teaser image for JiminXTaeyang showcased an aesthetic that fans haven't seen before. With Taeyang's distinctive musical style and Jimin's talent and charisma, this song is predicted to enthral listeners all around the world once more.
The fantastic cooperation with these two incredible K-pop vocalists is something we can't wait to hear about. We are confident that Taeyang and Jimin did a fantastic job with 'VIBE' and that it will ultimately win us over totally.
We can't wait to vibe with the song!
ALSO READ: BIGBANG's Taeyang announces collab VIBE with Jimin of BTS: G-Dragon supports member
About The Author
Journalist. Perennially hungry for entertainment. She spends most of her time either binge watching rom-coms or ...talking about dogs. After completing graduation in Mass Media, her love for celebrity gossip helped her in making web more entertaining place.
Read more
Top Comments
There are no comments in this article yet. Be first to post one!