BTS' V, Park Seo Joon, Choi Woo Shik and more enjoy the sunny breeze of Mexico in new trailer for Seojin's
tvN released the new highlight trailer for Seojin's featuring BTS' V, Park Seo Joon, Choi Woo Shik, Lee Seo Jin and Jung Yumi.
Published on Feb 18, 2023 | 03:44 PM IST | 1.3M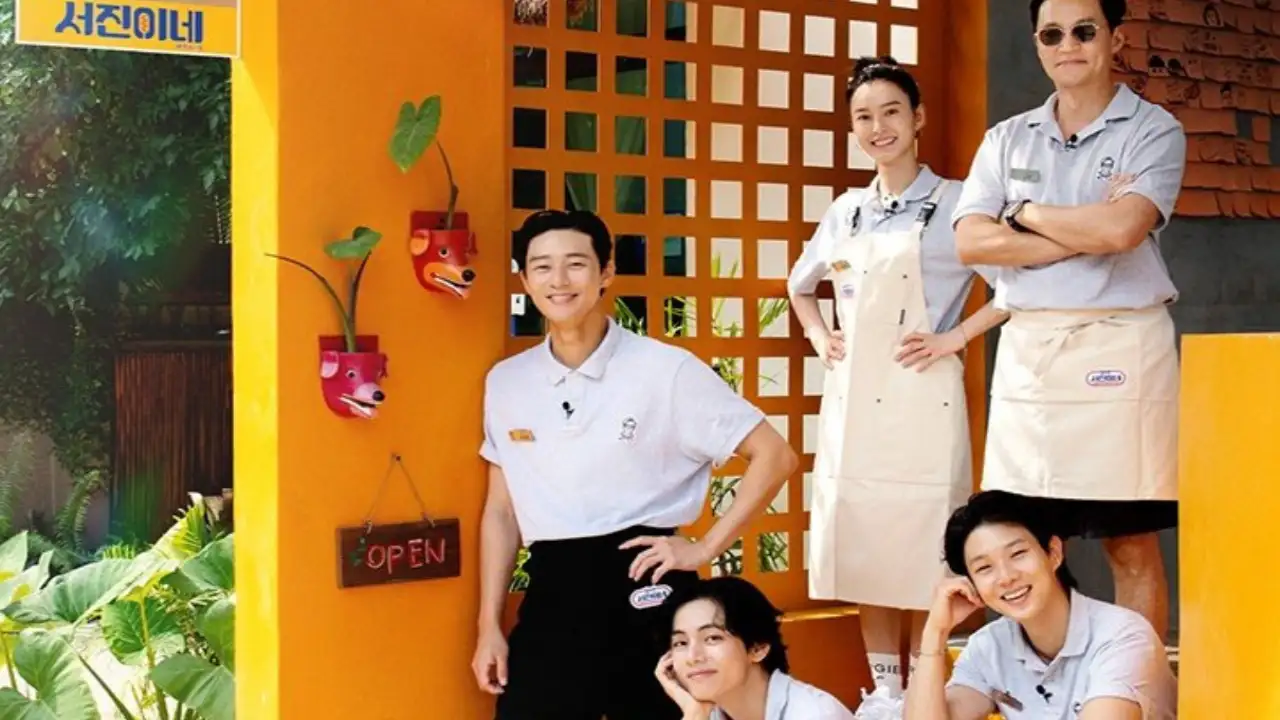 Lee Seo Jin, president of 'Seojin's', evaluates the diligence and attendance of employees such as Jung Yumi, Park Seo Joon, Choi Woo Shik, and BTS V.
On February 17, tvN's 'Seojin's' side revealed the real scene of 'Seojin's', where performances and meritocracy prevail through a 5-minute highlight video. The released highlight video begins with the images of Jung Yumi, Park Seo Joon, Choi Woo Shik, and BTS V enjoying leisure in the landscape of Bacalar, a neighborhood with a mysterious lake in Mexico. The warm sunlight, leisurely atmosphere, and picturesque appearances that seem like there is no heaven, even the people with smiles on their faces, catch the eye.
Then, the snack bar 'Seojin',' which is located on the roadside next to the lake, and its owner, Lee Seo Jin, appear. Contrary to the management philosophy of 'profit is king', the empty table situation makes his forehead wrinkled. President Lee Seo Jin's nervousness and sensitivity increase as much as the time he waits for customers, and the eyes of the employees who notice are also busy.
The trailer:
When the first customer appears, a bright smile spreads across Lee Seo Jin's face, which makes the staff tilt their heads. V of BTS said, "I am confused. Is this person a good person or a bad person..." and Park Seo Joon blurted out, saying, "Isn't he making people difficult while smiling strangely?" In addition, the attendance evaluation of all employees of 'Seojin' is appealing to viewers. Lee Seo Jin picks the meticulousness of Jung Yumi, who is in charge of the signboard menu, gimbap, as her best strength. Even though he takes care of his younger siblings and takes a responsible attitude, he gives a generous score, but he doesn't forget to evaluate the negligence, saying, "I ate a few (gimbap) in fact."
Park Seo Joon, Choi Woo Shik and BTS' V:
A generous evaluation of Park Seo Joon, the king of cooking, 'Chief Park' was also released. Lee Seo Jin praises Park Seo Joon, who is armed with sincerity and stamina, as his 'right-hand man', but Park Seo Joon is aiming for his president's position. The relationship between the two men, who are crossed like ironic fate, causes laughter once again. Along with this, it is also interesting to evaluate Choi Woo Shik, who shows the ability optimized for hole serving with his unique affinity, and the new maknae new intern BTS V, who has been recognized for his persistence. In response to the pure spirit of the youngest members who embarrass the president, Lee Seo Jin implicitly reveals that fierce evaluations are being made every moment, saying, "There is no law that you have to work hard tomorrow just because you worked hard today, interns."
ALSO READ: From Heartstrings to Sisyphus: The Myth: Glancing at The Heirs' Park Shin Hye's best roles over the years
Stay updated with the latest Hallyu news on: Instagram, YouTube, Twitter, Facebook and Snapchat
What do you think of the highlight trailer? Let us know in the comments below. 
About The Author
A BMM graduate, Anoushka has been writing professionally for over 2 years. K-Pop and K-Dramas consume her day and she
...
Read more
Top Comments
There are no comments in this article yet. Be first to post one!