VIBE: BIGBANG's Taeyang and BTS' Jimin turn up the heat with the charismatic and exciting MV
THEBLACKLABEL released the MV for BIGBANG's Taeyang's digital single VIBE feat. BTS' Jimin. Read ahead to know more.
Updated on Jan 13, 2023 | 01:32 PM IST | 563K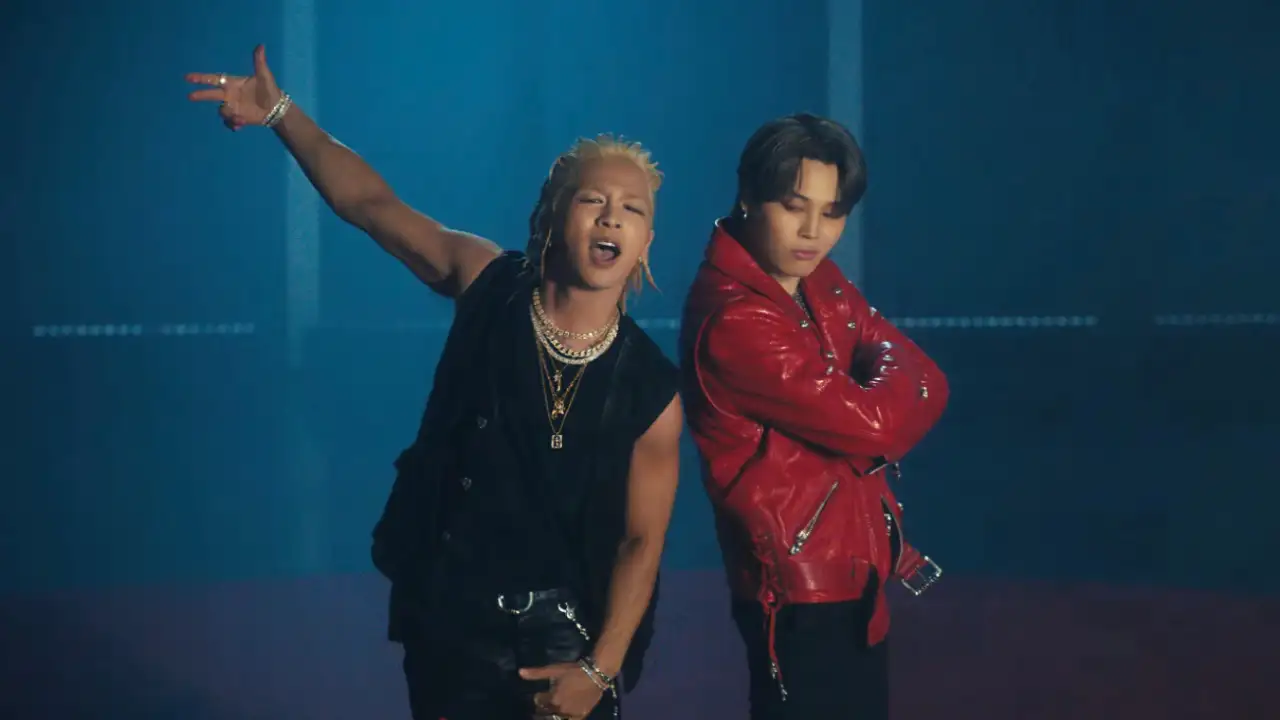 BIGBANG's Taeyang released a new digital single 'VIBE (Feat. Jimin of BTS)' through major music sites at 2 PM KST (10:30 AM IST) on January 13th. 'VIBE' is a song that expresses the subtle emotions that can be felt through 'vibe' in a relationship with witty lyrics, and is a song that combines addictive beats with Taeyang and Jimin's charming voices. Taeyang participated in writing and composing the song, and THEBLACKLABEL's producing team TEDDY, KUSH, Vince, and 24 other strongest producers worked together to improve the musical quality.
In particular, BTS Jimin not only features, but also appears in composing and music videos, providing perfect support. Previously, Taeyang raised the fever for his comeback by sequentially releasing various teasing contents. With the return of an all-rounder artist, the expectations of global music fans have risen to the limit. In the cover image of the moving album 'VIBE', which was released through THEBLACKLABEL's official social media handles, Taeyang created a dreamy atmosphere by staring at the side and closing his eyes as if dreaming. In the 30-second cover video that was released, Taeyang's new digital single 'VIBE' was combined to add a mysterious atmosphere. Taeyang stimulated the imagination of viewers with a dreamy yet heavy movement full of inner space.
Taeyang talking about Jimin:
BIGBANG member Taeyang held a comeback countdown live on his YouTube channel on January 13th to commemorate the release of 'VIBE', when asked about collaborating with BTS' Jimin, he said, "It was a shock. I've never thought about it before." He further elucidated that he felt unfamiliar because he had never made a feature proposal or collaborated with anyone in the past. However, in 2022, he was invited to a private dinner or event, so he had a chance to meet the BTS members, and naturally started talking with Jimin. Taeyang explained, "I talked with Jimin about what it would be like to make music, and while listening to and making music together in the studio, the song 'Vibe' came out."
The collaboration between Taeyang and Jimin is receiving great attention as it is a collaboration between members of BIGBANG, the representative boy group of the 2nd generation of K-Pop, and members of BTS, the representative boy group of the 3rd generation of K-Pop. BIGBANG is the group that led the trend of K-pop producer idols. In particular, Taeyang is versatile in all areas, including singing and dancing. He released solo hits such as 'Look at Me', 'Eyes, Nose, Lips', 'Ringa Linga', and 'Wedding Dress'.
BTS is arguably the most popular group in the K-Pop industry. Jimin is good at dancing and singing. Previously, when Jimin debuted with BTS members in 2013, he said, "I respect BIGBANG's Taeyang. I wanted to perform on the same stage once." In the K-pop industry, as Hallyu stars have met, it is highly likely that this 'Vibe' will enter the US Billboard's main single chart 'Hot 100'. Taeyang's new solo song is about 5 years and 5 months since his 3rd regular album 'White Night' released in August 2017.
Taeyang said, "Because 'Vibe' was a song I worked on with Jimin, I think people are expecting more. We were satisfied with our cool appearance. It was like a 'hip-hop duo' in the past." 'Vibe' is also the first new song released by Taeyang after leaving YG Entertainment, where he has been involved since his debut in 2006, and recently settling on THEBLACKLABEL, led by Teddy. However, he had already been working on music with THEBLACKLABEL, which is also a YG affiliate. Taeyang said, "Now that I'm working as a solo artist, I feel like a newly-debuted artist. I've been working on my solo album since I was discharged (November 2019), and one of the results is 'Vibe'."
The word 'vibe', which is also the title of this song, has been popular for several years.But he said he had never really thought deeply about its meaning."I think it can be defined as 'atmosphere' or 'energy' in Korean, but I thought that a 'good vibe' might start with a heart that truly loves something. Also, I wondered if a good vibe comes out when things are harmonious." On this day, with the accompaniment of an acoustic guitar, Taeyang showed off his beautiful singing skills by playing his most popular solo song 'Eyes, Nose, Lips' and BIGBANG's 'Still Life' which was released last year as a full group live. In particular, the cover of BTS' hit song 'Dynamite' was briefly introduced and received a great response from fans.
Review of VIBE MV and track: 
The song itself has an upbeat instrumental and slowed tempo that makes one feel like it can be played during a chill party session. Taeyang's melodious voice blended with Jimin's amazing high-pitched voice and the great part of the song is the listeners got to hear them individually as well as one unit so we can appreciate both their voices throughout the song. Moving on to the MV, the theme was to display a glamorous stage where both the superstars can dance and sing together, therefore it was simple but effective. Taeyang's visuals shine more with the blonde hair while Jimin displayed his brilliant expressions and dancing skills as well! All in all, it is a fun track that allows one to move along with their favorite artists! 
About The Author
A BMM graduate, Anoushka has been writing professionally for over 2 years. K-Pop and K-Dramas consume her day and she... enjoys writing articles about it. So far, she has written close to 3000 articles. She loves films, music, art, and food! She spends most of her time either discovering a new film or burying her nose in a gripping novel.
Read more
Top Comments
There are no comments in this article yet. Be first to post one!