EXCLUSIVE: Ami Patel on styling Athiya Shetty for her wedding, vintage glam, tips for brides-to-be and more
A 101 about Athiya Shetty's wedding looks in Anamika Khanna to Ritu Kumar. Pinkvilla and Ami Patel got chatty and we're extra stoked to share some fashion news with you.
Updated on Jan 30, 2023 | 01:28 PM IST | 211.1K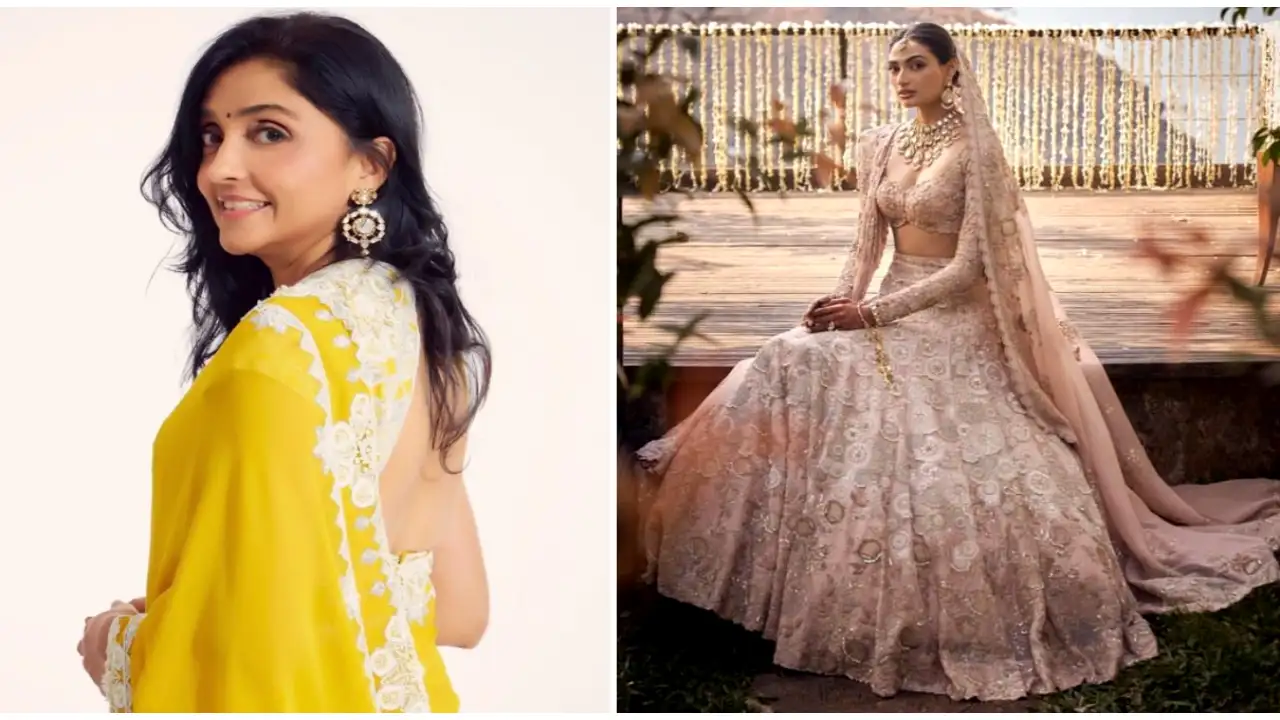 Brides of 2023, the bar for a glamorous trousseau has been raised by Athiya Shetty.  How do you build one, is this your ask? Even if you are living under a rock, you would have seen pictures from the Bollywood actress and KL Rahul's pre-nuptial ceremonies and wedding. Consider this as your early-arrived sartorial bonus and we all know what that means. On your most special day, look the bestest with lots of magic, fabrics, embroideries, accessories and more details the world won't stop talking about. Just like us and Celebrity fashion stylist Ami Patel who couldn't keep a word from you and went in for a full-fashion chat about Athiya's desi looks. 
Ami Patel talks about Athiya Shetty's bridal desi outfits and gives a pocketful of lessons for 2023 brides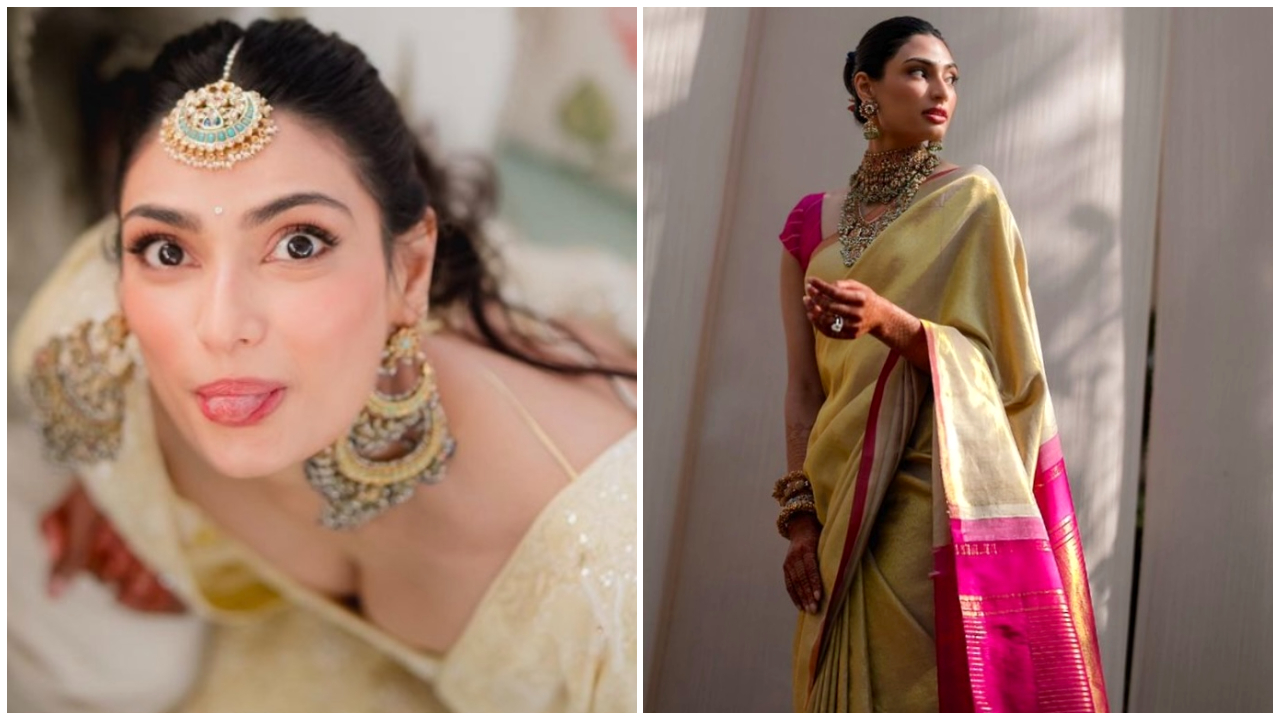 From styling Athiya for Diwali celebrations to styling her as a bride, how gratifying has the journey been so far?
 I am actually styling Athiya since she was 22 which is when she first entered the industry. So, yes, it has been a long journey with her. And, yes, Diwali was special, the Manish Malhotra look and her wedding was just the ultimate, the pinnacle of every look I've ever done with her. It was a coming together of her and my aesthetics. I honestly think we've done our hundred per cent and it shows in every look. She shines through every look despite the ensembles being on-point, it is just really about her and her special day and making her look amazing for every event keeping in mind her aesthetics and sensibilities. 
All in all, Athiya looks like a breath of fresh air in her entire bridal scenario. That's why people have been appreciating her looks so much. You can relate to it, it is so fashionable but at the same time so refreshing. 
Athiya Shetty chose non-traditional hues, no flashy red or pink on her wedding day, what led to the choice of a subtle yet so beautiful lehenga?
Athiya was clear from the start that she would be the bride to not wear red. It was not something that vibed with her and she was very sure that she wanted to do something in the subtle space. We explored a lot of colours from mint to baby pink and eventually, we hit upon baby pink as the right colour. I don't even think it is all baby pink, it is such an unusual colour. 
When you see the lehenga in person, there are undertones of nude and pink, it's the colour we should name it completely different, the Athiya pink, if at all. It was a special colour and I am so glad that no other colours were a part of that embroidery besides the different use of ivory, gold and rose gold. It was literally the colour that came through with the amazing embroidery designed by Anamika Khanna. I've never seen something so exquisite ever.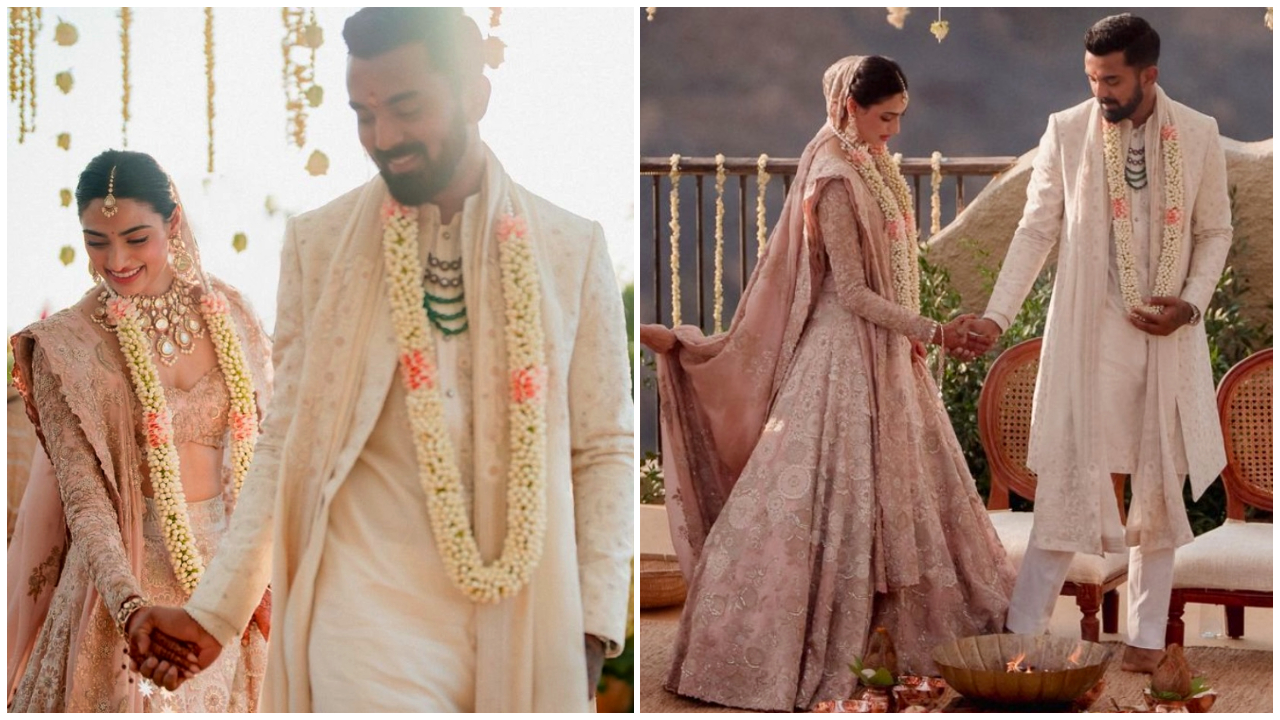 You have styled celebrity-bridal looks before, how different was your experience with Athiya? 
Styling each celebrity has been emotional. Marriage is something so beautiful and special, it is not just styling somebody for a bridal ad or a movie. So, there are emotions attached to it and sentiments. And, each journey with each of my beautiful girls that I have styled has been extremely special. There is nothing more or less than the other, each of them is so so special. 
I actually get really emotional when I style them and see them leave the room to go to the wedding mandap. It isn't the same as when they go to the set where there is a camera rolling, they're actually going to be sitting on the wedding mandap. So, the entire experience special is just so precious. It is a meeting of minds, seeing where the person is coming from, and what they want to look like on their wedding day and I think each of them has looked so special. 
What I also think is fantastic is that each of them has looked different. There was no overlap and it shows that it is truly them looking their best ever on their special day. You can say it's been different or the same with Athiya. Each of them has such strong personalities so bringing each of their vision and how they want to look, adding inputs and making each of them look so spectacular. 
Now that you've said it, maybe I should have all of their looks on a wall. It's been truly amazing. I feel blessed and lucky to have styled such beautiful girls on their wedding days which is so so special to them. 
Athiya is a true fashion girl, how do her ensembles from Anamika Khanna to Ritu Kumar project her love for the same?
Athiya is indeed a true fashion girl. Her fashion sensibilities are just bang-on. You show her something, she can tell you yes or no or give you inputs immediately. Her sensibilities are literally amazing and she does it in such a gentle and non-aggressive way. Like she says, either yes, no or this is how I want it which I think is fantastic. 
White is Athiya, it is her favourite colour in literally western, Indian, and everything. Yes, she could have a white bride but the whole idea of creating this unique colour was amazing and then using this really vintage white for her Haldi which was just so momentous. I'm so happy because I love Ritu and her work. I had a chat recently with Ritu and she was talking about the amount of work that is gone into curating Athiya's outfit with age-old techniques. Athiya is subtle and classy. She has got oodles of class and that has come through in every look. 
Why did vintage over contemporary become a thing for Athiya's Haldi look in a Ritu Kumar Anarkali set? 
From a spiritual perspective, I'd like to say that, the heart always yearns for something old and when I say 'old' it means ancient, that is something that has been there forever which is something that all we aspire to be eventually and to me in fashion, vintage is a representation of that. Just things that were there earlier and the love of that and how it's been preserved. 
For instance, techniques incorporated in Ritu's outfits. When I first spoke to Amrish Kumar, he said, "Listen, I have to first find the karigars who made this and that is what vintage is to me." It is the love of the ancient. 
And, Athiya is a fashion girl like you said and for her, anything that is ancient is something that is always been enjoyed and celebrated. So,  when Ritu sent us this piece and a whole bunch of things for Athiya, it was literally from their archives and when she tried it on, there was nothing to do. We knew this is what we want to wear and of course, we had to size it down for Athiya. But, otherwise, she just fell in love with it and she said "Let's replicate it and not change anything about it." And, that is what Ritu Kumar's team so loving and painstakingly did which I'm really happy and grateful for, Amrish, Ritu and the entire team.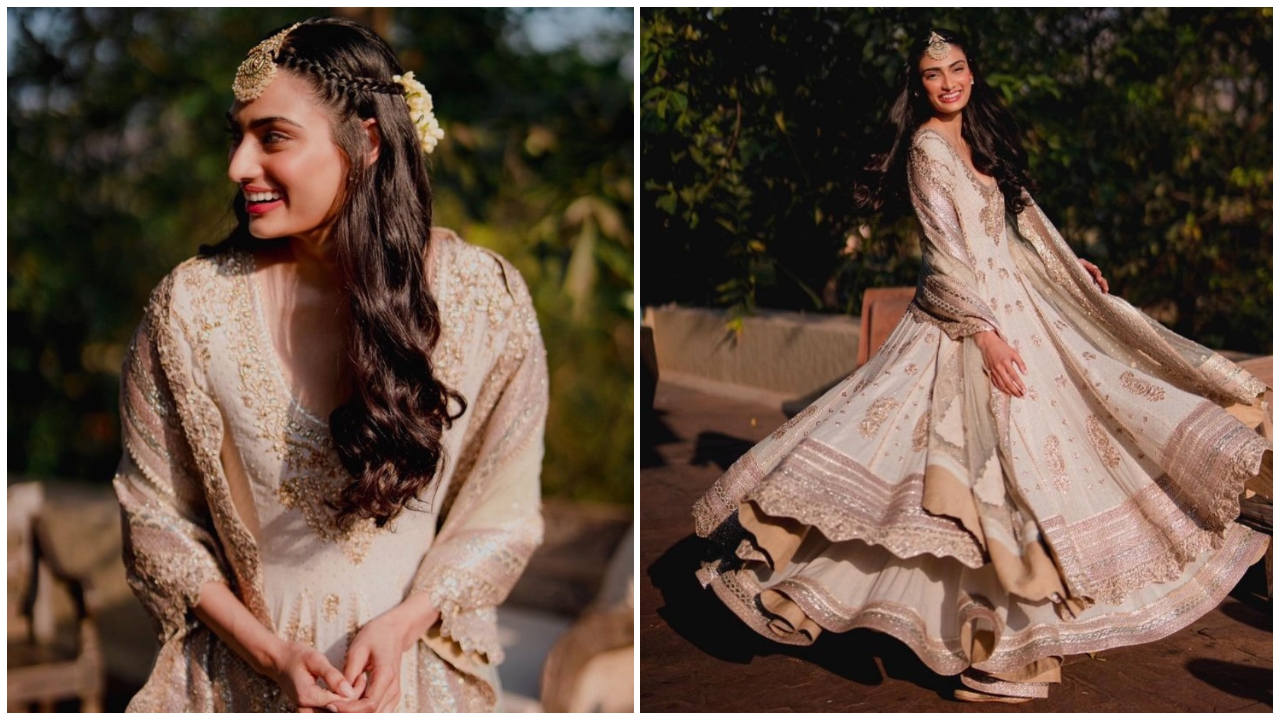 Minimal accessories for her Haldi look with only a maang tikka, earrings and fresh mogra, it was love at first sight for us, how did this look come through? Is no necklace the new cool? 
On a regular, if you see anyone's Haldi look, they wear flower jewellery because it looks so beautiful and real jewellery won't get spoiled with the Haldi, playfulness and everything that happens. So for Athiya's pre-wedding celebrations, we decided to ditch the flower jewellery instead we chose mogra to be woven into her look, fragrant mogra and have a real polki maang tikka. And, keep everything else bare. Just wear massive polki studs so that was a twist we decided for her Haldi instead of wearing a necklace or flower jewellery, let's just do statement maang tikka. The attire is just so beautiful by itself that is the twist both of us really loved. 
Your mood board for Athiya's looks proves that you love simple, easy-on-the-eye and classy ensembles, how did you combine it all and bring it to life through her saree to lehenga?
I would say chic, elegant, classy and understated are the words. That is what the mood board is and Athiya is. But, within that, she has set so many unique trends and layers to that. You see her wedding ensemble, tiny choli with long sleeves, intricately embroidered and just one really cool bangle and Kaliras with an interesting story and such a beautiful necklace. And, the work on her lehenga, the first time I saw it, I couldn't take my eyes off it. I just couldn't stop staring at it, the understated part of it was one part but there were 1000s of hours of work that went into it creating this amazing ensemble, literally to the pearls around flowers that Anamika created. Including the embroidery on her veil and the mix of jaal work, modern chikankari and gold work which was blended in so beautifully and seamlessly. 
At the end of the day, a bride doesn't want to look like she is on a red carpet. It is her wedding, it is a mandap and I think tradition is important. You can recreate Athiya's looks, she has set some amazing trends but at the same time she has maintained the fact that she is a bride and it needs to look traditional. In that tradition, like right now, big maang tikkas are hugely in fashion. She decided just to offset the necklace, the necklace was a masterpiece. The size of the stones was so large and doing another maang tikka would have killed the look.  So literally picking up a stone from the necklace and putting it on a maang tikka and dropping with pearl drops on it. People normally do jhumkas, but she didn't, the earrings went along so beautifully with the entire look. What we loved about this look is that we didn't do choodas and a bunch of bangles, we just did a simple bangle with kaliras that actually look like charms. So, I think her look was pretty path-breaking in its own way.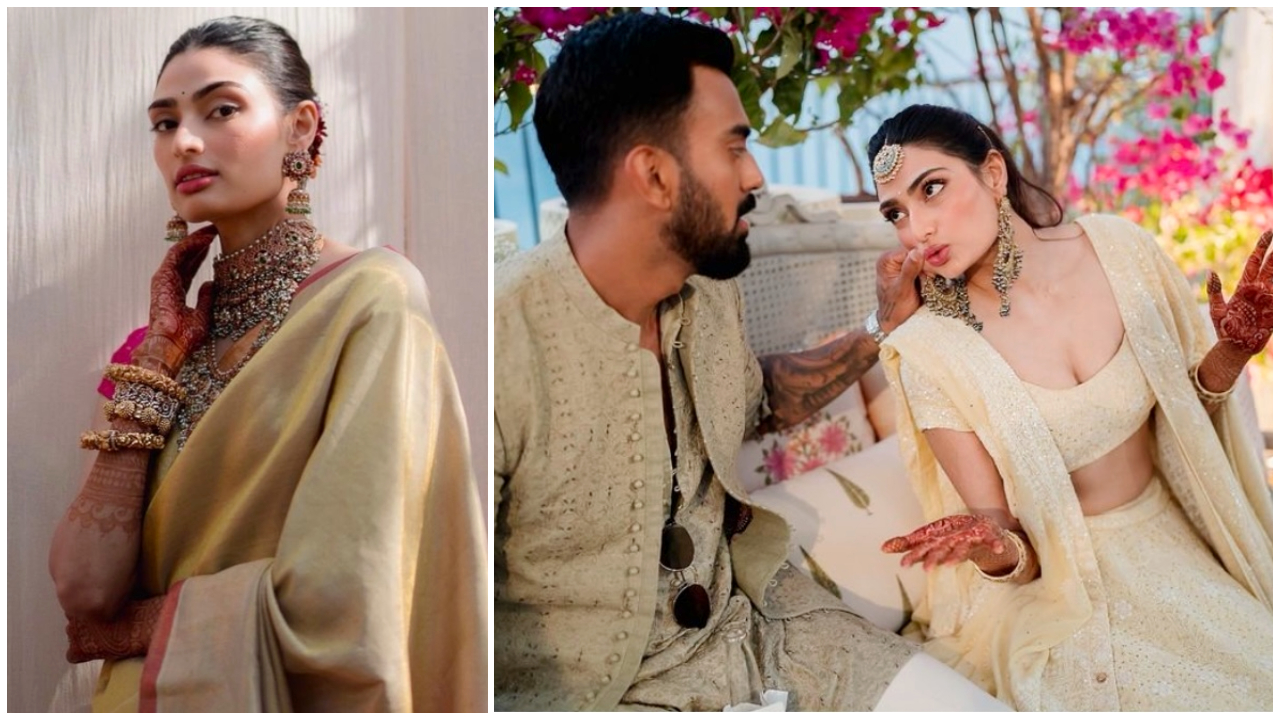 1 tip brides can avoid and 1 tip to count on when styling looks for one's big day?
Please don't copy anyone. Don't look at somebody else and say, "I want to look like this." Be your own bride. 
A tip we've worked on is the jewellery. Everything revolves around the neckpiece. So, first, decide on the necklace whether you want to do a layered look or stick to just one statement piece, whether you're for emeralds or rubies. Work on that and then work all the other jewellery around that. That is what I truly believe in doing, literally keeping your gaze fixed on the centre, on the neckpiece and then working everything else around and kind of fitting that in. It is literally like creating art, you have one which is the centre point of attention. What kind of earrings do you want to do, what kind of maatha patti do you want, or the hairband which is now in trend, what kind of kaliras, what kind of bangles or choodas you want, everything will fall in place once you have your necklace in place and that is what we did with Athiya's look. 
Which is your favourite look? Can you rate it on Pinkvilla's #OMB scale? (ON-FLEEK, MOOD, and BLAH)
For more Fashion & Beauty updates, follow @pinkvillafashion
Also Read | Anushka Sharma, Athiya Shetty to Masaba Gupta: A roundup of the most GLAM celebrity looks from the week
About The Author
A fashion writer by day and a makeup inspiration by the night, Manjusha is also an ardent animal lover. With multiple me...dia internships, and 2 years of writing experience, she has over 1000 posts to her credit. Her everyday joys translate to doing interviews, fashion round-ups, keeping an eye out for fashion faceoffs, and talking like there is no tomorrow about the newly-brewed skincare or makeup trend. Read more
Top Comments
There are no comments in this article yet. Be first to post one!