BIGBANG's Taeyang and BTS' Jimin exude charm in latest VIBE poster: 5 reasons it could be the next viral song
From sleek look to fierce charm, the new VIBE poster has made Jimin and Taeyang's fans ecstatic. Here are the reasons why it could be the next viral song.
Updated on Jan 10, 2023 | 07:15 PM IST | 635.8K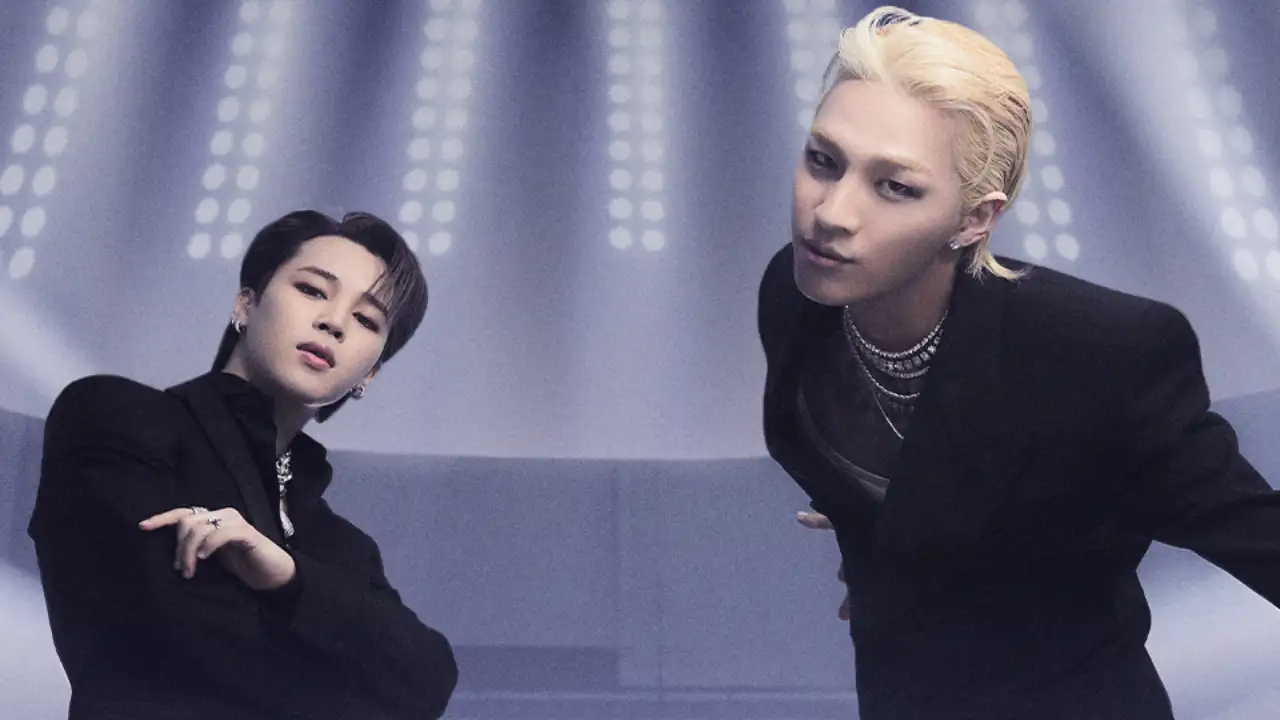 Recently a new poster was released by the official Twitter account of THEBLACKLABEL in which both BIGBANG's Taeyang and BTS' Jimin are featured in black outfits. The poster depicts the fierce gazes and sleek looks of both the K-pop idols along with mentioning the release date of the song. This poster is in itself a vibe as it shows enchanting blue lighting around both the K-pop idols. 
Fans were quick to react in the comments section with encouragement and love. One user mentioned that they missed Taeyang these years and it is a much-awaited song. While the other user tweeted that Jimin's dream of working with his inspiration finally came true. BTS fans are also ecstatic to make 'VIBE' the most successful song worldwide. They also shared their streaming goals for this song on Spotify, YouTube and other such platforms.   
THEBLACKLABEL also tweeted that the 'VIBE' would be released on Taeyang's YouTube channel on 13 January 2023 at 2:00 PM Korean Standard Time. People can also soon order their 'VIBE' merch including logo caps, long-sleeved t-shirts, and short-sleeved t-shirts. 
Here are 5 reasons VIBE could be the next viral song
1. Taeyang's first new song in six years as a solo artist
The release of the song 'VIBE' will mark Taeyang's first new release as a solo artist in about six years. His last work as a solo artist was a record named 'White Night' which was released in 2017. The record included two new singles, 'Tonight' and 'Darling'. Additionally, this new song will also be released under his new label THEBLACKLABEL after the expiration of his contract with YG Entertainment. However, it is an affiliate company of YG Entertainment, which producer Teddy heads.
However, for Jimin, the song will mark his first venture into solo music much like the other BTS members who are currently focusing on their solo careers. Earlier J-Hope debuted as a soloist in 2022 with the album 'Jack In The Box' and Jin debuted with his solo single 'The Astronaut' in October 2022. After that, RM released his solo album 'Indigo' in December 2022 and Jungkook also released his solo song 'Dreamers' as an official soundtrack for FIFA World Cup 2022.
2. Taeyang and Jimin's aesthetics on the poster
On January 4 2023, THEBLACKLABEL made an official announcement through Taeyang's social media accounts, including both the release date and title of the song. Taeyang also shared an additional solo teaser of the song which will feature Jimin, in a monochromatic headshot style. A second teaser revealed Taeyang in a sleek and chiselled look.
The poster released shows the perfect mixture of groove and hip-hop with both the idols in sleek hairstyles and black outfits. Even before the official announcement of 'VIBE' was made, fans were already suspicious about this collaboration. When Taeyang posted some behind-the-scenes pictures from the recording studio with another person. Fans were quick to identify the musician as Jimin and as J-Hope liked the picture, it further fueled the collaboration rumours.
3. Fans' reaction to the teaser
THEBLACKLABEL, Taeyang's agency also confirmed the collaboration of the two K-pop idols by sharing the first teaser of the song. Jimin and Taeyang absolutely depict a different vibe in this teaser with powerful synergy and fierce gazes. The teaser itself has garnered huge attention from fans on a global scale. It will undoubtedly become a viral song.
Earlier fans went into a frenzy as it was announced that BIGBANG's Taeyang will be collaborating with BTS' Jimin. BTS' official account made this announcement on Twitter along with sharing an official poster featuring both Taeyang and Jimin in red and black outfits.
Fans are increasingly happy for Jimin as he is collaborating with his musical inspiration. One user tweeted that the dream did come true for Jimin and that he is an inspiration to millions of other people.
4. Combined abilities of Taeyang and Jimin
The song combines the musical abilities of both Jimin from BTS and Taeyang from BIGBANG. Both these K-pop idols are well-liked by the audience because of their talents and looks. Taeyang's groovy music is expected to harmoniously melt with the delicate and unique vocals of Jimin, which will certainly make this song a huge success.
This collaboration for the song 'VIBE' is also extremely special for Jimin since he has always admired Taeyang. When Jimin was asked in an interview about the singer that he most admired and respected, he answered, "Taeyang sunbaenim (senior)."
5. Song's release on 13 January 2023
The release date of the 'VIBE' is January 13, 2:00 PM KST, which is interesting as Jimin's birth date is October 13 while BTS debuted as a K-pop group in 2013. Netizens were quick to make the connection that 13 might be a lucky number for Jimin. His fans took to Twitter to express their excitement over the news. One user mentioned that this BTS singer is so cool while the other one mentions that two members of the two most popular K-Pop groups are coming together so everyone should come together to make it successful.
Previously, Jimin from BTS also released OST 'With You' in collaboration with the singer Ha Sung Woon for the Korean drama Our Blues. The song received a huge response from fans around the world with it ranking high on Billboard's Hot Trending Songs chart.
Jimin made his debut with BTS in 2013 along with six other members Jungkook, RM, V, Jin, J-Hope, and SUGA. Earlier, he also released three other solo tracks along with BTS that included 'Filter', 'Serendipity', and 'Lie'. On the other hand, Taeyang made his debut with BIGBANG in 2006 with Daesung, T.O.P., G-Dragon, and former member Seungri. The group made their increasingly awaited comeback in April 2022 after four long years with the track 'Still Life'.
ALSO READ: BTS' V, BLACKPINK's Lisa, TWICE's Nayeon and more: Top 15 most-searched K-Pop idols on Google 2022
About The Author
A writer with 2+ years of experience, addicted to movies, coffee, and traveling. Currently curating content for Hollywoo...d, from movies to TV shows and currently making web a more entertaining place. Read more
Top Comments
There are no comments in this article yet. Be first to post one!