Suchwita: BTS' SUGA turns into a complete fanboy in front of BIGBANG's Taeyang in Episode 3 teaser
BTS' SUGA invites BIGBANG's Taeyang for a fun chat over drinks in the latest teaser for Suchwita!
Published on Jan 14, 2023 | 11:25 AM IST | 852.1K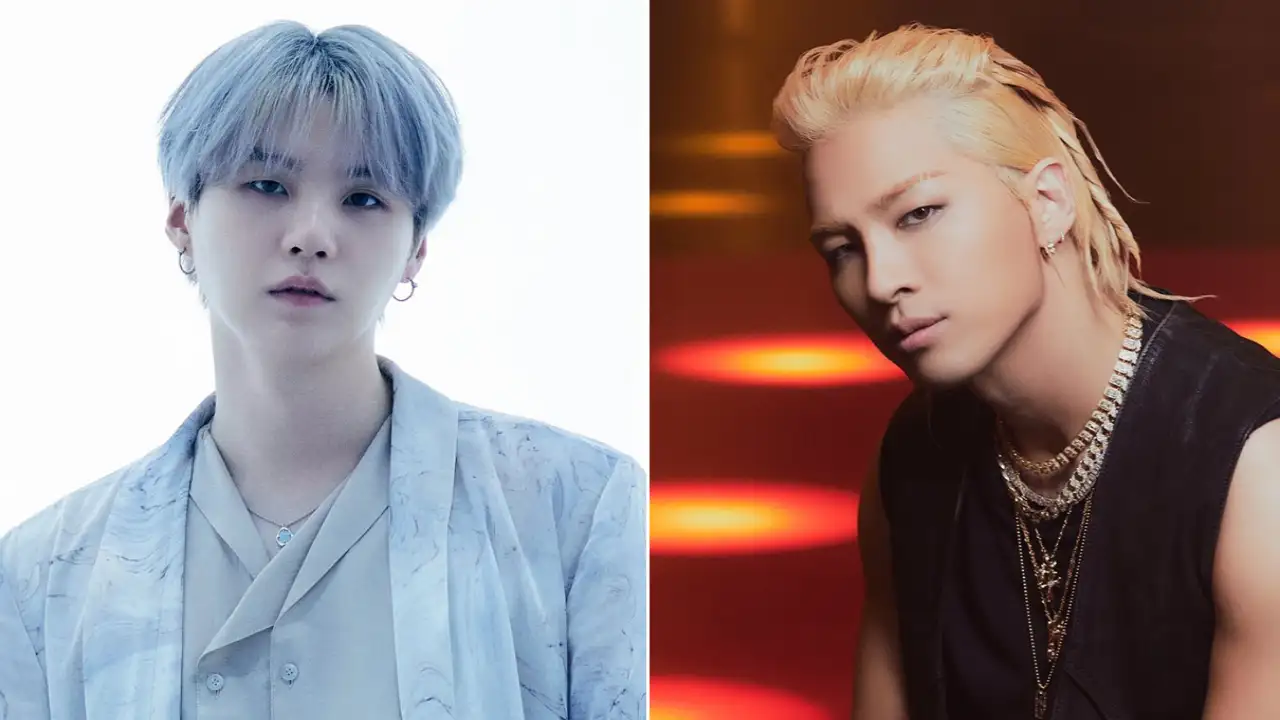 On January 14, BIGHIT MUSIC released the teaser for Suchwita Episode 3 featuring BIGBANG's Taeyang. In the teaser BTS' SUGA became a certified fanboy as he compliments Taeyang over all his accomplishments. Taeyang complimented him saying that he was glad to talk comfortably about work with someone who has seen it all in the industry. The episode will be out on 18 January at 10 PM KST (6:30 PM IST).
Previously, episode 2 of SUGA's content 'Suchwita' was posted on the YouTube channel 'Bangtan TV'. Broadcaster Shin Dong Yeop joined as a guest. SUGA shyly greeted, "I know you have filming every day. You are busy, but thank you so much for taking the time." Shin Dong Yeop skillfully said, "If SUGA calls, you should come." The two then shared their sympathy through sincere talk.
Shin Dong Yeop, who celebrated his 31st year of debut this year. Suga said, "Actually, I haven't had anyone who could be called a senior since my debut." I still think about it. I wonder how you did for 31 years." Then Shin Dong Yeop said, "Since I was young, I have been loved and recognized, and I have earned money compared to my age. At one point, I took it for granted. I lost my gratitude and my original intentions. I can't even think of losing my original intentions."
In addition, Shin Dong Yeop said, "What I do best, even if I look at my strengths, I can work more happily without getting hurt. This is the broadcast I have been doing. Even if I work every day now, I don't feel stressed at all. I am so happy and happy when I work." I've never thought about the number of years, but since I realized that, I'm really happy and mentally healthy." On the other hand, SUGA sympathized, saying, "We also thought about that a lot," and laughed, saying, "Actually, the peak of singers' peak wasn't long. We worked hard. But these days, we're working with gratitude in our hearts." Suga also said, "I don't think more people will listen to my music as time goes by. Being greedy for more than that is greed. Someone will listen to it. I think that's how it should go," he said honestly.
The first episode of SUGA's own talk show 'Suchwita' was released on BTS' official channel. 'Suchwita' is a talk show where SUGA meets people from various fields through alcohol and music and shares honest stories. On this day, RM appeared as the first guest. The two had a deep talk with traditional liquor. SUGA tilted his glass, saying, "Originally, RM wasn't the type to drink often. When I was young, when I came in after drinking, he was a very pitiful member. Lately, he's been drinking a little." Recently, RM released his first official solo album 'Indigo'. RM said, "It feels a little strange. It's been exactly 15 years since I started music, and finally a work that can be officially recognized has come out. There were regrets or regrets about half of 'Mono.', but I don't think that's the case with this one. I'm happy."
While RM and SUGA looked back on the difficult pandemic period, they also foresaw the future activities of BTS. SUGA confessed that he remembers February 25, 2020, "It was a shocking day for me. I saw my schedule canceled in front of my eyes in real time. With the pandemic coming, the tour was canceled, and I felt very helpless." RM also looked back at the time of the tour cancellation and recalled, "I didn't believe it then. It was a stage of denial. Later, I threw a pillow in reaction."
BTS' military enlistment:
BTS plans to enlist sequentially, starting with Jin, the eldest, to fulfill their military duty. Previously, the agency Big Hit Music said, "We hope to resume activities as a complete group of BTS in about 2025, but it is difficult to specify the exact time at this point." RM said, "In 2025, it will be right after I'm discharged." "If I return to society quickly, shouldn't the members do some work before returning or prepare something for me?"
In response, SUGA said, "One of the hardest things since I was young was being afraid of the future." The point in time was 2020. So I can't say, 'I'm going to do something in 2025'", taking a cautious stance. RM said, "It would be nice if we could all gather together and promote as a whole in 2025 as we wish."
ALSO READ: Island Episode 5-6 Review: Choi Tae Joon makes memorable cameo alongside Cha Eun Woo; Part 2 premiere date OUT
Stay updated with the latest Hallyu news on: Instagram, YouTube, Twitter, Facebook and Snapchat
What do you think of the teaser? Let us know in the comments below.
About The Author
A BMM graduate, Anoushka has been writing professionally for over 2 years. K-Pop and K-Dramas consume her day and she... enjoys writing articles about it. So far, she has written close to 3000 articles. She loves films, music, art, and food! She spends most of her time either discovering a new film or burying her nose in a gripping novel.
Read more
Top Comments
There are no comments in this article yet. Be first to post one!