Strong Girl Nam Soon Ep 5-6 Review: Byeon Woo Seok and Kim Jung Eun lock horns, Lee Yoo Mi's fate on stake
Strong Girl Nam Soon starring Lee Yoo Mi, Kim Jung Eun, Byeon Woo Seok dropped the latest episode of the supernatural crime comedy. Here's a recap of Episodes 5 and 6, as we review them further.
Published on Oct 23, 2023 | 12:50 PM IST | 255.6K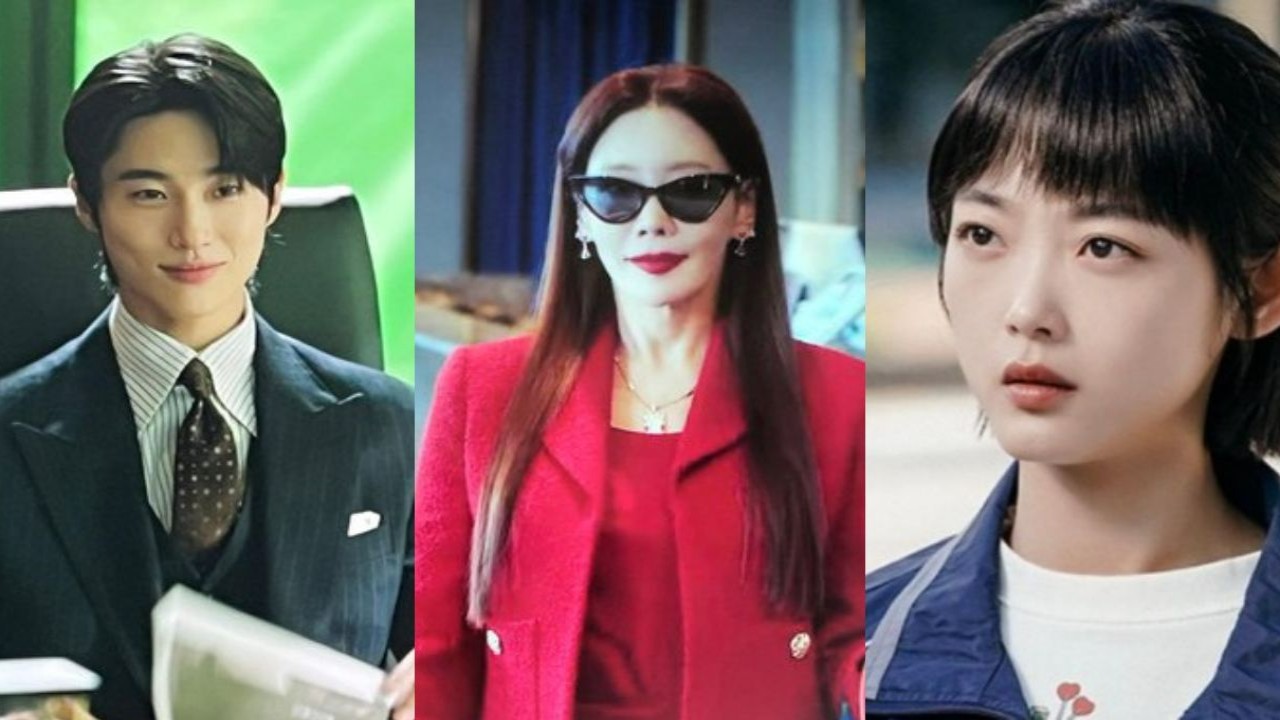 Key Highlight
Strong Girl Nam Soon ep 5-6 uncovers new mysteries surrounding Gangnam's biggest drug cartel

Byeon Woo Seok's transformation intriguees

Love blossoms between Lee Yoo Mi and Gang Hee Sik
Name: Strong Girl Nam Soon
Premiere Date: October 7, 2023
Cast: Lee Yoo Mi, Kim Jung Eun, Kim Hae Sook, Ong Seong Wu, and Byun Woo Seok
Director: Kim Jeong Sik and Lee Kyung Sik
Writer: Baek Mi Kyung
Genre: Drama, comedy, crime
No. of Episodes: 16 (Airs every Saturday-Sunday)
Where to watch: Netflix, JTBC
Recap of Strong Girl Nam Soon Ep 5 
Strong Girl Nam Soon's episode 5 aired on October 21. In the latest development, Lee Yoo Mi's character Gang Nam Soon, gets on the radar of both Byun Woo Seok's Ryu Shi O and her imposter Hwa Ja. While the CEO of Doogo takes pride in having Gang Nam Soon work for his company, Hwa Ja plans on taking revenge on the female lead. As the episode unfolds, Gang Hee Sik receives information regarding Hwa Ja's whereabouts in Doogo. In search of drugs, the handsome cop from the drug investigation department, gets injured, prompting Gang Nam Soon to carry him in her arms. 
Meanwhile, Hwang Geum Joo receives a special dinner invitation from Opulentia. She finds herself in a weird place near the seashore, where the company's vice chairman sells street food. Geum Ju grows more interested in investing in Opulentia as she becomes aware of its goal to adopt a simple lifestyle and preserve money for compassion. She later crosses paths with a rich CEO Bread Song. As much as his name sounded weird to her, so did his real estate business. Gang Hee Sik's department asks him to abort his undercover mission after finding no traces of drugs in the masks, which pisses him off. The episode ended with the first encounter between Gang Nam Soon and Ryo Shi O. 
Recap of Strong Girl Nam Soon Ep 6
In the sixth episode of Strong Girl Nam Soon, a new mission begins to take shape. The mother-daughter duo discover they are both chasing the same case and later join forces. Hwang Geum Joo calls Gang Hee Sik to say she was the one who tipped him off about the drugs in Doogo. She asks him to proceed with the investigation using the money she had previously given, when the officer insists that she take the money back, showing discomfort in holding onto it. Ryu Shi O, asks his warehouse manager to keep an eye on Gang Naam Soon, who is busy collecting samples from the factory to help the police. She asks the help of her two vagrant friends, who are no longer vagrants, to fill the space of Gang Hee Sik.
Love is blooming again for Gil Joong Gan (Kim Hae Sook), who makes excuses to meet the barista at Gang Nam In's cafe. After pledging to help him get the money back which he lost in catfishing, the duo goes on a karaoke date. Gang Bong Go (Lee Seung Joon) invites his daughter to dinner and she agrees. Gang Nam Soon's twin brother keeps getting insecure and expresses his feelings about leaving the house. He speaks about his willingness to live with his dad who at least loves him, unlike his mother who only pays attention to his sister. A member of Gang Hee Sik's police department secretly uses drugs, which makes him lose control. He urges the former to take him to his home instead of the hospital and later tries to attack him as well. But Gang Nam Soo once again comes to his rescue. Gang Hee Sik notices that the potency of the drug is being amplified by the consumption of water.
The most exciting part comes in the last ten minutes of episode 6, where Ryo Shi O accepts the invitation to meet Hwang Geum Joo. Doogo's CEO in the preceding sequence unveils his plans of creating a unique drug that will make the person become their desired self before taking their own lives. Meanwhile, Hwa Ja rushes toward Gang Nam Soon with a knife in her hand, thrusting it into her. The episode left us on a cliffhanger. 
Strong Girl Nam Soon Episode 5-6 Review
One thing that the spinoff to Strong Girl Do Bong Soon has made clear, is that it's not your typical romantic comedy with light actioners. The Lee Yoo Mi, Kim Jung Eun, Kim Hae Sook, Ong Seong Wu, and Byun Woo Seok starrer has kept the audience on the edge of their seat with the latest developments. The unique take on the drug angle weaving two or three separate stories with intertwined fates is drawing in a sizable audience. Meanwhile, Byeon Woo Seok's transformation for the show has become an internet sensation. As much as the leads are gaining attention so is the devilish style of the main antagonist. With three superhumanly strong women taking on Gangnam's biggest drug cartel, the story is just getting started and promises more action.
Stay updated with the latest Hallyu news on: Instagram, YouTube, Twitter, Facebook and Snapchat
About The Author
A bookworm who loves extracting ideas from written stories. Aditi is immersed in a world where all things
...
Read more
Top Comments
There are no comments in this article yet. Be first to post one!