EXCLUSIVE: Bhumi Pednekar on fashion from reel to real days, new bag buys, corset love, Holi outfit and more
The curious, the better. That's exactly how I landed this interview with the very fashionable, and a total sweetheart, Bhumi Pednekar. Certain things need to be known and here's everything.
Updated on Mar 05, 2023 | 08:27 PM IST | 81.6K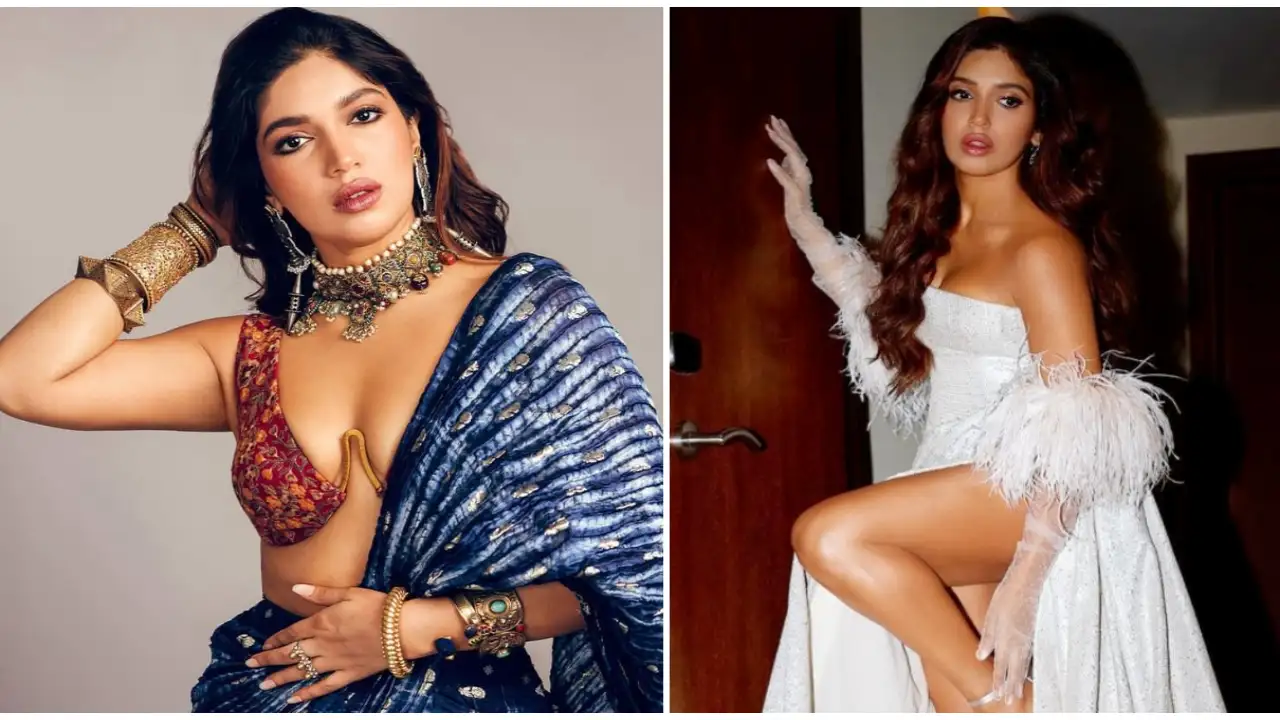 Introduce yourself to the side of Bhumi Pednekar's fashion and beauty oasis (beyond what you often see onscreen). Not so long ago since I last worked with her, this time, no corners were cut as our extensive tête-à-tête began. One could see her instantly as a Bollywood actress but I also found a friend who I hadn't known besides her movie characters and advertisements. Not for a single second I felt that she didn't speak candidly. 
No pleasantries were kept to ourselves, we reciprocated, and we laughed as I learned about the Bhumi I was curious about.
Keen to pay attention to the Govinda Naam Mera actress's views on corsets, notable players in the twists and turns of her fashion evolution, most-loved beauty products, and the trend she cannot seem to make do ever with, she sat through my fourteen questions patiently. For a fashion and makeup girl of her acumen, there's no shrinking her spirit. 
As our conversation whirred certain eyebrow-raising moments, she interestingly touched upon the fact that Bhumi had to be seen as she is instead of solely what her movie roles projected her to be. "Staying true to who you are is essential", and that's a lesson we will value for life.
Bhumi talks about all things fashion, beauty and glamour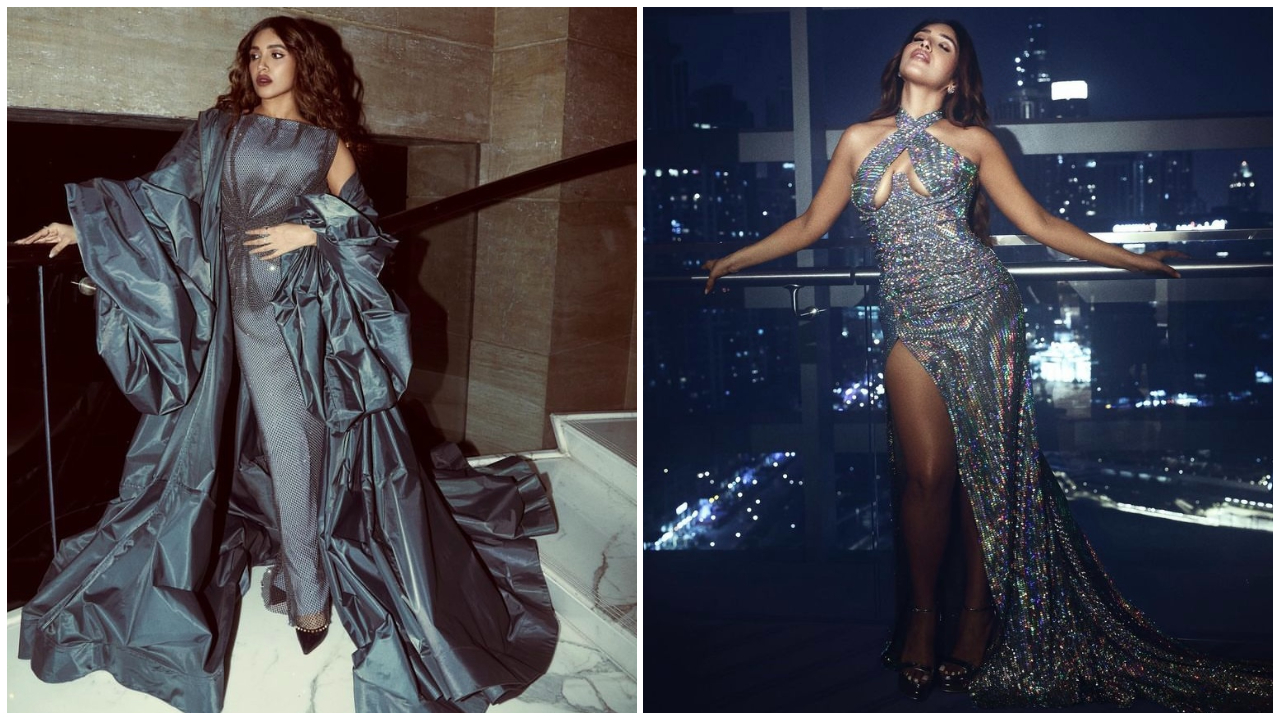 It's been 8 years of celebrating Bhumi as an actress, Congratulations. Can you tell us about your take on fashion then and now? 
Because of my first film, people had this preconceived notion about who I am. I've always loved fashion. When I wanted to be an actor, the first images were of Karisma Kapoor from Raja Hindustani, Urmila Matondkar from Rangeela, Karisma in Dil To Pagal Hai and DDLJ. All these films are very fashion-forward. It was the beauty and glamour and just the way these actresses would dress that I was obsessed with. It was a lot later that I realised, this is what people do to prepare for their character et cetera. So from a very young age, I've had a massive inclination towards beauty and fashion but because of my initial few films, people have this image of me, of being somebody who is very away from who I actually portray to be. So, I was very confused about the initial stages of my career because I was trying to put myself out there. 
So, I would like to believe that at the start of my career, my fashion was more of a struggle between who I really am and me trying to service the image that my films had created. So, I was never my authentic self. After eight years of this journey, I feel I have the confidence to put my authentic self out there and I think this happened to post the pandemic. I think all of us went through a lot of self-realisations because of a lot of time spent with each other. I'd like to say that eight years ago, my fashion was a part of me but not a hundred per cent and today what you see is authentic Bhumi. 
2 Fashion commandments made and followed by Bhumi?
Be true to what your personality is because the moment you try being a version of what somebody thinks you are, you are never going to be comfortable. So you know when they say, "you need to be comfortable in your own skin", that statement is absolutely true. 
Don't try to follow trends. Always try to be a trendsetter because whatever you're comfortable in will shine and you will most likely set a trend. 
Tell us about the fashionista Bhumi we need to know about since Diwali 2022? There seemed to be noticeable and massive shifts. Have you discovered a new side of Bhumi? 
As I said earlier, I won't say it's a new side of me because this side has always been me. But, I think, it was something I was more private about. Because of the way I was within my friend circles and colleagues, where I wasn't facing a camera, I was very different. Through time and after the pandemic, I realised that I need to have the courage to put myself out there. Whether people like it or dislike it, that's different, only then will I start enjoying fashion again. 
And, I was lucky to meet like-minded people that saw what I see in myself. And, many times as I said earlier, because of my films people would want to dress me down or dress me conservatively and I was like I'm not that person. 
I was very fortunate that I met technicians that believe in that side of me. These are friends that I work with and obviously, my fashion evolution has not been me alone, it has also taken some very integral people in my life who started styling me and were like, "Let's put it out, people need to see Bhumi."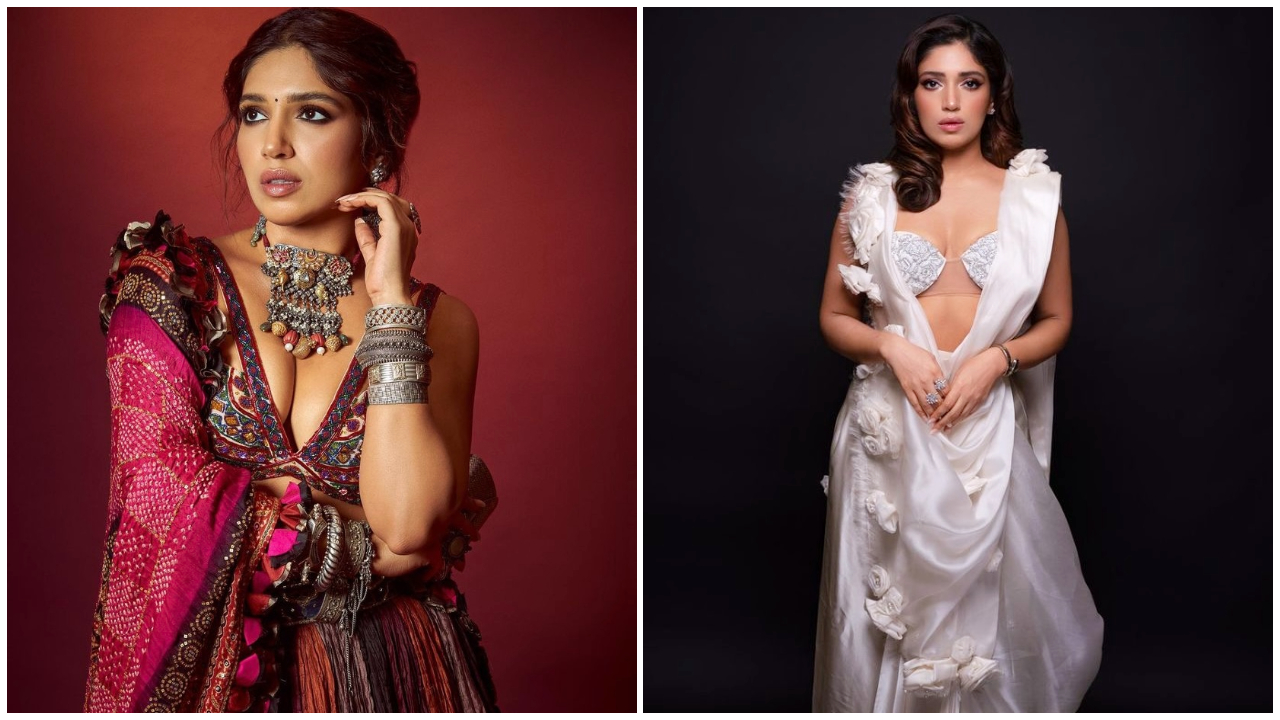 Can you share your views on sustainability and why do we as a fashion set need to swear by it? 
Sustainability where fashion is concerned, starts with the basic principle of recycling, upcycling and reusing. For me, sustainability in fashion is about using responsibly-sourced materials and reusing clothes. Back in the day, people would get shocked because I repeat my clothes often, including couture. I honestly don't care because to me it is about being able to recycle and upcycle. It can be something from my mum's wardrobe or a saree or something that is worn in the past. Because we need to understand that one t-shirt takes double-digit litres of water to be made. So, we're creating the maximum amount of pollution. 
Could you tell us about two of your recently bought handbags? 
I'm consciously trying to buy bags that are more canvas. So, I feel like I'm more habitual in going towards sustainability. So, my Gucci 'Love' print bag was something that I bought last year but I didn't get the opportunity to wear it until this February. It was the month of love so love needs to be celebrated. I definitely believe in that. I thought it was something that looked very cute and it was a limited-edition bag. I will treasure it for life and I honestly love my limited-edition bags because they're more of an investment than just fashion. 
Another bag that I recently purchased is the Re-Edition of the 1997 Prada bag. I've not been clicked with it yet but I've worn it multiple times. It has no leather, it is made up of resouracebly-sourced material.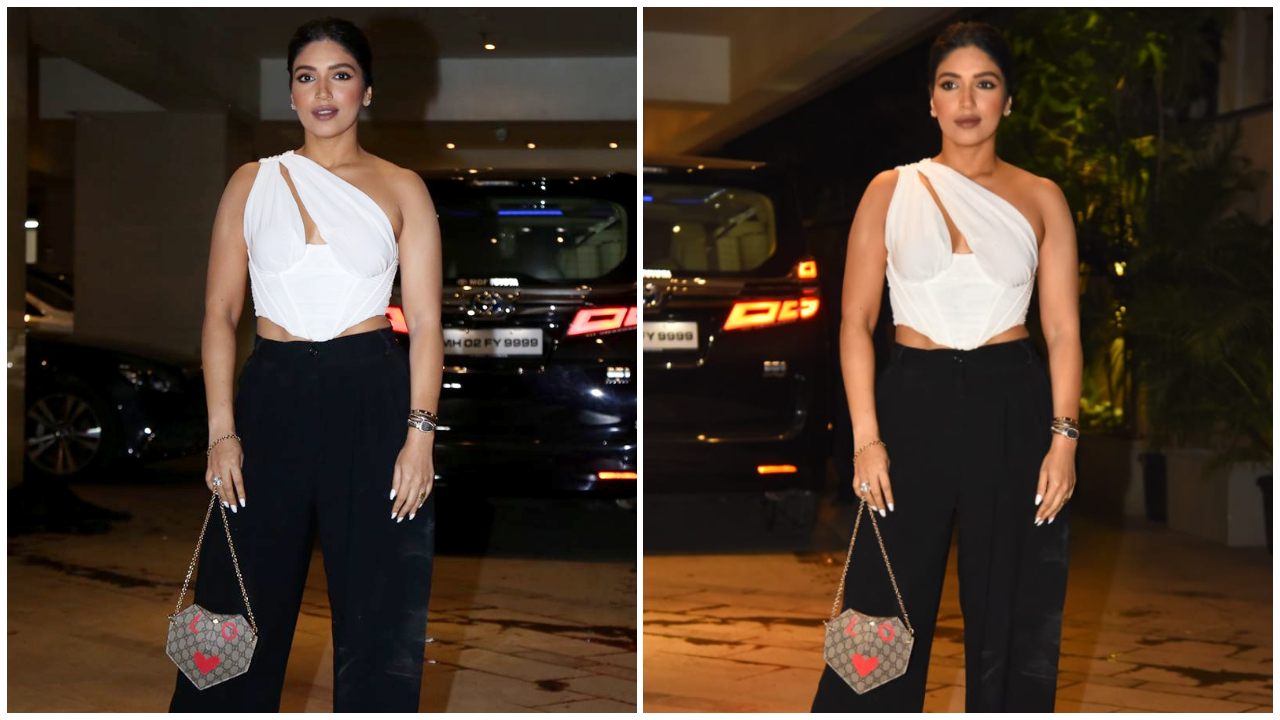 Your 2 top fashion moments in February?
The Tarun Tahiliani saree is supposed to be worn like how a saree is normally donned. But, I wore it and found the blouse to be pretty. So, we chose to wear it the other way around and that became quite a moment. I won a lot of love for that saree. Why I love wearing Tarun Tahiliani, I feel like he gets feminine-structured people well. 
I loved the Abu Jani and Sandeep Khosla saree I recently wore to an awards show and I received an award dressed in it. I love wearing their clothes right from the start of my career. These were my two distinct saree looks from February as one was graceful with a cape and the other was sexy.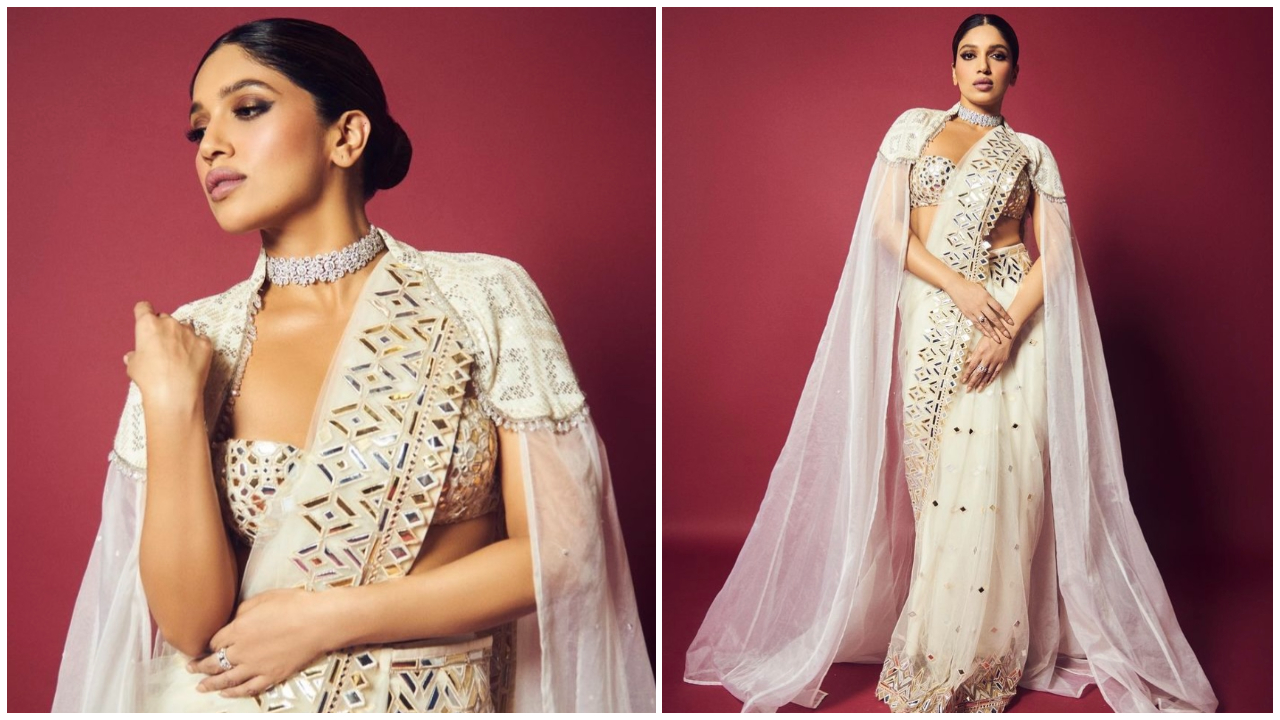 Name a movie that features the coolest wardrobe of all time? 
Aisha. As a girl growing up, Aisha is a cult favourite. Rhea Kapoor is a friend of mine and she has been very instrumental in my fashion journey. And, I have to give her credit for that. I keep going back to her and telling her that I want to do a film like Aisha because as a teenager or as a young adult, when that film came out, it had such an impact on me. Because, as I said, I always loved fashion and here was a film which was such a thrift place that would celebrate your fashion the way it has to be done. And Sonam Kapoor is a fashion heiress, a queen, she is everything fashion. 
You seem to be a corset fan. Can you give us 2 tips on how you'd style one to a party and date differently? 
I'm obsessed with corsets and this is honestly not a new love. Because I've worn it many times over the years. It is such a feminine, sexy and powerful garment. You can wear corsets with a pair of jeans or trousers and maybe a blazer like I recently did for my sister's birthday. 
You can also wear a corset with a saree and it's so sexy. I've done it again in the past when I've worn it with a draped skirt, the Tarun Tahiliani creation and it looked so powerful. I think that was honestly the start of my fashion evolution where I started putting myself out there and taking risks. I told myself, "It's okay Bhumi, just do it." 
I used to instinctively feel like wearing certain things. But people were like, "No, but people were like no, your film is this and people have this image of you." I just changed that and it was time to be authentic and be true to who you are.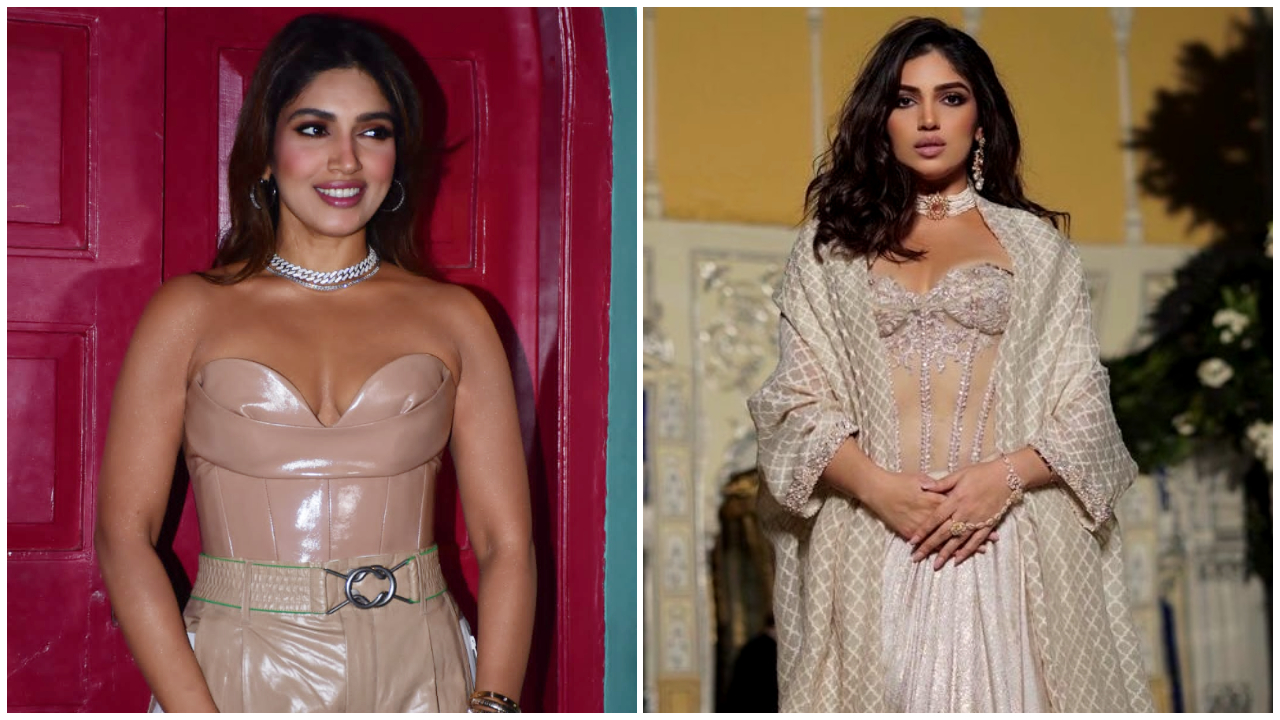 A Hollywood actress / actor you see as a fashion icon? 
I'll speak about a personality that I see as a fashion icon. It is Kim Kardashian. I think the Kardashian sisters are just phenomenal. All of them. 
What are your fashion plans for summer? Or what would you love for yourself to wear more?
I think I want to see myself wearing more dresses. With scorching temperatures, you will see me wearing linen and airy summer dresses. 
Bhumi's beauty bag shall never run out of? Your current favourite lipstick? 
I cannot step out without my lip balm or lip gloss. I think these are so important. And, my current favourite lipstick, I've been doing this lip routine for the last couple of months. It's the Over the Taupe colour from Mac's Powder Kiss range. It transforms your lip and I pair it with a lip pencil called Soar or Whirl, both from Mac. I'm obsessed with this routine and I think everyone should try it. 
A beauty trend you don't wish to try?
 I have not had the guts to try it and I don't think I ever will. Really skinny brows. I just don't get it, I don't get the trend. 
A brief picture of your outfit deck for Holi? 
A pair of white shorts and a t-shirt. 
A fashion lesson you've learned from Samiksha Pednekar?
Samiksha's fashion sense is very minimalistic. So, whenever I want to dress up minimalistic, I kind of go into her wardrobe but I'm not that at all. Because of her education and just the kind of person she is. She has a lot of blacks and whites and she just believes in minimal dressing. I think again that is authentic to who she is.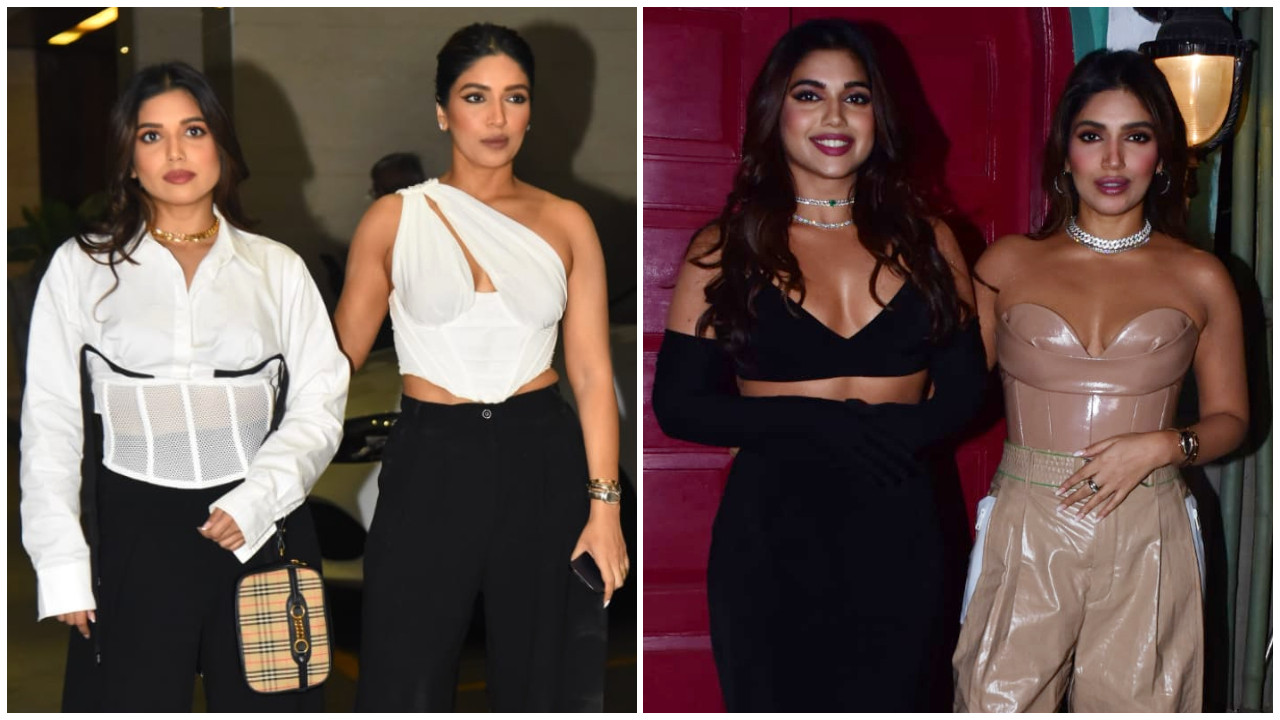 Do you love Bhumi's style? Let us know in the comments section. 
For more Fashion & Beauty updates, follow @pinkvillafashion
ALSO READ: Deepika Padukone and Nora Fatehi have found a friend in Fendi and it's chic
About The Author
A fashion writer by day and a makeup inspiration by the night, Manjusha is also an ardent animal lover. With multiple me...dia internships, and 2 years of writing experience, she has over 1000 posts to her credit. Her everyday joys translate to doing interviews, fashion round-ups, keeping an eye out for fashion faceoffs, and talking like there is no tomorrow about the newly-brewed skincare or makeup trend. Read more
Top Comments
There are no comments in this article yet. Be first to post one!