25 Bollywood-approved wedding guest outfits to ensure you're the best dressed
From Deepika Padukone to Katrina Kaif, refer to this guide so that you never miss the memo and can ace wedding guest style with the grace and shine you need!
Updated on Feb 17, 2023 | 12:59 PM IST | 128.1K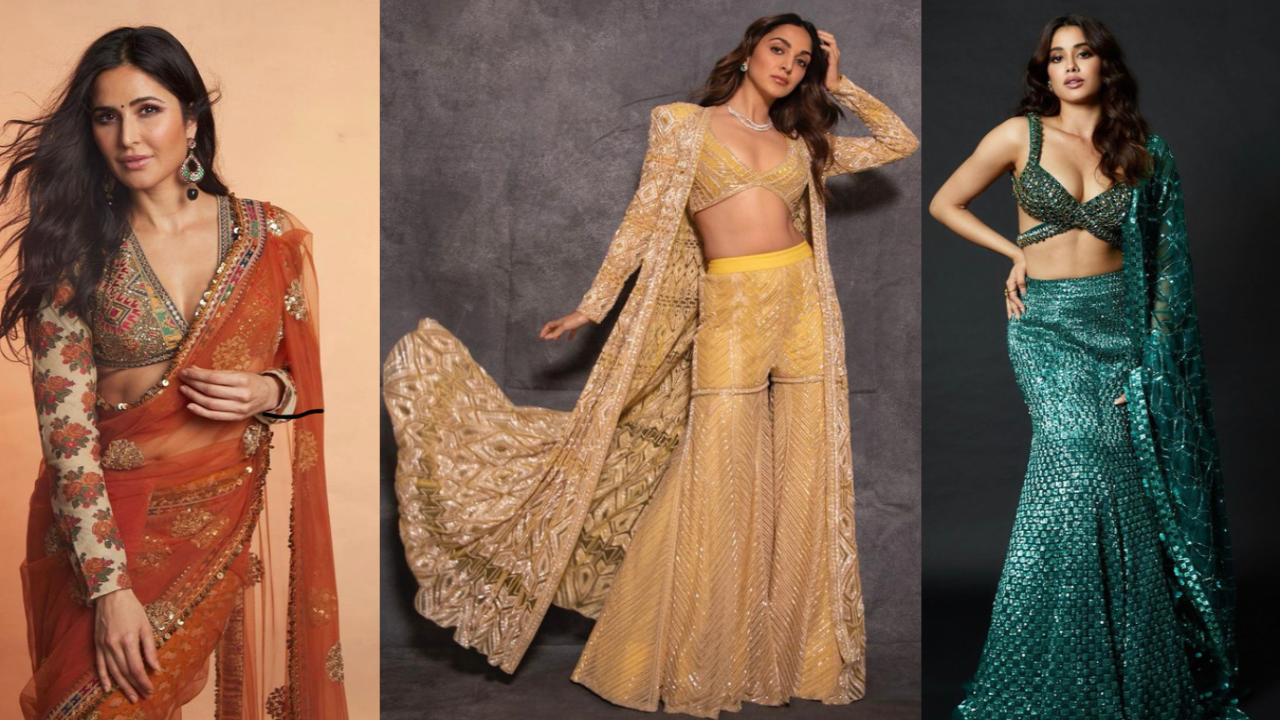 There's no better occasion than a quintessential, over-the-top Indian wedding to bring out your fashion A-game. Desi weddings are the perfect opportunity to bring out your traditional bests and go all out with your outfits. However, when it comes to deciding what to pick, it may sometimes seem like a challenge with so many aspects to confuse you. So we've decided to take some inspiration from our Bollywood divas and put together the ultimate wedding lookbook for you. From Deepika Padukone to Katrina Kaif, refer to this guide so that you never miss the memo and can ace wedding guest style with the grace and shine you need!
1. Janhvi Kapoor's angelic white number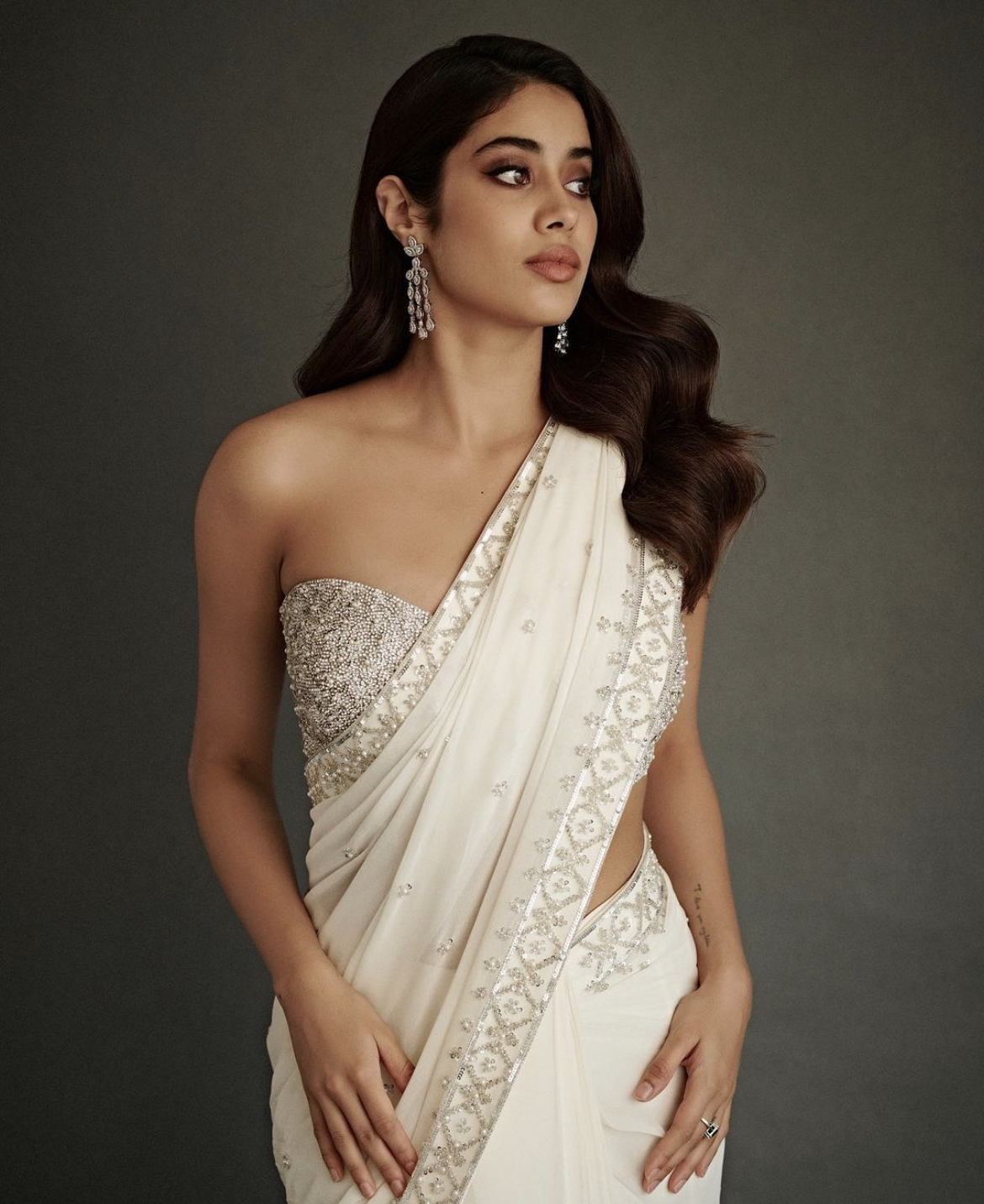 In today's time, when less is more, more and more wedding guests are opting for effortless and graceful numbers that look easygoing and yet make a statement. Janhvi Kapoor's white sari from her Mili promotions is definitely a look to bookmark. The strapless, embroidered blouse, graceful drape, and the perfect ivory color is the right mix for any wedding ceremony. You can let your hair down in beach waves, or always switch things up with a classy bun or slicked-back hairstyle. Don't forget to accessorize with little pops of color and take your outfit to the next level!
2. Katrina Kaif's classic red sari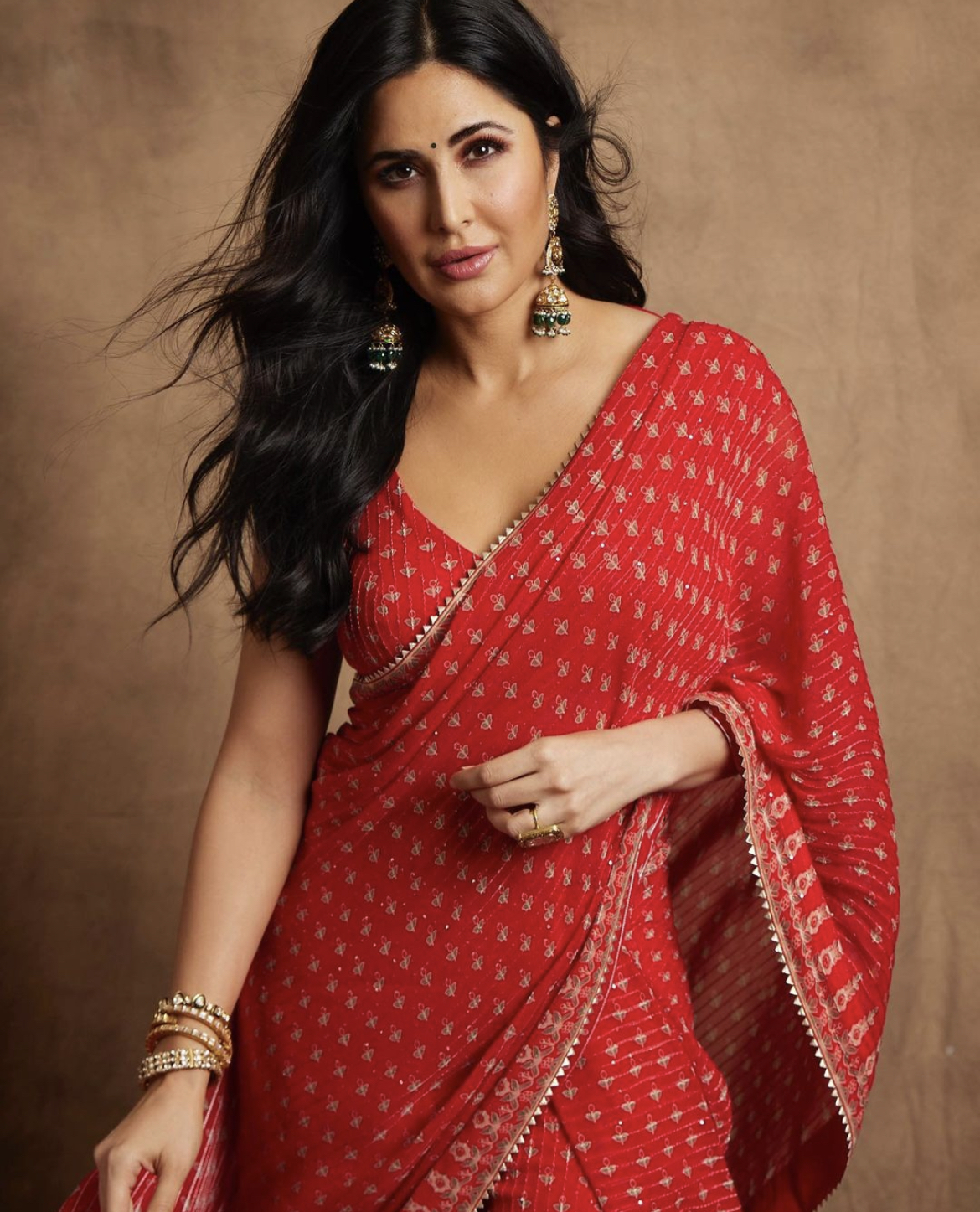 No one does ethnic like Katrina Kaif, and time and time again she has delivered some stunning looks when it comes to wedding events. One of our favorites is this red sari which the actress wore on the occasion of Diwali. The easy breezy material and simple print make it a great option for wedding ceremony pre-events like Mehendi. One can definitely up the style quotient with over-the-top accessories such as chokers or heavy earrings, and even experiment with the hairstyle.
3. Kiara Advani's Pastel Printed Lehenga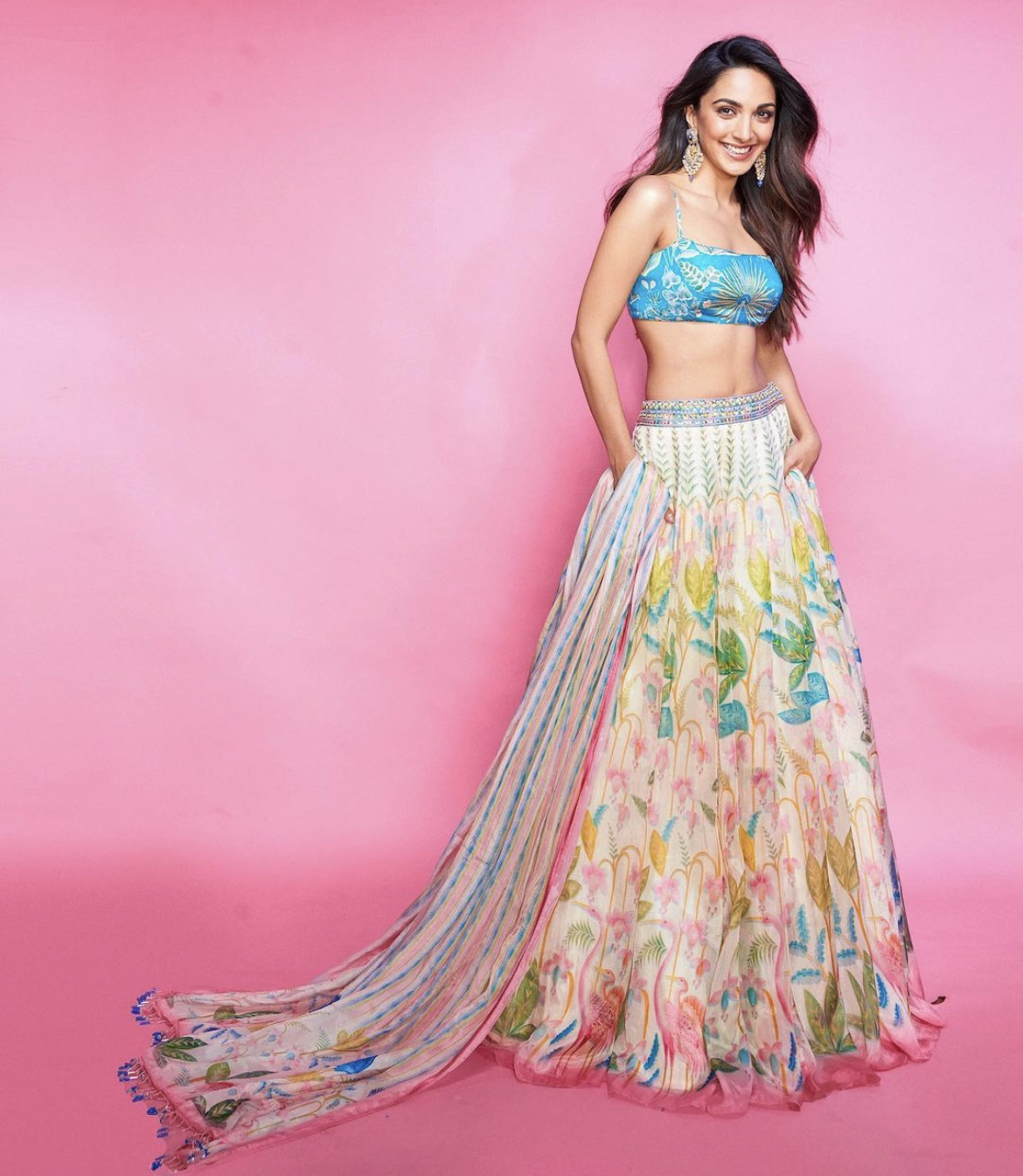 While white is definitely a colour you can never go wrong with, colours and prints are the style of the season! Never shy away from some pretty prints and colourful shades when opting for a wedding look because they make the outfit all the more fun, and Kiara Advani's pastel number is a testament to that. The Anita Dongre number that was worn by the actress for Jug Jug Jeeyo promotions can very easily be converted into the perfect wedding look. The blue blouse, paired with the subtly printed lehenga, is perfect for a day event where you want to keep it effortless and comfortable yet add that pop of colour!
4. Sara Ali Khan in a modern ivory set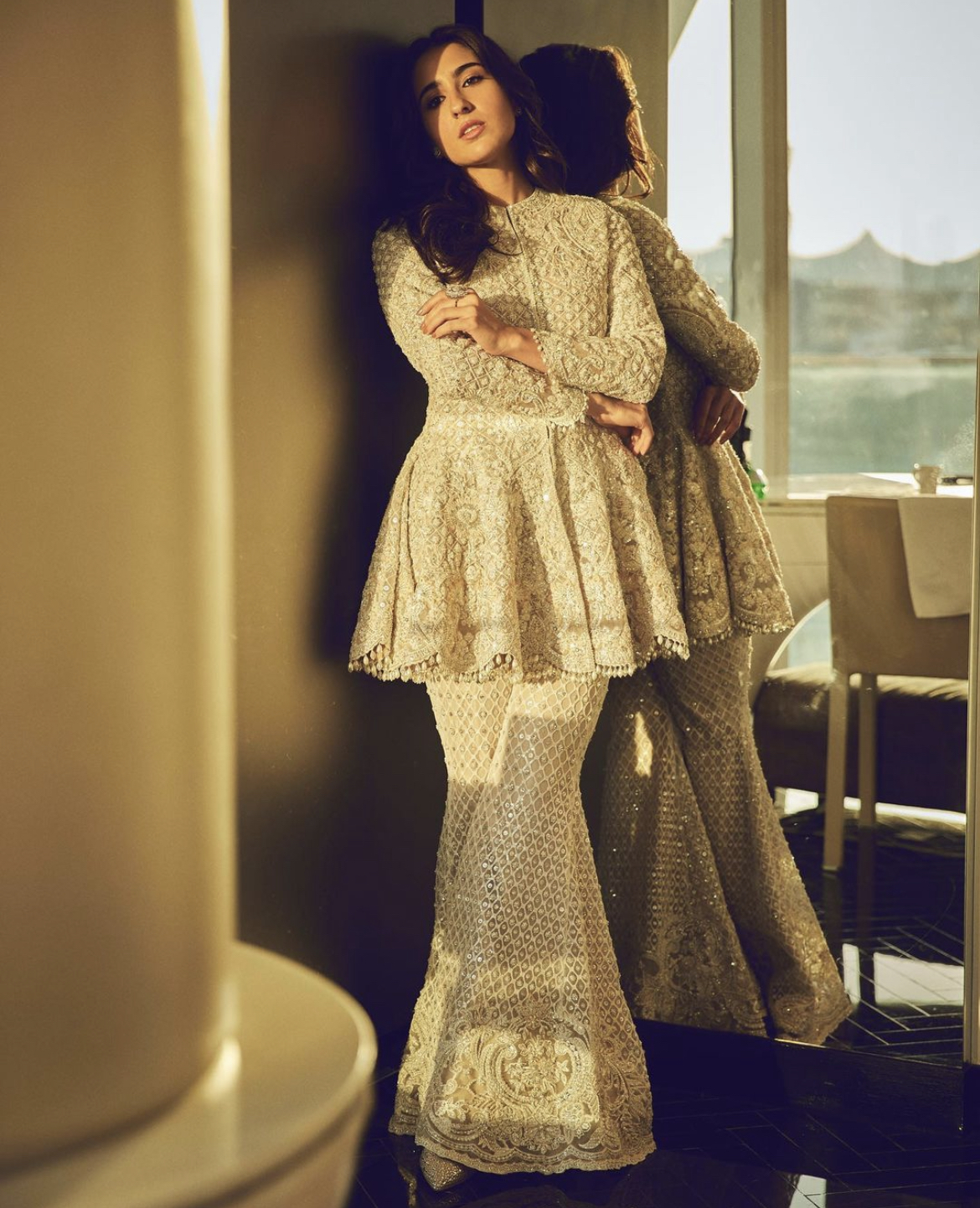 With wedding rules becoming more and more flexible with the changing times- there's a lot of room for wedding guests to experiment. Just like Sara Ali Khan, one can opt for a modern silhouette and take a more edgy route. Here Sara Ali Khan dons an embroidered blazer meets kurti, with pearl detailed pants which definitely makes for a stunning number. She opted for minimal makeup and simple waves to ensure that her outfit is the highlight- a route you too can definitely pick.
5. Rashmika Mandanna's beautiful blue number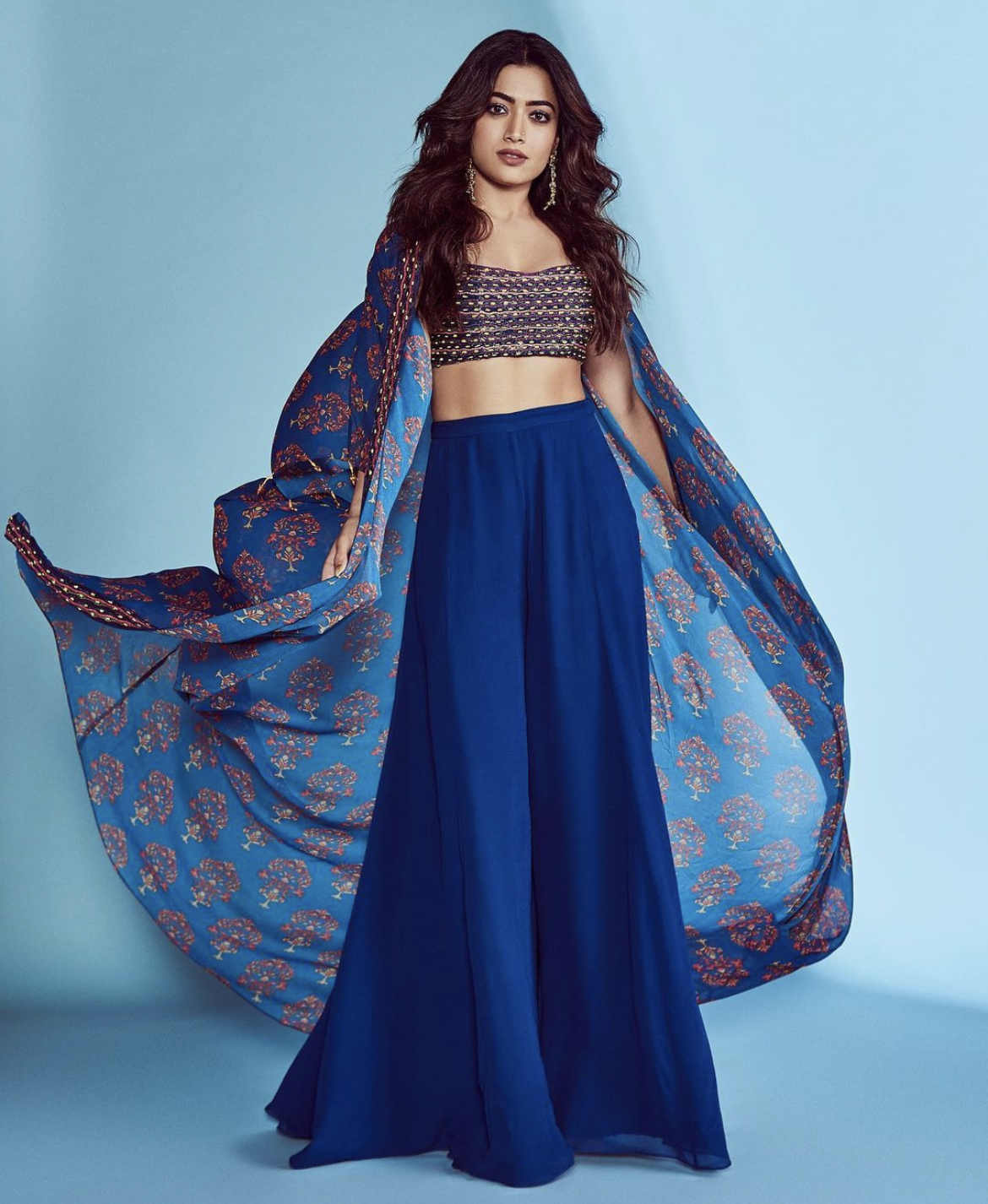 If you're someone who loves bold colors and prints - this is definitely a look for you to add to your cart. This stunning number worn by Rashmika Mandanna has all the elements needed to make heads turn when you wear it. The bold blue color, the printed blouse, and the styling of the dupatta as a cape- is all you need to stand out from the crowd and make a statement. Perfect for night events such as Sangeets or receptions- this piece is versatile enough to style however you want. 
6. Anushka Sharma's Regal Lehenga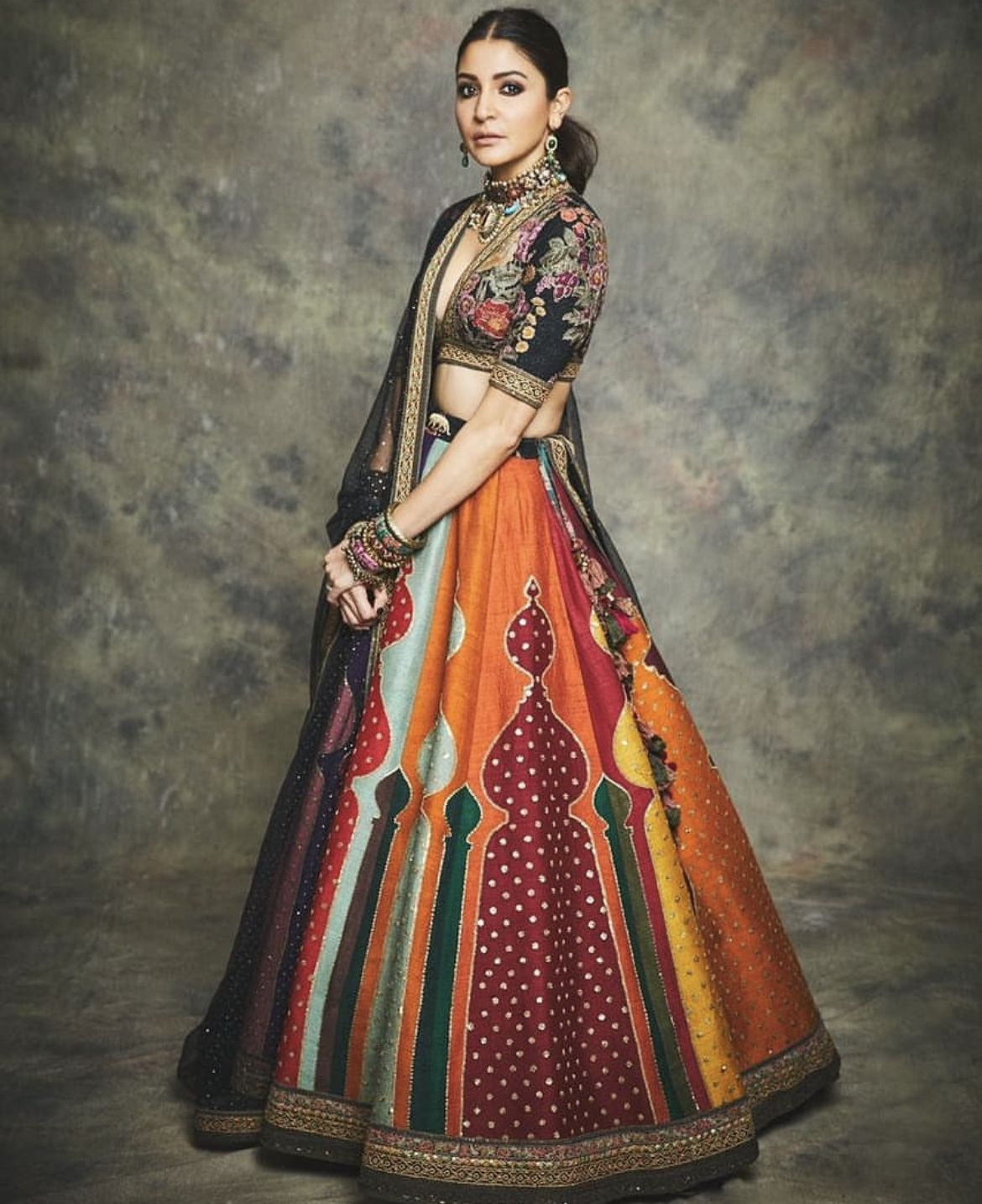 Anushka Sharma definitely knows how to go all out when it comes to desi outfits, and this regal lehenga is proof of that! The black blouse with colourful embroidery paired with a contrasting colourful lehenga is nothing short of a statement. The sheer black dupatta, heavy choker and slicked-back ponytail are the perfect additions to tie the whole look together. Overall this is a perfect outfit for those looking for something that looks elegant and graceful and yet makes a statement and stands out from the crowd. It's the perfect balance between colourful and classy, a must-add to your list of options.
7. Deepika Padukone's Bright Modern Sari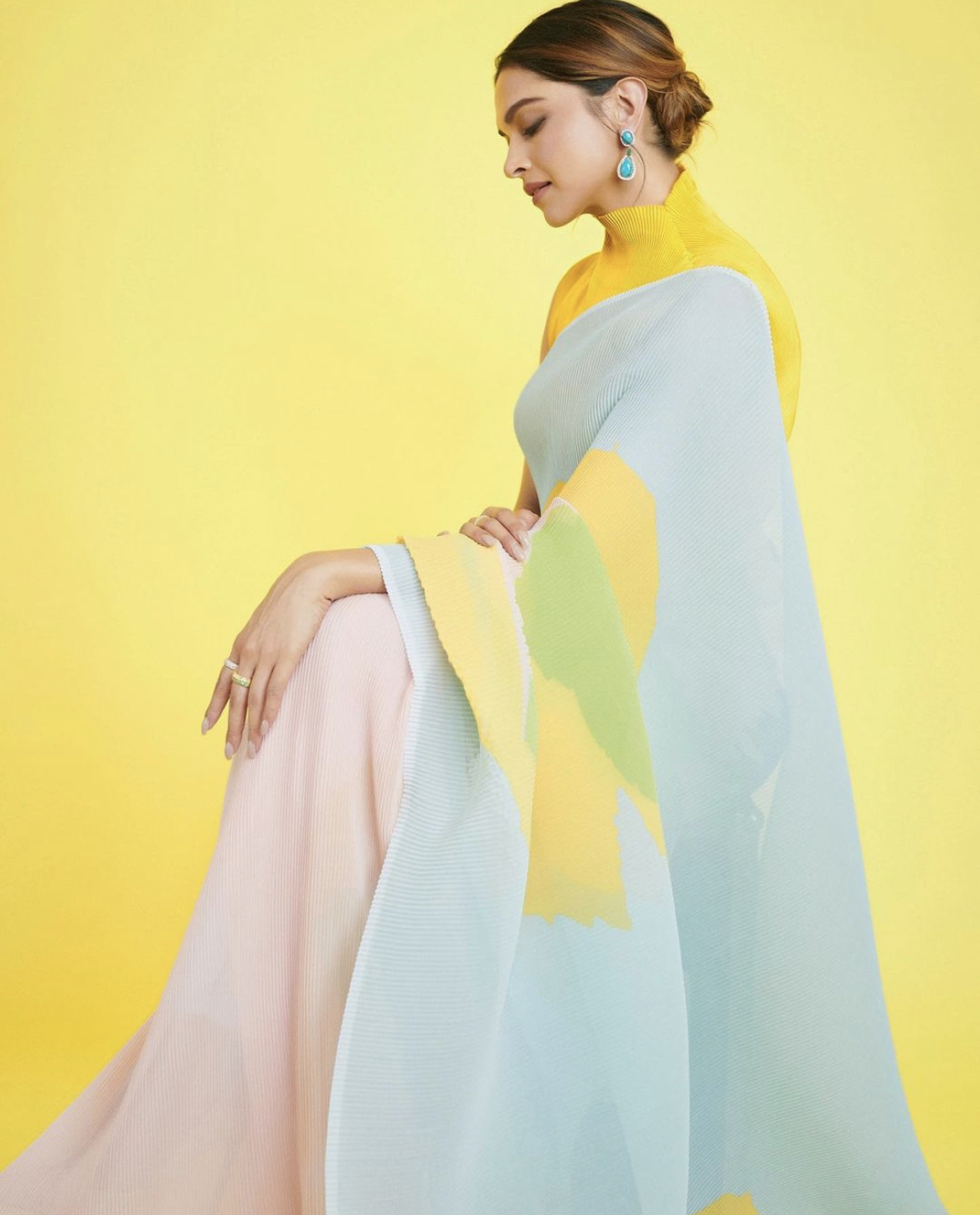 Who else can blend modern silhouettes and patterns with ethnic designs as effortlessly as Deepika Padukone? The actress opted for this pastel printed saree made of a subtle organza material. The yellow blouse paired with the contrasting pink and blue drape looks beautiful, as the monotone pastel vibe ties it all together. This sari would make for a great option for a day event such as a Haldi or Mehendi event, where the bright colours will compliment the morning sky. One can definitely accessorise or play around with hairstyles- to find the right fit for this stunning modern number.
8. Shanaya Kapoor's Shimmering Sari 
If the invite says over the top- this is the look you should opt for! With everything glitter and glamour, this sari worn by Shanaya Kapoor is the epitome of stylish. With the sequinned drapes and the stunning fit, you'll definitely look like the hottest in the room! Perfect for a reception event, the embroidery, fitting and colour add to the oomph- making it one of the sexiest numbers of the list so far! If sexy in sequins is the look you're going for, there's no better way to do it than this.
9. Ananya Pandey's Mint Green Lehenga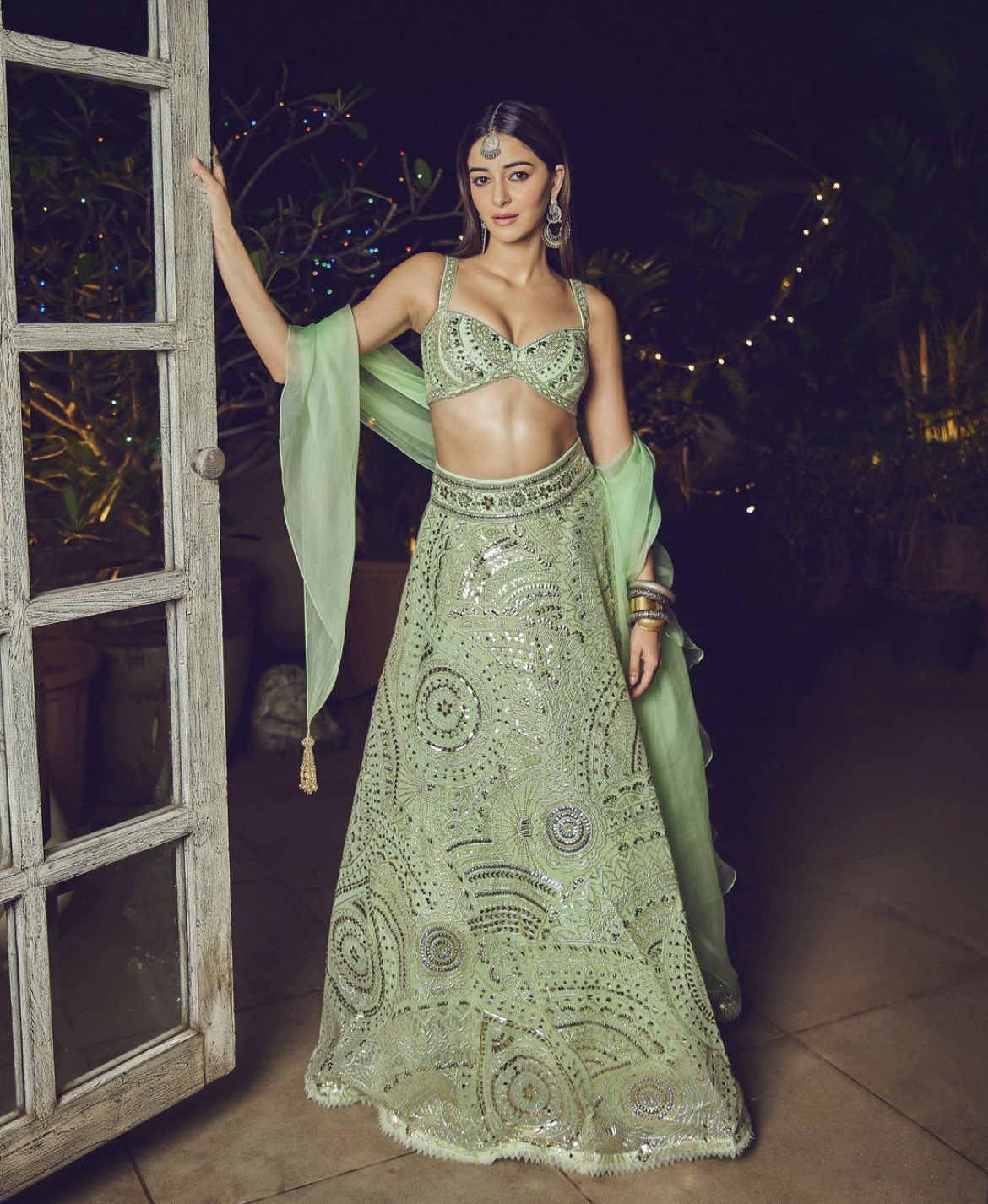 Mint is definitely one of the trendiest colours of the season- and though it may not seem like the ideal option 
 to festive wear, Ananya Pandey's mint green ensemble says otherwise. The stunningly embroidered lehenga has gorgeous silver mirror work against a bright green background, and it looks absolutely amazing. The silver jewellery, especially the matha patti compliments the outfit, while the subtle makeup and slicked-back hair only add to the look. Even the butterfly cut of the blouse is a small detail that adds so much volume to the look. If you're looking for something fun and festive, definitely add this look to your references.
10. Deepika Padukone's gold and black lehenga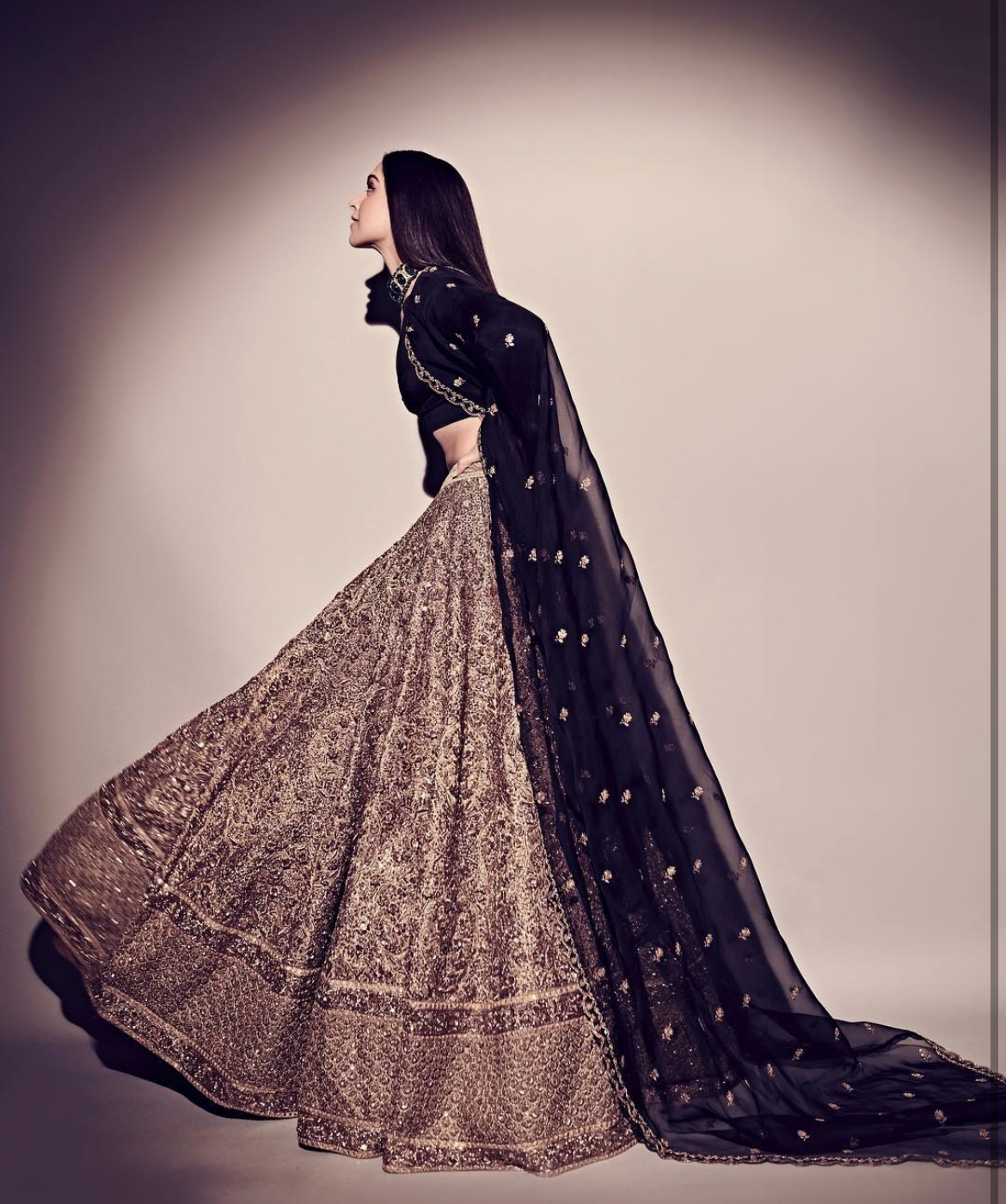 Deepika Padukone has always outshined everyone when it's come to wedding outfits, and this black and gold ensemble is definitely a look that has stood the test of time. She opted for it for Priyanka Chopra and Nick Jonas' Mumbai reception and she managed to look glam as ever, without going over the top. She accessorized with an emerald green choker and kept her hair slicked back. The highlight of course was the dapper Ranveer Singh who managed to coordinate in black as well. Definitely, a moment for all the couples to take note of!
12. Sara Ali Khan's contrast lehenga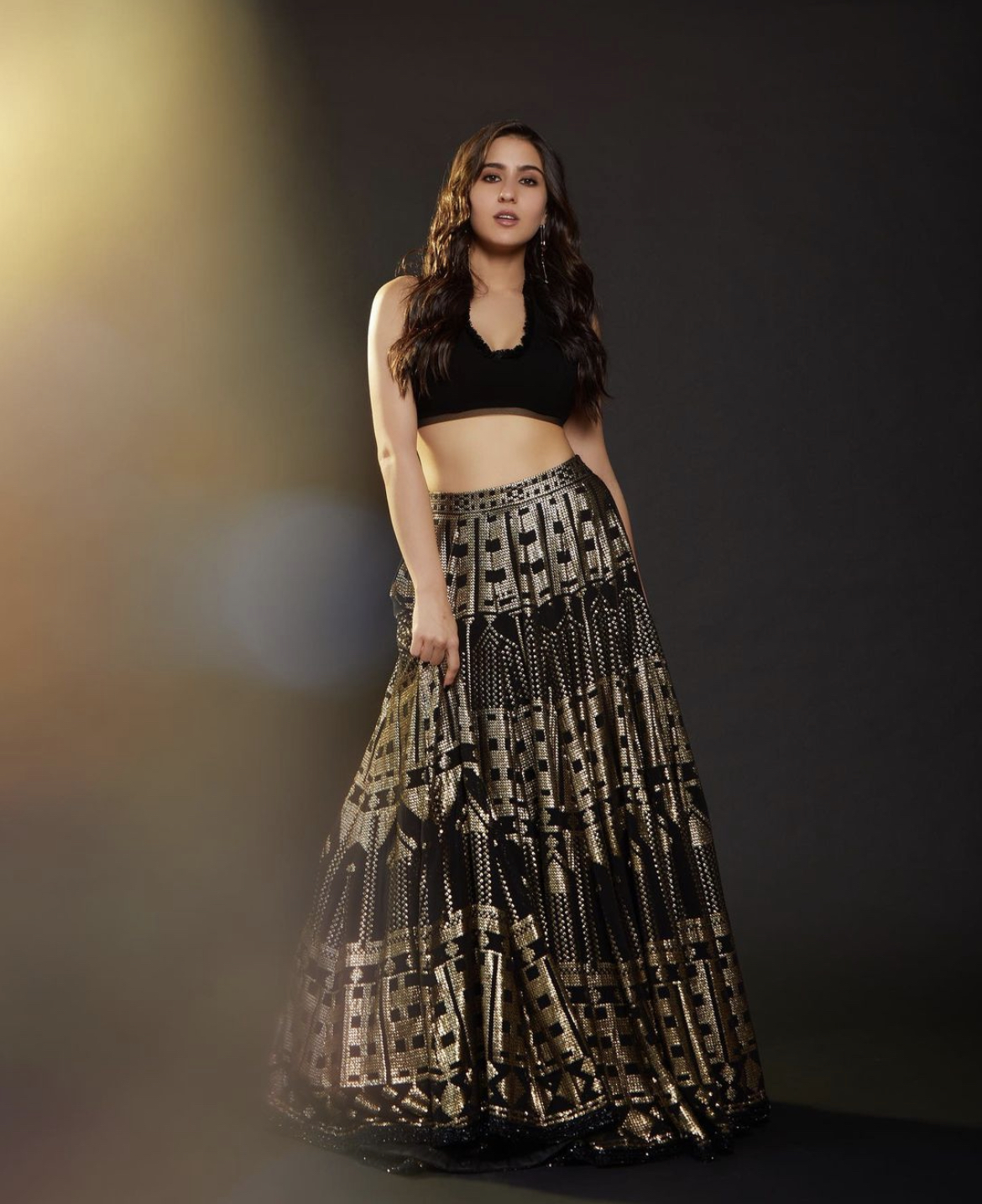 Inspired by a similar colour palette as Deepika's gold and black lehenga- Sara Ali Khan's Manish Malhotra ensemble is another wedding guest must-have. It's simple, it's classy and it's a silhouette and colour palette that has stood the test of time. All in all, you can't go wrong when it comes to the classic cut and traditional colour combination. Opt for a similar black and gold number for any night function, and the look is sure to turn out great. Opt for some matching gold jewellery to jazz it up, and you're good to go! 
13. Janhvi Kapoor's green glitter lehenga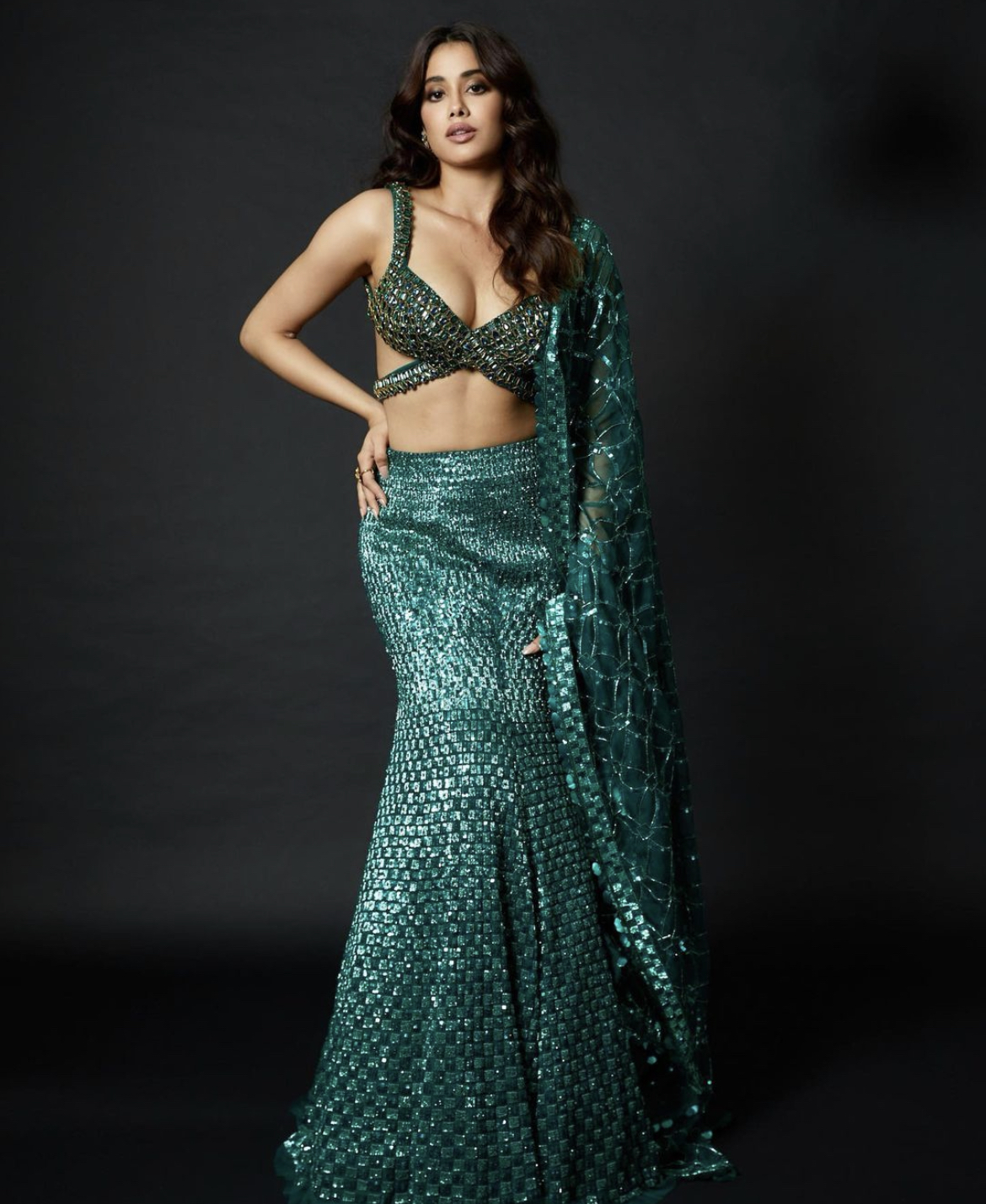 Another OTT look that Janhvi Kapoor served, that left us absolutely speechless was this emerald green embellished number. The colour is a tried and tested favourite, and the modern twist with the sequins, glitter and emerald embellishments- makes this an extremely glamorous outfit. Not only will it make you look extremely stylish but also surprisingly sexy! Draw from the cutouts, colour and patterns to create your very own stunning number and the glitz and glamour is sure to make you stand out!
14. Tara Sutaria's Blush Pink lehenga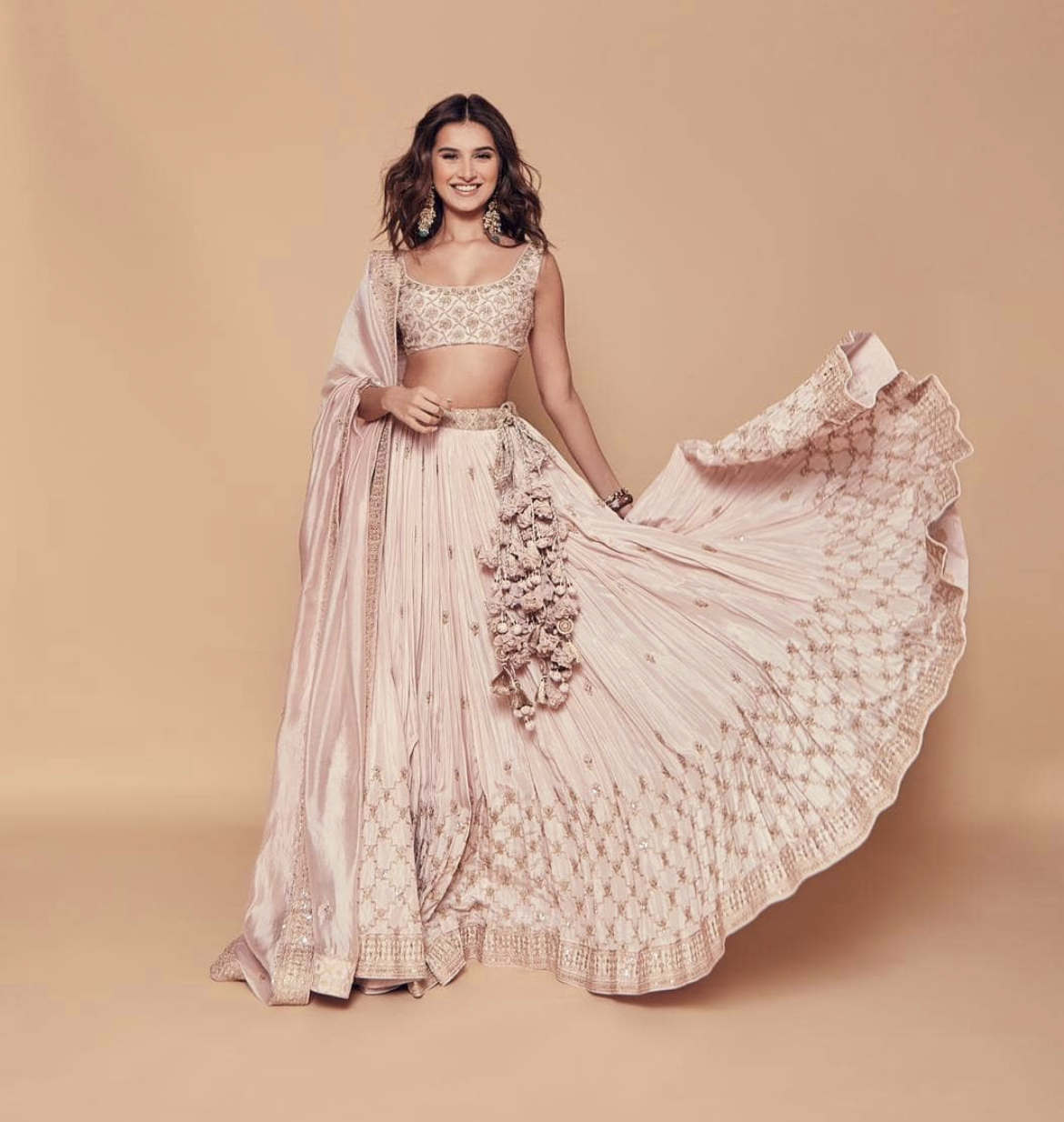 A colour that's definitely a personal favourite when it comes to festive looks is this shade of blush pink. It not only highlights the rosiness of your cheeks and lips, but makes you look softer and all the more luscious and beautiful! Tara Sutaria shows you how to do blush pink right, with this effortless ghagra from Puneet Balana. The golden detailing, pleats on the ghagra and the tassels running downwards are all details that add to the outfit. The subtle colour ensures you look graceful and elegant as ever, while the cut and creases make you look all the more stylish.
15. Kiara Advani's Yellow Sharara Set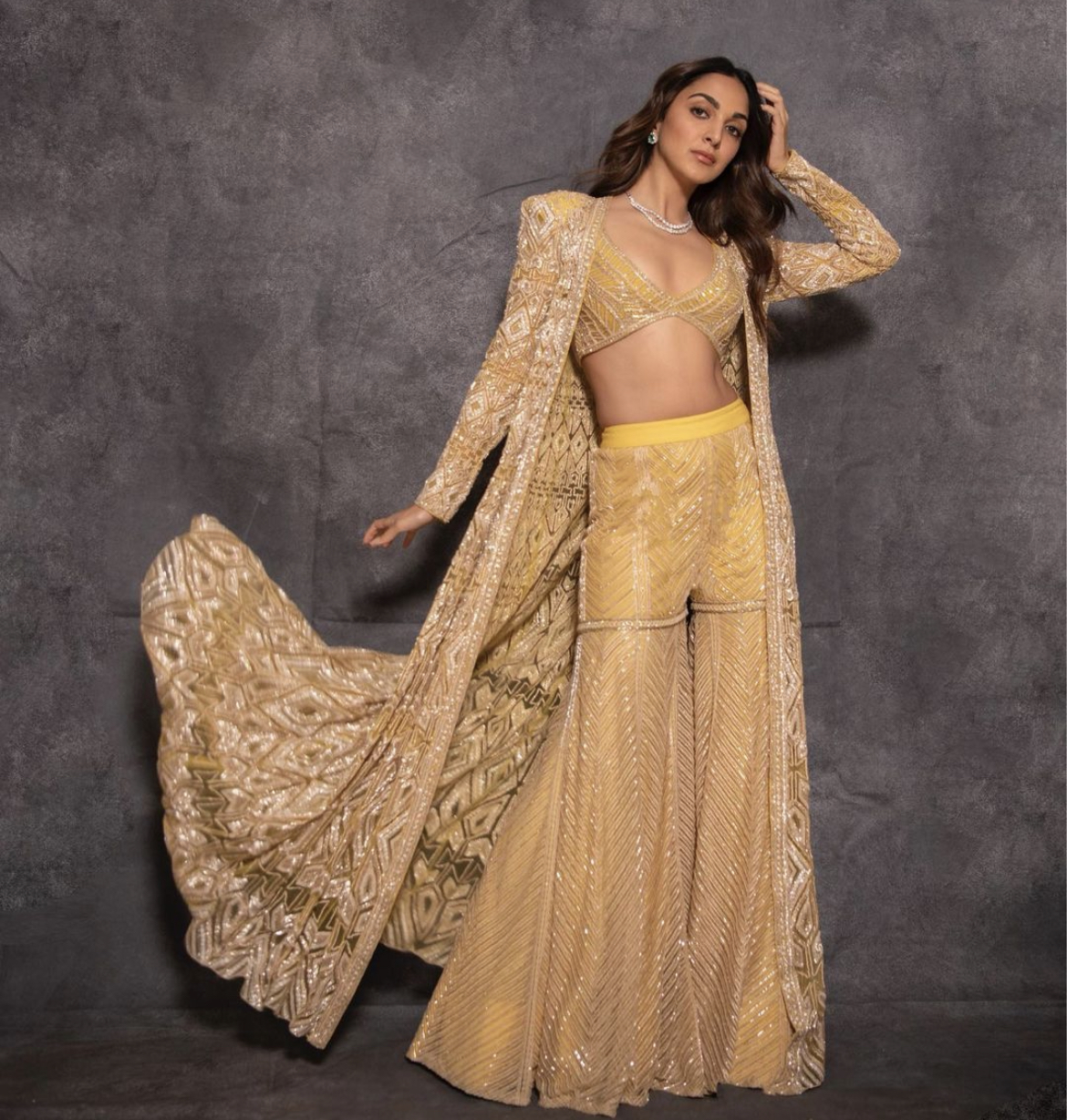 Sharara sets are definitely in this season. Not only are they the most practical when it comes to wedding wear giving you the freedom to move, dance and sit comfortably but they also look incredibly fashionable. Kiara Advani's yellow sharara set is the perfect example of how to look chic in a co-ord set, while retaining the oomph factor. The glitter embroidery, cinched pants, long, stunning cape and butterfly cut blouse are all elements that are extremely trendy and will definitely give your ethnic look the modern touch it needs. Moreover, the stunning yellow colour is wedding staple, making this a perfect Haldi ceremony outfit.
16. Katrina Kaif's Black Shimmer Sari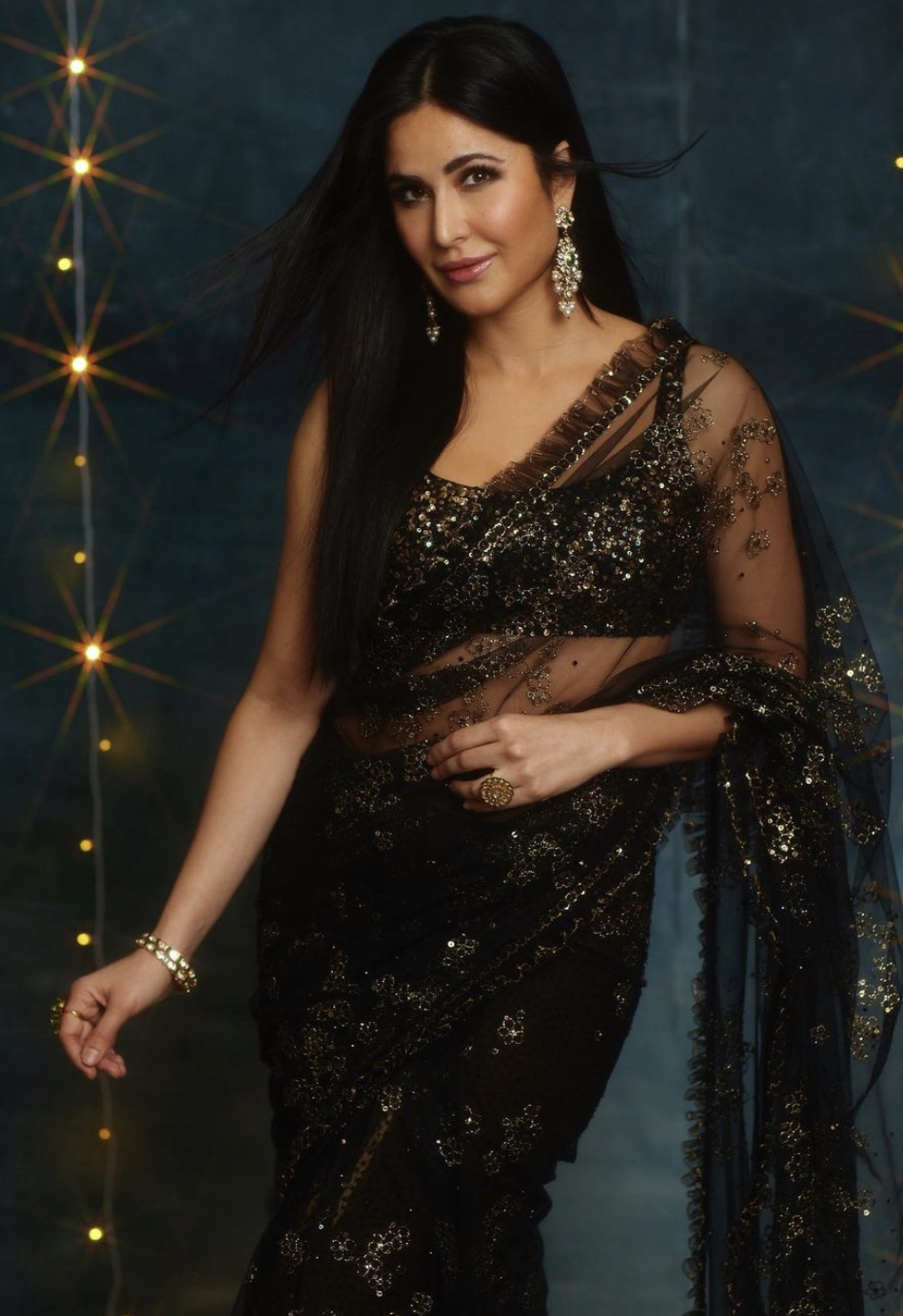 No better way to stay chic yet sexy than a beautiful shimmer sari when it comes to weddings. The glamorous black number is everything and more, with its glitter blouse, sheer drape and ruffle detailing along the edges, and Katrina truly outdid herself with this number. You too can opt for chunky earrings like her or go subtle on the accessories with small studs or a necklace. Tie your hair in an updo or keep it slicked back for a cleaner look, where the focus is all on your outfit!
17. Ananya Pandey's Black and White Set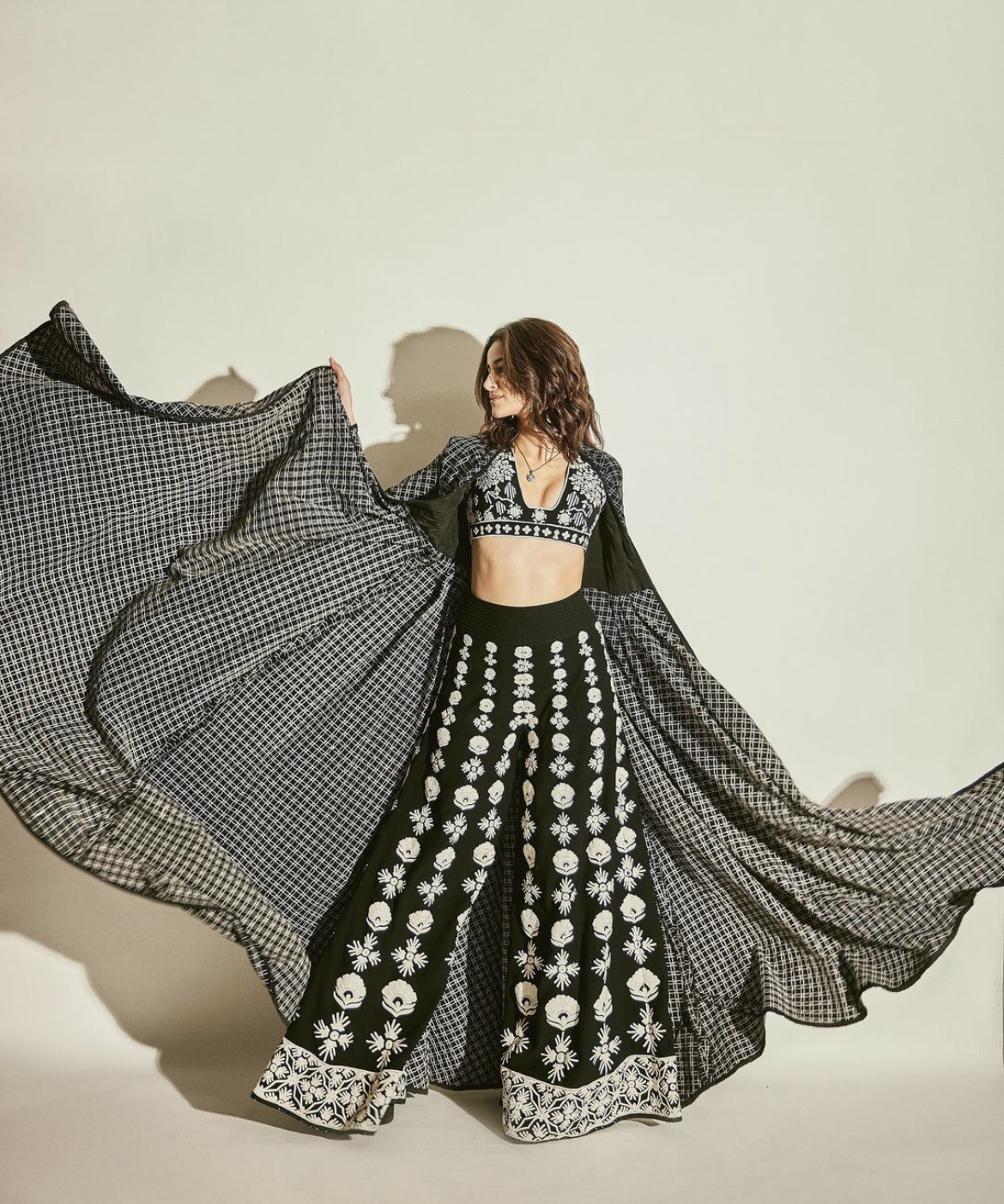 There's no combination like the classic black and white, and Ananya Pandey's sharara set does complete justice to it. The patterns, the colours, the materials, they all seem to be working together. The different designs seem to look cohesive in their black and white element, with printed cape tying it together. The blouse is detailed yet understated, and the pants add that flair to the outfit. The cape also adds that sprinkle of drama, making it just the right amount of extra without going overboard.
18. Anushka Sharma's green floral sari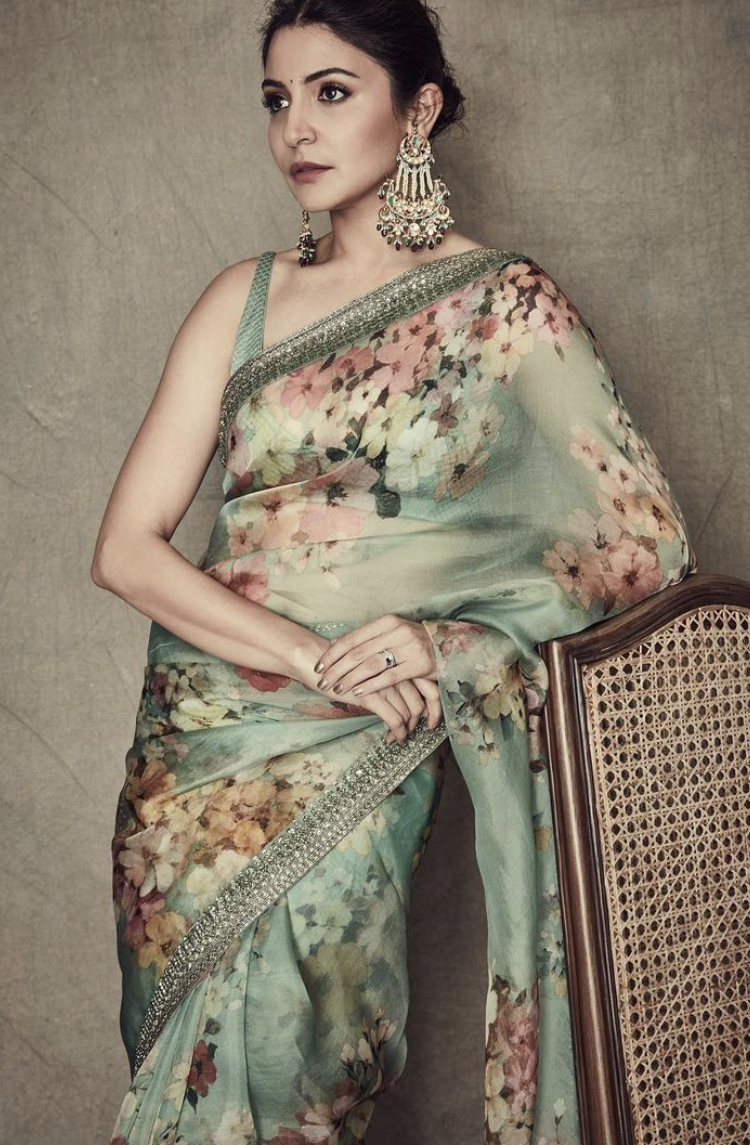 Florals look stunning and even more so when done right, and Anusha Sharma's green floral number is everything you need for a classy, chic wedding event. The pink and beige flowers, against the subtle shade of green looks great, and with the right amount of accessorising, this outfit will surely make you stand out. Level it up with heavy dangling earrings like Anushka or go the understated route and opt for simpler options. The outfit also leaves a lot of scope to experiment with makeup, so you can definitely try something different!
19.Pooja Hegde's Ivory Co-ord Set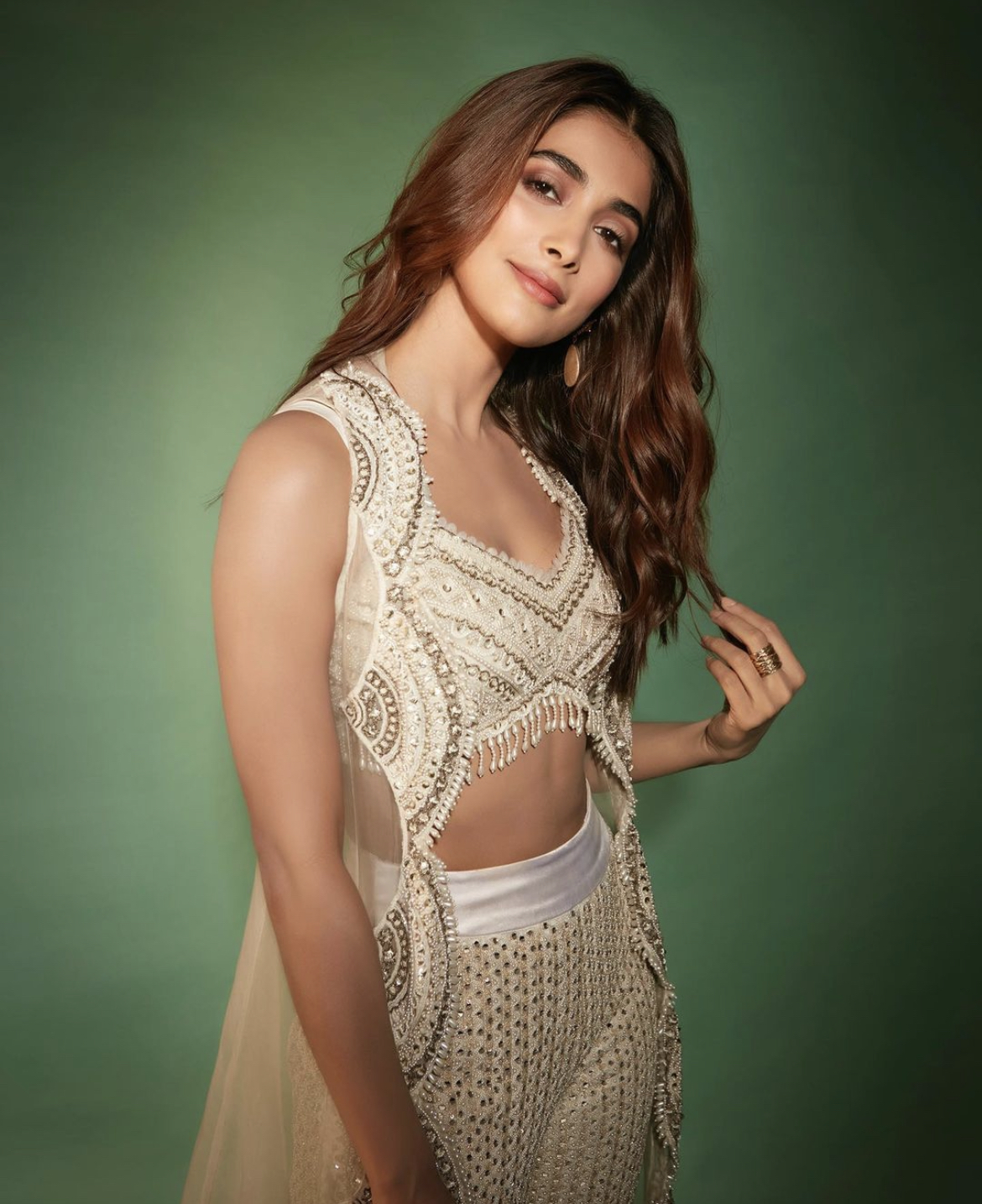 If you're a fan of the ivory colour, but want to still experiment a little when it comes to silhouettes, you can opt for a sharara blouse co-ord set like Pooja Hegde. The actress opted for a contemporary silhouette but stuck to the classic palette, making this outfit a hit in our books. Once again the subtle shades and minimal makeup keep things elegant, while the ankle-length cape added that oomph factor that takes the outfit to the next level. Overall a great outfit for weddings- which will keep you comfortable and make sure that you can swing in those dance routines and sangeet performances with ease.
20. Shanaya Kapoor's Ethnic lehenga
If you want to make a royal statement this is it! If there was an ideal regal-themed wedding guest look, Ananya Pandey's Tarun Tahiliani ensemble would definitely make the cut. It's just the perfect amount of extra with the dark ombré shades, golden embellishments, and embroidery and the overall fit that gives it its ott edge. No better way to style it than a bun, along with understated makeup and a choker, so that your outfit definitely stands out. If you're attending a big quintessential Indian wedding, you know exactly which outfit to choose for the main wedding ceremony.
21. Tara Sutaria's Printed lehenga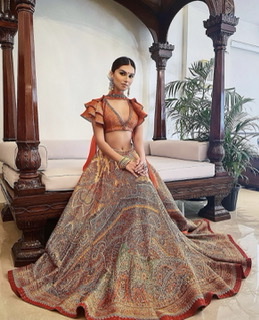 Adding to Shanaya Kapoor's regal number, here's another chic yet detailed number worn by Tara Sutaria that screams everything royal. A modern silhouette when compared to Shanaya's classic ensemble- it has stunning ruffle sleeves and a beautifully printed lehenga bottom.  The orange and red shades are perfect for any wedding event, and one can accessorize similarly by opting for some stunning bracelets and earrings. Moreover, just like Tara, you to can add some flowers to your updo to add an element of grace and surprise!
22. Khushi Kapoor's beautiful blue ensemble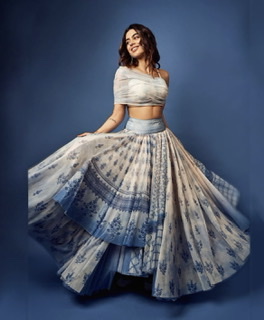 Who better to turn to when looking for some modern, gen-z inspiration than B-town's newest diva Khushi Kapoor. The actress who is all set to make her debut with Zoya Akhtar's Archies opted for this beautiful blue number that is effortlessly fashionable. The blouse has a classic cut, but a sheer overlay to add that modern touch. The asymmetrical cutouts on the lehenga pleats add that touch of quirkiness and creativity that Indian wear can sometimes lack. Overal the cutouts, the colour and the prints are all just working together, if done right, this is a look that will be on every one's mind for a long time to come.
23. Rashmika Mandanna's Ravishing Red Sari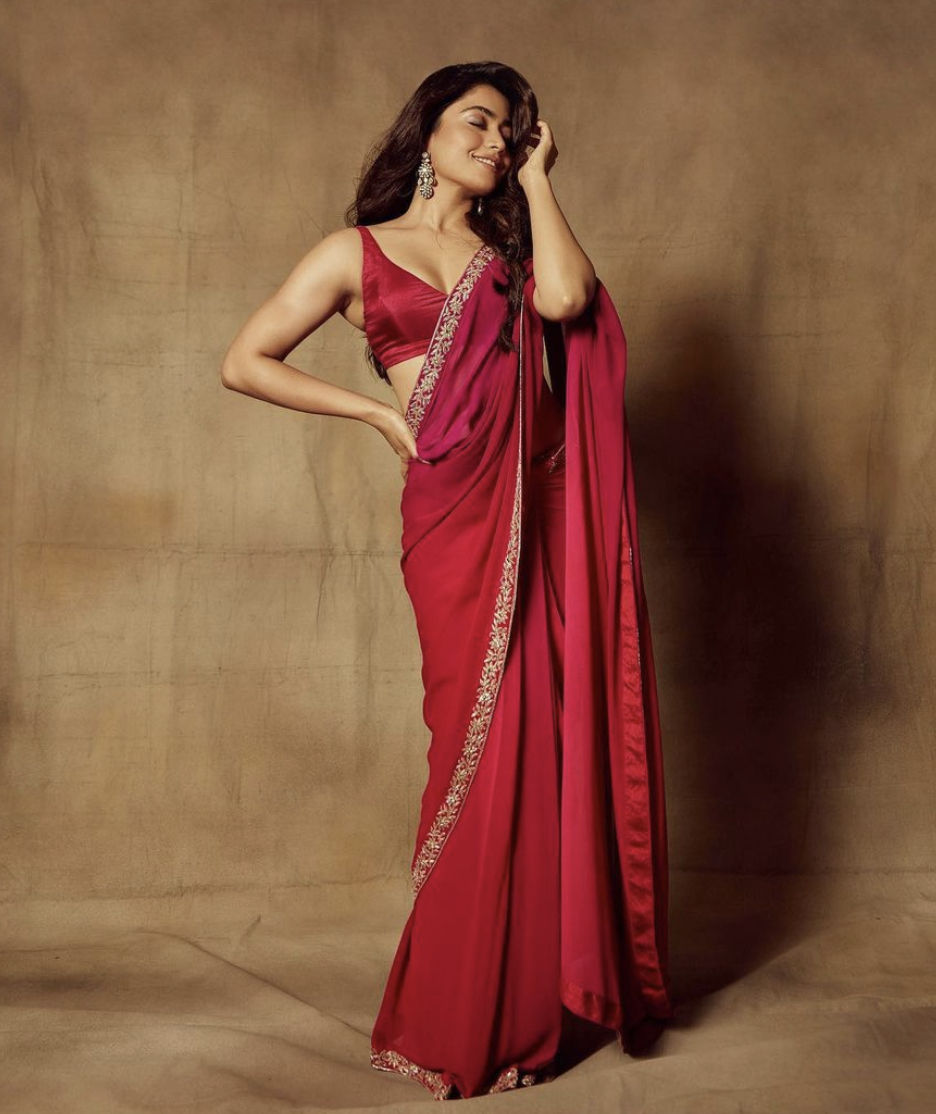 Wearing red can be a controversial choice on the wedding event, but for the occasions leading up to it one can opt for red without worry. This number worn by Rashmika Mandanna is the perfect "classic red sari" that you can style for any event. The basic blouse and drape keep it subtle and chic, while the detailing adds some extra dimension. You can jazz it up, or simmer it down according to your taste and play with your accessories and hair as much as you like. You can treat this sari as a clean slate, and style it beautifully for any wedding event.
24. Alaya Furniturewala's Festive Lehenga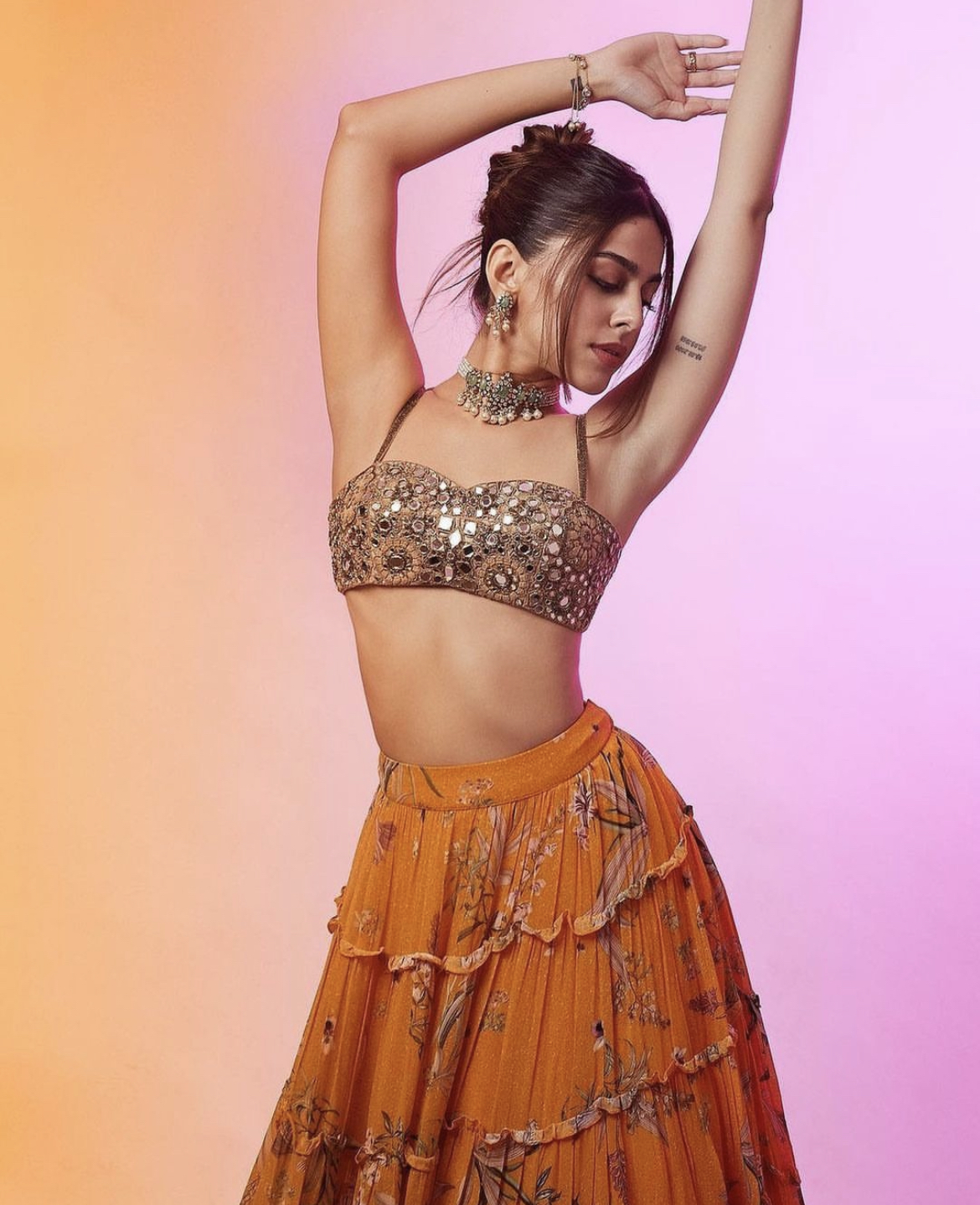 Nothing says celebration like hues of orange and red, and if you are willing to take a brighter route- this orange lehenga is the number for you. This festive ensemble from Arpita Mehta screams desi glamour, and should definitely be on your radar when scouting for options. The golden embroidered blouse, orange printed lehenga, and the desi, chunky accessories are exactly what you need to ensure a perfect festive fit. You can keep your hair tied up to make sure you're comfortable, or opt for letting them down as well.  
25. Katrina Kaif's Orange Sari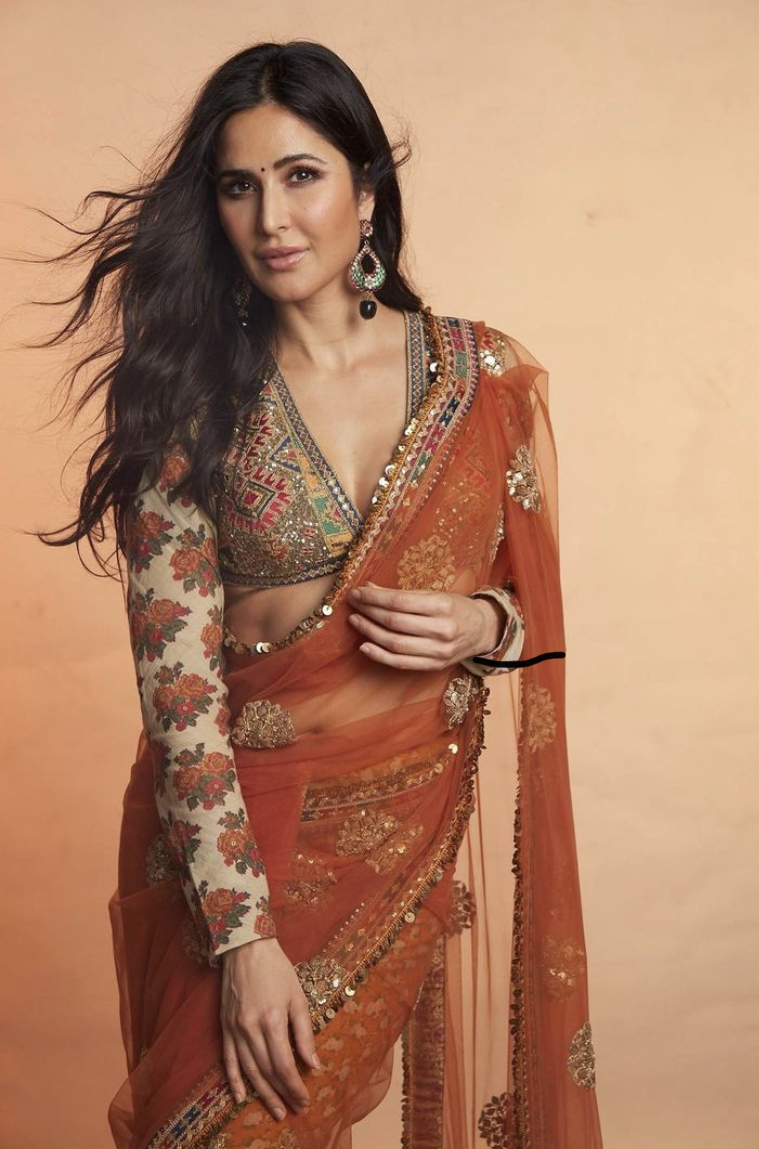 Indian wear has a plethora of options, from silhouettes to prints and colours, there's no dearth of choices when it comes to desi outfits. Refer to this list, anytime you need some style inspiration for any wedding event!
About The Author
A student of mass communication and journalism, Anusha enjoys nothing more than cinema and couture. A fashion enthusiast..., she channels her love for style into her articles and draws from her styling experience to deliver content that resonates with the readers. Read more
Top Comments
There are no comments in this article yet. Be first to post one!