EXCLUSIVE: Manish Malhotra talks about Diffuse and its journey, 2023 launches and all things fashion
Fashion genius Manish Malhotra's chat with us about takeaways in a designer's life and more, is about lots of learning. Check it out!
Updated on May 29, 2023 | 03:21 PM IST | 144K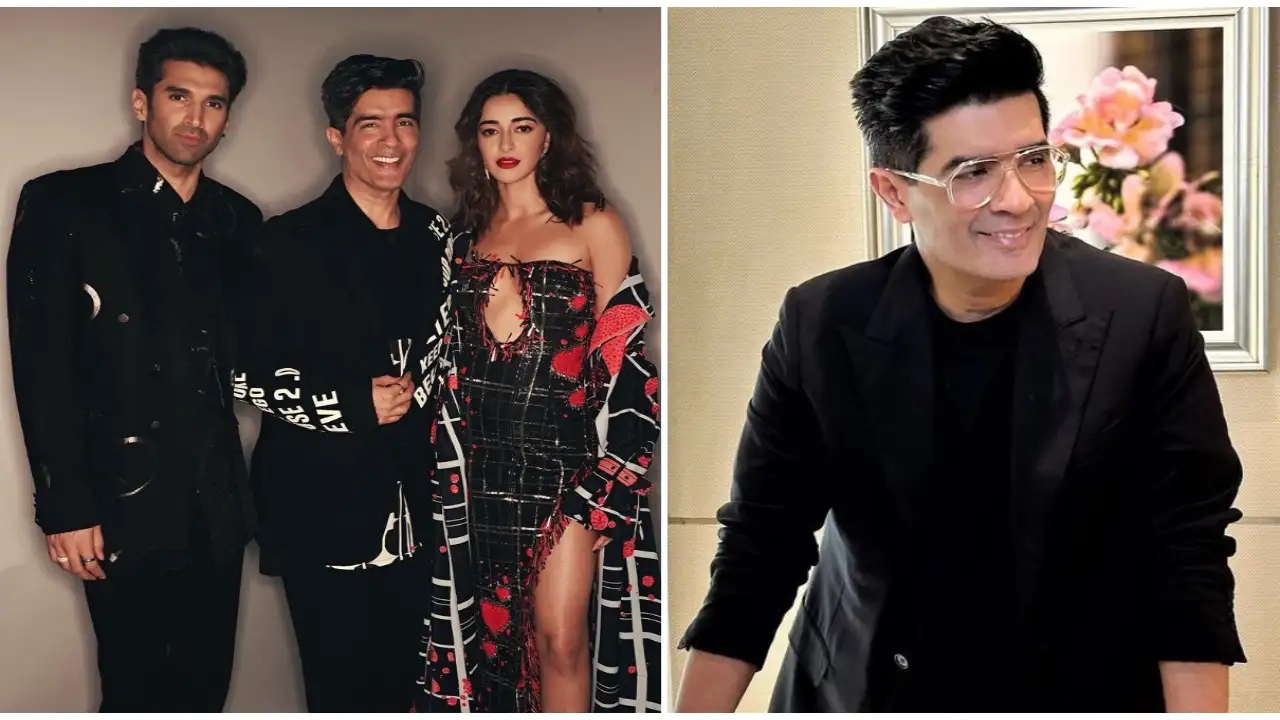 Colour haze and a throwback Tuesday story. An impressive comeback was made by Manish Malhotra's 'Diffuse' collection with its round 2 of funkiness and colour therapy. His 2022 showcase with Siddhant Chaturvedi and Shanaya Kapoor as his showstopper was just the beginning of the sparkling journey that was ahead and just perfectly 2023's latest presentation didn't go against this very grain. With Ananya Panday and Aditya Roy Kapur as the duo that signed off the show for the costume designer and stylist, prints and colours were at a creative and chic-high. 
Pinkvilla's conversation with Manish Malhotra explores his chosen palette of colours and patterns that pleased us live that night and charged up the stage simultaneously. 
Manish Malhotra on Diffuse and its new offerings
How merry and bright is your Diffuse collection in 2023?
Anything to do with the Manish Malhotra brand has been inspired by vibrant palettes and versatile styles. Whether it's Diffuse or Bridal Couture, my love for colours has always encouraged me to create contrasting coloured outfits, use colour blocking, and create ombre tints. It's what gives my garments a true meaning, it's what denotes the tone of my garments. My bridge line Diffuse has always been targeted to the digital natives' self-expressive individuals. Their love for bold statements and their dedication to embracing their individuality and experimenting with colours is something I share as well. There are a lot of electric tones, channelling the Y2K energy, lots of eccentric prints along with understated powder palettes as well. 
From 2022 to 2023, Diffuse turns one. How would you describe this journey and how has Diffuse evolved?
One year of diffuse has been great, I have been able to dabble into so many things that I love through diffuse which I couldn't have incorporated in my couture lines. Diffuse is fun and young, it's all about making new rules and breaking old ones. I've loved breaking barriers, I've loved experimenting with newer angles and creating visions. We're channelling the new digital age in our newest drop, which is something so eminent in these times. All in all, we're moving forward with the newer generations with Diffuse.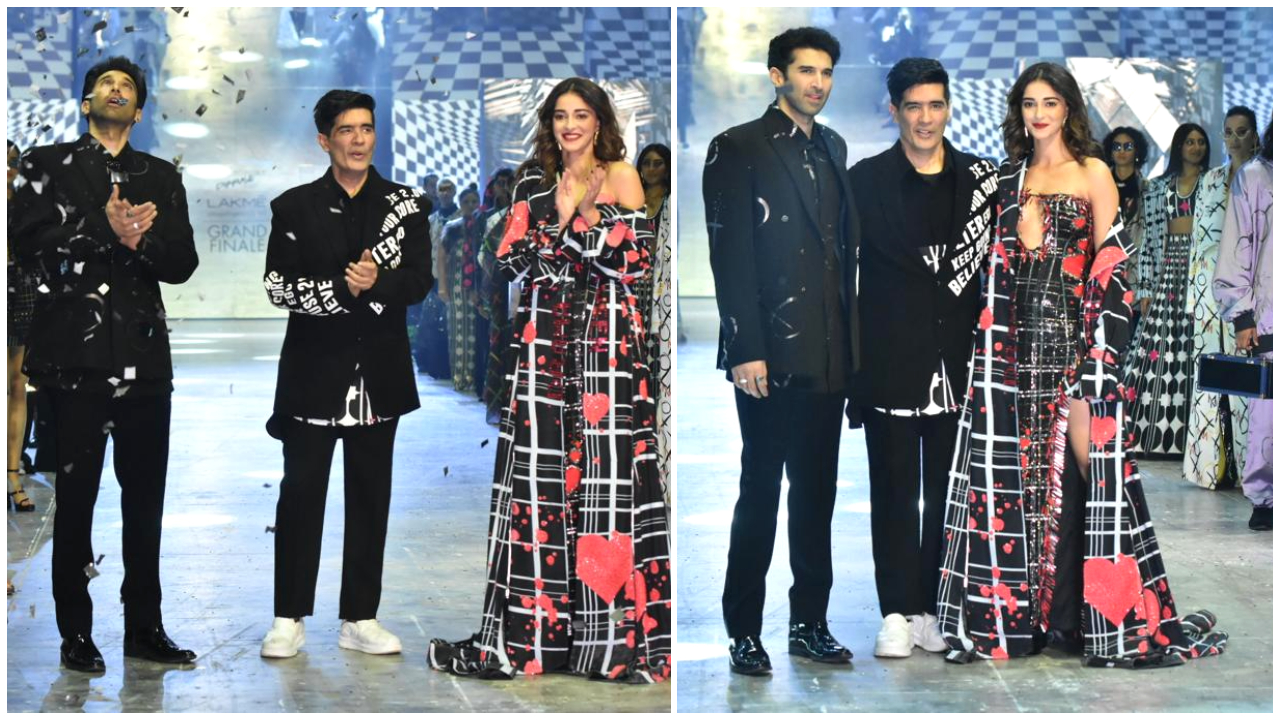 How did you get to playfully edgy and game-inspired prints to create Diffuse? 
The theme we have centrally revolved our collection around is the world of gaming. The digital natives of our generation are not just tech-savvy for practical reasons, they share a deep passion for the digital world. Before the technologically advanced games came through, we all remember growing up playing paper-pencil games like X's and O's, Pacman on our PCs, or ludo on our Nintendo Switches. We're bringing back the allure of these iconic games before the world turned to digital-savvy productions of an array of games. We have prints that are inspired by these games, collated graphics, and colour palettes that allude to the world of digital India. 
Your creations are always in the full swing of glamour. What will Diffuse bring to the audience which is so out of the ordinary? 
Glamourous fashion is seen as a particular segment in itself, with diffuse we're making glamour wearable for all. Glamour has always been restricted to couture gowns and intricately handcrafted pieces with heavy embellishments. Glamour really is about extravagant fashion, in any form or construct. Loungewear can be glamourous, and a shirt dress which is a one piece silhouette can be glamourous. That's the idea for diffuse. A collection of glamourous ready-to-wear garments that can be worn through a brunch, but that can also be worn through a night out. We're unrestricting glamour for all.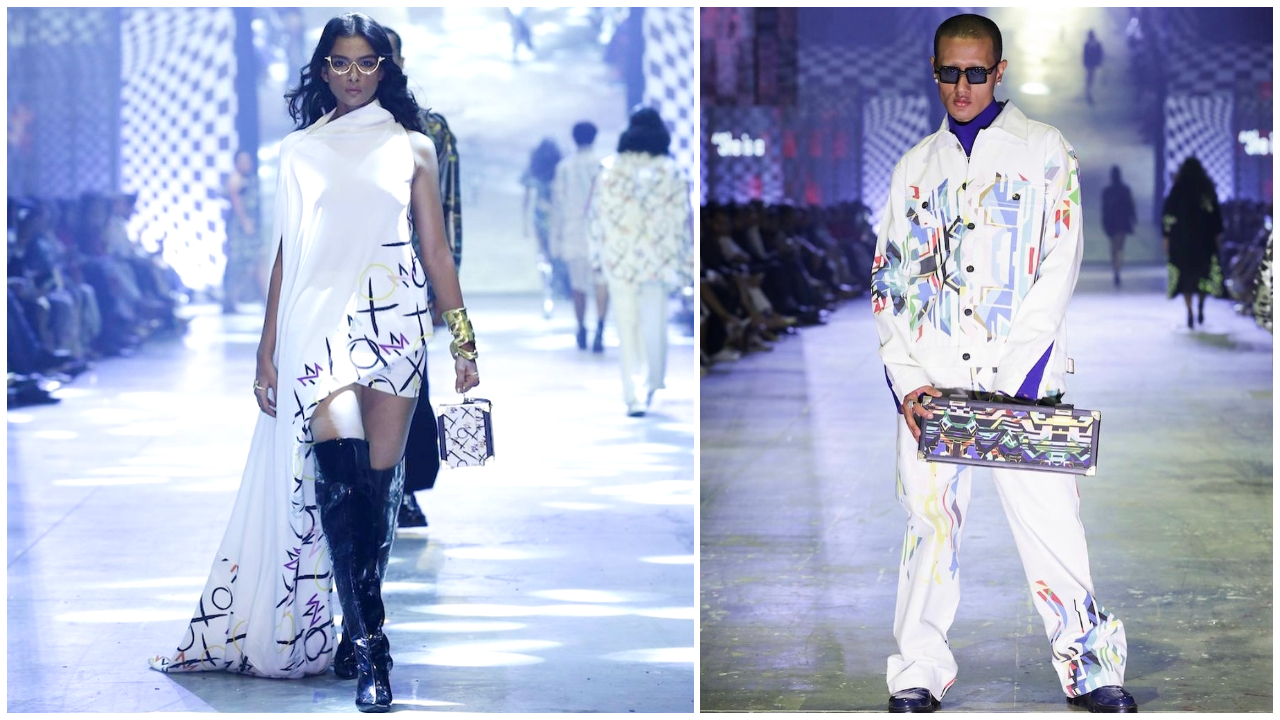 Two outfits from Diffuse that can be worn to parties. 
Every single item from the collection can be worn to a party is what I would say. Every single piece has been created as an all-around garment, extremely well thought-out and extremely detail oriented. Every garment is unique in its own way and has a hint of extravagance.
Fashion just as everything else is about learning and growing, what are the two key lessons you bank on always?
31 years in the industry, there have been many takeaways from all the experiences I've had. The two things that have stuck with me all throughout are to never shy away from embracing your individuality. Being confident in your personal style automatically adds a graceful flair to every garment. I've experimented with many silhouettes, many colours, and many designs over the years, some might have worked some might not have, but today I can firmly say that at each turn I followed my heart and I've never regretted it. The second thing that I've always taken with me is my Indian roots. No matter the project, I have always stayed rooted, and close to my Indian heritage as that's what I believe is authentically me.
Would you describe 2023 as the year of learning and achievements? Can you elaborate with examples? 
2023 has been a stellar year so far, with many more big things to come. In just these three months, we've extended the world of Manish Malhotra in the grandest way. We launched a segment specialising in extremely exclusive high Diamond Jewellery, ready to be in stores by the end of March. We're launching the second drop of Diffuse at the Grand Finale of Lakmé Fashion Week, and we just launched our supreme bridal couture collection. We're hoping for bigger things to come by the end of 2023. 
What does it feel like to close the most-happening show?
It's always great to partner with Lakme Fashion Week, it's an amalgamation of multiple visions, concepts, and mood boards, and there are a lot of creative juices flowing. I adore being around this environment, it's what I love about fashion. Collating with teams, making things happen, and when you finally see the models walking on the ramp in the ready collection, you know it was all worth it.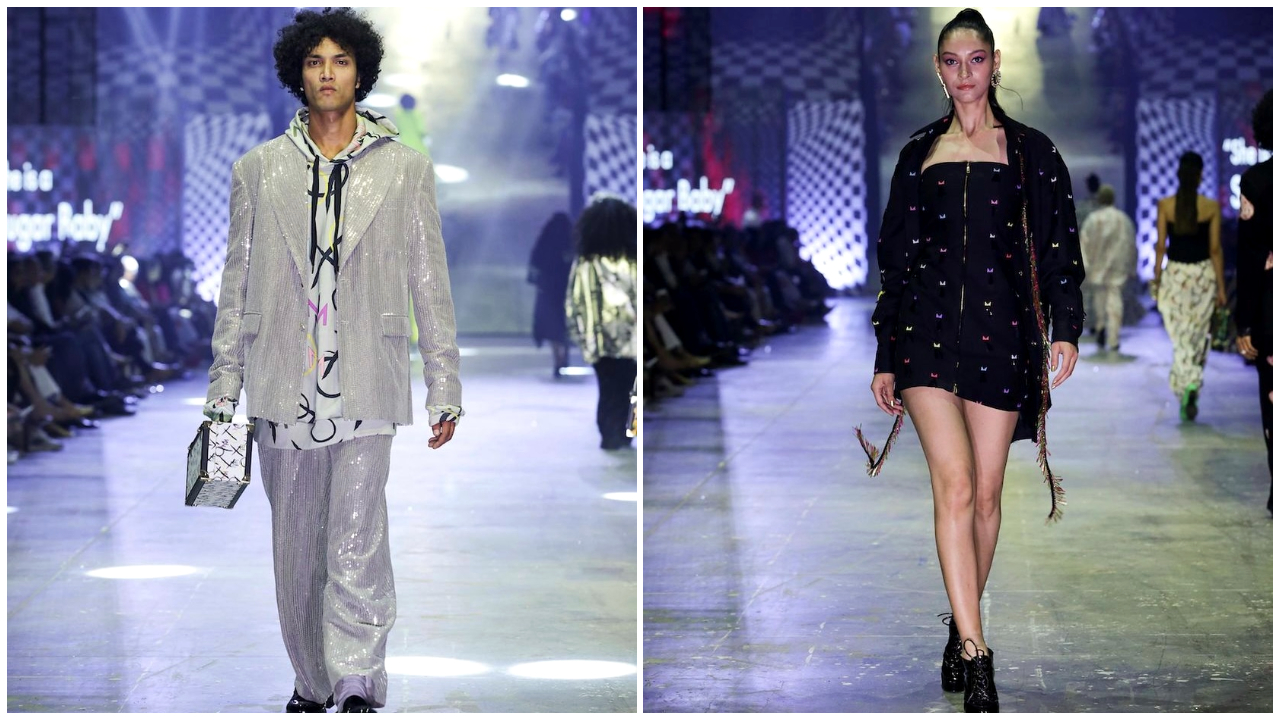 Have you checked out Diffuse? 
ALSO READ: EXCLUSIVE: Ananya Panday on Manish Malhotra's 'Diffuse' outfit, raiding Bhavana Pandey's closet and more
About The Author
A fashion writer by day and a makeup inspiration by the night, Manjusha is also an ardent animal lover. With multiple me...dia internships, and 2 years of writing experience, she has over 1000 posts to her credit. Her everyday joys translate to doing interviews, fashion round-ups, keeping an eye out for fashion faceoffs, and talking like there is no tomorrow about the newly-brewed skincare or makeup trend. Read more
Top Comments
There are no comments in this article yet. Be first to post one!