40 Best suspense movies as per IMDb that will keep you hooked
Horror suspense or thriller - the best thing about suspense movies is that they keep your heart and mind edgy. Here is a list of top suspense movies as per IMDb that will keep your tensions at bay!
Updated on Aug 24, 2023 | 02:51 AM IST | 6M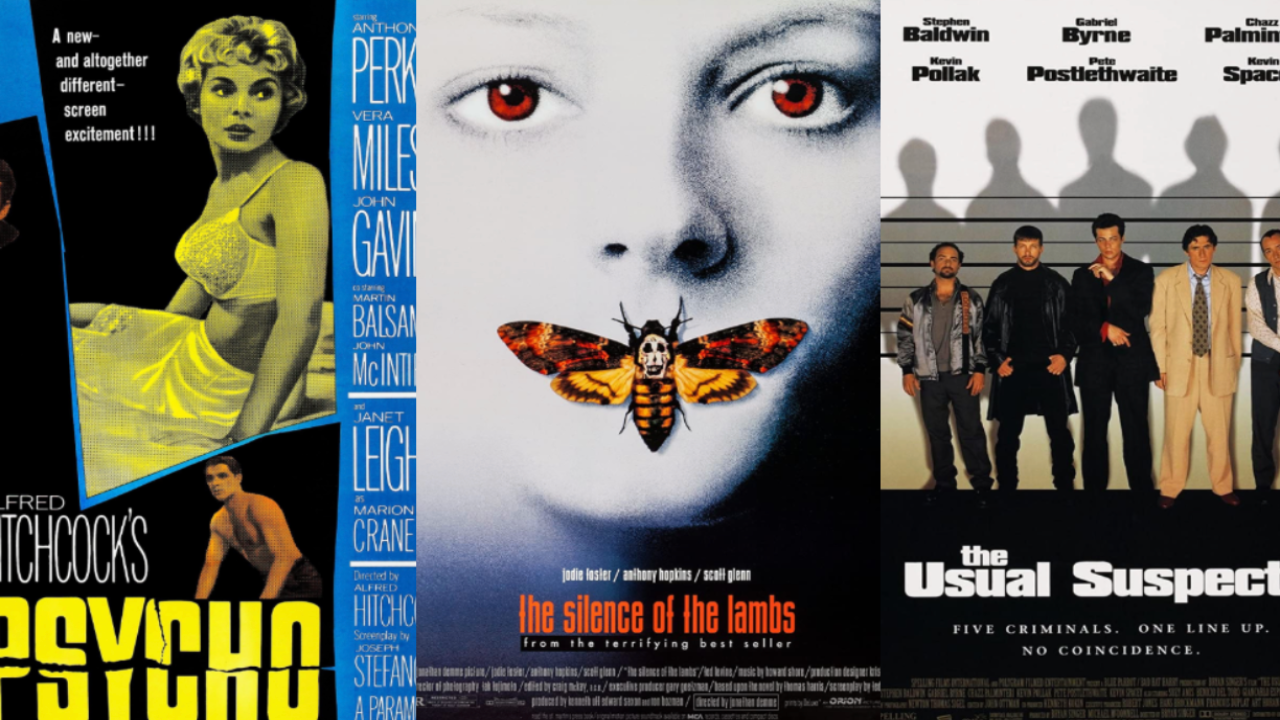 Suspense movies really are under-appreciated. You take up any genre - romance, horror, mystery, or drama - and add suspense to it, and it undoubtedly becomes one of the most engrossing and superhit movies. Why so? The answer is simple. A good suspense movie has everything required to be a box office hit - from strong characters, conflicts, rabbit holes, pace, foreshadowing, high stakes, and a killer vibe. Now, add in the twist of romance or horror, and boom - almost every viewer will prefer this full package rather than cliched love stories, bottomless horror, or boring, stretched dramas.
Another thing to note here is that humans want freedom and excitement from their mundane lives, and that is why they turn to movies. Here suspense movies come to your rescue. While the suspense grasps the viewers' attention, it equally provokes their minds and transports them to the movie world. This, in turn, urges the audience to get involved in the plot, keeping them alert and their hearts super active. Not only during the movie, but this excitement also keeps tagging at them when they discuss the plot with others with their own theories and whatnot - making a great and exhilarating conversation, even a sleepless night at times!
Plus, if we list out these suspense movies as per IMDb ratings, you will save loads of time in researching. All you must do is save this article, and the next time it is movie time - alone or with family or friends - open this article, put on the movie (yes, we will mention the streaming platforms as well), and ENJOY!
Wait, do not forget to keep some water or drink nearby because it is going to get jumpy.
20 Best suspense movies as per IMDb: Watch on Netflix, Amazon Prime, Disney+Hotstar, YouTube
1. The Silence of the Lambs
IMDb Rating: 8.6/10
Year of Release: 1991
Run time: 118 minutes (1 hr 58 mins)
Director: Jonathan Demme
Movie Cast: Jodie Foster, Anthony Hopkins, and Lawrence A. Bonney
Awards won: 5 Oscars
OTT Platform: Amazon Prime Video
The psychological horror movie The Silence of the Lambs from 1991 is considered one of the best and most influential movies of all time by reviewers, directors, and general audiences. The "Big Five Awards" at the Oscars were won by the movie, making it the first and only horror picture to badge the most prestigious title.
The story covers a tale of Clarice Starling, an outstanding student at the FBI training program, portrayed by Jodie Foster. Dr. Hannibal Lecter is a brilliant psychiatrist who is a vicious psychopath serving a life sentence for several murders and cannibalism that he has committed. The turning point of the story begins with Jack Crawford's request for Clarice to interview him. Crawford thinks that Lecter could have information on a case and that Starling, a beautiful young lady, might be the perfect lure to entice him, which then gives the movie its suspenseful drive.
2. Se7en
IMDb Rating: 8.6/10
Year of Release: 1995
Run time: 127 minutes (2 hrs 7 mins)
Director: David Fincher
Movie Cast: Morgan Freeman, Kevin Spacey, and Brad Pitt
OTT Platform: Amazon Prime Video or Youtube
A series of sophisticated and horrifying killings are discovered as retiring police investigator William Somerset and newly transferred cop David Mills, played by Brad Pitt, work together on their final case. They immediately realize that they are dealing with a serial killer (Kevin Spacey) who is selecting victims to represent one of the seven deadly sins. In addition, Tracy (Gwyneth Paltrow), Mills' wife, becomes a friend of Somerset which makes Tracy concerned about parenting her expectant child in the dangerous city which then fuels the suspense of what William might do further.
3. Psycho
Genre: Horror, Mystery, Thriller
IMDb Rating: 8.5/10
Year of Release: 1960
Run Time: 100 minutes (1 hr 49 mins)
Director: Alfred Hitchcock
Movie Cast: Anthony Perkins, Janet Leigh, Vera Miles
OTT Platform: Amazon Prime Video
Psycho is a 1960 American psychological horror film that is filled with thrills, created and directed by Alfred Hitchcock. Which has also garnered four Academy Award nominations, including best director for Hitchcock and best supporting actress for Leigh.
The story centers on a meeting between shy motel proprietor Norman Bates (Perkins) and fugitive embezzler Marion Crane (Leigh). The plot thickens when a private investigator (Balsam), Marion's lover Sam Loomis (Gavin), and her sister Lila (Miles) investigate Marion's disappearance. This is what starts the real story of the movie, which is mixed with all kinds of emotions and won't let your eyes move from one side to the other. In a quest to find Marion, the two meet on a path that is decided by their faith.
4. The Usual Suspects
IMDb Rating: 8.5/10
Year of Release: 1995
Run time: 106 minutes (1 hr 46 mins)
Director: Bryan Singer
Movie Cast: Kevin Spacey, Gabriel Byrne, and Chazz Palminteri
Awards won: 2 Oscars
OTT Platform: Netflix
The mystery components are mixed with an interesting plot and Spacey's acting which has received accolades. The Academy Award was won by McQuarrie. As this mystery plot revolves around the questioning of small-time con artist Roger "Verbal" Kint, one of only two people who survived a slaughter and fire aboard a ship berthed in the Port of Los Angeles.
Kint provides an interrogator with a complicated account of the circumstances that brought him and his band of criminals to the boat as well as information about a mystery crime boss named Keyser Söze who oversaw them through the use of flashback and narrative. The movie's original title was adapted from a column in Spy magazine called 'The Usual Suspects' with a twist that you will never forget or get out of your mind.
5. The Prestige
IMDb Rating: 8.5/10
Year of Release: 2006
Run time: 130 minutes (2 hrs 10 mins)
Director: Christopher Nolan
Movie Cast: Hugh Jackman, Christian Bale, and Scarlett Johansson
OTT Platform: Amazon Prime Video or Youtube
In this period piece set in Edwardian London, two rival magicians who had previously been partners but split up when one of them performed the ultimate magic trick—teleportation—remained friends until the tragic death of a stagehand during a performance. His opponent engages in dangerous new scientific research, pushing himself to the brink of insanity and sacrificing the lives of those near him in a desperate bid to discover the secret of his routine, which then gives a mind-blowing twist and is filled with suspense to see what is discovered and how the deadly magic comes into play.
6. The Lives Of Others
IMDb Rating: 8.4/10
Year of Release: 2006
Run time: 137 minutes (2 hrs 17 mins)
Director: Florian Henckel von Donnersmarck
Movie Cast: Ulrich Mühe, Martina Gedeck, and Sebastian Koch
OTT Platform: Amazon Prime Video or Youtube
The story revolves around - The playwright Georg Dreyman and his girlfriend Christa-Maria Sieland following the 2006 German drama.  Directed by Florian Henckel von Donnersmarck and starring Sebastian Koch and Martina Gedeck. The film is set in East Germany between 1984 and 1991.
In 1984, The Lives of Others begins. The Stasi (the East German Secret Police) employed 100,000 operatives and enlisted some 200,000 informants, according to the opening title. Their aim was to learn everything about other people's lives. Which then put them into a deeper threat, making it difficult to come out of the situation.
7. Momento
IMDb Rating: 8.4/10
Year of Release: 2000
Run time: 113 minutes (1 hr 53 mins)
Director: Christopher Nolan
Movie Cast: Guy Pearce, Carrie-Anne Moss, and Joe Pantoliano
Watch on: Amazon Prime Video or Youtube
The central theme of this film is the pursuit of vengeance. Leonard Shelby, an insurance investigator, has anterograde amnesia and searches for the person he believes who killed his wife—the last thing he can recall—using notes and tattoos.
The fact that he has a rare, incurable kind of memory loss, however, makes it more challenging to find his wife's killer. Leonard is able to recollect specifics of his life before the accident, but he is unable to recall what happened fifteen minutes ago, where he is going, or why. The suspense that keeps the movie going is whether he will remember his wife's killer and finally take revenge. That is what will make the audience go head over heels for this movie.
8. North by Northwest
IMDb Rating: 8.3/10
Year of Release: 1959
Run time: 136 minutes (2 hrs 16 mins)
Director: Alfred Hitchcock
Movie Cast: Cary Grant, Eva Marie Saint, and James Mason
OTT Platform: Amazon Prime Video or Youtube
​​​​​This film is built around an impossible dilemma that will keep you guessing right up to the very end. In this classic thriller, Cary Grant plays advertising mogul Roger O. Thornhill, who is pursued by spy Phillip Vandamm, played by James Mason. The story starts when he is considered a government agent. Thornhill chooses to go cross-country since he is being hounded brutally by Vandamm's thugs. It is at this time that he meets the stunning and mysterious Eve Kendall (Eva Marie Saint). Vandamm's thugs are drawing near, putting Thornhill in immediate danger and igniting a number of classic action sequences mixed with romance.
9. To Kill a Mockingbird
IMDb Rating: 8.3/10​​​​​​
Year of Release: 1962
Run time: 129 minutes (2 hrs 9 mins)
Director: Robert Mulligan
Movie Cast: Gregory Peck, John Megna, and Frank Overton
Awards won: 3 Oscars
OTT Platform:  Amazon Prime Video or Youtube
To Kill a Mockingbird which was penned by American author Harper Lee. When it was published in 1960, it immediately gained popularity. To Kill a Mockingbird tells the story of a little girl coming of age, as well as a darker drama about the causes and repercussions of racism and prejudice. It also examines how good and evil may coexist inside one community or individual which keeps the suspense of the movie to find the quest for 'Good, and evil'. 
10. Shutter Island
IMDb Rating: 8.2/10
Year of Release:  2010
Run time: 138 minutes (2 hrs 18 mins)
Director: Martin Scorsese
Movie Cast: Leonardo DiCaprio, Emily Mortimer, and Mark Ruffalo
OTT Platform: Amazon Prime Video or Youtube
Your mind will not let you escape from this movie. Marshal Teddy Daniels (Leonardo DiCaprio) and his new colleague (Mark Ruffalo) are sent to Ashecliffe Hospital, a fortress-like mental institution on a far-off, windswept island, after the improbable escape of a clever murderess. There are indications that awful acts were perhaps carried out inside the hospital's walls, and the lady appears to have disappeared from a closed chamber. As the inquiry progresses, Teddy comes to the realization that if he wants to survive on the island, he will need to face his own dark fears.
11. L.A. Confidential
IMDb Rating: 8.2/10
Year of Release: 1997
Run time:138 minutes (2 hrs 18 mins)
Director: Curtis Hanson
Movie Cast: Kevin Spacey, Russell Crowe, and Guy Pearce
Awards won: 2 Oscars
OTT Platform: Amazon Prime Video or Youtube
​​The ideological conflict of America not knowing what to do with itself after winning World War II is the central premise of practically every James Ellroy book. L.A. Confidential is a section of his L.A. Quartet, which has this as its central topic. Three LAPD investigators are at the center of the narrative as they look into several killings. The investigation uncovers corruption within their own department as they track down the culprits and the evidence. With its action and thriller storyline, this movie will keep you glued to your screen to know how it will end.
12. The Sixth Sense
IMDb Rating: 8.2/10
Year of Release: 1999
Run time: 107 minutes (1 hr 47 mins)
Director: M. Night Shyamalan
Movie Cast: Bruce Willis, Haley Joel Osment, and Toni Collette
OTT Platform: Disney+ Hotstar
​​Malcolm Crowe, a child psychologist with a practice in Philadelphia, goes home with his wife Anna after receiving recognition for his achievements. Before killing Malcolm and then himself, Vincent Grey, a previous patient Malcolm had treated for hallucinations, barges into their home and accuses Malcolm of failing him, which then takes over the story as we witness what will happen next.
13. Memories of Murder
IMDb Rating: 8.1/10
Year of Release: 2003
Run time: 132 minutes (2 hrs 12 mins)
Director: Bong Joon Ho
Movie Cast: Song Kang Ho, Kim Sang Kyung, and Roe Ha Kim
Watch on: Amazon Prime Video or Youtube
​​​When a double killing occurred in a South Korean region in 1986, two detectives named Park (Song Kang-ho) and Cho (Kim Roi-ha) were sent to investigate. After the murderer follows the same pattern of attacks several more times, the police recognize they are hunting the country's first known serial killer. In this true-crime thriller, Park and Jo work together to get the evidence and crack the case using nothing more than their rudimentary tools and skills.
14. Gone Girl
IMDb Rating: 8.1/10
Year of Release: 2014
Run time: 149 minutes (2 hrs 29 mins)
Director: David Fincher
Movie Cast: Ben Affleck, Rosamund Pike, and Neil Patrick Harris
Watch on: Amazon Prime Video or Youtube
​​​​​Formerly headquartered in New York, writer Nick Dunne (Ben Affleck) and his gorgeous wife Amy (Rosamund Pike) portray a picture of a happy marriage to the general public in Carthage, Missouri. However, Nick is the main suspect in Amy's abduction when she goes missing on the couple's fifth wedding anniversary. The Dunnes' portrayal of a blissful marriage breaks down as a result of police pressure and the media craze, raising intriguing doubts about Nick and Amy's true identities which keeps up the suspense on why he did it and the reason behind his act.
15. 12 Monkeys
IMDb Rating: 8.0/10
Year of Release: 1995
Run time: 129 minutes (2 hrs 9 mins)
Director: Terry Gilliam
Movie Cast: Bruce Willis, Madeleine Stowe, and Brad Pitt
Watch on: Amazon Prime Video or Youtube
If time travel is on your to-do list, join the renowned Bruce Willis on his epic voyage. As James Cole (Bruce Willis) discovers the hard way, going back in time is not an easy task. James is enlisted for a mission that would return him to the 1990s while he is imprisoned in the 2030s. He is to go there and acquire information on a new epidemic that is due to wipe out the great bulk of humanity. However, except for the hysterical Jeffrey (Brad Pitt), he receives little support, including from medical gatekeepers like Dr. Kathryn Railly (Madeleine Stowe) which keeps up the pace of the movie.
16. The Girl with the Dragon Tattoo
IMDb Rating: 7.8/10
Year of Released: 2011
Run time: 158 minutes (2 hrs 38 mins)
Director: David Fincher
Movie Cast: Daniel Craig, Rooney Mara, and Christopher Plummer
Awards won: 1 Oscar
OTT Platform:  Amazon Prime Video or Youtube
​​​​​​The story of journalist Mikael Blomkvist's quest to discover the fate of a wealthy family's missing daughter who vanished 40 years prior. Rooney Mara portrays Lisbeth Salander, while Daniel Craig plays Blomkvist. He asks Salander, a computer hacker, for help. But what keeps people's interest without making them shift their focus is when the two learn more than they had anticipated.
17. Zodiac
IMDb Rating: 7.7/10
Year of Release: 2007
Run time: 157 minutes (2 hrs 37 mins)
Director: David Fincher
Movie Cast: Jake Gyllenhaal, Robert Downey Jr., and Mark Ruffalo
OTT Platform: Netflix
Robert Graysmith, a cartoonist, finds himself thinking a lot about the Zodiac killer. With the aid of his puzzle-solving skills, he makes progress in locating the murderer. In the late 1960s and early 1970s, San Francisco was gripped by fear as the Zodiac, a serial murderer, prowled the city's neighborhoods. Jake Gyllenhaal, Anthony Edwards, and Mark Ruffalo portray investigators and reporters who get obsessed with identifying the murderer and bringing him to justice. Zodiac continues to murder individuals while tormenting law enforcement with coded messages, cryptic phone conversations, and ciphers.
18. Minority Report
IMDb Rating: 7.7/10
Year of Release: 2002
Run time: 145 minutes (2 hrs 25 mins)
Director: Steven Spielberg
Movie Cast: Tom Cruise, Colin Farrell, and Samantha Morton
OTT Platform: Amazon Prime Video or Youtube
The story revolves around how technology has made it possible for police to catch criminals before they do anything wrong. When John Anderton is accused of committing one of these acts, he sets out to refute the claim. The science fiction action thriller "Minority Report" is based on a story by renowned novelist Philip K. Dick and is set in Washington, D.C., in the year 2054. In this city, law enforcement officers catch and punish murderers before they commit their crimes using psychic technology. What sets the story is when Tom Cruise's character is held responsible for the upcoming murder of a guy he has never even met which leads to the quest to uncover discovery.
19. Identity
IMDb Rating: 7.3/10
Year of Release: 2003
Run time: 90 minutes (1 hr 30 mins)
Director: James Mangold
Movie Cast: John Cusack, Ray Liotta, and Amanda Peet
Watch on: Amazon Prime Video or Youtube
In a shocking storyline turn, it is revealed that Malcolm Rivers is actually the 10 strangers' various personalities and that everything is happening inside of his mind as an imagination. The show continues with a scene of ten individuals who are looking for safety at a remote hotel when a violent storm erupts in the Nevada desert. A serial murderer (Pruitt Taylor Vince) who is being treated by psychiatrist Doctor Mallick (Alfred Molina), who has recently discovered the perpetrator's revealing journal, is in the process of being executed for the murders of hotel guests.
Limo driver Ed Dakota (John Cusack) makes an effort to stay alive and identify the culprit as the storm-stranded travelers realize they are being murdered one by one.
20. Side Effects
IMDb Rating: 7.1/10
Year of Release: 2013
Run time:106 minutes (1 hr 46 mins)
Director: Steven Soderbergh
Movie Cast: Rooney Mara, Channing Tatum, and Jude Law
OTT Platform: Amazon Prime Video or Youtube
Doctor Jonathan Banks prescribes Emily a new drug when her problems don't go away. The subsequent events not only result in her husband's passing but also put Jonathan's future career in jeopardy. Emily Taylor (Rooney Mara) has been anticipating Martin Taylor's release from prison since he was imprisoned for insider trading four years ago.
When Martin is finally let out of jail, Emily still feels awful and enters a deep state of melancholy. Following her attempted suicide attempt, psychiatrist Jonathan Banks (Jude Law) suggests a number of medications. He gives Emily new treatment when those don't work, but it kills people and damages lives.
21. Chinatown (1974)
Genre: Mystery/Drama
Star Cast: Jack Nicholson, Faye Dunaway, John Huston, Perry Lopez, John Hillerman
Director: Roman Polanski
Writer: Roman Polanski
Run time: 2h 10m
Year of release: 1974
OTT Platform: Amazon Prime
IMDb rating: 8.2/10
"Chinatown" (1974) is a classic American neo-noir film directed by Roman Polanski and starring Jack Nicholson and Faye Dunaway. Set in 1937 Los Angeles, it follows private investigator J.J. Gittes as he delves into a complex web of corruption, murder, and deceit within the city's Chinatown district. The film is known for its compelling storyline, evocative cinematography, and a haunting score by Jerry Goldsmith. "Chinatown" has earned its place as a cinematic masterpiece, exploring themes of power, manipulation, and the dark underbelly of society. Its iconic line, "Forget it, Jake, it's Chinatown," has become an enduring symbol of moral ambiguity.
22. The Hunt for Red October (1990)
Genre: Thriller/Action
Star Cast: Sean Connery, Alec Baldwin, Scott Glenn, Sam Neill, James Earl Jones, Joss Ackland, Richard Jordan, Peter Firth.
Director: John McTiernan
Writer: Tom Clancy
Run time: 2h 15m
Year of release: 1990
OTT Platform: Amazon Prime
IMDb rating: 7.5/10
"The Hunt for Red October" is the first movie based on Tom Clancy's work, and it's still considered the best. Jack Ryan makes his big-screen debut, and Sean Connery plays a Soviet submarine captain who goes rogue and defects to the United States. Ryan must prevent a nuclear war by establishing communication on the high seas. It's a gripping, technical thriller that showcases Clancy's strengths and appeal as a creator.
23. Blow Out (1981)
Genre: Thriller/Mystery
Star Cast: John Travolta, Nancy Allen, John Lithgow, Dennis Franz, Peter Boyden
Director: Brian De Palma
Writer: Brian De Palma
Run time: 1h 48m
Year of release: 1981
OTT Platform: NA
IMDb rating: 7.4/10
"Blow Out" is a standout film by the talented Brian De Palma. John Travolta plays a sound expert investigating a political murder, and De Palma's style is incredible. The movie's visuals and sound are stunning. The story is complex and engaging, with great characters and acting from John Lithgow and Nancy Allen.
"Blow Out" is inspired by Michelangelo Antonioni's "Blow-Up." Both are must-watches for film enthusiasts.
24. Set It Off (1996)
Genre: Crime/Action
Star Cast: Jada Pinkett Smith, Queen Latifah, Vivica A. Fox, Kimberly Elise, John C. McGinley
Director: F. Gary Gray
Writer: Kate Lanier and Takashi Bufford
Run time: 2h 3m
Year of release: 1996
OTT Platform: NA
IMDb rating: 6.9/10
"Set It Off" is a 1996 American crime drama film. It tells the story of four women, played by Jada Pinkett Smith, Queen Latifah, Vivica A. Fox, and Kimberly Elise, who turn to robbing banks out of desperation. They're facing financial struggles and unfair treatment. The film explores their struggles, friendships, and the consequences of their actions. Directed by F. Gary Gray, it's a gripping tale of empowerment and the lengths people might go to escape dire circumstances. "Set It Off" remains a classic in American cinema, known for its strong performances and social commentary on issues like inequality and poverty.
25. Promising Young Woman (2020)
Genre: Thriller/Crime
Star Cast: Carey Mulligan, Bo Burnham, Alison Brie, Clancy Brown, Adam Brody.
Director: Emerald Fennell
Writer: Emerald Fennell
Run time: 1h 53m
Year of release: 2020
OTT Platform: Netflix
IMDb rating: 7.5/10
Emerald Fennell's debut film is a unique blend of candy-coated aesthetics and psychological depth. It's both funny and chilling, unlike anything you've seen before. Carey Mulligan, an Oscar-nominated actress, delivers an outstanding performance as a med school dropout coping with a terrible crime. Promising Young Woman boldly takes on cruelty and indecency, delivering entertainment and a memorable experience.
26. The Constant Gardener (2005)
Genre: Drama/Drama
Star Cast: Ralph Fiennes, Rachel Weisz, Danny Huston, Hubert Koundé, Daniele Harford
Director: Fernando Meirelles
Writer: Fernando Meirelles
Run time: 2h 9m
Year of release: 2005
OTT Platform: Amazon Prime
IMDb rating: 7.4/10
Ralph Fiennes stars in a movie by director Fernando Meirelles, known for City of God. The film is based on John le Carré's book. It's about a British diplomat looking for his wife's killers in Kenya. The same year, Fiennes played Lord Voldemort in Harry Potter and the Goblet of Fire. The Constant Gardener did well in reviews and at the box office. Rachel Weisz won an Oscar for Best Supporting Actress.
27. Dirty Pretty Things (2002)
Genre: Thriller/Drama
Star Cast: Chiwetel Ejiofor, Kriss Dosanjh, Israel Oyelumade, Yemi Goodman Ajibade
Director: Stephen Frears
Writer: Stephen Frears
Run time: 1h 37m
Year of release: 2002
OTT Platform: Amazon Prime
IMDb rating: 7.3/10
Just a year after her success in the international rom-com "Amélie," Audrey Tautou starred in a dark English thriller called "Dirty Pretty Things." She acted alongside Chiwetel Ejiofor from "12 Years a Slave." The movie was directed by Stephen Frears, known for "High Fidelity," and written by Steven Knight, who wrote "Spencer."
The gripping and humane story is about immigrants working in a fancy London hotel. They make a shocking discovery: a human heart blocking a toilet. As they dig into this mystery, they uncover a conspiracy. The movie is not only an effective thriller but also a touching story that goes beyond just one genre.
28. Widows (2018)
Genre: Drama/Drama
Star Cast: Viola Davis, Michelle Rodriguez, Elizabeth Debicki, Liam Neeson, Jon Bernthal 
Director: Steve McQueen
Writer: Steve McQueen
Run time: 2h 9m
Year of release: 2018
OTT Platform: NA
IMDb rating: 6.8/10
Widows, a movie based on a 1980s British TV series, was co-adapted by director Steve McQueen and Gillian Flynn, known for Gone Girl. Viola Davis plays Veronica Rawlings, a representative for the Chicago Teachers Union. Her husband, Harry (played by Liam Neeson), is a high-end thief. In the movie, things go wrong on a job, and Harry's team is blown up in the opening scene.
Although it didn't do well at the box office in 2018, Widows is a fantastic and entertaining film. It should be seen by more people. Steve McQueen, known for 12 Years a Slave and Shame, managed to create an action-packed movie that's suitable for a wide audience without losing his unique style.
29. Eastern Promises (2007)
Genre: Thriller/Crime
Star Cast: Naomi Watts, Viggo Mortensen, Armin Mueller-Stahl,Josef Altin
Director: David Cronenberg
Writer: Steven Knight
Run time: 1h 40m
Year of release: 2007
OTT Platform: NA
IMDb rating: 7.6/10
"Eastern Promises," one of David Cronenberg's most refined films, features Viggo Mortensen as a Russian criminal in London. He uncovers serious corruption with the help of a midwife, played by Naomi Watts.
The most well-known scene involves Mortensen, completely naked, fighting off two attackers in a Turkish bath. This remarkable performance earned him a Best Actor Oscar nomination.
30. Training Day (2001)
Genre: Crime/Thriller
Star Cast: Denzel Washington, Ethan Hawke, Scott Glenn, Tom Berenger, Harris Yulin, Raymond J. Barry, Cliff Curtis
Director: Antoine Fuqua
Writer: David Ayer
Run time: 2h 2m
Year of release: 2001
OTT Platform: Amazon Prime
IMDb rating: 7.7/10
Denzel Washington and Ethan Hawke star in Antoine Fuqua's crime film. Washington plays a corrupt veteran cop, while Hawke is a rookie on his first day in the LAPD's inner-city narcotics unit.
Washington won the Academy Award for Best Actor on a special night at the Oscars. Halle Berry also won Best Actress for "Monster's Ball," and Sidney Poitier received a lifetime achievement award.
"Training Day" remains one of Denzel Washington's most iconic roles. He's one of Hollywood's most respected living actors.
31. Drive (2011)
Genre: Action/Crime
Star Cast: Ryan Gosling, Carey Mulligan, Bryan Cranston, Albert Brooks, Oscar Isaac
Director: Nicolas Winding Refn
Writer: Nicolas Winding Refn
Run time: 1h 40m
Year of release: 2011
OTT Platform: NA
IMDb rating: 7.8/10
"Drive" was Nicholas Winding Refn's big break, and many still consider it his best work. It's a movie where style takes the spotlight over the story. Ryan Gosling, though not very talkative, gives a spot-on performance as a stunt driver who gets caught up in the criminal world.
What makes "Drive" stand out are the little things. While the basic plot is about crime, how the story unfolds is anything but typical. "Drive" is quietly thrilling, and Refn's direction was so impressive that he won the Best Director award at the Cannes Film Festival.
32. Misery (1990)
Genre: Horror/Thriller
Star Cast: James Caan, Kathy Bates, Richard Farnsworth, Frances Sternhagen
Director: Rob Reiner
Writer: Rob Reiner
Run time: 1h 47m
Year of release: 1990
OTT Platform: NA
IMDb rating: 7.8/10
The Academy usually doesn't give horror movies much attention. But, Kathy Bates won an Oscar for Best Actress for her role in "Misery." She played a crazy fan who kidnaps her favorite author, James Caan, during a snowstorm. She forces him to write stories for her. Even though it's been almost 30 years since it came out, "Misery" is still a really scary movie. It's unsettling in a good way and can be tough to watch because of how intense it is.
33. The Handmaiden (2016)
Genre: Romance/Drama
Star Cast: Kim Min-hee, Ha Jung-woo, Cho Jin-woong, Moon So-ri
Director: Park Chan-wook
Writer: Park Chan-wook
Run time: 2h 24m
Year of release: 2016
OTT Platform: NA
IMDb rating: 8.1/10
"The Handmaiden" is an exciting and surprising romantic thriller that might catch you off guard. It's about a rich Japanese woman and a Korean pickpocket who fall in love, but there are some powerful and controlling men in their way. If you don't mind reading subtitles, and you're okay with some intense scenes and a long runtime, you'll have a great time with this movie. It even won a BAFTA Award for Best Foreign Language Film.
34. Dressed to Kill (1980)
Genre: Thriller/Mystery
Star Cast: Michael Caine, Angie Dickinson, Nancy Allen, Keith Gordon, Dennis Franz, David Margulies, Ken Baker, Susanna Clemm.
Director: Brian De Palma
Writer: Brian De Palma
Run time: 1h 46m
Year of release: 1980
OTT Platform: Amazon Prime
IMDb rating: 7.1/10
Since 1960, many thrillers have been inspired by Psycho, but none quite as intriguing as De Palma's Dressed to Kill. This suspenseful movie features Michael Caine, Angie Dickinson, and Nancy Allen in a gripping tale that's hard to take your eyes off.
With captivating scenes, like a sensually charged visit to the Metropolitan Museum of Art, and a mix of sophistication and down-to-earth excitement, Dressed to Kill has become a beloved and puzzling cult classic.
35. Sorcerer (1977)
Genre: Adventure/Drama
Star Cast: Roy Scheider, Bruno Cremer, Francisco Rabal, and Amidou.
Director: William Friedkin
Writer: William Friedkin
Run time: 2h 1m
Year of release: 1977
OTT Platform: NA
IMDb rating: 7.7/10
"Sorcerer" is a 1977 movie where four men from different backgrounds are forced to transport highly explosive cargo through treacherous South American jungles. They face relentless danger, including rickety bridges and extreme weather, all while trying to save their own lives. The film is a suspenseful thriller, emphasizing the characters' struggle and their desperate mission. It's a test of their wits and courage, as they battle nature and their own pasts. "Sorcerer" keeps you on the edge of your seat, showcasing the intense human drama of survival against all odds.
36. Nocturnal Animals (2016)
Genre: Thriller/Drama
Star Cast: Amy Adams, Jake Gyllenhaal, Michael Shannon, Aaron Taylor-Johnson, Isla Fisher, Armie Hammer, Laura Linney, Andrea Riseborough
Director: Tom Ford
Writer: Tom Ford
Run time: 1h 56m
Year of release: 2016
OTT Platform: Amazon Prime
IMDb rating: 7.5/10
"Nocturnal Animals," a movie from 2016, is like two stories in one. In the first story, a woman receives a book from her ex-husband. When she reads it, the second story unfolds in her mind. This story is about a man who faces a dangerous situation while traveling with his family. The movie switches between these two stories, creating suspense and drama. It's like a puzzle where you need to figure out how the two stories are connected. The film explores themes of love, regret, and revenge, making it a gripping and thought-provoking watch.
37. The Talented Mr. Ripley (1999)
Genre: Thriller/Drama
Star Cast: Matt Damon, Gwyneth Paltrow, Jude Law, Cate Blanchett, Philip Seymour Hoffman, Jack Davenport, James Rebhorn, Sergio Rubini.
Director: Anthony Minghella
Writer: Anthony Minghella
Run time: 2h 19m
Year of release: 1999
OTT Platform: Amazon Prime
IMDb rating: 7.4/10
"The Talented Mr. Ripley" is a 1999 movie about a guy named Tom Ripley. He's kind of a loner and not very well off. But things change when he gets a job to go to Italy and convince a rich guy's son to come back home. Tom starts living a fancy life with this rich family and becomes obsessed with the son's life. But here's the twist: he starts lying and doing bad things to keep living this high life. He even takes on the son's identity. It's a thriller because you're always wondering if Tom will get caught. It's like a game of secrets and lies.
38. Dog Day Afternoon (1975)
Genre: Crime/Drama
Star Cast: Al Pacino, John Cazale, Penelope Allen, Sully Boyar 
Director: Sidney Lumet
Writer: Sidney Lumet
Run time: 2h 4m
Year of release: 1975
OTT Platform: NA
IMDb rating: 8/10
"Dog Day Afternoon" is a 1975 movie that tells a wild true story. It's like a rollercoaster of a bank robbery gone wrong. Two guys try to rob a bank, but things get crazy fast. The cops surround the bank, and the robbers are stuck inside with hostages. It's a hot summer day, so tensions rise. The movie is about the robbers' crazy antics, their demands, and how the whole situation turns into a media circus. It's filled with drama, humor, and intense moments. Al Pacino gives an amazing performance. It's a classic crime film that keeps you on the edge of your seat.
39. Hell or High Water (2016)
Genre: Western/Crime
Star Cast: Dale Dickey, Ben Foster, Chris Pine, William Sterchi
Director: David Mackenzie
Writer: Taylor Sheridan
Run time: 1h 42m
Year of release: 2016
OTT Platform: Amazon Prime
IMDb rating: 7.6/10
Director David Mackenzie and screenwriter Taylor Sheridan's heist movie/drama was a breath of fresh air for Western films in recent times. Jeff Bridges plays a lawman who's about to retire, chasing after two brothers, played by Chris Pine and Ben Foster, who are robbing banks. This movie got nominated for four Oscars, including Best Picture and a Best Supporting Actor nod for Jeff Bridges.
40. Bullitt (1968)
Genre: Action/Drama
Star Cast: Steve McQueen, Robert Vaughn, Jacqueline Bisset, Don Gordon, Robert Duvall, Simon Oakland and Norman Fell.
Director: Peter Yates
Writer: Peter Yates
Run time: 1h 53m
Year of release: 1968
OTT Platform: NA
IMDb rating: 7.1/10
"Bullitt," released in 1968, is a classic American film known for its thrilling action and iconic car chase scenes. The movie follows Steve McQueen as a cool and determined police detective, Bullitt, who's on a mission to protect a key witness. The film stands out for its realistic portrayal of law enforcement work, gripping suspense, and one of the most famous car chases in cinema history. The story revolves around Bullitt navigating the dangerous streets of San Francisco to uncover the truth, making it a must-see for fans of suspenseful crime dramas and adrenaline-pumping action sequences.

 
Bookmark this list for the next time you struggle with what to watch, whether you're looking for binge-worthy content to escape from daily struggles, to spice up your monotonous schedule, to distract yourself on a bad day, or to feel instantaneous satisfaction. With its stellar cast, intense emotions, and captivating plot, this movie will capture your interest and keep you seated. Because suspense movies are usually on everyone's "must-watch" list, we've provided you with content you shouldn't miss.
ALSO READ: 25 Best Netflix Web series to keep you busy for days
FAQs
Which is the No.1 suspense movie?
Joker, The Da Vinci Code, and Inception are amongst the top suspense movies.
---
Which is the best suspense thriller movie?
Eyes Wide Shut
---
Which are the suspenseful movies on Netflix?
The Hurt Locker (2009), Under the Shadow (2016), I'm Thinking of Ending Things (2020), Cam (2018), and Gerald's Game (2017) are amongst the best suspense movies on Netflix.
---
What is horror suspense?
A suspense movie with twists or unexpected moments of realization that makes the viewers jump, scream, and with a racing heart is known as a horror suspense movie.
---
What are some examples of suspense?
Eerie settings, abandoned houses, creaking noises, tension build-up, aggressive rhythm, etc. are some examples of suspense.
---
About The Author
A marked inclination toward understanding human emotions and relationships led Anubhuti to become a certified Relationship Expert. With dual
...
Read more
Top Comments
There are no comments in this article yet. Be first to post one!