The Super Mario Bros. Movie EXCLUSIVE: Anya Taylor-Joy says 'I want to be more like Princess Peach!'
Anna Taylor-Joy shares her experience while working on The Super Mario Bros. She plays the character of Princess Peach. Read more.
Published on Apr 05, 2023 | 02:52 PM IST | 416.7K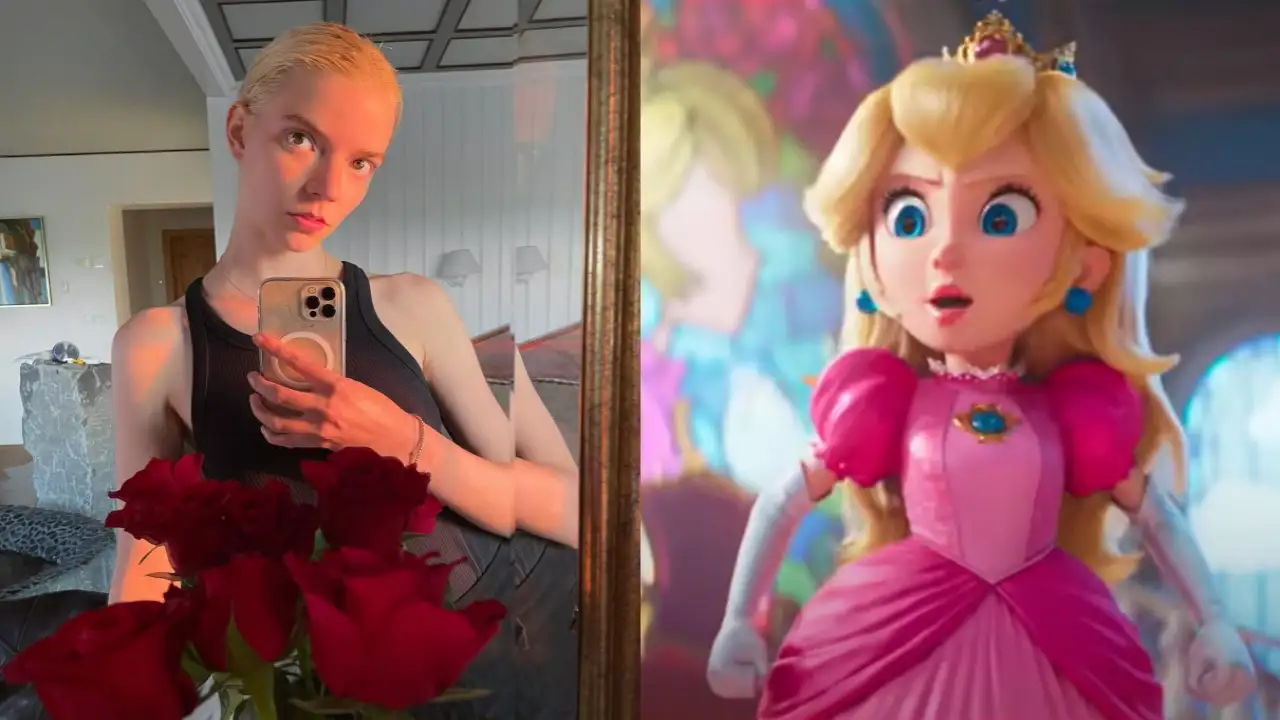 Anya Taylor-Joy is set to take the role of our favorite Princess Peach in The Super Mario Bros. movie. The awaited film is set to release on April 5th. The actress is known for roles like The Queen's Gambit and The Menu. While talking to Pinkvilla, she talked about her role in the upcoming movie and how she reacted to the role. 
Anya Taylor-Joy talks about her role as Princess Peach    
In the movie, Anya Taylor-Joy as Princess Peach is the ruler of the Mushroom Kingdom, and Mario's guide, mentor, and love interest. She will help the brothers to win against Bowser. Mario is voiced by Chris Pratt whereas Luigi is voiced by Charlie Day. Read on to know what Anya has to say.                      
How did you react to being a part of The Super Mario Bros. Movie?
I was so excited by the director's vision of this movie and to see what it was going to look like. I finally had the chance to do that recently, and it is staggeringly beautiful. And I loved how on board everybody was for a new version of Princess Peach.
What did you want to bring to this beloved character?
Princess Peach is incredibly iconic, and I wanted to bring her into this century by making her a little bit more capable. And I was so overwhelmed and excited that the team at Nintendo and the directors of the movie were so on board with that. We kind of started with the voice, as I wanted to pitch it a bit differently and we sort of took it from there and then even improvised lines. I was thrilled to have the opportunity to play a character that's loved by so many people, but I was also excited to have the chance to flesh her out and let her be the hero of her own story.

ALSO READ: Anya Taylor Joy looks back at childhood, Queen's Gambit fame & why her popularity doesn't make sense to her
What do you like the most about Princess Peach?
That she redefines what it means to be a princess because she's not weak or helpless, and she's not a damsel in distress and she is not looking for anyone to save her. Princess Peach is an incredibly driven leader who is fearless, determined, capable and has so much heart. And she is very concerned about the welfare of the Mushroom Kingdom and wants everyone to be taken care of and live peacefully. After I watched the film, I was inspired by her and thought, "I want to be more like Princess Peach!"
How do you believe she differs from other animated princesses?
Princess Peach really is the master of her own fate. She grabs the reins and takes control. Peach is very determined, absolutely fearless, and goes headfirst into battle.
And what would you say that you have in common with her?
Princess Peach really cares for her toads and about the Mushroom Kingdom. She loves the universe that she lives in, and I really love the Earth, so I feel we have that in common.
Mario's big battle with Donkey Kong is a key moment in the story, leading to the formation of the core team. That must have been a fun sequence to record.
We had such a blast recording that sequence because it's so funny. Mario has only just learned how to use all the power-ups and he's in a fight with Donkey Kong, who is just having the time of his life and sort of literally flexing his muscles. It was really, really fun to do. We screamed a lot for that one, and by the end of it you get the core team where everyone is sort of together and figuring out their differences.

ALSO READ: Anya Taylor-Joy Birthday: 6 stunning red carpet looks of the Queen's Gambit actress
Can you talk about what each of these characters brought to the team?
I think Peach is good at getting people together, and she's good at setting a plan. Mario brings the heart. He really wants to find Luigi and he kind of galvanizes all of us around that. Then you have Toad, who's just an eternal little ray of sunshine and kind of your ultimate hype man. And Donkey Kong is a bit more reluctant on this ride. He didn't necessarily want to be on it, but he is bringing the laughs.
How would you describe this film in a few words then?
I would say it is fun, epic, colorful, and vivid. And it has a lot of heart and is also very funny. It's just a really fun ride!
And what did you think of it when you saw it finished?
I was completely blown away! I went to see it with a range of people of different ages, and I loved to see how everyone was having such a good time throughout it and how happy they were at the end. Now I'm excited to see it with a bigger audience because the energy of the crowd is just going to be incredible.
More about The Super Mario Bros. movie
The movie is about the iconic duo Mario and Luigi. With the help of Princess Peach, the two will embark on a journey to stop Bowser. The Super Mario Bros is distributed by Universal Pictures and is directed by Aaron Horvath and Michael Jelenic. The cast also includes Chris Pratt, Charlie Day and Jack Black. 
About The Author
Entertainment journalist who is also a cinephile. With over 4 years of experience in the industry, Ruchi brings her
...
Read more
Top Comments
There are no comments in this article yet. Be first to post one!