Zero Movie Review: Shah Rukh Khan, Anushka Sharma and Katrina Kaif make this Zero into a Hero
Shah Rukh Khan, Anushka Sharma and Katrina Kaif's fine performances are the backbones of the film Zero. The first half is a treat to watch while the second half is too long and stretched. Read the movie review of Zero.
Director: Aanand L. Rai
Cast: Shah Rukh Khan, Anushka Sharma, Katrina Kaif
Stars: 3/5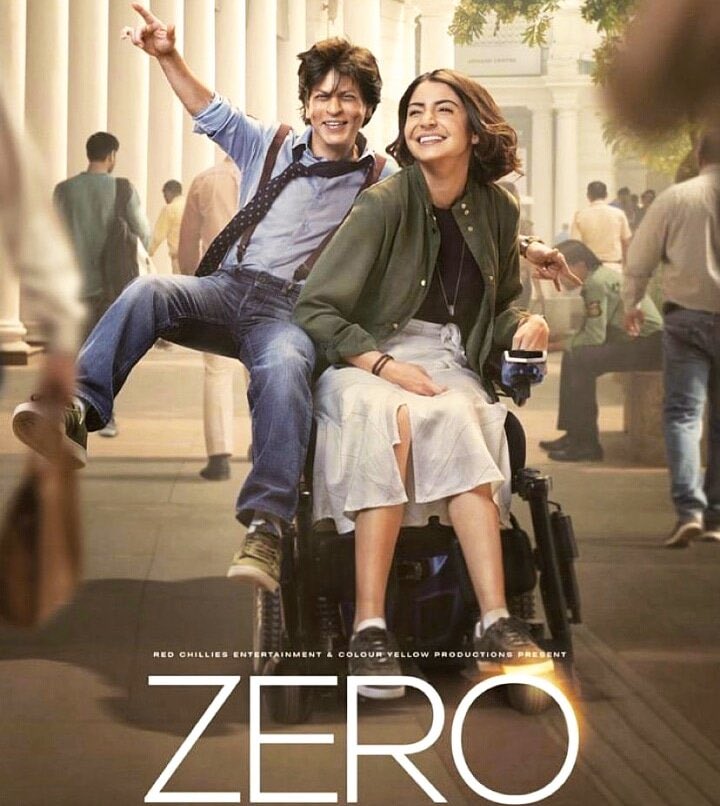 A significant scene in the movie is when Bauua is seen stripping off his clothes and belongings one by one and in that poignant stage, down to his banyan and boxers, this Zero becomes a Hero. If Aanand L Rai's larger than life (more like Mars) vision is the mind of Zero then, Bauua Singh is the heart of Zero. If VFX is the face that beautifies and adds colour to Zero than Aafia and Babita are the limbs of Zero.
Zero is a simple love story at the beginning between a dwarf, Bauua Singh (Shah Rukh Khan) and Aafia Bhinder (Anushka Sharma), a renowned scientist whose only weakness is that she suffers from cerebral palsy.  Their love story was doomed from the beginning as Bauua was infatuated for years with the rebellious actress Babita Kumari (Katrina Kaif). A chance encounter between Bauaa and Babita leads to a fallout with Aafia and then we are taken on a journey, which is so absurd and out of Space, that you don't know whether to love it or hate like this reviewer is feeling right now.
The first half was the typical masala entertainer which is made unique by the one and only King Khan. It's a testament for the actor, who is 50+ that all he needs is a romantic song like Mere Naam Tu to melt even the strongest of hearts, like that of Aafia. SRK digs deep into the equal parts adorable and equal parts funny Bauaa whose sincerity in being a 'Kamina' wins your heart. His one-liners are laugh out loud worthy and are one of the highlights of the first half. Anushka Sharma's performance is like old wine, it gets better as the movie progresses along. Her character could have been ridden off as caricaturish but Anushka's body language and speech showcased her hard work. Shah Rukh and Anushka's lack of chemistry in Jab Harry Met Sejal was rectified in this beautiful love story. The hidden 'tara' of Zero is Katrina Kaif, who has given her best performance to date as the depressed alcoholic Babita. Her pain is palpable and one actually empathises with her. Mohammed Zeeshan Ayyub as Bauua's sidekick is like a cherry on top of a 'short' cake.
While the performances were spectacular, the storyline was filled with glitches galore. The first half was a treat to watch while the second half was too long and stretched. At some points, the film picks up but then crashes down the next minute. There's a sense of magical realism we witness in the second half which is shot mostly in NSRA and while there are certain emotional scenes like when Aafia confront Bauaa in NSRA, there are unnecessary scenes as well. It's the cinematography, the art direction, the dialogues, the small town feeling, that all scream Aanand L. Rai's vision and he has managed to give us three extreme polar opposites of characters, who come together to tell a complicated love story that is part endearing and part nauseous. 
The VFX deserves a special mention; whether it be maintaining Bauaa's height without making it feel fake and especially, the scenes at NSRA. There are a minor few glitches in between, but Zero is definitely a step ahead for VFX to really take over India. The soundtrack is pleasing to the ears and does not deter from the storyline whether it be the visually aesthetic Mere Naam Tu or even the Salman Khan cameo 'whistle-baaja' party track, Issaqbaazi. It would be wrong for me not to mention the late Sridevi, whose barely a minute cameo along with the other leading ladies of Bollywood and SRK is a bittersweet moment.
So, at the end of the day, is Zero worth a watch? If you love SRK, Anushka and Katrina, then hell yeah, because they make for a deadly trio on screen. However, beware of the absurdity that the second half ensues, which will literally drive you to Mars, no pun intended.