EXCLUSIVE: Arjun Kapoor on Kuttey and Shahid Kapoor, Priyanka Chopra starrer Kaminey's crossover: 'Can happen'
Aasmaan Bhardwaj's Kuttey is headlined by Arjun Kapoor, Naseeruddin Shah, Tabu, Konkona Sensharma, Kumud Mishra, Radhika Madan and Shardul Bhardwaj.
Published on Jan 10, 2023 | 06:16 PM IST | 167.3K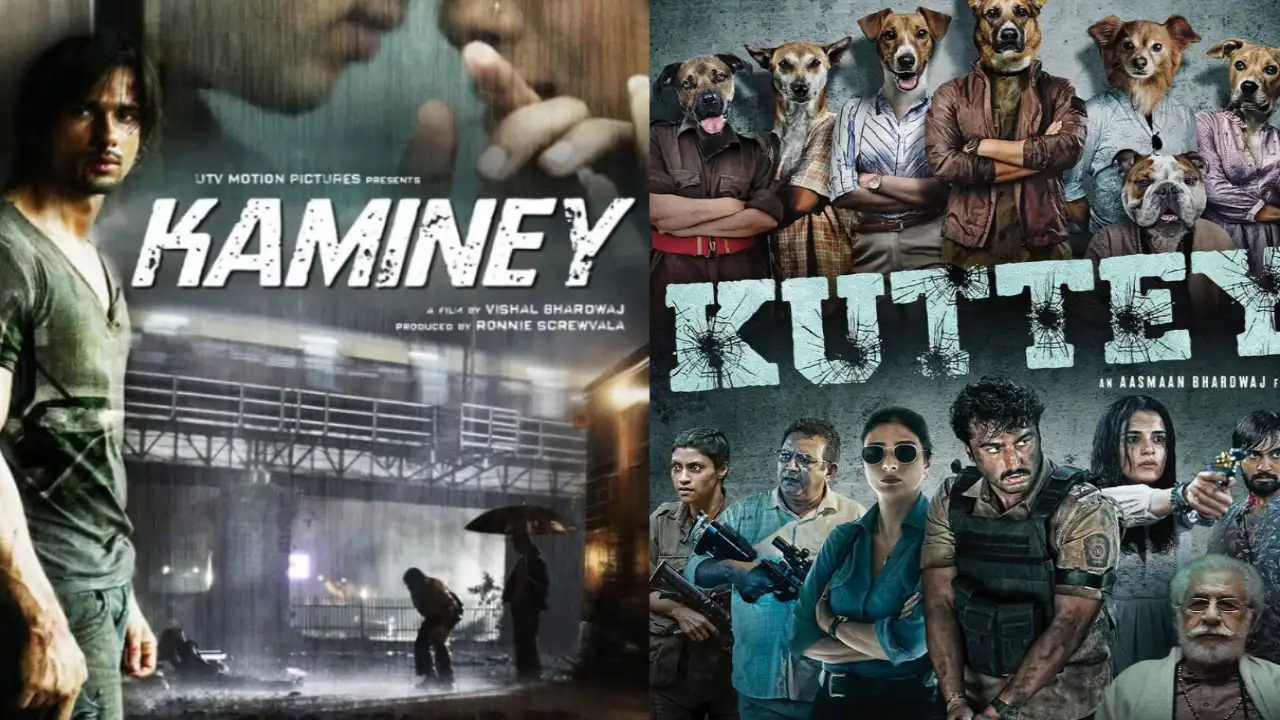 Acclaimed filmmaker Vishal Bhardwaj's son Aasmaan Bhardwaj is making his directorial debut with Kuttey, which is headlined by Arjun Kapoor, Naseeruddin Shah, Tabu, Konkona Sensharma, Kumud Mishra, Radhika Madan and Shardul Bhardwaj. In an exclusive conversation with Pinkvilla recently, Aasmaan opens up about being inspired by his father, and how his upcoming movie was conceptualised. "That (Vishal Bhardwaj's films) is my biggest influence in cinema along with whatever else I have watched, whatever movies I watched in film schools and stuff," says Aasmaan.
The debutant director adds, "(Though) for Kuttey, I came up with the idea on my own in college. Every six to eight months in college I had to write a new feature film, like a first draft. In my last year, I finished one of the scripts a little too early. So my teacher said before coming back, come up with one more idea and write that in the second semester. (Now) it will sound very fake and pretentious but it's not. So once while sleeping I dreamt about this van which had something in it and people were behind it, I don't even clearly remember. But when I woke up I wrote it down in my notes. This too I have learnt from Papa, that whenever you get an idea just immediately write it down. Visit that idea after two weeks - if you still like it then keep it, and if you don't like it then keep it in the list of bad ideas but never delete it."
He further explains, "So I revisited it in the morning, and still found it interesting. I called up dad, told him about it, and he liked the idea too. Two days later he read a news article, which I can't tell you about at this point as the film has not been released. But he sent me that article, and asked me to interlink it with my story. From there it became an idea, which later I converted into a story for the class, wrote a script, and all of this started in New York." 
Kaminey and Kuttey crossover
Is there a scope to bring the worlds of Kaminey and Kuttey together at some point in the future? "Aap chahte ho ki Kuttey Kaminey bane basically," laughs Arjun. Aasmaan Bhardwaj adds, "I mean we will see. If we can think of a story. There is nothing more important for me than the story."
Arjun Kapoor also elaborates, "There is no way to say that they can't exist together. We were just saying that it can happen. The characters from Kaminey can be a part of the Kuttey world, and the Kuttey characters do fit into the space of Kaminey. So never say never. You'll keep asking, so some churning begins in Vishal ji and Aasmaan's minds. All it takes is one spark to find an authentic reason to bring the characters from one world to the other."
Kaminey 2
Furthermore, one of Vishal Bhardwaj's most loved films is the 2009 action movie, Kaminey - which was headlined by Shahid Kapoor and Priyanka Chopra. So is the Kaminey sequel in the works? "I was writing it earlier but it has been left behind now. Actually as a director and writer you come across so many ideas, and I think there are so many new ideas I have which I want to explore," says Vishal.
Is he nervous about his son's directorial debut? "More than nervous, I am intrigued and a little anxious. I want to see how people are going to take it. Because he has made the film what we have written, and even better than what we have written. But you know, the films are always written twice - one is on the writing table and one is on the editing table. So it has taken a new form. It's very exciting, and not nervous but I am more anxious to see. I want Friday to come as soon as possible and see you know, so it's that kind of thing. But one thing I am very sure of is that he knows his craft," Vishal Bhardwaj signs off.
ALSO READ: EXCLUSIVE: R Madhavan joins Akshay Kumar in the C Sankaran Nair Biopic; Shooting under way
About The Author
Journalism is not just a profession, but a passion for him. 'Just between you & me' is his favorite l...ine, if you know, you know! A post-graduate in journalism and mass communication with an experience of over 10 years, Avinash has thousands of news breaks to his credit over the years. In the past, Avinash has worked with Mumbai Mirror, Absolute India, and BollywoodLife. He always loves a good conversation, whether it's in front of the camera or behind it. Currently, works as Assistant Editor (Entertainment) for Pinkvilla.
Read more
Top Comments
There are no comments in this article yet. Be first to post one!