20 Must-Watch Murder-Mystery Movies of All-Time: From Scream to Pink Panther
Put on your detective hat and get ready to unravel some mind-boggling mysteries. We've lined up a collection of 15 murder-mystery movies that will challenge your sleuthing abilities like never before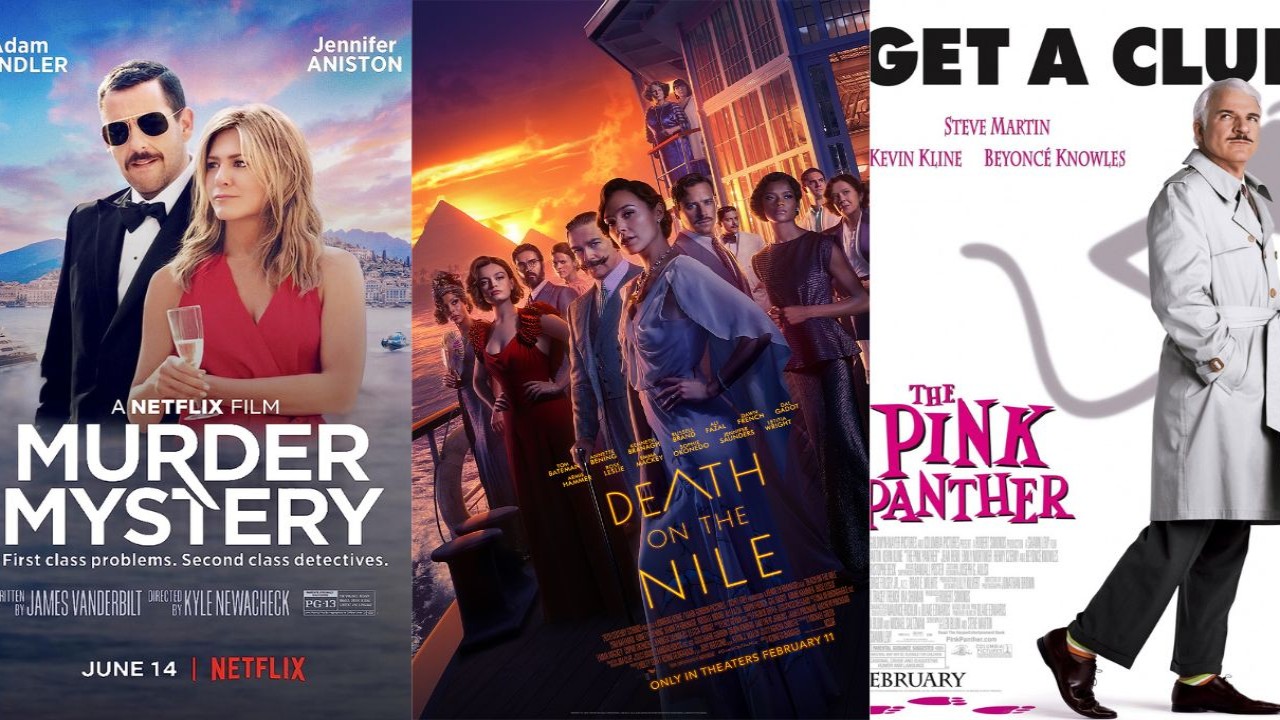 The murder-mystery is making a big comeback after being out of fashion for years. Thanks to the surprising success of movies like "Knives Out" in 2019 and its even bigger sequel "Glass Onion," this classic whodunnit style is back in the spotlight. Nowadays, you can't go without noticing a mysterious death either at the movies (with new versions of "Murder on the Orient Express" and "Death on the Nile") or on TV shows like "Only Murders in the Building" and "Poker Face."
This return is great for several reasons. Murder-mystery movies are a fundamental part of cinema history, so their resurgence helps us reconnect with the past. Especially in the age of streaming, where we often struggle to focus on TV shows while scrolling through social media, these movies make us engage, follow clues, and really get involved—perfect for getting away from distracted watching. With this revival in full swing, let's take a look at 15 of the best classic and hidden gem murder-mystery films.
1. The Pink Panther (2006)
Genre: Comedy/Crime
Star Cast: Steve Martin, Kevin Kline, Jean Reno, Emily Mortimer, Henry Czerny, Kristin Chenoweth, Roger Rees, Beyoncé.
Director: Shawn Levy
Writer: Shawn Levy
Run time: 1h 33m
Year of release: 2006
OTT Platform: Amazon Prime
IMDb rating: 5.7/10
"The Pink Panther" (2006) is a hilarious comedy film that follows the misadventures of the bumbling French detective, Inspector Jacques Clouseau. This guy is seriously clumsy, and his attempts to solve the theft of the famous Pink Panther diamond are just a laugh riot. You'll be in stitches watching him stumble and fumble his way through the case, leaving chaos in his wake.
Steve Martin stars as the lovable and utterly clueless Inspector Clouseau. The film also features a star-studded cast including Kevin Kline, Jean Reno, Beyoncé Knowles, and Emily Mortimer. With its slapstick humor and memorable characters, "The Pink Panther" is a light-hearted and entertaining movie that guarantees lots of laughs. Whether you're a fan of classic comedies or just looking for a good time, this film is a surefire way to tickle your funny bone.
2. Murder Mystery (2019)
Genre: Mystery/Comedy
Star Cast: Adam Sandler, Jennifer Aniston, Luke Evans, Terence Stamp, Gemma Arterton
Director: Kyle Newacheck
Writer: Kyle Newacheck
Run time: 1h 37m
Year of release: 2019
OTT Platform: Netflix
IMDb rating: 6/10
So, there's this cool Netflix movie where a New York cop and his wife want to spice up their marriage with a trip to Europe. But guess what? They get caught up in a crazy situation where they're wrongly accused of killing a super rich old guy. And guess who stars in it? Adam Sandler and Jennifer Aniston! They're back together and it's hilarious.
The story, written by James Vanderbilt, is like a puzzle. The cop dude uses his cop skills to play detective, but things don't always match up, which makes it even more interesting. The best part? The funny moments between Aniston and Sandler.
There are lots of characters in the movie, and it turns into a total mess as they all try to figure out who the real bad guy is. It's a wild ride trying to solve the mystery and there's tons of comedy along the way.
3. Death on the Nile (2022)
Genre: Mystery/Crime
Star Cast: Tom Bateman, Annette Bening, Kenneth Branagh, Russell Brand, Michael Rouse
Director: Kenneth Branagh
Writer: Kenneth Branagh
Run time: 2h 7m
Year of release: 2022
OTT Platform: Hotstar
IMDb rating: 6.3/10
"Death on the Nile" is a thrilling movie full of famous actors, based on a book by Agatha Christie. It's directed by Kenneth Branagh, who also plays the main detective named Hercule Poirot. The story is about Poirot trying to solve a murder that happens on a fancy cruise ship during a honeymoon trip.
The movie is all about Poirot talking to the people on the ship to figure out who might have killed a rich woman named Linnet Doyle, played by Gal Gadot. As Poirot investigates, he realizes that many of the people on the ship had reasons to want the woman dead. But one of them has a really big secret. The movie is a bit different from the original book and not as good as the first movie, "Murder on the Orient Express." But if you like mysteries with lots of surprises, you'll probably still enjoy watching it.
4. Murder on the Orient Express (2017)
Genre: Mystery/Crime
Star Cast: Paapa Essiedu, Yassine Zeroual, Asan N'Jie, Michael Rouse, Kenneth Branagh, Elliot Levey, David Annen, Joseph Long.
Director: Kenneth Branagh
Writer: Agatha Christie
Run time: 1h 54m
Year of release: 2017
OTT Platform: Hotstar
IMDb rating: 6.5/10
Murder on the Orient Express is a movie based on a famous Agatha Christie book. The story happens on a fancy train, and a clever detective named Hercule Poirot, played by Kenneth Branagh, is also on the train. When someone gets killed, Poirot starts asking all the passengers questions to figure out who did it. The cool part is that each passenger has secrets and reasons that could make them the killer.
While the movie might not keep you super anxious, the actors like Penélope Cruz, Willem Dafoe, Judi Dench, Michelle Pfeiffer, and Daisy Ridley do an amazing job. They make the movie really interesting, even though it's not super serious. If you want a fun mystery that's not too complicated, this is a good one to watch.
5. See How They Run (2022)
Genre: Mystery/Crime
Star Cast: Kieran Hodgson, Pearl Chanda, Gregory Cox, Harris Dickinson, Maggie McCarthy, Charlie Cooper, Ruth Wilson, Oliver Jackson.
Director: Tom George
Writer: Tom George
Run time: 1h 38m
Year of release: 2022
OTT Platform: Hotstar
IMDb rating: 6.5/10
Rian Johnson and Sir Kenneth Branagh have teamed up to give Agatha Christie's brilliant mind a fresh spin on the big screen. Picture this: it's the 1950s in London, and they're turning a super popular play into a movie. But suddenly, bam! Someone crucial to the movie-making process gets murdered. Now, there's a tired detective and a new cop on the block who team up to figure out whodunit.
This mystery movie is totally underrated and has tons of cool layers. The twist, which usually comes at the end, happens at a different time, which keeps you guessing. And let me tell you, when they finally reveal the real deal, it's mind-blowingly good.
6. Fletch (1985)
Genre: Comedy/Mystery
Star Cast: Chevy Chase, Joe Don Baker, Dana Wheeler-Nicholson, Richard Libertini 
Director: Michael Ritchie
Writer: Andrew Bergman
Run time: 1h 38m
Year of release: 1985
OTT Platform: Amazon Prime
IMDb rating: 6.9/10
In the movie "Fletch," the main character is an investigative reporter named Fletch, played by Chevy Chase. He often annoys his boss but writes really good articles for the newspaper. In his latest story, he goes undercover as a homeless person to uncover a drug trade happening on the beach. Then, a man named Alan Stanwyk, played by Tim Matheson, offers Fletch a lot of money to kill him. Fletch is confused and conflicted about what to do. The movie is a mix of comedy and mystery, with Fletch trying to figure out the strange situation with Alan Stanwyk. It's a bit darker in humor, but still entertaining to watch.
7. Bad Times at the El Royale (2018)
Genre: Thriller/Mystery
Star Cast: Jeff Bridges, Cynthia Erivo, Dakota Johnson, Jon Hamm, Cailee Spaeny, Lewis Pullman, and Chris Hemsworth
Director: Drew Goddard
Writer: Drew Goddard
Run time: 2h 21m
Year of release: 2018
OTT Platform: Hotstar
IMDb rating: 7.1/10
The movie "Bad Times at the El Royale" has an interesting mix of characters, which is important for a good murder mystery. The story takes place in a shabby hotel on the California-Nevada border. The hotel becomes a messy battleground when seven strangers show up on a fateful night, all looking for a chance to fix their lives.
The person behind the story and direction is Drew Goddard, who did a great job making the plot exciting and the characters interesting. The movie also looks really nice, thanks to the work of director of photography Seamus McGarvey. Each character gets their time in the spotlight, and their stories start to connect. This makes the audience wonder about each of them and why they're all at the same place.
8. Clue (1985)
Genre: Mystery/Crime
Star Cast: Eileen Brennan, Tim Curry, Madeline Kahn, Christopher Lloyd, Michael McKean
Director: Jonathan Lynn
Writer: Jonathan Lynn
Run time: 1h 37m
Year of release: 1985
OTT Platform: Hotstar
IMDb rating: 7.2/10
"Clue" is a hilarious American dark comedy based on the popular board game. The movie is directed by Jonathan Lynn, who also worked on the script with John Landis. The story revolves around six people who are being blackmailed. They receive invitations to a remote mansion from someone who knows their dark secrets. Each person is given a fake name from the Clue board game and introduced to the blackmailer.
Once they arrive, they are handed a weapon, the lights go out, and the blackmailer is murdered. This creates a classic whodunit scenario, staying true to the game's essence. The film has a fantastic cast that exaggerates their characters, adding a campy and enjoyable vibe to the whole experience.
9. The Nice Guys (2016)
Genre: Action/Crime
Star Cast: Russell Crowe, Ryan Gosling, Angourie Rice, Matt Bomer, Margaret Qualley, Yaya DaCosta, Keith David, Beau Knapp.
Director: Shane Black
Writer: Shane Black
Run time: 1h 56m
Year of release: 2016
OTT Platform: Amazon Prime
IMDb rating: 7.4/10
If you're looking for a great Ryan Gosling movie, "The Nice Guys" is a must-watch. It's a thrilling mystery set in 1977 Los Angeles and directed by Shane Black. Ryan Gosling plays Holland March, a struggling private investigator, and Russell Crowe is Jackson Healy, a tough guy who hurts people for money
Their paths cross unexpectedly when a young woman named Amelia (Margaret Qualley) goes missing. The movie's well-written script explores what happened to young women trying to make it big in the adult film industry during that time.
10. Scream (1996)
Genre: Horror/Slasher
Star Cast: Neve Campbell, Courteney Cox, David Arquette, Skeet Ulrich
Director: Wes Craven
Writer: Wes Craven
Run time: 1h 51m
Year of release: 1996
OTT Platform: NA
IMDb rating: 7.4/10
While Scream falls into the horror category, Wes Craven skillfully mixes different elements to create a one-of-a-kind murder mystery. The movie has many layers, making it stand out as an excellent murder mystery, especially when the killer's identity is revealed.
Taking place a year after her mother's murder, Sidney Prescott (played by Neve Campbell) faces new terror as a killer begins targeting her and her friends. This killer uses horror movies as part of a deadly game. Scream has become a classic in the horror genre, influencing many others due to its innovative approach.
11. Sherlock Holmes (2009)
Genre: Mystery/Mystery
Star Cast: Robert Downey Jr., Jude Law, Rachel McAdams, Mark Strong, Eddie Marsan, Robert Maillet, Geraldine James, Kelly Reilly.
Director: Guy Ritchie
Writer: Guy Ritchie
Run time: 2h 9m
Year of release: 2009
OTT Platform: Amazon Prime
IMDb rating: 7.6/10
In the same year that Robert Downey Jr. portrayed Iron Man, he also took on the role of Sherlock Holmes in a movie directed by Guy Ritchie. The story revolves around a series of brutal murders happening in London. Sherlock Holmes and his partner Dr. John Watson, played by Jude Law, quickly start investigating. The main suspect is Lord Blackwood, played by Mark Strong, who makes an excellent villain. He's into dark magic and has a bigger plan.
Things get interesting when Blackwood comes back to life after supposedly dying, and this leads Holmes and Watson into the world of the supernatural. What's always fascinating about any Sherlock Holmes story is how the writers and directors carefully show the process of solving the mystery. They delve into Holmes' mind and visually break down his thinking for the audience to follow along.
12. Memories of Murder (2003)
Genre: Crime/Thriller
Star Cast: Song Kang-ho, Kim Sang-kyung, Roe-ha Kim, Jae-ho Song
Director: Bong Joon-ho
Writer: Bong Joon-ho
Run time: 2h 12m
Year of release: 2003
OTT Platform: Hotstar
IMDb rating: 8.1/10
Before "Parasite," director Bong Joon-ho made a movie called "Memories of Murder." It's a darkly funny crime film based on a true story. The story is about detectives Park Doo-man and Seo Tae-yoon who are trying to solve mysterious murders in the countryside. As they feel more pressure to solve the cases, things get out of hand, and they start to question their usual methods.
The movie is both intense and funny, which helps highlight its strong messages about inequality, police violence, and differences between social classes. It also makes you think about how fair the justice system is.
13. Gone Girl (2014)
Genre: Thriller/Mystery
Star Cast: Ben Affleck, Rosamund Pike, Neil Patrick Harris, Tyler Perry, Carrie Coon
Director: David Fincher
Writer: David Fincher
Run time: 2h 29m
Year of release: 2014
OTT Platform: Netflix
IMDb rating: 8.1/10
"Gone Girl" is a thrilling movie that starts with a person going missing and turns into a mystery about murder. The story gets really complicated and full of lies, keeping you guessing. Directed by David Fincher and based on Gillian Flynn's book, the film is about Amy Dunne disappearing and her husband Nick becoming the main suspect.
The movie has a big surprise that fans of this kind of story might already know. But if you haven't seen it, it's better not to know too much before watching. It's an exciting and totally surprising movie that's definitely worth watching at least once.
14. Rear Window (1954)
Genre: Thriller/Mystery
Star Cast: James Stewart, Grace Kelly, Wendell Corey, Thelma Ritter, and Raymond Burr.
Director: Alfred Hitchcock
Writer: Alfred Hitchcock
Run time: 1h 52m
Year of release: 1954
OTT Platform: Amazon Prime
IMDb rating: 8.5/10
Alfred Hitchcock's movie "Rear Window" is a classic mystery that people still enjoy today. The main character, L.B. Jeffries (played by James Stewart), is stuck in his apartment because he's hurt. To keep from getting bored, he starts spying on his neighbors with a camera. One day, he thinks he sees one of them commit a murder.
This movie is a timeless favorite because it makes you feel just as trapped and worried as the main character. He's not sure what to do about the murder he thinks he saw. The film also talks about how watching others can be a problem, and it does it in a really interesting and suspenseful way.
15. Knives Out (2019)
Genre: Mystery/Comedy
Star Cast: Daniel Craig, Chris Evans, Ana de Armas, Jamie Lee Curtis
Director: Rian Johnson
Writer: Rian Johnson
Run time: 2h 10m
Year of release: 2019
OTT Platform: Hotstar
IMDb rating: 7.9/10
In 2019, writer-director Rian Johnson brought new life to the mystery genre with his amazing movie "Knives Out." It was a big hit with audiences, and Rian Johnson even got nominated for an Academy Award for creating the story. The movie is about a detective named Benoit Blanc, played by Daniel Craig, who tries to solve the murder of Harlan Thrombey, played by Christopher Plummer. Harlan's family, who are always arguing, are all suspected of being involved in the murder.
When we finally find out who the real murderer is, it's a big surprise because the movie makes us think someone else did it. Rian Johnson cleverly arranged all the clues and details to keep us guessing, and there's a surprising twist in the middle of the story. This movie also helped make Chris Evans a great supporting actor and turned Ana de Armas into a famous star.
16. The Hound Of The Baskervilles (1959)
Genre: Mystery/Horror
Star Cast: Peter Cushing, André Morell, Christopher Lee, Marla Landi, David Oxley
Director: Terence Fisher
Writer: Terence Fisher
Run time: 1h 27m
Year of release: 1959
OTT Platform: Amazon Prime
IMDb rating: 6.9/10
"The Hound of the Baskervilles" (1959) is a classic American mystery film based on Sir Arthur Conan Doyle's iconic detective novel. Set against the eerie backdrop of the English moors, the movie follows detective Sherlock Holmes and Dr. John Watson as they investigate the ominous legend of a phantom hound haunting the Baskerville family. Christopher Lee's compelling portrayal of Holmes and atmospheric cinematography captures the suspense and intrigue of the source material. The film masterfully intertwines suspense, drama, and a touch of horror, making it a timeless addition to the Sherlock Holmes cinematic adaptations that continue to captivate audiences with its enigmatic narrative and captivating performances.
17. Laura (1944)
Genre: Noir/Mystery
Star Cast: Gene Tierney, Dana Andrews, Clifton Webb, Vincent Price, Judith Anderson. 
Director: Otto Preminger
Writer: Otto Preminger
Run time: 1h 28m
Year of release: 1944
OTT Platform: NA
IMDb rating: 7.9/10
"Laura" is a classic 1944 American film noir directed by Otto Preminger. Set in New York City, the gripping narrative revolves around the investigation of the murder of a beautiful woman named Laura Hunt. The story takes unexpected turns as a detective falls for her portrait, only to be drawn into a complex web of deceit and obsession. Gene Tierney stars as Laura, with Dana Andrews portraying Detective Mark McPherson. The film's stellar cast includes Clifton Webb as Waldo Lydecker and Vincent Price as Shelby Carpenter. "Laura" is celebrated for its atmospheric cinematography and suspenseful plot, leaving an indelible mark on the film noir genre.
18. Farewell, My Lovely (1975)
Genre: Mystery/Crime
Star Cast: Robert Mitchum, Charlotte Rampling, John Ireland, Sylvia Miles, Anthony Zerbe
Director: Dick Richards
Writer: Raymond Chandler
Run time: 1h 35m
Year of release: 1975
OTT Platform: NA
IMDb rating: 7/10
"Farewell, My Lovely" is a 1975 American neo-noir film directed by Dick Richards. Based on Raymond Chandler's novel, it features private detective Philip Marlowe, portrayed by Robert Mitchum. The story follows Marlowe as he navigates the seedy underbelly of 1940s Los Angeles while investigating a complex case involving a missing woman. The film skillfully captures the dark and gritty atmosphere of the source material, blending mystery and suspense. Alongside Mitchum, the main cast includes Charlotte Rampling, John Ireland, and Sylvia Miles. "Farewell, My Lovely" remains a notable entry in the genre, appreciated for its atmospheric portrayal and strong performances.
19. Fargo (1996)
Genre: Crime/Thriller
Star Cast: William H. Macy, Frances McDormand, Steve Buscemi, Peter Stormare
Director: Joel Coen
Writer: Joel Coen
Run time: 1h 38m
Year of release: 1996
OTT Platform: Amazon Prime
IMDb rating: 8.1/10
"Fargo" (1996) is a darkly comedic crime film directed by Joel and Ethan Coen. Set in the snowy landscapes of Minnesota, the movie follows the bumbling yet sinister kidnapping scheme of Jerry Lundegaard (William H. Macy), a car salesman in desperate need of money. Marge Gunderson (Frances McDormand), a pregnant police chief, takes on the case, unraveling a web of deception and violence. With its distinct Midwestern accents and quirky characters, "Fargo" blends humor and suspense, earning critical acclaim for its unique storytelling. The main cast includes Frances McDormand, William H. Macy, Steve Buscemi, and Peter Stormare.
20. Brick (2005)
Genre: Mystery/Noir
Star Cast: Joseph Gordon-Levitt, Lukas Haas, Emilie de Ravin, Meagan Good, Nora Zehetner
Director: Rian Johnson
Writer: Rian Johnson
Run time: 1h 50m
Year of release: 2005
OTT Platform: Hotstar
IMDb rating: 7.2/10
"Brick" (2005) is a neo-noir mystery film directed by Rian Johnson. Set in a modern-day Californian high school, the movie ingeniously melds classic detective elements with teenage drama. Brendan, played by Joseph Gordon-Levitt, embarks on a quest to uncover the truth behind his ex-girlfriend's disappearance, navigating a web of intrigue, deceit, and danger. With its sharp dialogue and unique visual style, "Brick" pays homage to the film noir genre while delivering a fresh, contemporary narrative. The film's main cast includes Joseph Gordon-Levitt, Nora Zehetner, Lukas Haas, Noah Fleiss, and Emilie de Ravin.
Also read: Top 15 War Movies to Stream on Netflix: Epic Battles, Heroes, and Heart-Pounding Action
FAQs
Who are some legendary detectives in murder mystery movies?
Certain fictional detectives have become synonymous with the murder mystery genre. Some well-known ones include Sherlock Holmes (portrayed by various actors), Hercule Poirot (Agatha Christie's character), Miss Marple (also an Agatha Christie character), and Philip Marlowe (created by Raymond Chandler). These characters have appeared in numerous movies and adaptations.
---
What makes a great murder mystery movie?
A great murder mystery movie often includes elements of suspense, well-developed characters, a compelling plot, intriguing clues, and unexpected plot twists. Strong writing, effective pacing, and skillful direction are essential to keeping the audience engaged and invested in solving the mystery along with the characters.
---
What are some famous murder mystery movies?
There are several iconic murder mystery movies that have captured audiences' attention over the years. Some notable examples include Murder on the Orient Express (1974), The Girl with the Dragon Tattoo (2011), Gone Girl (2014), Knives Out (2019), and Clue (1985), among others.
---

Highlights of the Month
Star Salman Khan
Born:
27 Dec 1965 (age 57 years), Indore, india
NET Worth: ~ 344.45 MN USD (RS 2,850 cr)
Salman Khan is among the most celebrated actors of Indian Cinema and has been a trendsetter in the true sense. It has been 35 years since he made his acting debut and his sheer consistency to deliver hit films is intact even in 2023. The month of November saw the release of the Maneesh Sharma-directed Tiger 3 starring Salman ...
Read more
Movie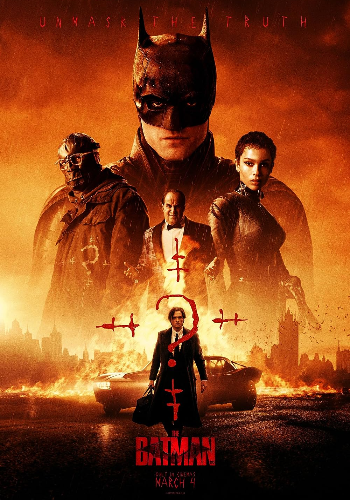 The Batman
Action, Drama, Crime
Cast:
Zoe Kravitz, Jeffrey Wright, Zoe Kravitz
BOX OFFICE Collection: ₹ 77 cr.
Robert Pattinson, who played the role of Batman, in the 2022 movie. The Batman once landed up leaving fans upset. The actor joked about not working out on his physique for his role and left fans enraged. Despite all the love he got for being cast, he also faced a massive negative backlash after one particular joke he made. Ba...
Read more
---