Top 13+ Semi-Formal Attire for Women That Fuse Style And Comfort
Looking for semi-formal attire for women that won't leave you feeling boxed in? Check out these outfits that offer the perfect mix of style, elegance, and ease.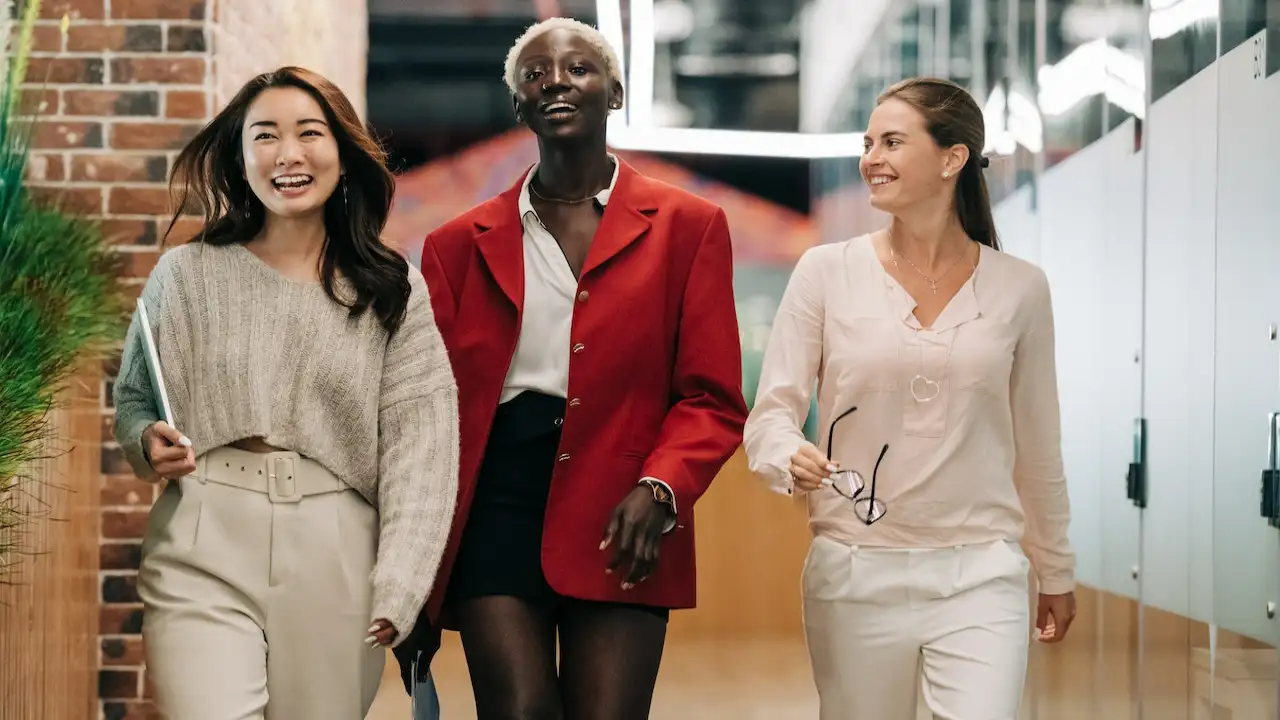 Semi-formal attires for women are a great option to look stylish and feel comfortable while still being appropriate for various occasions. It is a happy medium between business casual and formal wear. This basically means that your outfit is not as "formal" as a full suit and tie but is more professional than your favorite pair of jeans. Semi-formal outfits also allow women to express their personal style while still looking professional and polished. And with the right combinations, you can create both fashionable and pleasing looks! 
Fashion stylist Paola Farina explains, "When we choose an outfit for work we always have to keep into consideration the kind of work environment: formal, semi-formal, and creative. A semi-formal style wouldn't work for a formal environment but on Fridays. A creative environment gives us more room, but if we have a meeting with formal clients we need to get dressed for that kind of occasion. Of course, this works also for events, it always depends on the occasion." 
We understand that putting together a well-styled semi-formal attire for a woman can be a little tricky.  To help you out, we have put together some of the best examples of chic semi-formal women's attire. This guide can not only help you select appropriate dresses, skirts, pants, and tops but also help you put together appropriate accessories and figure out the most suitable colors for semi-formal occasions.
What is Semi Formal Attire?
Before checking out the myriad choices of semi-formal wear, let us first understand what exactly semi-formal clothing refers to. Semi-formal attire is a type of dress code that falls somewhere between casual and formal clothing and can be described as casual business wear. Another point to note is that your chosen ensemble should not be too revealing when it comes to its length (both top and bottom), cuts, slits, or fabric. Semi-formal outfits are the most suitable choice for wearing at work party events, dinners, client appointments, weddings, or even interviews in certain fields.
13+ Best Semi-Formal Attire for Women that Fuse Style and Comfort
Dress to impress with these classy semi-formal outfit ideas.
1. Floral Lace Dress with Sheer Sleeves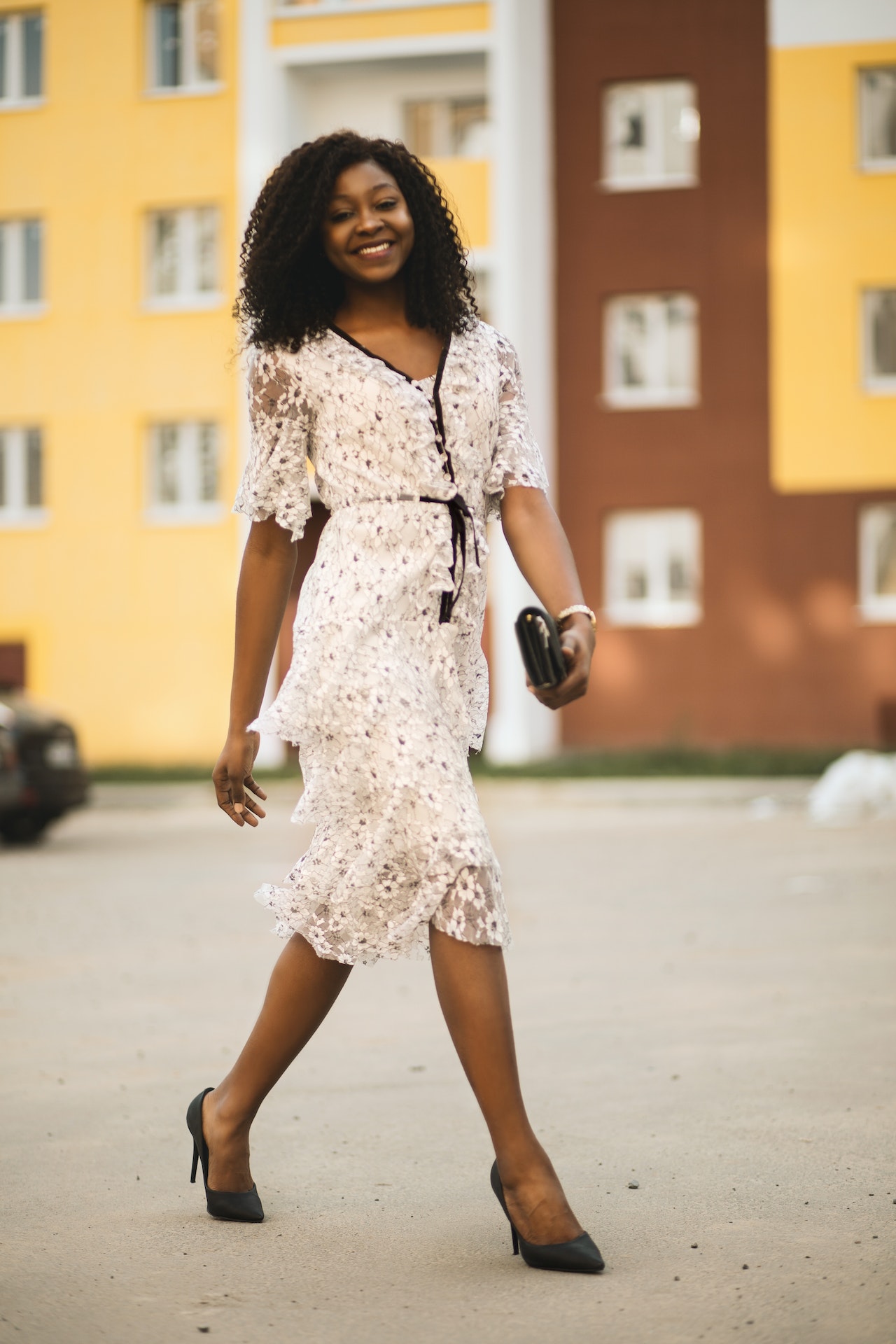 Blending sophisticated fabrics with lacework designs makes for a sleek semi-formal attire for women. A lace dress with intricate embroidery and a layered look can make you look effortlessly feminine and elegant. You can pair a black lace dress with white or black heels, trendy silver bangles, and an envelope clutch bag to make an impression! However, a lace dress may not be the best choice for workwear as it tends to be slightly sheer. Fashion stylist Paola Farina shares, "I personally do not recommend lace at work, but it fits very well for an event such as a wedding. At work, it is better to wear solid colors and fabrics." So, you can opt for this stunning semi-formal dress for occasions such as a casual lunch with clients or an unofficial get-together with bosses and colleagues.
2. Black Midi Dress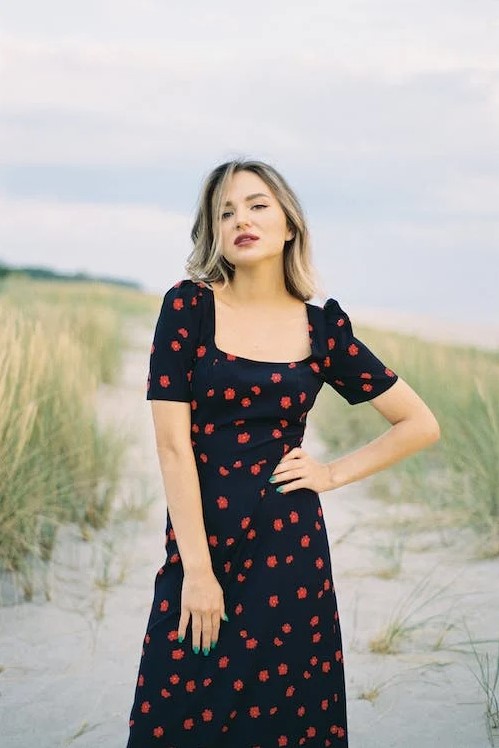 A midi dress is a calf-length dress that makes a great option when deciding on semi-formal attire for women. You can take inspiration from this black maxi dress and pick a perfect square neck and minute floral print that is fit for all purposes. Plus, it looks super breezy! To amp up your look to better suit that particular semi-formal occasion, you can apply contrasting nail paints and wear hoop earrings with a nice pair of stilettos. You can also carry a hobo bag to complement your look!
3. Collared Maxi Dress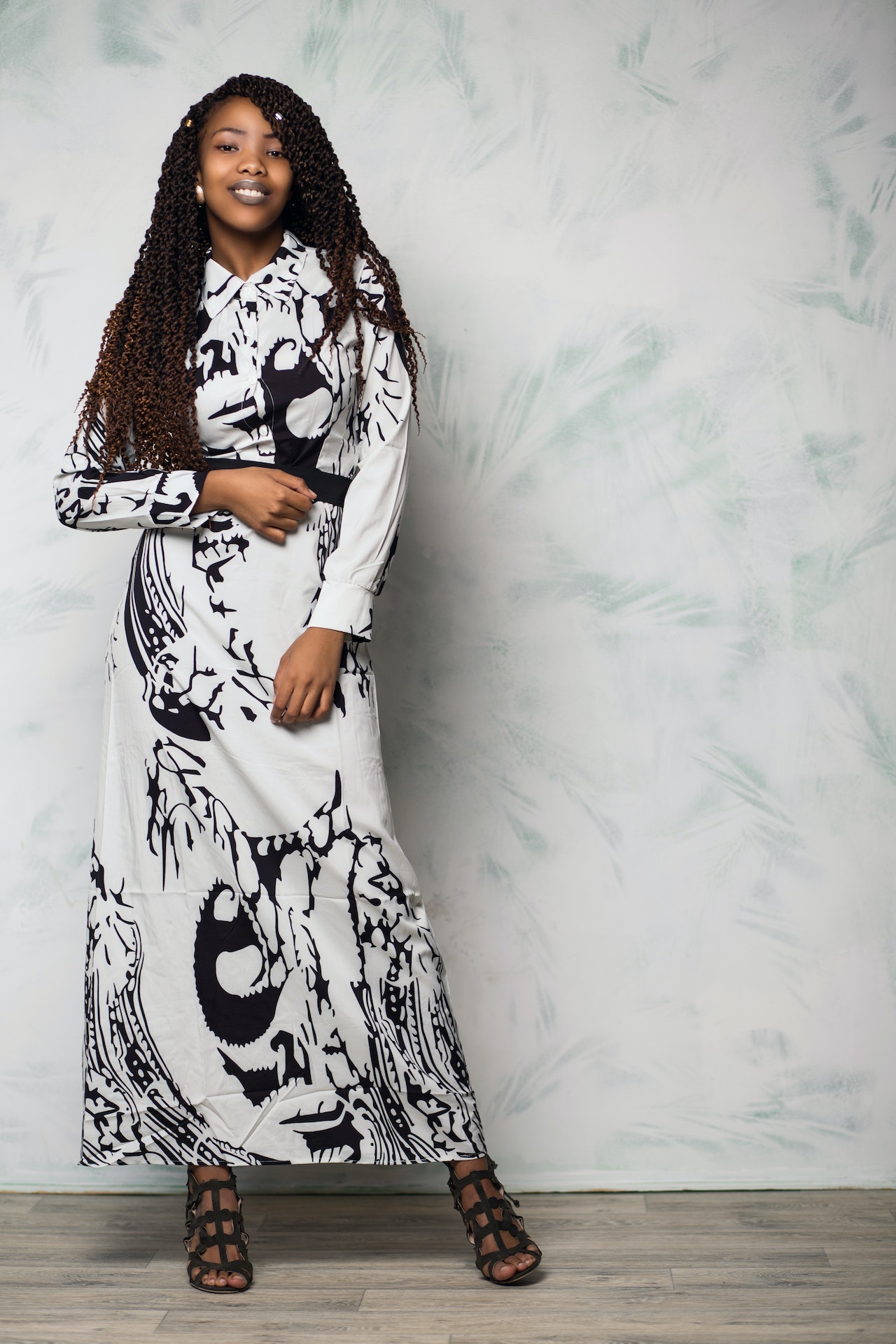 An ankle-length collared maxi dress is business-like yet dapper enough to checkmark a semi-formal dress code. Taking inspiration from this abstract printed maxi dress, you can choose a dress with a straight-line hem, collared neck, cuffed wrists, and a buttoned top. It is an ideal semi-formal attire for a woman who wants to flaunt her curves or height. You can pair it with a ringlet handbag and strappy sandals to rock any semi-formal event.
4. White High-Neck Top with Trousers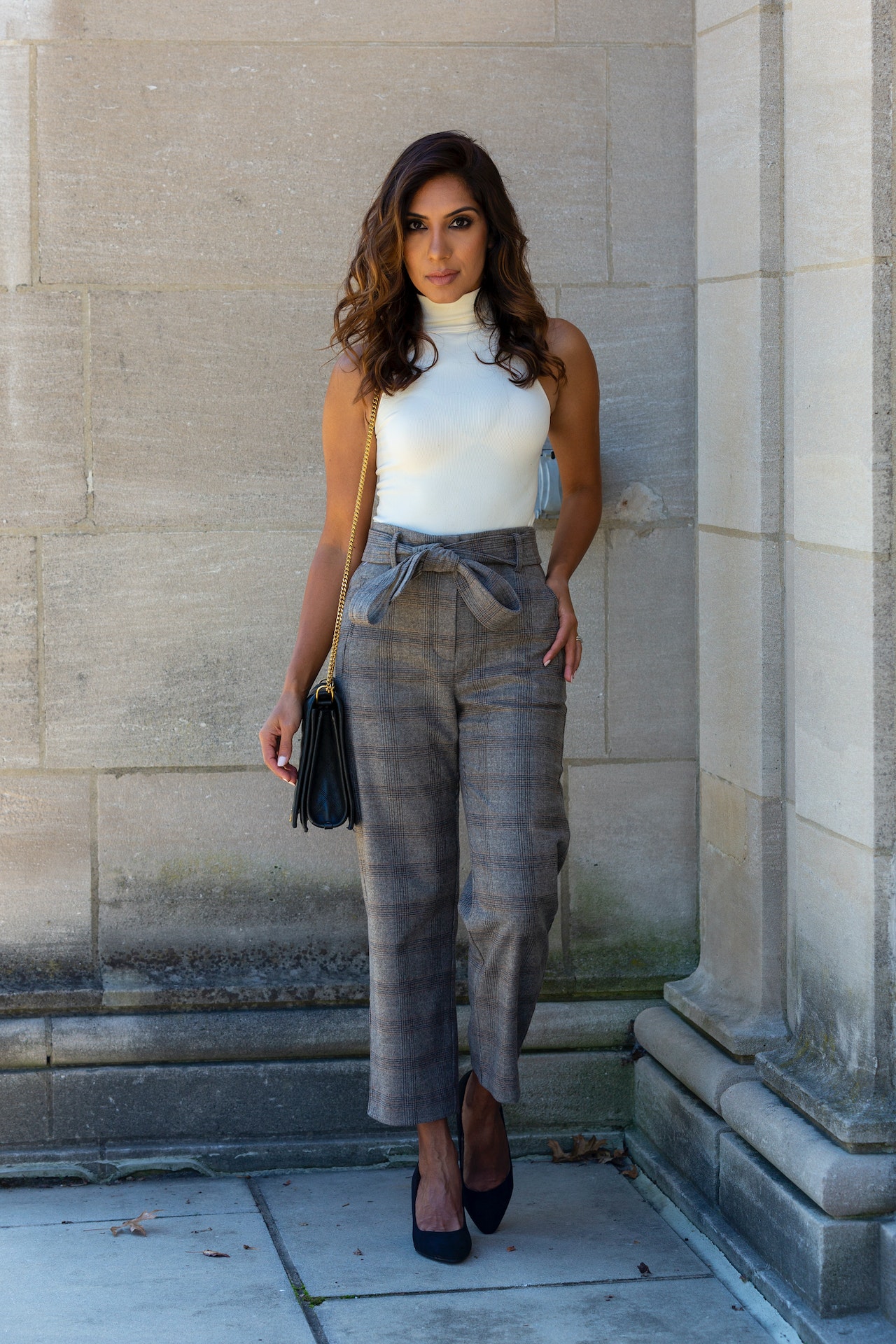 For a more polished impression, you can opt for a high-, turtle-, or halter-neck top and pair it with straight-fitted trousers. Throw on a layer to cover your shoulders if you are heading to the office. Stylist Paola Farina adds "I usually recommend a jacket, a blazer, or a cardigan for the office. These three pieces of clothes give a more elegant and classy appearance. The outfit will look "well finished" with no effort." What makes such an ensemble more appealing is that although it gives you a full-on formal vibe, it has a slight essence of sensuality. You can pair this semi-formal attire with a chained handbag, elegant belt, and high heels – and trust us – you will definitely have the spotlight!
5. Black Tank Top With Ankle-Length Grey Pants And Grey Blazer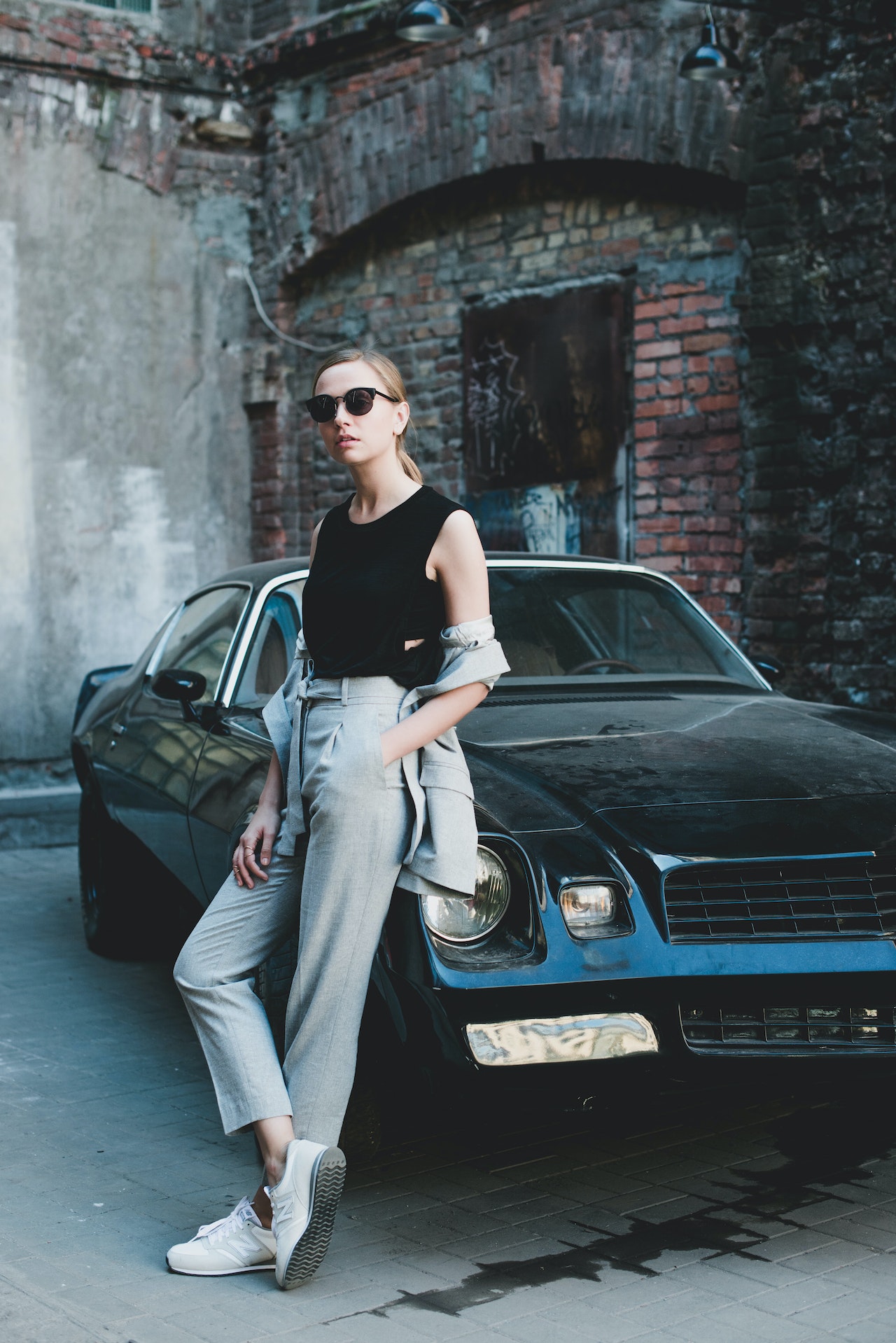 Adressy pantsuit is another flawlessly tailored apparel that happily belongs in the category of semi-formal attire for women. If you thought tank tops are only casual, well this outfit idea may surprise you. Pick your favorite solid-color tank top (make sure it is not revealing though), and pair it with ankle-length pants and a blazer. You can opt for a nice touch of nude makeup and choose your preferred footwear — sneakers or heels. 
6. Printed White Top With Blue Skirt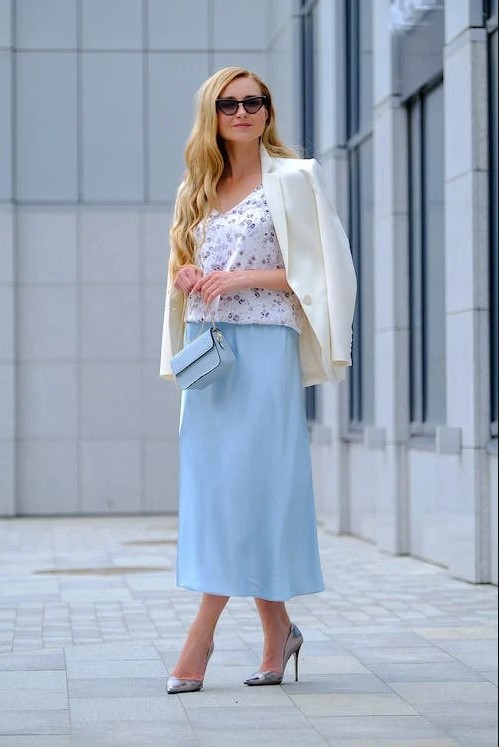 Wore a blue color skirt with a summery top and received an invitation to attend a client meeting last minute? Worry not, ladies. A simple printed top and skirt do count as semi-formal attire for women, especially for daytime events. However, to make yourself appear a tad more professional, you can throw on a blazer over your shoulders and grab a clutch. Not only does the overall appearance pass the moderately-formal dress code, but also oozes glamor like celebrity-endorsed fashion!
7. Short Sleeves White Top With Loose Pants And Long Overcoat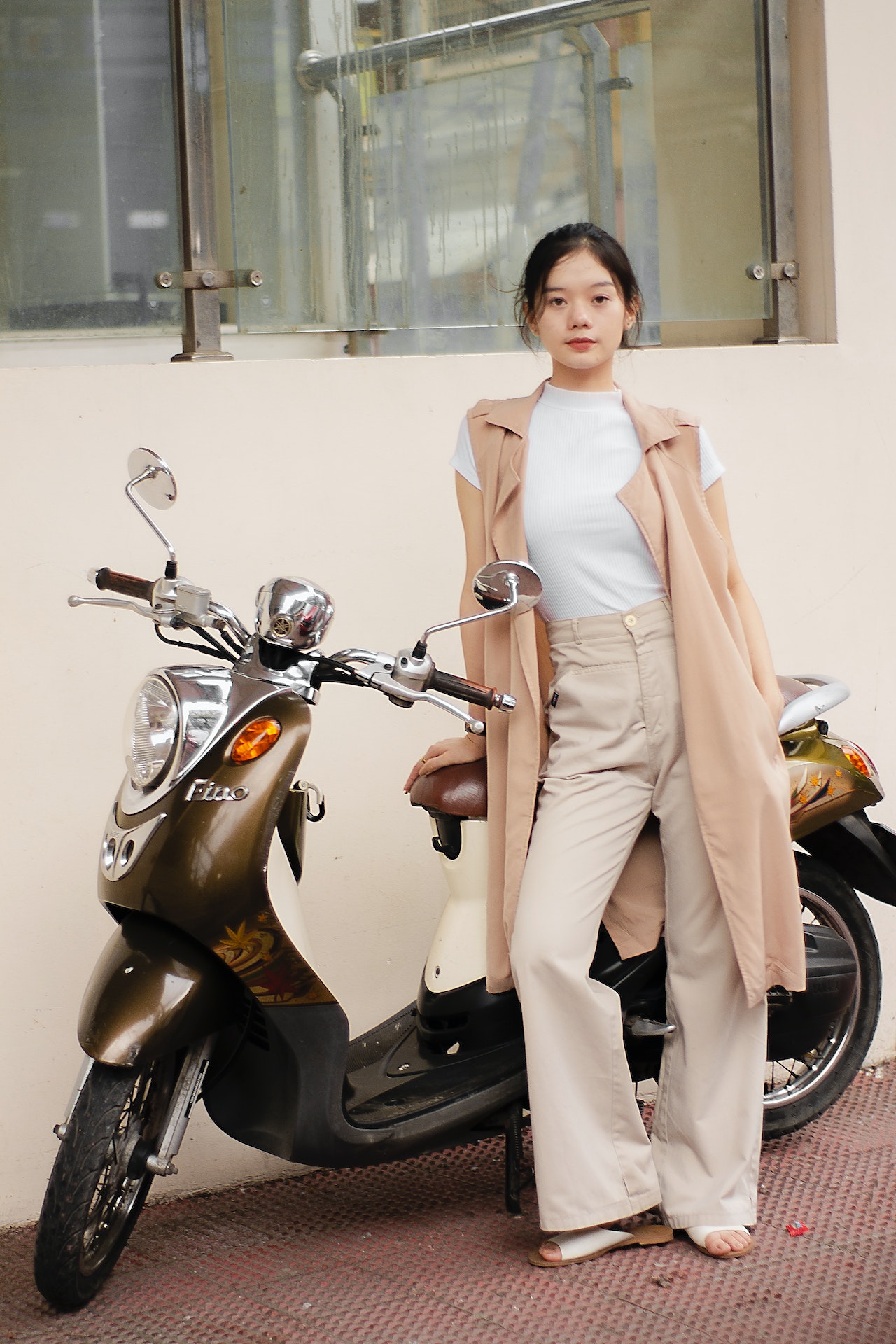 Baggy pants and oversized coats always work as a charm in a semi-casual environment or a special event. You can either wear a short-sleeve top or a full-sleeve shirt and pair it with a front-open overcoat and high-waisted loose pants – there are numerous ways to carry this assortment of semi-formal clothes for women. The only rule of thumb to remember here is the color combination: go for light shades on dark or vice-versa.
8. Pleated Maroon Co-Ord Set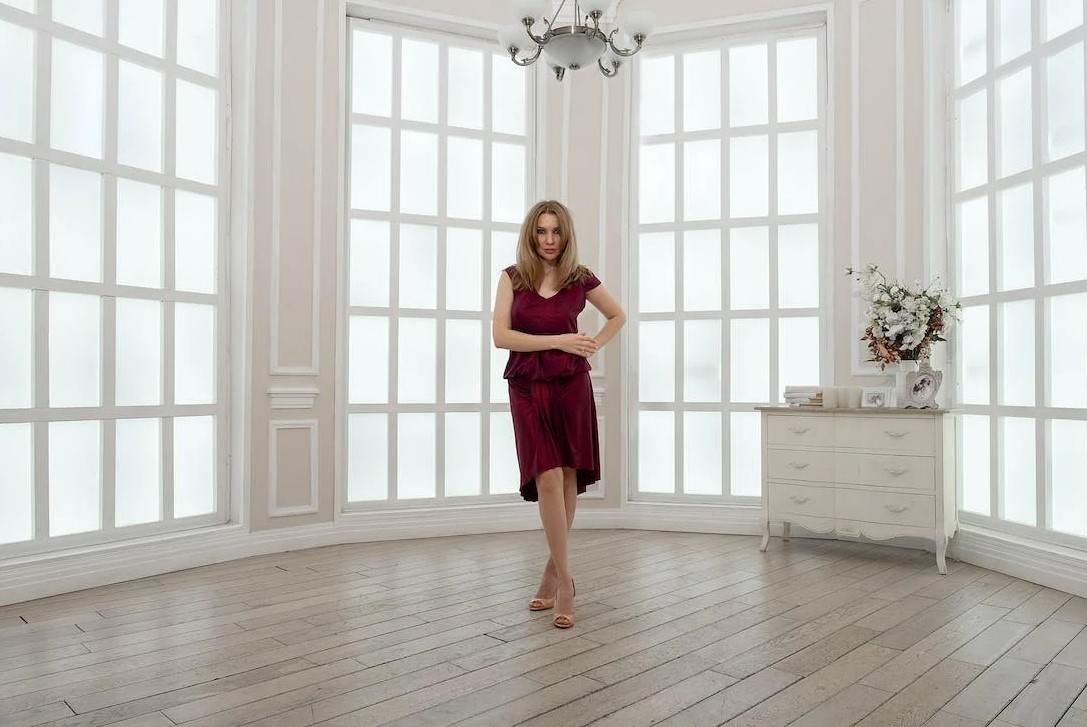 Two-piece sets or co-ord sets are basically a piece of clothing with similar fabric, pattern, and color of top and bottom, and work best as an alternative to dresses. One of the biggest pros of opting for a co-ord set is that you do not have to waste your time trying multiple clothes to find one exemplary combination. You will get ready-made sets to wear to a semi-formal cocktail event. Now, all you have to do is pick a classy pair of heels, add minimalistic jewelry, and a hat bag, and you are ready to shine!
9. Puffed Sleeves White Shirt With Mustard Slit Skirt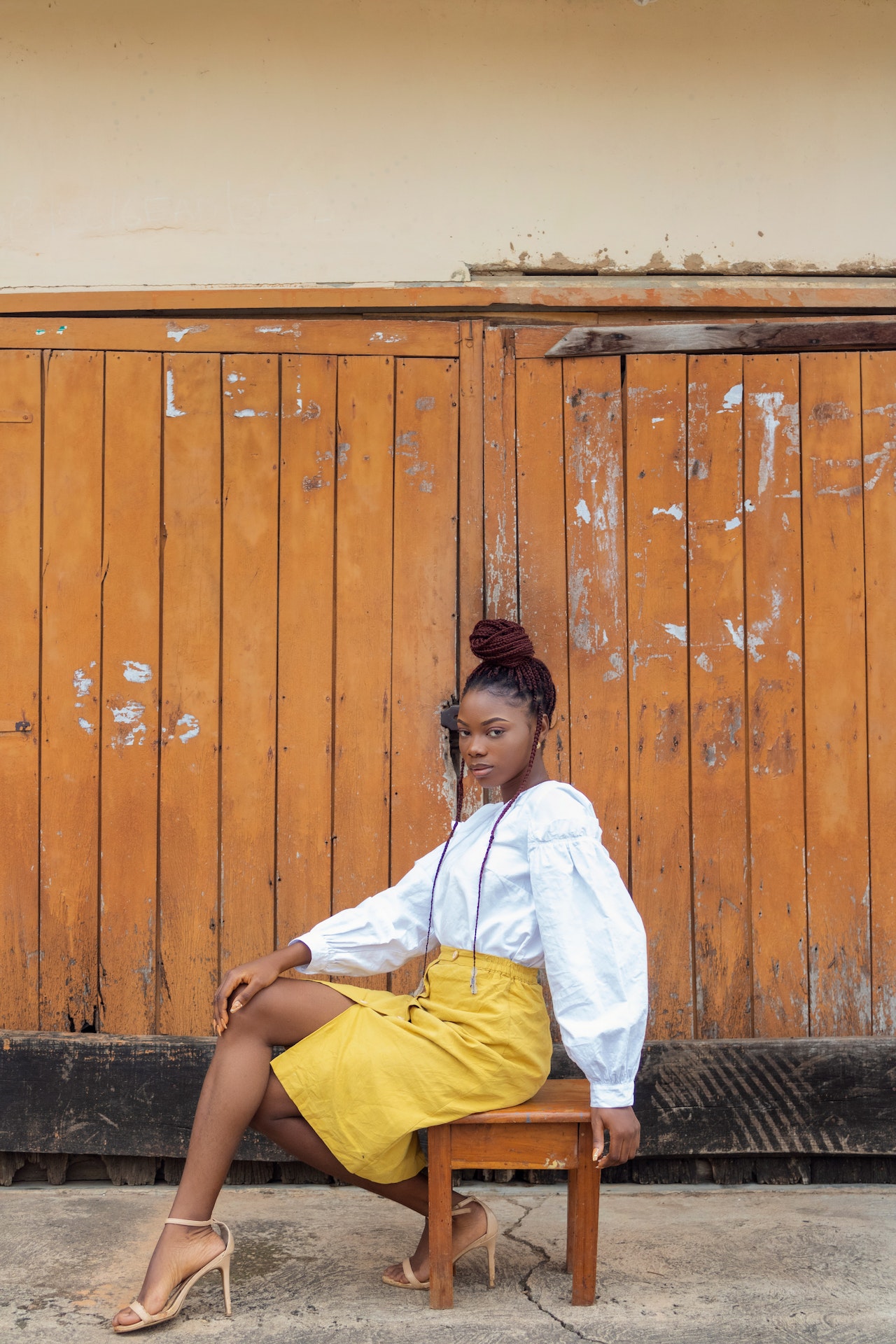 Yes, you read it right! Slit skirts are considered suitable clothing in the category of semi-formal attire for women. However, you need to be careful that the skirt is knee-length and the slit is neither too high nor too revealing. Pairing a full-sleeve puffed top with a somber mid-waist skirt, heels, and a tote bag can always set you a class apart in any semi-formal gathering. This is another idea of business casual wear to which you can add refined statement jewelry to elevate your look.
10. Black Top With White Skirt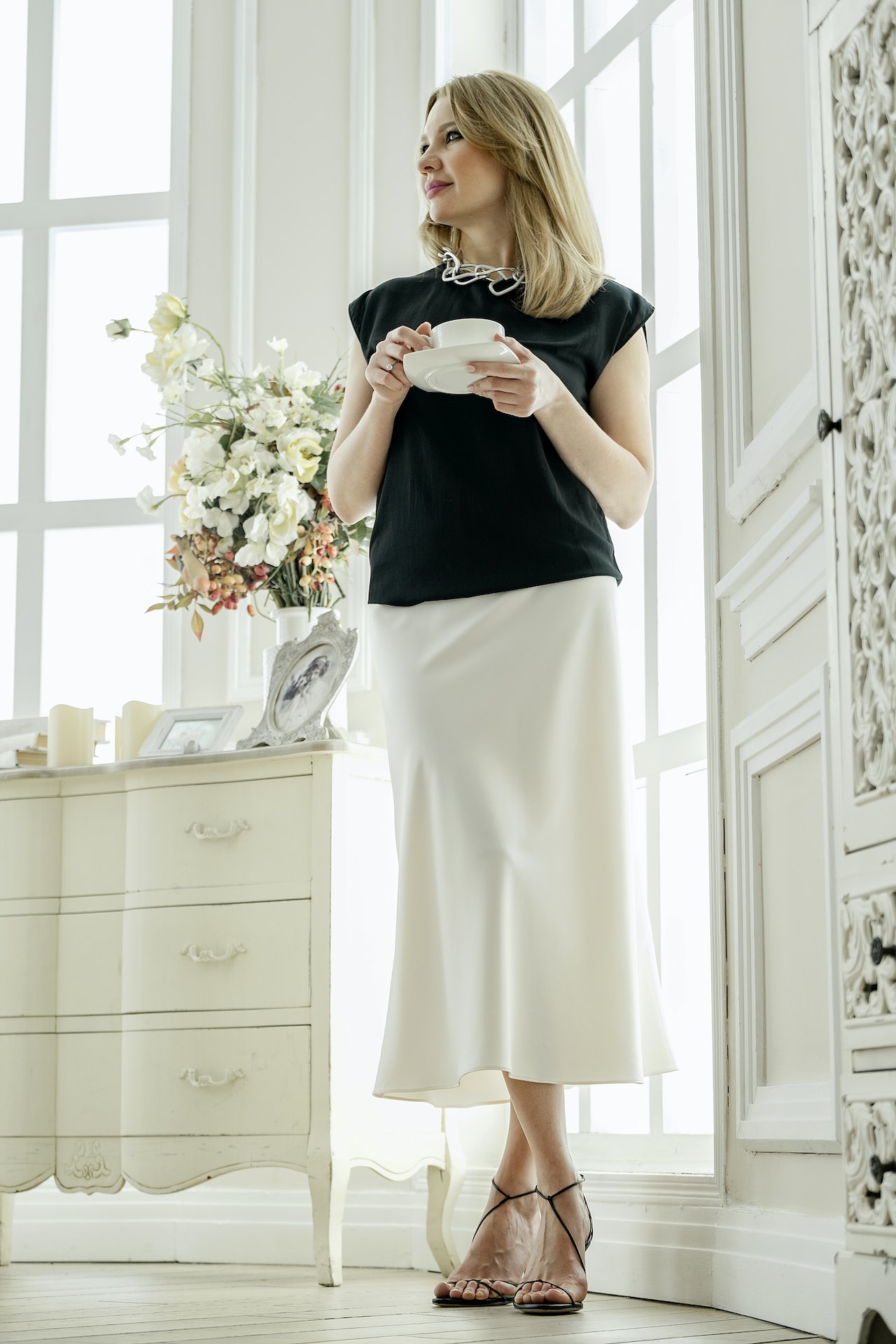 A black and white combination of top and skirt is yet another classic example of semi-formal attire for a woman. The best part about this idea is that you can re-create an outfit like this by choosing light, dark, bold, or neutral colors. What next? Simply add your preferred style of accessory (neckpiece or a bangle), throw in a pair of heels, and carry a clutch. Within minutes you will be ready to slay the entire day. Easy-peasy, right?
11. Satin Silk Shirt Dress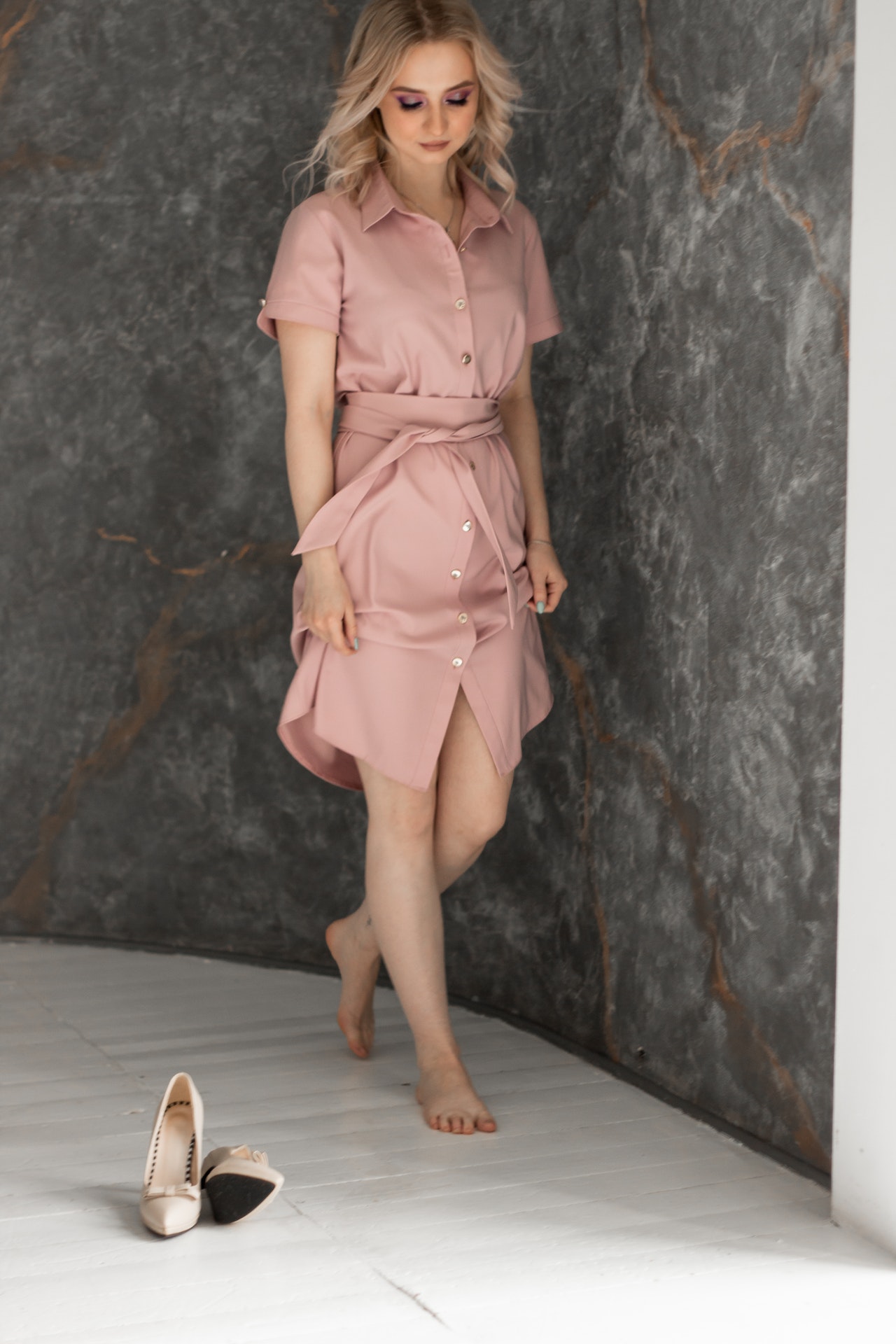 Something as simple yet elegant like a rose-gold satin shirt dress can serve as a semi-formal outfit for an office party as well as  a bridesmaid dress. Not only can you get a satin dress in varied colors like green, pink, red, brown, or nude, but you can wear an impressive shirt dress outfit on any special occasion. Add a chic belt to accentuate your waist, pick drop-down earrings (preferably pearly ones), and opt for a platform heel to complete your look.
12. Strappy Black Jumpsuit With Statement Belt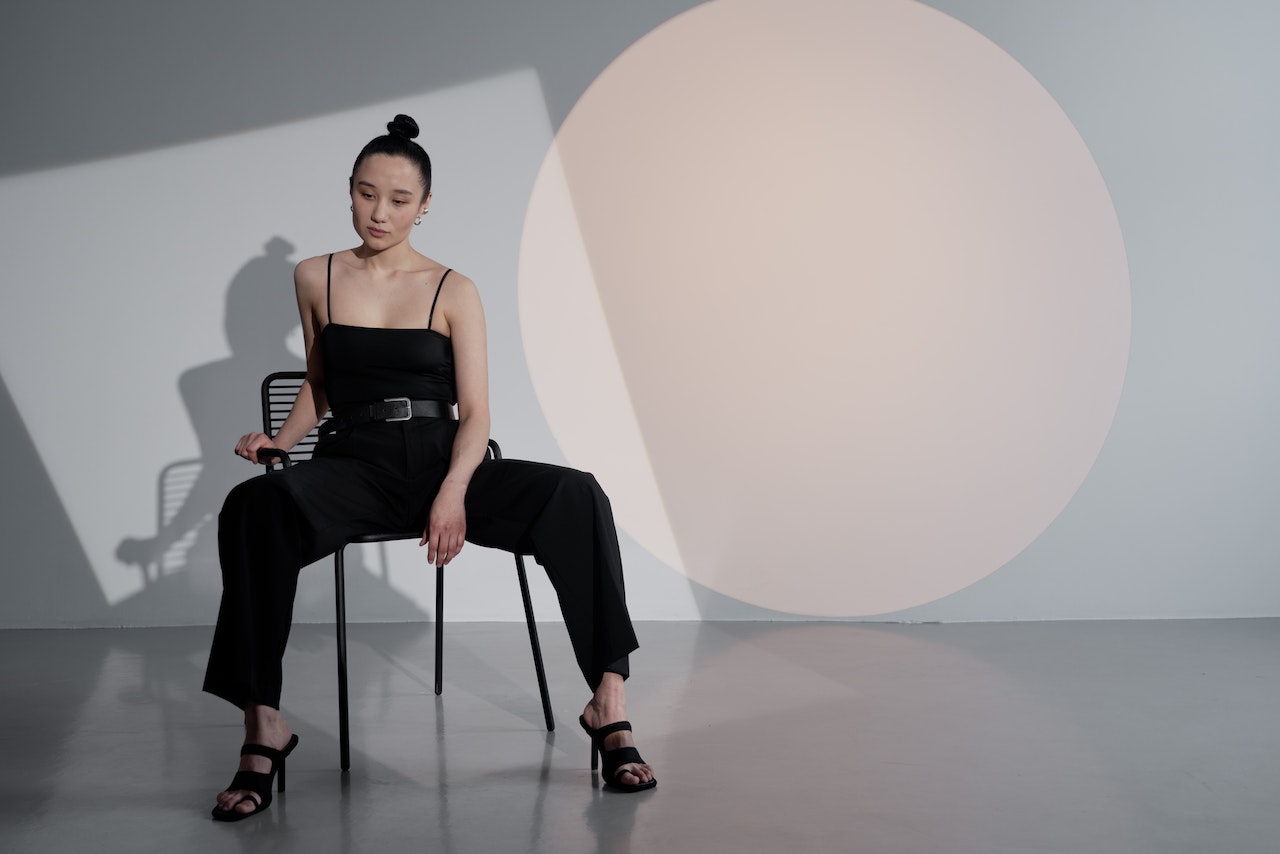 A chic and classy black jumpsuit is an outstanding example of a dressy cocktail outfit to wear at a celebratory event. Taking inspiration from this smart jumpsuit, you can pair a noodle strap top, statement belt, and high heels to flaunt your style. You can pair this ensemble with cuffed earrings and minimalistic makeup to dazzle throughout the day.
13. White Shirt With Flared Skirt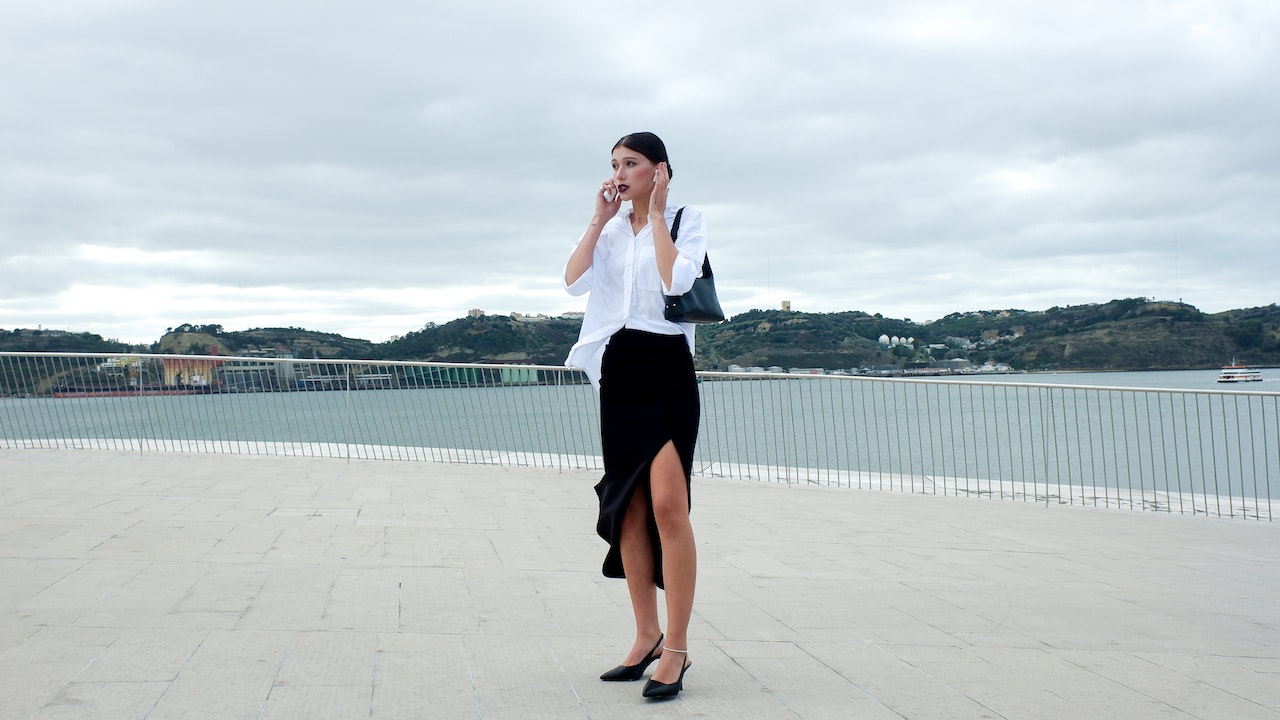 White button-down shirt half tucked in a bodycon flared skirt fits right in on this list of top semi-formal attire for women and is a treat for the eyes. You can model this chic dress with beautiful colors of your choice, a duffle handbag, a sleek hairstyle, blushed cheeks, and block-heel sandals. Moreover, you can give a sensual touch to your entire appearance by adorning a cute anklet!
14. Knee-length Black Lace Dress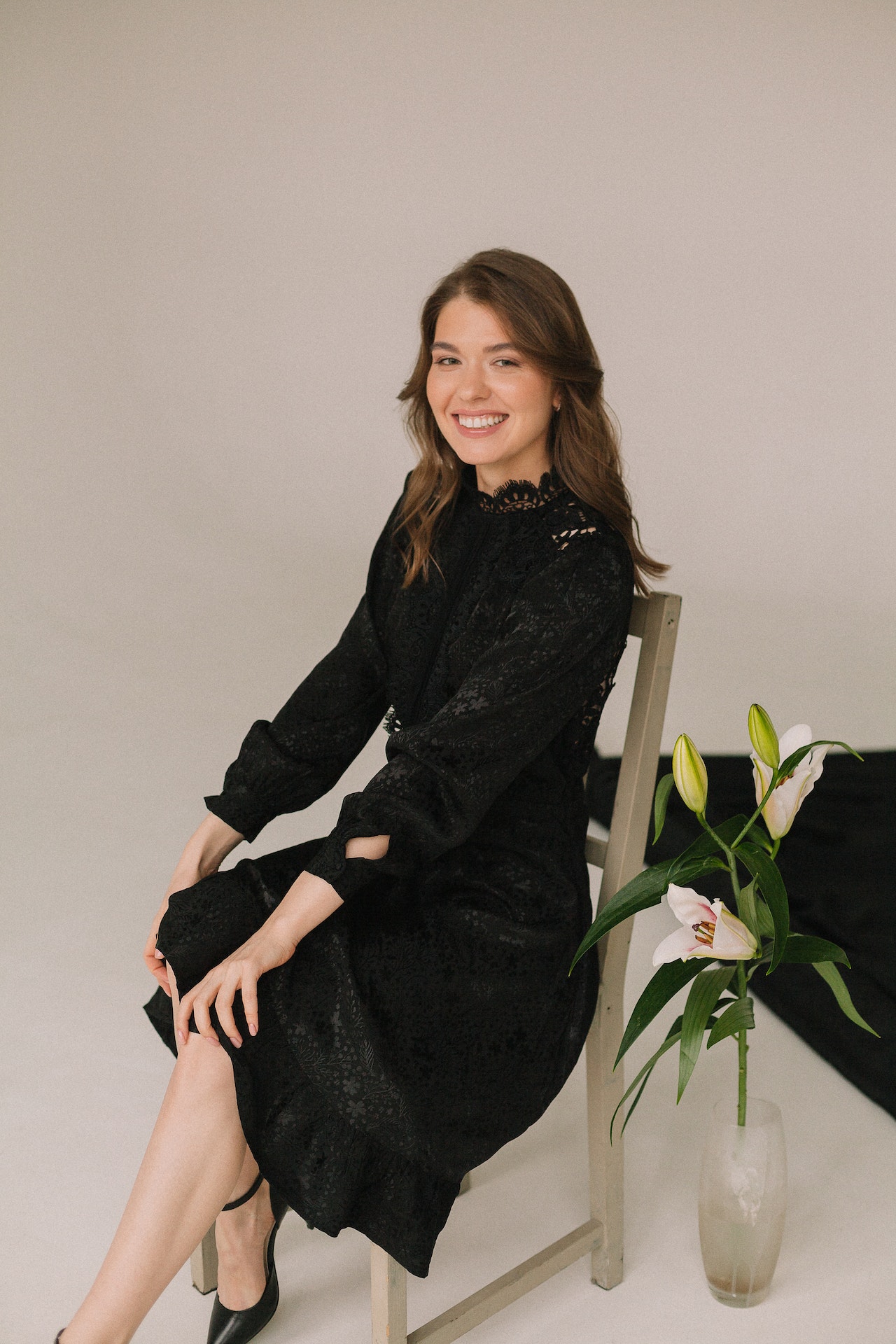 Any list of outfits is not complete without the mention of the classic black dress. This full-sleeve, lace-collared black dress is yet another brilliant illustration of semi-formal attire for  women. Not only is this dress self-sufficient and super minimalistic, but it also brings out feminine enchantment. Furthermore, a black dress is always a versatile outfit to own as it suits every type of accessory, footwear, hairstyle, and makeup.
Conclusion
At times, it becomes hard to find a look that is comfy, chic, trendy, and appropriate  for a dress code of semi-formal attire for women. However, luckily, there are a few distinct outfits that you can choose from (depending on your personal preferences) and wear to your next not-so-formal event. Whether you are attending a formal event, going out on the town, or just want to look your best, there are many semi-formal attire options available that fuse style and comfort. From chic dresses to blazers and trousers, From a black calf-length dress to a pencil skirt suit and blazers and trousers – we are sure this article helped you select the adequate semi-formal dress that gracefully blends your personal style, poise, and comfort.
Ladies, what is your favorite semi-formal outfit? Tell us in the comments section below!
FAQs
Are jeans semi-formal?
No, jeans do not pass the dress code for semi-formal.
---
What should a woman wear to a semi-formal wedding?
A woman can wear a maxi dress, midi gown, skirt suit, dress pants, co-ord set or a fashionable and well-tailored jumpsuit to a semi-formal wedding and accessorize the outfit to glam up the look as much as desired.
---
Can women wear pants to semi-formal?
Yes, pants are considered a part of semi-formal clothing.
---
Do you need a jacket for a semi-formal outfit?
A jacket certainly goes well with semi-formal clothing styles. Stylist Paola Farina says, "Jackets or blazers always give the look a more elegant appearance, so I usually recommend them in a semi-formal and formal environment." However, if you have decided to wear a dress or dress in semi-formal co-ords, you may skip the jacket, especially if it is summer.
---
Are palazzo pants considered semi-formal?
Yes, palazzo pants are considered a chic style of semi-formal apparel. You can pair these with a ruffled shirt or turtle neck top to exude finesse on special occasions.
---

---