Jeremy Renner posts a photo from hospital amid recovery; 6 things to know about actor's snow plowing accident
Jeremy Renner took to Instagram to drop a selfie of himself from the hospital bed as he gave his fans an update on his health following the snow plowing accident that took place on Sunday.
Published on Jan 04, 2023 | 07:49 AM IST | 119.9K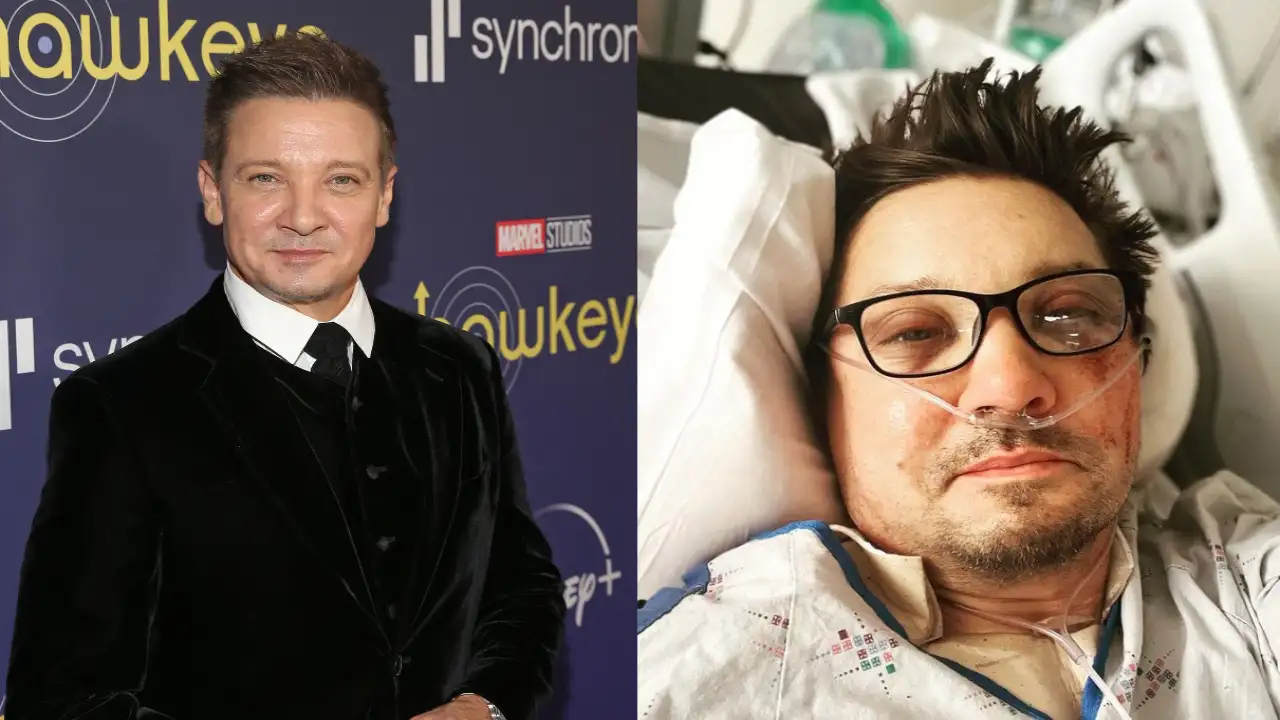 Jeremy Renner shared his latest health update on Instagram as he dropped a photo of himself amid recovery following the snow plowing accident. The actor dropped a selfie from his hospital bed where he was seen showcasing multiple bruises on his face. The actor revealed in the caption that he is "too messed up to type as he thanked fans for their support.
Renner along with his selfie wrote in the caption, "Thank you all for your kind words. I'm too messed up now to type. But I send love to you all." The actor's post instantly received love from fans who sent their well wishes to the Hawkeye star. Actor's Marvel co-stars also sent their love as Chris Hemsworth, and Chris Evans were among the ones to leave first comments on the actor's post. Isla Fisher also reacted to Jeremy's post and said, "Phew! I'm so happy you made this post. Sending you so much love and healing energy. We love you."
Marvel stars send Jeremy Renner their well wishes
After Jeremy Renner posted his recent health update with a photo of himself, his Avengers: Endgame co-stars shared their best wishes for him. Chris Hemsworth commented on the actor's post and said, "Speedy recovery buddy. Sending love your way!" Also, Captain America star Chris Evans wrote, "Tough as nails. Love you buddy" along with a heart emoji. Chris Pratt also conveyed his good wishes saying, "Continued prayers your way brutha." Thor: Love and Thunder director Taika Waititi reacted to Renner's selfie and added, "My brother I love you."
Among other celebrities who also wished a speedy recovery to the actor following his recent accident included, Cobie Smulders, Vanessa Hudgens, Kate Hudson, and Orlando Bloom among others. Avengers: Endgame directors, the Russo Brothers also left a heartfelt comment on Jeremy's post as they wrote, "Sending all of our love, brother, and hopes for a speedy recovery."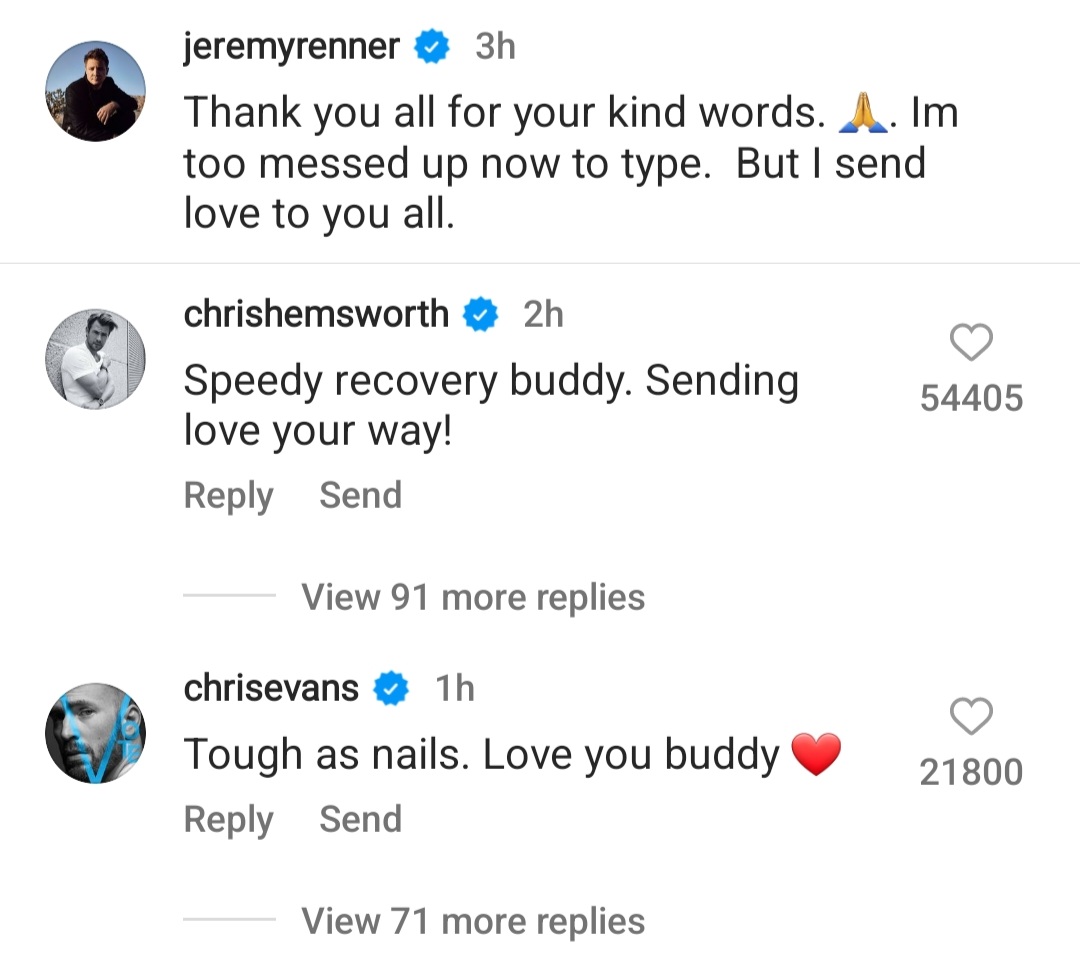 Jeremy Renner's snow plowing accident
Jeremy Renner was hospitalized after a snow-ploughing accident following New Year's Eve in Reno, Nevada. It was confirmed by the actor's rep on Sunday that he met with an accident while snow plowing and was rushed to hospital following the same. The actor was informed to have been in critical but stable condition at the time.
Jeremy Renner was airlifted to the hospital
The actor was airlifted out of a Nevada town on Sunday morning after his snow plow ran over his leg in a freak accident. As per TMZ, a helicopter arrived to airlift Renner after the accident. A neighbour of the actor who is a doctor managed to place a tourniquet on the Avengers star's leg until paramedics arrived to fly him to the hospital as per the report.
Jeremy Renner underwent surgery for blunt chest trauma
The actor suffered blunt chest trauma and orthopedic injuries after being involved in the accident and also underwent surgery for the same on January 2, following which he remained in the intensive care unit in critical but stable condition at the time. The actor's family also issued a statement via his rep to thank the doctors and nurses who were attending him as well as fans for their outpouring love and support.
Jeremy Renner's helpful act before the accident
As reported by People, Renner was moving snow from his driveway to help his family members depart his home after spending New Year together. The actor was reportedly also helping clear out the snow of his neighbour's home "as everyone up there had been without power for 24 hours and there had been a large snowfall." The actor's rep maintained that he was helping everyone in trying to clear out the snow so as to make it easier for people to head out. Reno Mayor Hillary Schieve also told the Reno Gazette-Journal that the actor was run over by his own snow plow while helping someone and added, "He is always helping others."
Hawkeye star's accident happened amid three feet of snow
According to Variety, the Washoe County Sheriff's Office revealed details about the accident involving the MCU star. While confirming that there was no foul play, they also explained the details about the weather conditions at the time and noted that there was about "three feet of fresh snow" on the ground at the time of the accident. The Sheriff also mentioned that abandoned cars were blocking the roadways and made it difficult for authorities to reach on time though the actor was provided first aid by first responders and neighbours immediately.
Jeremy Renner has been famous for playing the role of Marvel superhero Hawkeye but the actor's previous works also include the Mission: Impossible and Bourne action film franchises. He had previously also earned Academy Award nominations for his performances in The Hurt Locker and The Town. As for the actor's personal life, Renner is a father to daughter Ava Berlin, 9, whom he shares with ex-wife Sonni Pacheco.
ALSO READ: 12 Interesting things about Marvel star Jeremy Renner you probably didn't know
About The Author
A writer with 6 years of experience, addicted to coffee, films, and sarcasm. Currently exploring all things Hollywood..., from movies to TV shows in a never-ending loop of watching stuff and writing about it. Movie trivia is my thing.
Read more
Top Comments
There are no comments in this article yet. Be first to post one!