What is Snoop Dogg's net worth 2023: Lifestyle, songs, awards, controversies, dating history and more
Snoop Dogg is one of the most popular rappers across the globe today. Read the article to find out what is Snoop Dogg's net worth, his controversies and more.
Updated on Apr 11, 2023 | 05:26 PM IST | 510K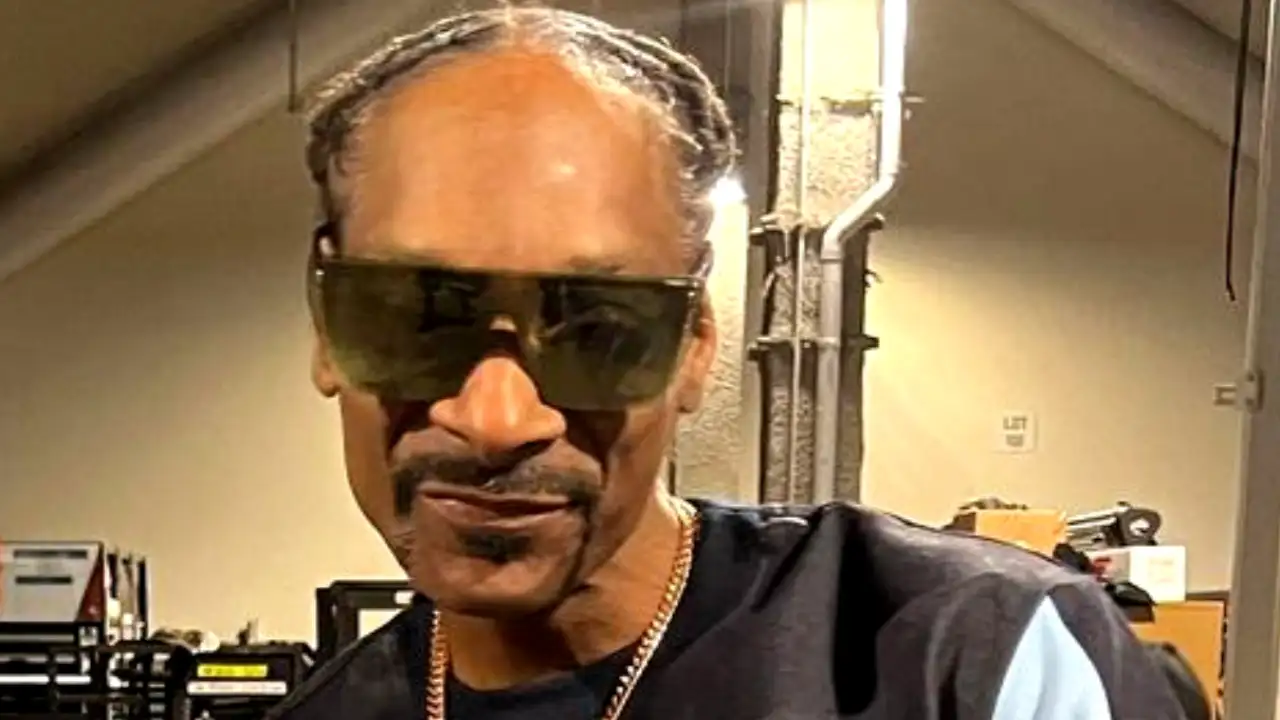 Snoop Dogg net worth 2023: Snoop Dogg is among the most popular rappers in the world today. One of the most famous American gangster rappers, he has made a name for himself globally with his laidback style of rapping style.
Snoop Dogg, whose birth name is Calvin Cordozar Broadus Jr., first arrived in the music scene in 1992, when he featured on Dr. Dre's debut solo single, Deep Cover, and then in his debut album The Chronic. In the years that followed, Snoop Dogg has released several singles, albums, mixtapes, and more. His debut album was titled Doggystyle. He soon became a prominent name in the field of gangster rap.
Apart from being a rapper, he is also an actor and an entrepreneur. In this article, we will take a look at Snoop Dogg's net worth, lifestyle, personal life, car collection, and more.
Snoop Dogg's Net Worth 2023
According to various publications, Snoop Dogg's current net worth is estimated to be $165 million. Of course, there might be changes in the estimated figure.
Snoop Dogg's Net Worth Growth 2023
Net Worth in 2023: $165 million
Net Worth in 2023: $150 million
Net Worth in 2021: $145 million
Net Worth in 2020: $130 million
Net Worth in 2019: $120 million
Net Worth in 2018: $110 million
Net Worth in 2017: $100 million
Snoop Dogg's Biography
As mentioned above, Snoop Dogg's real name is Calvin Cordozar Broadus Jr. He was born on October 20, 1971, in Long Beach, California. His parents are Vernell Vernado and Beverly Tate. Growing up, he went to Long Beach PolyTechnic High School and Compton College. The 51-year-old rapper married his high-school sweetheart Shante Broadus in 1997, but they divorced in 2004. The couple tied the knot again in 2008. Snoop Dogg has four children. Take a look at his biography below. 
Real Name/ Full Name: Calvin Cordozar Broadus Jr
Nick Name/ Celebrated Name: Snoop Dogg
Birth Place: Long Beach, California, United States
Date of Birth: 20 October, 1971
Age: 51 years old
Height: 193 centimetres; 6' 4"
Weight: 86 kgs/ 189 lbs
Eye Colour: Brown
Hair Colour: Black
Parents' Names: Father – Vernell Vernado; Mother – Beverly Tate
Siblings: Yes
School: Long Beach PolyTechnic High School
College: Compton College
Religion: Christian
Nationality: American
Gender: Male
Sexuality: Straight
Marital Status: Married
Zodiac Sign: Libra
Spouse's Name: Shante Taylor (m. 1997 – 2004) (m 2008)
Kids: 4
Profession: Rapper/ Songwriter/ Actor/ Entrepreneur/ Media personality
Net Worth: $165 million
Snoop Dogg's Early Life
Snoop Dogg was born on 20th October, 1971. His parents were Vernell Vernado and Beverly Tate. Vernado, who was a musician and a Vietnam veteran left his family when the rapper was just three months old. Snoop Dogg's real name is Calvin Cordozar Broadus Jr., and he was named so after his stepfather.
Calvin's nickname 'Snoop' is inspired from the character Snoopy in the Peanuts comic. When he was only 4 years old, his mother and stepfather separated. Growing up, he had a penchant for singing and playing the piano. He began rapping very young, when he was in 6th standard. However, he soon got into the influence of drugs and had to spend quiet a lot of time in prison after graduating high school. He later started making music by recording homemade cassettes with his relatives. He also formed a group named 213 back then. Apart from him, the group included his close friend Warren G, and his cousins Lil ½ Dead and Nate Dogg. The group created a mixtape together which featured the one of the rapper's earliest singles called Hold On.
Snoop Dogg Songs
Snoop Dogg's music career had a rather interesting start. It so happened, that one day, one of his mixtapes where he featured on landed up on Dr. Dre's hands. Dr. Dre, who was impressed with Snoop Dogg's mixtape, invited him over for an audition, and also taught him how to rap. He then mentored him, and gave him the chance to feature on his debut album The Chronic, in 1992. Before that, they also collaborated on the soundtrack of the action thriller film Deep Cover.
Snoop Dogg's own debut album Doggystyle, which came out in 1993, became extremely popular and he catapulted into success in the music and rap industry. Till date, this album remains his best-selling albums in his career, with more than six million copies sold across the globe. Moreover, Doggystyle also went on to earn the pole position on the Billboard 200 and Billboard Top R&B/ Hiphop Album Charts. Some popular tracks from the album include Gin and Juice and What's My Name. Other popular raps by Snoop Dogg include Eastside Party, Doggy Dog World, and Usual Suspects among others If reports are to be believed, the artist in question has sold more than 35 million albums across the globe, and is undoubtedly one of the richest rappers in the world.
Some of the most popular Snoop Dogg songs are listed below: 
Young, Wild and Free
Eastside Party
Doggy Dog World
What's My Name
Gin and Juice
Usual Suspects
Lay Low
Life of Da Party
Sexual Eruption
Murder Was The Case
Beautiful
Deep Cover
Drop It Like It's Hot
Snoop Dogg Awards and Achievements
In his career, Snoop Dogg has earned quite a lot of rewards and achievements. Some of these include the Primetime Emmy Award, and the American Music Award.
In 2022, Snoop Dogg made headlines as he performed at the LVI Super Bowl Halftime Show Performance along with many other artists including Dr. Dre, Mary J. Blidge, Eminem, Kendrick Lamar and 50 Cent. Although they did not receive any pay, they did go on to win an award – that too a Primetime Emmy Award – in the Outstanding Variety Special category. This was the first time a SuperBowl performance had earned an Emmy Award.
It should be noted that during the SuperBowl week, Snoop Dogg's audio stream witnessed a 143% jump, going from 12.47 million to 30.22 million.
Snoop Dogg's awards are listed below
Primetime Emmy Award
American Music Award
Snoop Dogg in Films and TV shows
Apart from music, Snoop Dogg has also made a mark in the acting world. He has featured in movies like Half Baked, Caught Up, Ride, I Got the Hook Up, Baby Boy, Training Day among others. He has also appeared in a bunch of television shows like Just Shoot Me!, Playmakers, MADtv, The L Word, The Bernie Mac Show, Weeds etc. He also started his own web series called Planet Snoop, where he gave the narration for a documentary based on animals and nature, called Planet Earth II.
Snoop Dogg's films and tv shows:
Half Baked
Caught Up
Ride
I Got Hook Up
Baby Boy
Training Day
Just Shoot Me!
Playmakers
MadTv
The L word
The Bernie Mac Show
Weeds
Snoop Dogg Business Collaborations
There is no doubt about the fact that Snoop Dogg has created an image of his own over the years. Thus, various brands want to associate with the artist for endorsements. Speaking of which, the legendary rapper has a brand deal with Corona, which has reportedly paid him $10 million to feature in their commercials. Snoop Dogg also endorsed the food delivery service called Menulog which has paid the artist $9.8 million reportedly. Other brands that Snoop Dogg has collaborated with include Dunkin' Donuts, The General, SodaStream, and Tostitos.
Snoop Dogg has collaborated with: 
Corona
Menulog
Dunkin' Donuts
The General
SodaStream
Tositos
Snoop Dogg Car Collection
Snoop Dogg is extremely fond of cars and likes to collect them too. He reportedly has as many as 25 cars. The rapper has an awesome car collection with many classics in the list. For instance, he has a 1967 Pontiac Virizion convertible.
Dogg also owns a Pontiac car, which is custom designed and has a yellow exterior design. The Pontiac car has a V8 engine and a 2-speed automatic transmission. Snoop Dogg also has the 1967 Cadillac in his collection. 
The Eastside Party singer also has other vehicles in his collection. These include Polaris Slingshot, Chrysler 300C, 1974 Cadillac Snoop DeVille Lowrider, 1968 Cadillac Coupe DeVille, 1968 Buick Riviera, 2011 Ford Mustang GT, Dodge Challenger SRT8, and Rolls-Royce Ghost. 
Snoop Dogg owns the following cars: 
1967 Pontiac Virizion convertible
1967 Cadillac
Polaris Slingshot
Chrysler 300C
1974 Cadillac Snoop DeVille Lowrider
1968 Cadillac Coupe DeVille
1968 Buick Riviera
2011 Ford Mustang GT
Dodge Challenger SRT8
Rolls-Royce Ghost 
Snoop Dogg Quotes
Here are some of the most popular, funny, and eccentric quotes ever said by Snoop Dogg.
"When I'm not longer rapping, I want to open up an ice cream parlor and call myself Scoop Dogg." 
"Whatever it is you do you have to master your craft." 
"If the ride is more fly, then you must buy." 
"I love making music and I'm falling in love with making records, so it's like having two girlfriends. But I can handle it." 
"I just change with the times. I really don't have a say in what's going on. Music was here before me."
Snoop Dogg's Dating History
Snoop Dogg has been linked with quite a few women throughout his career.
The legendary rapper was said to be in a relationship with Chavonne Hodges (2004 - 2010), Arnelle Simpson, Avgin Kazimova, and Salli Richardson Whitefield.
Snoop Dogg reportedly has had flings with Celina Powell (2018) and Laurie Holmond (1197).
He is also rumoured to have had flings with Rita Ora (2013) and Karrine Steffans (2010 - 2012).
Snoop Dogg Marriage and Children
Snoop Dogg's most significant relationship has been with his wife Shante Broadus. The rapper and Shante were highschool sweethearts who tied the knot on June 12, 1997. They got divorced in 2004. However, they remarried on January 12, 2008, and have stayed married ever since. The couple is blessed with three children: sons Corde (27) and Cordell (25), and daughter Cori Broadus (23).
Snoop Dogg has another son named Julian Corrie Broadus (24) from his relationship with Laurie Holmond.
Snoop Dogg's children:
Corde Broadus
Cordell Broadus
Cori Broadus
Julian Corrie Broadus
Snoop Dogg Controversies
Snoop Dogg's career has not been without its fair share of controversies. Below, are listed the 7 times the rapper hit headlines for not-so-pleasant reasons.
Snoop Dogg was busted when he was trying to enter Norway as he was found carrying marijuana with him.
Earlier, he was arrested by authorities in Texas when cannabis was found on his tour bus.
In 2006, the rapper was banned from entering the UK until 2010 after he and his crew created a scene at Heathrow airport as the British Airways prevented them from entering the first-class lounge.
The next year, the Australia's Department of Immigration and Citizenship prevented him from entering the country and hosting the MTV Australia Music Awards, but not before chastising his character.
In 2013, Snoop Dogg and his rapper friend Wiz Khalifa were banned from a California high school after they were found smoking weed while shooting a promo at the school premises.
In 2014, Snoop Dogg made headlines for his online brawl with Iggy Azalea, where he ended up threatening the latter.
In February 2022, a woman who identified as Jane Doe filed a lawsuit against the rapper and his friend and alleged that both of them had sexually assaulted her when she attended one of his concerts in May 2013.
Snoop Dogg's Biopic
Snoop Dogg's life story is definitely one to tell and for this reason, Universal Pictures announced last year that the studios has decided make a movie on him. This will mark the first biographical film based on Snoop Dogg's life, and it will also be the first movie under his project Death Row Records. The film will be directed by Allen Hughes (Menace II Society) with Joe Robert Cole (Black Panther, Black Panther: Wakanda Forever) as the scriptwriter. The movie will be produced together by Snoop, Allen Hughes, and Sara Ramekar.
Talking about the project, Snoop Dogg, whose birth name is Calvin Cordozar Broadus Jr., said in a statement last year, "I waited a long time to put this project together because I wanted to choose the right director, the perfect writer, and the greatest movie company I could partner with that could understand the legacy that I'm trying to portray on screen, and the memory I'm trying to leave behind. It was the perfect marriage. It was holy matrimony, not holy macaroni." 
FAQs
What is Snoop Dogg's net worth?
Snoop Dogg's Net Worth as of 2023 is $165 million.
---
What made Snoop Dogg famous?
Snoop Dogg became famous after he featured on Dr. Dre's hit single Deep Cover and debut album The Chronic in 1992.
---
Who is the richest rapper?
The richest rapper is Jay-Z with a net worth of $1.3 billion.
---
About The Author
A content writer for 3 years, Priyakshi channels her love for everything cinema through the written word, as she dabb...les in entertainment articles, movie reviews, and interviews.
Read more
Top Comments
There are no comments in this article yet. Be first to post one!