Tere Ishq Mein Ghayal, March 7, E11 Written Update: Veer tries to bring Kavya back, Chandrika stabs him
Tere Ishq Mein Ghayal stars Karan Kundrra, Reem Shaikh, and Gashmeer Mahajani in lead roles.
Updated on Mar 08, 2023 | 09:21 PM IST | 104.2K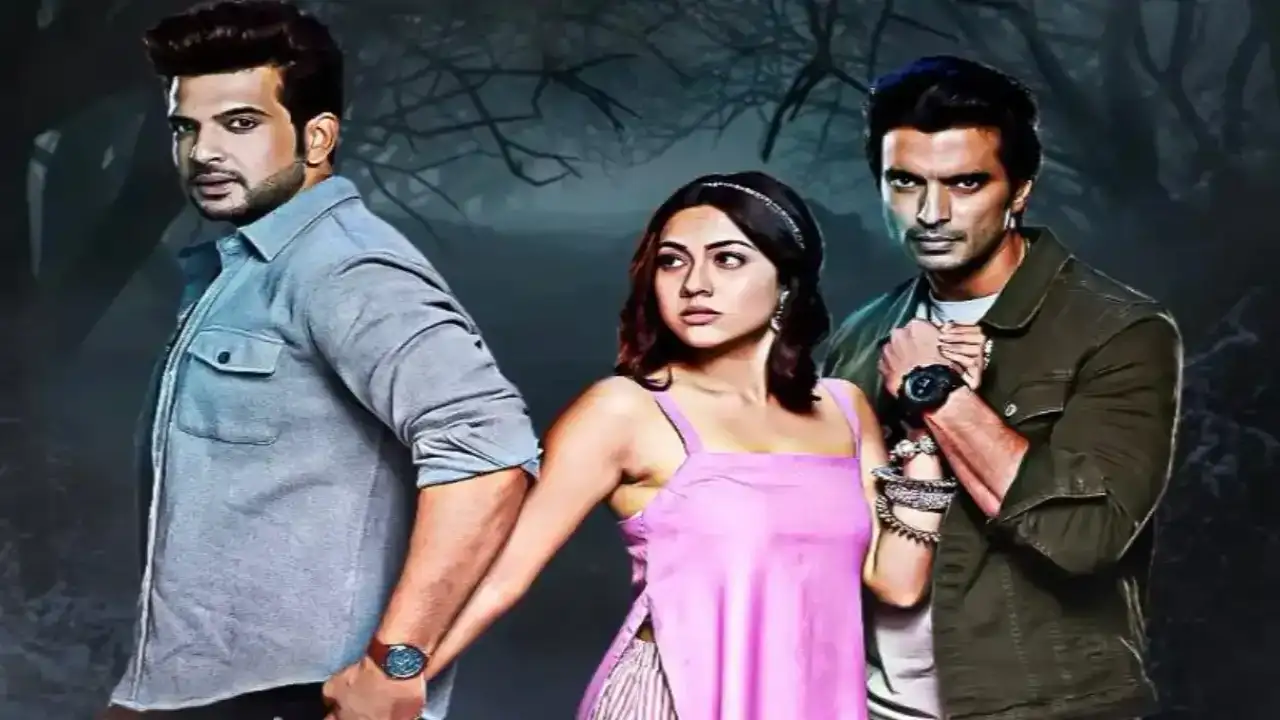 Tere Ishq Mein Ghayal, March 7, E11 Written Update: Maya asks Veer if you look expert in stabbing, but Veer says it was reflux. Laksh takes Cherry home. Cherry asks him that does he think that she is shallow. Laksh consoles her and tells her that as we grow old we tend to feel lonely. Laksh then leaves, but Cherry stops him and asks him to stay with her. Furious Armaan reaches home and fights with Veer as he killed Tina. Angry Armaan tells Veer that Tina was his friend. Veer tells Armaan that he helped him once again and no one will doubt him. During the fight, Armaan stabs Veer soon the latter tells Armaan that he still doesn't know to attack him. Veer takes out the knife, and Armaan exits. 
During the same night, Mahek dreams about a jungle where she sees herself running and falling down. She then sees a girl who tells her that someone is coming. She attends school the next morning and feels sleepy during the lecture. Mahek sleeps during the lectures and she then again dreams about the same girl she saw in her dream and she follows that girl to the jungle. The girl tells Mahek to save her and tells her that she is her relative Chandrika. Mahek screams and wakes up. 
Cherry tells Eisha that Mehak is not returning her locket and asks her about Armaan. Eisha tells Cherry that Armaan is avoiding her. Cherry says hi to Laksh but he ignores her. Eisha asks Mehak if she's okay and the latter replies she doesn't know. The new professor Sameer introduces himself and talks about history during the lecture. Veer wakes up Armaan and the latter warns him not to trouble him. Veer apologizes for killing Tina and tells Armaan to think about the reason why he was forced to kill Tina. Veer tells Armaan that the cops would have caught them if Tina would have lived. Veer tells Armaan that for a week he would not kill a human as an atonement. Armaan and Veer fight and the latter reminds Armaan of not being apologetic for killing Kavya.
Mahek tells Eisha about her dream and Eisha questions that is she sure about seeing her grandmother Chandrika in her dream. Mahek tells Eisha that Chandrika was trying to tell her something. Mahek tells Eisha that she doesn't want to be a 'Yogini' and wants to stay away from it. Vihaan comes to meet professor Sameer, and Sameer tells Vihaan to prepare a history paper on Landsdale within a week to increase his grades. 
Cherry questions Laksh for ignoring him and walking out in the morning after spending a night with her. Laksh tells Cherry that her mom reached home and that is the reason he left. Eisha questions Armaan about that whether he is fine or not and consoles him as he lost his best friend Tina. Armaan tells Eisha that he won't attend college henceforth and will stay away from everyone. Armaan tells Eisha that it will be better for her if she starts hating him.  
Veer asks Mahek for the locket but she denies to give it to him. Veer tries to convince Mahek to give him the locket and tells him that he is helping her to get rid of Chandrika. Shocked Mahek questions Veer about how he knows about Chandrika. Veer tells her that Chandrika is dangerous and that if she gives him the locket he will save her from Chandrika. Mahek throws the locket into the jungle while returning home with Eisha. 
While eating at a restaurant, Malini tells Vihaan that his professor Sameer is handsome as she sees her eating alone. Vihaan tells Malini that he can introduce her to Sameer. Armaan comes to meet Eisha and Eisha tells him that Veer desperately wants the locket from Mahek. Armaan tells them that the locket belongs to Mehak's great-grandmom and she was Kavya's caretaker. Armaan tells Eisha that he will find out about that locket. Vihaan and Malini discuss the project and she tells him to see his dad's study. Armaan and Veer try to patch up by forgetting the old incidents but that doesn't happen. They decide to play a game.
Mahek tells Cherry that she threw her locket but later Cherry finds the locket in her bag. Eisha and Mahek try to convince Cherry that they threw the locket. Malini and professor Sameer bond over a drink and talk about their past. While playing the game, Veer questions Armaan about his intention behind the game but Armaan tells him that he simply wants to improve their bond.
Eisha, Cherry, and Mahek try to call Chandrika by lighting up the candle. Chandrika gives them signs about her presence. They get scared and the locket disappears. Armaan and Veer play a game and then Armaan tries to convince Veer that Kavya manipulated them but Veer cuts the conversation. Armaan asks Veer about the locket. Veer tells Armaan that it is Kavya's locket and she is coming back.
Eisha asks Cherry if she took the locket or not. Eisha and Mahek see someone running around the house. Mahek then sees the locket on the bed. Eisha asks Mahek if she is ok or not. Mahek replies in Chandrika's voice that she is ok. Veer tells Armaan that with Chandrika's help, he found a way to save Kavya. Armaan realizes that Kavya is still safe in the cave. Veer reveals how he will be saving Kavya after stealing the locket from Mahek. He tells Armaan that he promised Chandrika that he will protect her family always. Eisha and Cherry realize that Mahek is possessed by Chandrika. Eisha tells Armaan about Mahek. Veer listens to their conversation. Mahek walks into the jungle and Veer arrives to meet her. Veer talks to Chandrika and tells her that he cannot hurt Kavya but Chandrika stabs Veer. 
This episode could be watched on Voot. 
ALSO READ: Did Karan Kundrra take an indirect jibe at Tejasswi Prakash? Read Here
About The Author
A TV writer with three years of experience in Indian drama and reality shows. With a bachelor's degree in mass me...dia, Pramila likes to gather and double-check facts to keep the readers hooked. So far, she has written over 1000 posts. When not working, she likes to journal and binge-watch her favorite shows over a steaming cup of coffee.
Read more
Top Comments
There are no comments in this article yet. Be first to post one!