Kundali Bhagya written update, September 22: Preeta boldly confronts Nidhi
Kundali Bhagya written update 22nd September, Karan asks Rajveer about Preeta, and Nidhi attacks Preeta with a knife.
Updated on Sep 22, 2023 | 06:32 PM IST | 106.1K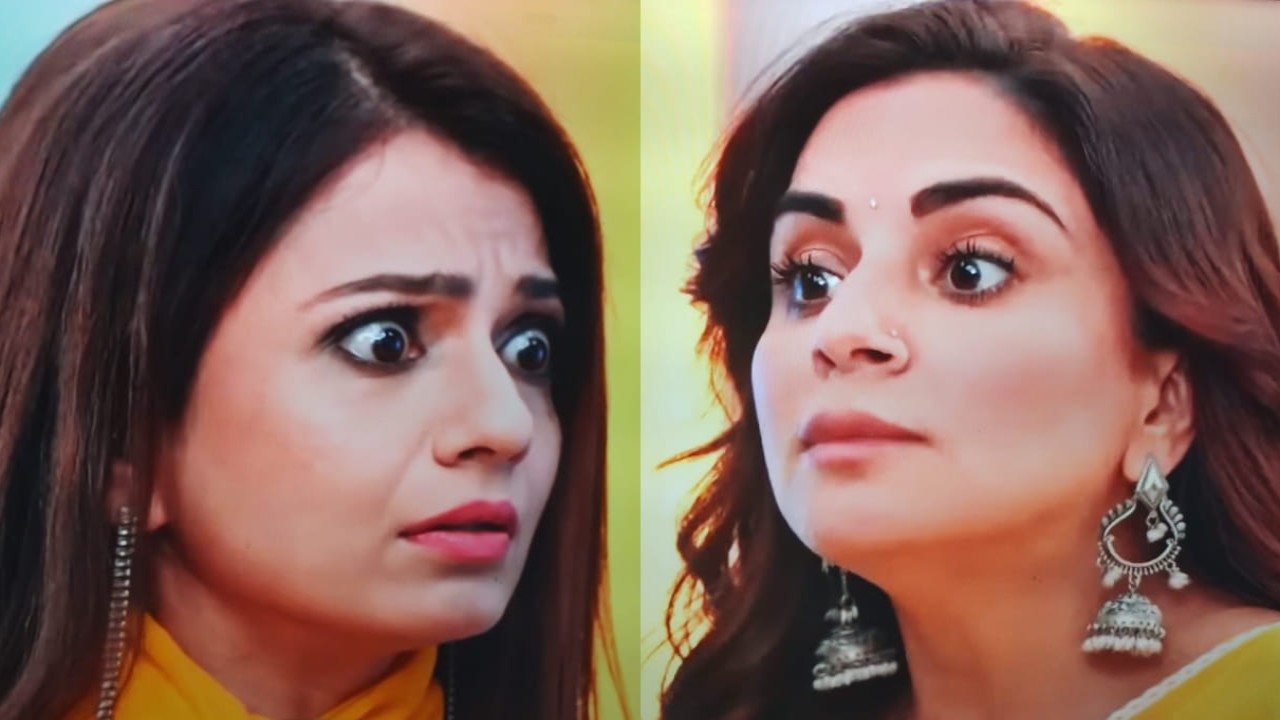 As the Krishna Janmashtami aarti finishes, Karan approaches Preeta with aarti's thali. Preeta, resplendent in traditional attire, gracefully accepted the aarti from Karan's outstretched hands, their eyes locking for a moment that held secrets untold. Meanwhile, Nidhi was on the hunt for Preeta. She was looking for her everywhere. Preeta also leaves from there. 
Curiosity gnawed at Karan as he wondered about Preeta's sudden disappearance. He turned to Rajveer and asked him about Preeta. Rajveer pretended to know nothing about Preeta's presence and wondered why she had come to the Luthra house in the first place. Rajveer decided it was best to remove Preeta from the premises before anyone else spotted her. Rishabh gives prasad to everyone. 
On the other hand, Nidhi goes to her room and calls Nilesh. As she talks with Nilesh, frustration drips from her voice as she laments that her problems would have vanished if Nilesh had carried out his sinister plan to kill Preeta earlier. She feared that her carefully laid-out plans would crumble if Preeta were to reappear before the Luthras.
Suddenly, Preeta comes there and locks the door. Nidhi is in shock. Preeta confronted Nidhi, alleging that she had tried to strangle her in the hospital. Preeta asks her why she wants to kill her. She tells her that she doesn't even know her properly. She questioned Nidhi's motive, insisting there were no unresolved issues between them. Nidhi was taken aback by this and said that she had no idea about what she was saying. Nidhi says that Preeta must have seen someone else in the hospital. But Preeta's conviction remained unshaken; she was convinced that Nidhi was behind the attack. Preeta tells Nidhi that she is sure that she is the one behind the cunning plan to kill her.
Nidhi tells Preeta that she is not the one Preeta is looking for. She asked Preeta to leave and go to her home as they were celebrating Krishna Janmashtami and suggested they should avoid further confrontation. However, Preeta was not easily swayed, she told Nidhi that she knew she wanted to know the truth and threatened to expose Nidhi. Preeta even hints at involving the police if Nidhi doesn't tell her the truth. She demanded an explanation for their supposed enmity. Preeta told Nidhi that if she did not tell her the truth she would go out right now and tell everyone that she tried to kill her. 
Nidhi, acting bewildered, professed her lack of comprehension. She insinuated that Preeta might be losing her sanity. Preeta tells Nidhi that she has nothing to do with her. She went further and asked Nidhi why he was trying to hurt and kill her. 
Nidhi attempted to dismiss it as a misunderstanding, but Preeta boldly unveiled that she knew that Nidhi hired Shambhu to kill Preeta. Nidhi hides her fear and tells Preeta that she has no clue who Shambhu is and she has only heard this name for the first time. 
Meanwhile, Karan is tensed, and Rishabh asks him what happened. Karan tells him that he is sure that Preeta is here. He tells Rishabh that he can feel her presence. Karan thinks about what Preeta is doing here. Rishabh asks Karan to come down with Nidhi for the Pooja. Karan goes from there to find Nidhi for the pooja celebration.
As Karan knocked on the door, urging Nidhi to open it. Nidhi opens the door a little bit and asks Karan what happened. Meanwhile, Preeta hides behind the door. Karan asks her to join everyone for the puja downstairs. Nidhi realized her plan might crumble if Karan laid eyes on Preeta. To buy some time, Nidhi promised to join him shortly, allowing Karan to leave.
With Karan out of the way, Preeta instructed Nidhi to meet her at the back entrance of the house and stealthily departed from there. Nidhi took a knife while leaving and followed Preeta. While Shrishti was looking for both Preeta and Nidhi she saw Shambhu and rendered him unconscious.
Nidhi, unwilling to abandon her mission, attempted to attack Preeta with the knife. However, Preeta's quick reflexes disarmed her, and she escorted Nidhi away from the scene, determined to uncover the truth.
On the other hand, Kavya and Varun were engaged in a conversation. She tells Varun about a deeply emotional moment she had experienced. She told him that it was triggered by an interaction with a member of their dance group. Tears welled up in her eyes as she confessed that she couldn't even remember what her own mother looked like. Varun also got emotional but assured her that her mother's love and blessings were always with her. Rajveer overheard their conversation and became emotional. He approached Kavya and Varun and told her that he would arrange a meeting between Kavya and his mother.
This episode was watched on Zee5.
ALSO READ: Bigg Boss fame Rakhi Sawant drops audio recording of Adil Khan's ex-girlfriend; says 'Omg don't cry'
About The Author
Harshika Bhatia earned a degree in hospitality management but her passion for writing led her to choose a different
...
Read more
Top Comments
There are no comments in this article yet. Be first to post one!