21 Movies like Harry Potter for all the fantasy fans out there
f you are missing the magic world of Hogwarts, here are some of the best movies like Harry Potter that will give you a sneak peek into the wizardly world.
Updated on Mar 18, 2023 | 12:58 PM IST | 1.4M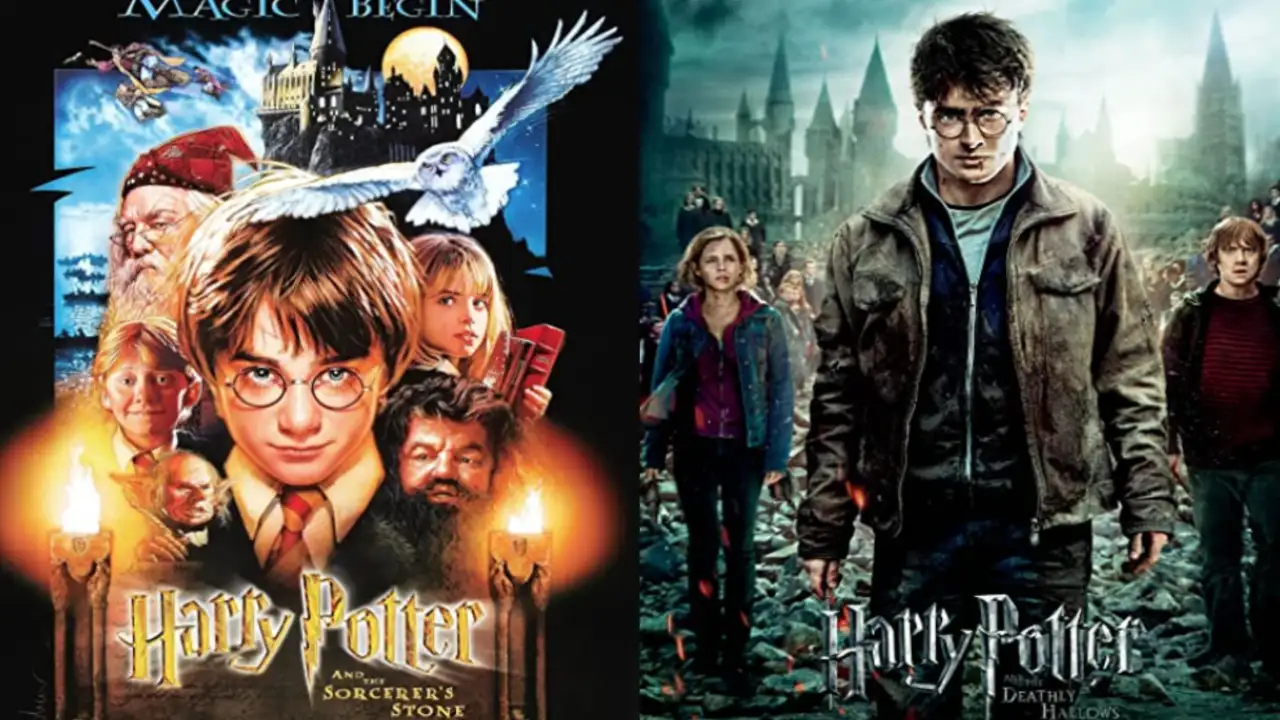 When it comes to sorcery-based fantasy movies, nothing beats The Harry Potter series. In fact, Daniel Radcliffe, Rupert Grint, and Emma Watson's starrer series have been Hollywood blockbusters. The eight-part movie series is based on J. K. Rowling's best-selling fantasy novels of the same title. Despite the fact the globally successful movie is worth rewatching a million times, there are days a Potterhead wants to watch something that's not Harry Potter but is similar to it. For days you are in the middle of this predicament, you deserve the ultimate list of movies like Harry Potter that took the world by storm and achieved enormous global success.
To this day, the massive fandom of the Harry Potter movies has been going strong. From playing Quidditch to concocting potions and flying on broomsticks, the Harry Potter movies have it all. For days you are missing the magical world of Hogwarts but want to watch something other than Harry Potter, scroll on for some of the best movies like Harry Potter that will give you a similar wizardly experience.  
Ahead, find a list of hand-selected movies that includes movies like Teen Witch and The Chronicles of Narnia Trilogy and everything in between for a fantastic fantasy-filled binge-fest. 
Movies Like Harry Potter
1.   Teen Witch
High school teenager Louise Miller learns from Madam Serena, psychic that she is a reincarnation of the powerful witch and possesses magical abilities which will start working on her sixteenth birthday. She uses the magic to become popular and get back at her bullies in high school but soon learns that it is much more powerful than she ever thought and that getting what you want is not what magic is all about.  
Release Year: 1989
Genre: Fantasy/Comedy
Stars: Robyn Lively, Dan Gauthier, Zelda Rubinstein, Dick Sargent, Joshua John Miller
Directed By: Dorian Walker  
Run Time: 94 minutes
2.  Bedknobs and Broomsticks
Bedknobs and Broomsticks is one of the best movies like Harry Potter which follows the plot of a cynical magician, three kids, and an apprentice witch's search for the missing magic spell from the book. Three children were placed in reluctant Miss Eglantine Price care during the Battle of Britain. The children soon learn that Ms. Price is learning witchcraft and are offered a transportation spell in exchange for silence.  
Release Year: 1971
Genre: Fantasy/Family  
Stars: Angela Lansbury, John Ericson, David Tomlinson, Ian Weighill, Roy
Snart, Cindy O'Callaghan  
Directed By: Robert Stevenson  
Run Time: 117 minutes  
3. Seventh Son
Seventh Son follows the storyline of Thomas Ward, who is a seventh son of a seventh son as he goes on an adventure as the apprentice of the Spook, after the evil witch Mother Malkin breaks free from the confinement. Seventh Son is just like Harry Potter which will keep you engaged till the end with Malkin gathering an army of minions and Thomas falling in love with Alice who was sent to spy on him.
Release Year: 2014
Genre: Fantasy/Adventure  
Stars: Jeff Bridges, Kit Harington, Ben Barnes, Olivia Williams, Alicia
Wikander, Antje Traue, Djimon Hounsou, Julianna Moore
Directed By: Sergei Bodrov  
Run Time: 102 minutes  
4.  The Sorcerer's Apprentice
Balthazar Bake is a legendary magician in the modern day Manhattan who recruits Dave Stutler as his reluctant protégé to save the city and prevent the return of Morgana le Fay. Stutler is a resourceful physics prodigy with hidden potential, who needs to rise up to stop the forces of darkness.
Release Year: 2010
Genre: Fantasy/Adventure  
Stars: Nicholas Cage, Jay Baruchel, Teresa Palmer, Monica Bellucci,
Alfred Molina
Directed By: Jon Turteltaub
Run Time: 109 minutes  
A brilliant neurosurgeon Dr. Stephen Strange on his journey of spiritual and physical healing, after a car crash that leaves him unable to operate, discovers the world of magic and mystique. Dr. Stephen Strange is an arrogant and acclaimed scientist who vainly tries experimental surgeries to heal his own hands after the crash and soon learns about the paraplegic who regained the use of his legs. Dr. Strange is soon pulled into the world of Mordo and Ancient One.  
Release Year: 2016
Genre: Action/Adventure  
Stars:  Benedict Cumberbatch, Rachel McAdams, Chiwetel Ejiofor, Benedict
Wong, Michael Stuhlbarg, Benjamin Bratt, Mads Mikkelsen, Scott Adkins, Tilda
Swinton
Directed By: Scott Derrickson  
Run Time: 115 minutes  
6.  The Percy Jackson Movies
The Percy Jackson movies follow the adventure of a demigod and his comrades in the training ground at Camp Half-Blood which also includes setting an ongoing battle amongst the Gods. The Percy Jackson movies earned both commercial and critical success.  
Release Year: 2010 - 2013
Genre: Fantasy, Adventure, Action  
Stars: Logan Lerman, Jake Abel, Brandon T. Jackson, Alexandra Daddario  
Directed By: Chris Columbus  
Run Time: 224 minutes  
7.  Upside-Down Magic
Upside Down Magic follows the tale of two best friends Reina Carvajal and Elinor Boxwood Horace as they enroll in Sage Academy which is a prestigious magic school. Reina holds the power of controlling fire while Elinor holds the power of transforming into an animal. They are soon pulled into the world of Shadow Magic, an evil force that uses a person's magic through possession against everyone else.  
Release Year:  2020
Genre:  Fantasy
Stars:  Izabela Rose and Siena Agudong
Directed By:  Joe Nussbaum
Run Time:  96 minutes
8.  Abigail
Abigail in the quest to search for her father who many years earlier were taken by the government discovers the whole new world of magic. She eventually learns that her city was seized by the people with dark magic who want to completely erase its existence along with wiping out all the sorcerers. As Abigail can't suppress the magic inside her, she needs to flee from her home in a journey full of danger and adventure.
Release Year:  2019
Genre:  Adventure and Fantasy
Stars:  Tinatin Dalakishvili, Rinal Mukhametov, Gleb Bochkov, Artyom
Tkachenko, Ravshana Kurkova
Directed By:  Aleksandr Boguslavsky
Run Time:  110 minutes
9.  Miss Peregrine's Home for Peculiar Children
Jacob finds an entirely different magical place known as Miss Peregrine's Home for Peculiar Children following the clues that were left by his beloved grandfather. The headmistress of this place Miss Alma Peregrine along with the home's children possess paranormal abilities and hence are referred as 'Peculiars'.
Release Year:  2016
Genre:  Fantasy/Adventure
Stars:  Eva Green, Allison Janney, Asa Butterfield, Chris O'Dowd, Terence Stamp, Rupert Everett, Ella Purnell, Judi Dench, Samuel L. Jackson
Directed By:  Tim Burton
Run Time:  127 minutes
10.  The Craft
The Craft is also one of the great movies like Harry Potter which drives through the witchcraft world as four outcast teenage girls in a Catholic school decide to pursue witchcraft to their own advantage without knowing the negative consequences. These girls worship a powerful earth deity called 'Manon'. These four outcast teenagers use magic for their personal use to get back at the people who bullied them.
Release Year:  1996
Genre:  Horror and Fantasy
Stars:  Robin Tunney, Neve Campbell, Fairuza Balk, Rachel True
Directed By:  Andrew Fleming
Run Time:  101 minutes
11. Escape to Witch Mountain
Escape to Witch Mountain follows the storyline of two twins who get separated as babies however when they meet in the future, the twins discover their supernatural powers. A local millionaire tries to exploit twins for his personal gains. The adventures that the movie follows with the twins will magically transport you to a different place.    
Release Year:  1995
Genre:  Sci-Fi, Adventure, Fantasy
Stars:  Elisabeth Moss, Perrey Reeves, Erik von Detten, Robert Vaughn,
Brad Dourif, Vincent Schiavelli
Directed By:  Peter Rader
Run Time:  87 minutes
12.  Fantastic Beasts Films
Fantastic Beasts film series is one of the best movies like Harry Potter which serves as a prequel or sequel to the same movie series. The storyline sets in 1926 as Newt Scamander completes a global excursion to discover and document about extraordinary array of the magical creatures.  
Release Year:  2016 - 2022
Genre:  Fantasy/Adventure
Stars:  Eddie Redmayne, Alison Sudol, Katherine Waterston, Ezra Miller, Don Fogler
Directed By:  David Yates
Run Time:  409 minutes
The Lord of the Rings trilogy is also one of the greatest movies similar to Harry Potter that keeps you hooked to the screen till the very end. The plot follows hobbit Frodo Baggins who embarks on the Fellowship quest to destroy One Ring along with ensuring the destruction of the maker, the Dark Lord Sauron. This trilogy entails three movies which will keep you hooked till the very end with the adventures of Frodo Baggins.    
Release Year:  2001 - 2003
Genre:  Fantasy, Adventure
Stars:  Elijah Wood, Liv Tyler, Ian McKellen, Sean Astin, Viggo Mortensen, Cate Blanchett, Billy Boyd, John Rhys-Davies, Christopher Lee, Dominic Monaghan, Hugo Weaving, Orlando Bloom, Andy Serkis, Sean Bean
Directed By:  Peter Jackson
Run Time:  558 minutes
14. The Golden Compass
The Golden Compass follows the plot of young Lyra Belacqua in a parallel universe who starts her journey to the North to save the kidnapped children including her best friend from the terrible experiments by gobblers. Lyra faces several difficulties such as confrontation with the flying witches in their quest to save these children.  
Release Year:  2007
Genre:  Fantasy/Adventure
Stars:  Nicole Kidman, Sam Elliott, Daniel Craig, Eva Green, Dakota Blue Richards, Ian McKellen
Directed By:  Chris Weitz
Run Time:  113 minutes
15.   Matilda
Based on the popular Roald Dahl novel, Matilda is a child prodigy with psychokinetic abilities. Matilda is mistreated and neglected by the family of an annoying older brother, a car salesman father, and bingo obsessed mother. Additionally, on her first day in school, Matilda witnesses the headmistress swinging a girl and hammer-throwing her in a field of flowers. She uses these abilities to deal with her tyrannical principal in school as well as her family.  
Release Year:  1996
Genre:  Family/Comedy
Stars:  Danny DeVito, Rhea Perlman, Mara Wilson, Embeth Davidtz
Directed By:  Danny DeVito
Run Time:  98 minutes
16.   Pan's Labyrinth
The story of Pan's Labyrinth is set in the mid 1900s when young Ofelia and her ailing mother come with her mother's new husband who is a sadistic army officer. The sadistic stepfather tries to quell a guerrilla uprising. Ofelia comes upon an ancient maze and chances upon the legendary lost princess leading to a series of events unfolding.  
Release Year:  2006
Genre:  Fantasy/War
Stars:  Sergi Lopez, Ivana Baquero, Doug Jones, Maribel Verdu, Ariadna Gil, Alex Angulo
Directed By:  Guillermo del Toro
Run Time:  120 minutes
17.   Stardust
Stardust follows a storyline of the young man Tristan living in the fictional town of Wall which borders the magical kingdom Stormhold. Tristan enters Strormhold to collect fallen stars for Victoria to ask for her hand in marriage. However, he soon learns that the fallen star is a woman named Yvaine.  
Release Year:  2007
Genre:  Adventure/Fantasy
Stars:  Claire Danes, Sienna Miller, Charlie Cox, Jason Flemyng, Ricky Gervais, Peter O'Toole, Robert De Niro, Michelle Pfeiffer
Directed By:  Matthew Vaughn
Run Time:  128 minutes
18. The Kid Who Would Be King
The Kid Who Would Be King is also one of the movies like Harry Potter which follows the plot of a young boy as he discovers the legendary sword of King Arthur named Excalibur. The young boy along with his classmates must use the sword to stop the plans of an ancient enchantress to enslave the whole world.
Release Year:  2019
Genre:  Fantasy/Family
Stars:  Louise Ashbourne Serkis, Tom Taylor, Patrick Stewart, Rebecca Ferguson
Directed By:  Joe Cornish
Run Time:  120 minutes
19.   The Chronicles of Narnia Trilogy 
The Chronicles of Narnia Trilogy follows the adventure of the young children in the magical Narnia world while being guided with Aslan who is the powerful and true king of Narnia. This lion can speak and guide the Pevensie siblings. These four Pevensie siblings helps Prince Caspian to win the throne against corrupt uncle, King Miraz.                          
Release Year:  2005 – 2010
Genre:  Fantasy/Adventure
Stars:  Georgie Henley, William Moseley, Ben Barnes, Skandar Keynes, Anna Popplewell, Will Poulter, Liam Nesson, Tilda Swinton  
Directed By: Andrew Adamson and Michael Apted  
Run Time:  406 minutes
The nineteen year old Alicereturns returns to the magical place from her childhood adventure after spotting an unusual rabbit in her backyard. She realizes her true destiny, to stop the Red Queen's reign of terror as she meets again with her old friends. However, Alice and her friends are ambushed by the Red Queen's knights.    
Release Year:  2010
Genre:  Fantasy/Family
Stars: Johnny Depp, Anne Hathaway, Crispin Glover, Matt Lucas, Helena Bonham Carter, Mia Wasikowska, Stephen Fry, Alan Rickman, Michael Sheen, Timothy Spall
Directed By:  Tim Burton
Run Time: 108 minutes  
21. The House with a Clock in Its Walls
The ten year old orphan named Lewis goes to live with his uncle Jonathan in the old, creaky house. The boy soon discovers a whole new world with deadly curses, warlocks, and a dangerous world of witches.
Release Year:  2018
Genre:  Fantasy/Comedy
Stars: Jack Black, Cate Blanchett, Renne Elise Goldsberry, Owen Vaccaro, Sunny Suljic, Kyle MacLachlan
Directed By: Eli Roth  
Run Time: 105 minutes  
For anyone who's missing the sorcery and wizardly world of Hogwarts, the above-mentioned movies like Harry Potter will keep you hooked to the screens. It will be unfair to compare any movie with the iconic Harry Potter series but the above-mentioned movies give you a similar sense of magical experience. Each of these movies concocts its own magical universe with the aspects of unbreakable friendships and mysterious sorcery. Each one of the aforementioned movies like Harry Potter will deliver the right amount of fantasy, magic, and characters. 
ALSO READ: All 8 Harry Potter movies ranked from best to worst
Harry Potter movies
What movie should I watch if I like Harry Potter?
Abigail, Upside-Down, The Chronicles of Narnia, Lord of Rings
---
Will there be Harry Potter 9?
Harry Potter officially ended with the second installation of Harry Potter and the Deathly Hallows in 2011.
---
Is Harry Potter the most successful movie?
Philosopher's Stone and Deathly Hallows – Part 2 are among the 50 highest-grossing films of all time—at 49th- and 16th-highest, respectively—with both grossing over $1 billion.
---
What is the scariest Harry Potter movie?
The Chamber of Secrets is one of the most affecting films in the Harry Potter franchise.
---
What was Harry Potter's biggest fear?
Dementors
---
About The Author
A writer with 2+ years of experience, addicted
...
Read more
Top Comments
There are no comments in this article yet. Be first to post one!