Sheezan Khan's bail adjourned till January 13; Know 6 major twists and turns of Tunisha Sharma suicide case
Tunisha Sharma passed away after committing suicide on December 24 on the sets of her show Alibaba: Dastaan-E-Kabul.
Updated on Jan 13, 2023 | 12:28 AM IST | 110.6K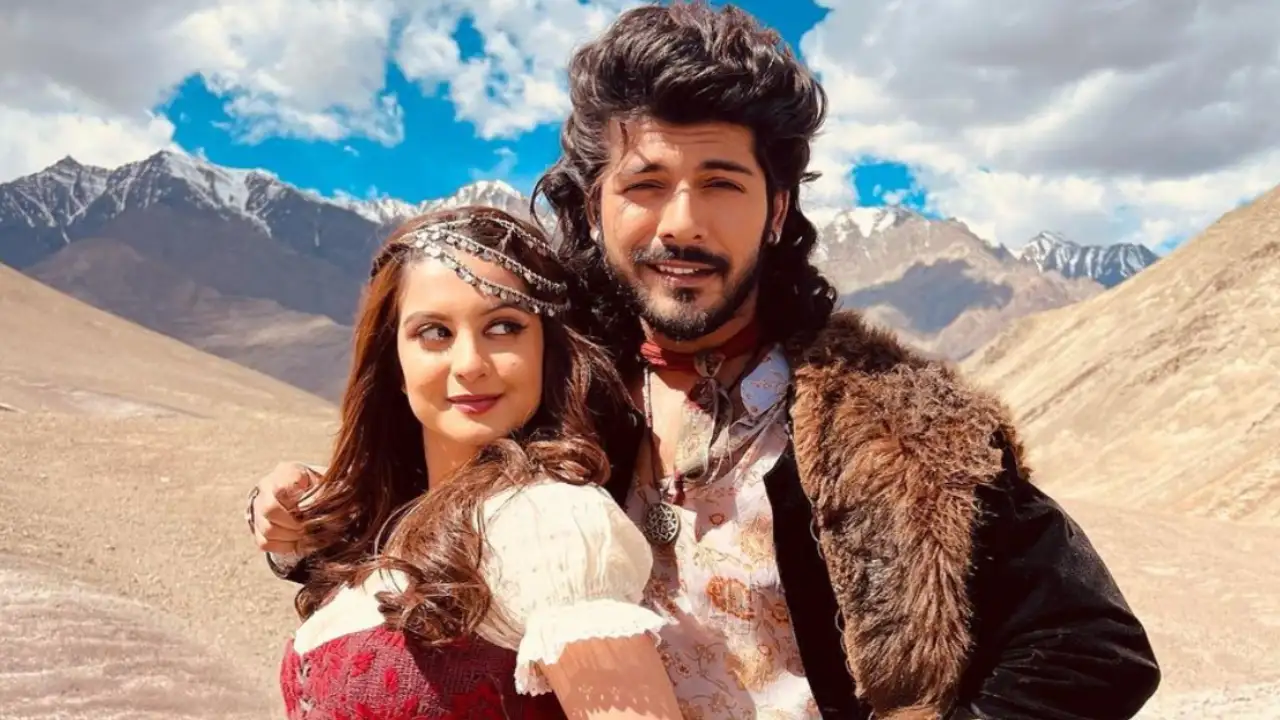 Content Warning: This article contains references to suicide.
Tunisha Sharma (4 January 2002- 24 December 2022) was among the most talented and popular young actresses in the entertainment industry who carved a special place in the hearts of the masses with her exceptional performances and genuine behaviour. The actress was a part of the fantasy show  Alibaba: Dastaan-E-Kabul and starred opposite Sheezan Khan. However, in a shocking turn of events, on 24 December 2022, Tunisha Sharma broke many hearts as she left for her heavenly abode. The 20-year-old actress committed suicide on the sets of her show Alibaba: Dastaan-E-Kabul in her co-star and ex-boyfriend Sheezan Khan's makeup room.
What happened before Tunisha Sharma committed suicide?
During a media interaction, Tunisha Sharma's mother, Vanita Sharma, revealed that the day Tunisha committed suicide, the late actress called Vanita in the afternoon, and she was in a good mood. Tunisha told her mother that she had two days off and wanted to celebrate Christmas in Chandigarh and asked her mother to book tickets for her. Narrating what happened next, Vanita told that she was planning to visit Alibaba: Dastaan-E-Kabul sets to meet Tunisha as the late actress was going to go to Chandigarh. 
After the call, Tunisha had lunch with her co-star and ex-boyfriend Sheezan Khan in his makeup room. After their lunch, Sheezan was called for his shot and Tunisha was alone in his makeup room for almost 15 minutes. As reported by ANI, both had a 'heated argument' before Sheezan left for his shot. After a crew member went to call Tunisha for her shot, the late actress didn't open the door after knocking several times. Many crew members and others including Sheezan Khan gathered and tried to open the door after which they found Tunisha Sharma hanging.
What happened after Tunisha Sharma committed suicide?
Tunisha Sharma was immediately rushed to Fever And Brain Multispeciality Hospital (Naigaon East) and was declared dead at 4:20 pm and an ECG confirmed her death. A CCTV footage went viral where it was seen that Sheezan Khan and two other people were carrying Tunisha and rushing to the hospital. Reportedly, Sheezan begged the doctor to save Tunisha however she was already dead. Hours after this, Sheezan Khan was arrested by the Waliv Police under Section 306 of the IPC after Tunisha's mother filed an FIR against him, and an abetment to suicide case was registered. Tunisha's funeral was held on December 27, at 3 PM, in a crematorium on Mira Road, Mumbai. Bhog and Antim Ardas for Tunisha was held in her hometown Punjab on January 5.
Why Vanita Sharma blames Sheezan Khan for Tunisha's suicide?
Tunisha Sharma and Sheezan Khan developed feelings for each other after they started shooting for the show Alibaba: Dastaan-E-Kabul. When Tunisha told her mother Vanita Sharma about her relationship with Sheezan, her mother advised Tunisha to concentrate on her career and told her that there is time for marriage. Vanita added that Tunsiha trusted Sheezan as the 28-year-old actor introduced her to his family, and she got close to them. Tunisha and Sheezan were dating for a while and parted ways just 15 days before she committed suicide.
According to Vanita Sharma, Tunisha broke up with Sheezan as she got to know that the 28-year-old actor was talking to his ex-girlfriend. Vanita claimed that Tunisha was very upset and had an argument with Sheezan, during which Sheezan even 'slapped' Tunisha. Her mother said that Tunisha was very sad after her breakup and claimed that she was 'used' by Sheezan.
Vanita Sharma's accusations against Sheezan and his family:
While the police interrogated Sheezan, the 28-year-old actor revealed the reason for parting ways with Tunisha and gave some statements. Sheezan broke down during the interrogation when he said that he and Tunisha parted ways two weeks ago before she took her life. He also revealed the reason behind their breakup and said that it was because of their 'age gap' and 'religious differences'. However, he denied the existence of any other girl in his life.
Commenting on Sheezan's statement, the late actress' mother stated that before dating Tunisha, Sheezan knew her age and religion, then why did he date her daughter? Vanita blamed Sheezan's family and said they 'used' Tunisha's money. Her mother also revealed that Sheezan's mother disturbed Tunisha during her work hours by calling her and speaking about Sheezan's ex-girlfriend. Tunisha's mother also claimed that Sheezan's family made Tunisha wear a 'Hijab' and took her to a mosque twice.
Vanita Sharma mentioned that Sheezan bought Tunisha down after she committed suicide by hanging herself. There was no ambulance or any other vehicle nearby through which Tunisha could have been taken to the hospital. Vanita claimed that Tunisha might have been 'murdered' as she would never commit suicide. She also alleged that when Sheezan spotted her after committing suicide, there is a chance that Tunisha would have been alive, but Sheezan must have not taken her to the hospital as he must have wanted her to die.
Why does Sheezan Khan's family blame Vanita for Tunisha's death?
According to Sheezan Khan's family, Tunisha and Sheezan were on cordial terms after parting ways and both moved on in their personal lives. Narrating what happened on December 23, Sheezan's lawyer Shailendra Mishra stated that in Parth Joshi's room, Ayush Shrivastava and Sheezan Khan were present and were rehearsing. Tunisha then showed a picture of a 'hanging suicide rope' to Parth. And after this Parth and Sheezan got upset with Tunisha and asked her if she was fine. The late actress confessed that there was nothing to be concerned about, and she was just showing a picture and had no intention do to something.
Sheezan's lawyer further added that on December 23, Tunsiha's mother was called on the sets of Alibaba: Dastaan-E-Kabul and was informed of what happened at Parth Joshi's house. Tunisha's mother Vanita was requested to take special care of Tunisha and was told not to leave Tunsiha anywhere alone. Tunisha's mother was asked to spend time with her daughter and was informed that the late actress needed her time. Even after informing her this, Vanita Sharma left Tunisha alone, and even on December 23 night, Tunisha was not at her house, she was somewhere else.
Sheezan's family also said that it is a matter of mental health, why is religion being dragged? The 28-year-old actor's family also mentioned that a man named Sanjeev Kaushal and Tunisha's mom Vanita Sharma dominated and controlled Tunisha. The cops are investigating the relationship between Sanjeev Kaushal and Vanita Sharma.
Sheezan Khan's lawyer stated that Pawan Sharma, who claims to be Tunisha's maternal uncle (mama), is actually her former manager. Pawan Sharma was dismissed from the designation of her manager because he interfered in Tunisha's personal life and was very harsh on her. Pawan is not from Tunisha's family, and instead of the late actress' mother, Pawan has raised several allegations against Sheezan. For the unversed, Tunisha's mother has handed over Tunisha's case's Power of Attorney to Pawan Sharma.
According to Sheezan's family, Tunisha's mother Vanita neglected Tunisha and never paid attention to her. Tunisha was just 20 years old and was depressed because of 'childhood trauma'. Sheezan's family further revealed that she was forced to work and Tunisha's mental health was neglected by her mother.
Sheezan Khan's bail hearing:
After getting arrested in an abetment to suicide case on December 24, a court in Vasai sent Sheezan to police custody for 4 days on December 25. Post this, on December 28, the Vasai court sent the accused to two-day police custody. After two days, the Vasai court then extended the police custody of Sheezan and he was held in custody till December 30.
On December 31, Sheezan Khan was sent to judicial custody for 14 days. On the same day, Sheezan Khan's lawyer gave four applications in court, which consisted of Adequate security in jail, Preserving Sheezan Khan's hair, Home Food, and a Special meeting with the advocate and family members. Sheezan's lawyer then moved the application for bail on January 2 which was supposed to be heard on January 7. Later, Sheezan Khan's bail plea was rejected by the Vasai court on January 7 and the next hearing was held on January 9.
On 9th January, Sheezan Khan's lawyer Shailendra Mishra told the court that Tunisha Sharma spoke to a person named 'Ali' on a video call for around 15 minutes before she committed suicide.
Who is Ali?
There are various speculations on what happened in the last 15 minutes when Tunisha was alone in Sheezan Khan's makeup room before she took her life. According to Sheezan's lawyer and family, Tunisha spoke to her a person named Ali, who she met on a dating app. Speaking about Ali, Vanita Sharma revealed that her daughter told her she was meeting Ali, who is her gym trainer for three years ago. Vanisha further added that Tunisha went out with Ali, in the last three days, to eat and chat, and both were 'just friends.'
The late actress' mother mentioned that Tunisha and Ali met thrice in December but only as friends. She also questioned Sheezan Khan's lawyer's statement and said, "Ab sab Ali ki galti ho gayi?" Speaking about Ali, Tunisha's lawyer has dismissed these claims by questioning how Sheezan came to know about her 'last call'. The lawyer said in court that Tunisha's last call was to her mother Vanita Sharma.
Sheezan's lawyer Shailendra spoke about accusations of murder against the 28-year-old actor. Shailendra added that Tunisha's family might say a lot of things, and they should first decide whether it's suicide or murder. They first registered an FIR for suicide, and later allegation of murder was also put by them.
In the last bail hearing which was held on January 11, Tunisha Sharma's lawyer Tarun Sharma accused Sheezan Khan's family of giving the wrong medication to Tunisha. The advocate claimed that the medicines were being prescribed by someone from Jaipur. Adv. Tarun Sharma also claimed that Tunisha Sharma was not depressed and Sheezan was distancing her from her family. Tunisha's lawyer stated that Sheezan's family is misguiding everyone by putting forth the 'depression' theory. Tunisha Sharma's lawyer also said that Sheezan Khan drove her to commit suicide. He argued that Sheezan lied to her about many things when they were in a relationship. Tunisha's advocate opposed the bail of Sheezan in the ongoing case by stating that he is being evasive in custody and not coming clean about his deleted WhatsApp chats.
As per the report, the bail hearing of Sheezan Khan in Tunisha's case has ended in Vasai court today, January 11, and the judge has reserved his judgment till January 13.
Disclaimer: If you know someone who is having suicidal thoughts or is suffering from a serious mental illness, reach out to a nearby doctor, mental health expert, or an NGO for immediate help.
ALSO READ: 'Tunisha and Ali were just friends', clarifies mom Vanita Sharma after Sheezan Khan's lawyer's accusations
About The Author
A TV writer with three years of experience in Indian drama and reality shows. With a bachelor's degree in mass me...dia, Pramila likes to gather and double-check facts to keep the readers hooked. So far, she has written over 1000 posts. When not working, she likes to journal and binge-watch her favorite shows over a steaming cup of coffee.
Read more
Top Comments
There are no comments in this article yet. Be first to post one!