EXCLUSIVE VIDEO: Vineeta Singh talks about her initial days in Mumbai: 'There was seepage in the house..'
Vineeta Singh is a part of the popular reality show Shark Tank India season 2.
Updated on Mar 03, 2023 | 06:29 PM IST | 106.9K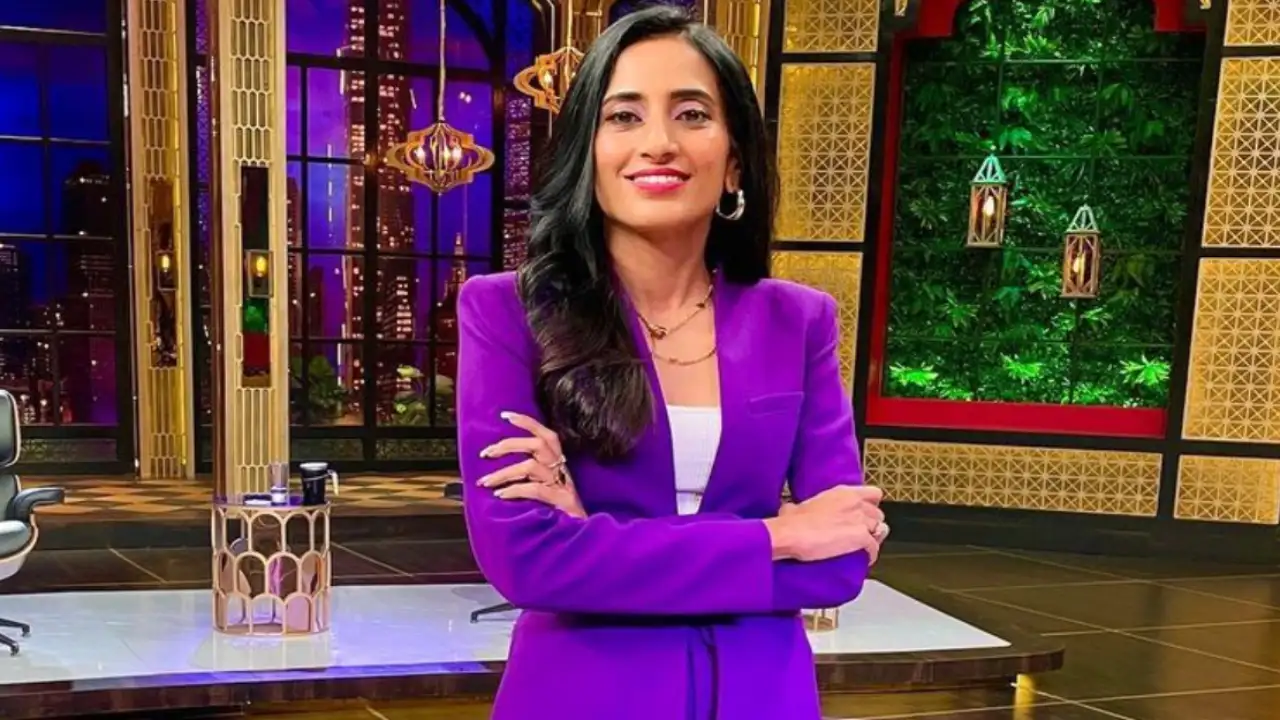 Shark Tank India 2 judge Vineeta Singh is a popular Indian businesswoman, who is the CEO and Co-founder of a high-end makeup brand, Sugar Cosmetics Corp. It is one of the most successful and popular cosmetic brands in India, which focuses solely on Indian skin tone. Recently in an exclusive conversation with Pinkvilla, Vineeta Singh talks about her initial days when she shifted to Mumbai, how she struggled to understand the city, and what made her fall in love with Mumbai. 
Vineeta Singh talks about her initial days in Mumbai:
Vineeta Singh shared, "Mumbai, I moved with my first start-up at 23, and it was hard because at that time I really had to figure a way out to live independently, which means renting a house and getting your help in place and all of that at the first salary of Rs. 10,000, which then became, 25,000 which then eventually became 50,000, which then seemed like a luxury. So the first few months were really hard."
She continued, "Interestingly, I moved after graduation, which happens in like March, April, so I moved in July, which is probably the worst time anybody can choose to move in Mumbai because the next two-three months is like monsoon, and there's seepage in the house and getting a rickshaw is so hard, and you have to walk like a kilometer before you get rejections by 100 rickshaw drivers. I think before all the 100 BC rejections I got 100 rickshaw driver rejections in my whole journey."
What made her fall in love with Mumbai:
The Shark Tank India 2 judge elaborated, "I used to think what is this city I grew up in Delhi and campus where the houses used to be big, there were lawns, roads were wide, traffic used to move fast. There was a month-long monsoon which used to like just come and go, so it was a bit shocker. So there was this one part of Mumbai which was amazing that I could run at like 3 4 am without worrying about my safety, the idea that I don't have to be back home at 10'o clock at night if I'm going out with my friends. All of that and just people helping out at times when I'm driving alone on the road at 1 am, and if the car gets stuck in some manhole people stop in the middle of the rain and help you the car out. I mean those are unthinkable anywhere else in the world. So yes, I fell in love with the city for its people."
'Mumbai is like an entrepreneur' says Vineeta:
"I think Mumbai is just like an entrepreneur, an unstoppable city, no matter what crisis happens people show up the next morning for whatever their job is. That's what an entrepreneur's life also is. You got through the worst failure, rejection, and worst day of your life, but next 5 am you have to show up for your customers. This is why I feel it's a great city to build and become an entrepreneur. Once you can afford an office that is close to your house and you don't have to struggle with all the traffic then life is amazing. Now I love this city, but yes, the first three or four months were hard because I was a hardcore Delhi girl. 
Watch Vineeta Singh's full interview here-
Vineeta Singh reveals how she dealt with self-doubt:
Speaking about it, Vineeta said that people still tell her that she has wasted a seat at IIT. She also mentioned that when one is grown up, having things easy then they are not used to failure. She expressed that she went through extreme self-doubt but also revealed that her father always pushed her to be ambitious. The Shark Tank India 2 former judge also said that she was used to thinking big and always wanted to do big as she had grown up with that inspiration she got from her father. 
Vineeta also revealed how her starts-ups failed due to several reasons before her brand Sugar started. She explained that it was her lowest point, and that was the first time after five years of trying to be an entrepreneur. She stated how she questioned her capability and started questioning everything about herself. Vineeta also revealed how there were books only based on men entrepreneurs, and the first book she read about a woman entrepreneur was in 2016. 
Vineeta mentioned that she thought that being an entrepreneur was her wrong career choice. She said that those months of self-doubt were very hard, but that was the time when she started running marathons to get that self-esteem. She said, "I started doing ultramarathons, triathlons to really get some of that self-esteem back. Luckily it was also the time I got married and started thinking about the family." She said that there were many things that kept her away from the void she was feeling. Vineeta shared self doubt was hard, but somehow she found the courage to not give up. 
At present, Vineeta Singh is a judge aka shark of the popular reality show Shark Tank India season 2.
ALSO READ: Shark Tank India's judge Vineeta Singh reveals she had a 'panic attack' while swimming; Namita Thapar REACTS
About The Author
A TV writer with three years of experience in Indian drama and reality shows. With a bachelor's degree in mass me...dia, Pramila likes to gather and double-check facts to keep the readers hooked. So far, she has written over 1000 posts. When not working, she likes to journal and binge-watch her favorite shows over a steaming cup of coffee.
Read more
Top Comments
There are no comments in this article yet. Be first to post one!