Tu Jhoothi Main Makkaar Review: Ranbir Kapoor-Shraddha's love story celebrates family emotions with comedy
Planning to watch Ranbir Kapoor and Shraddha Kapoor led Tu Jhoothi Main Makkaar this week? Read Pinkvilla review of this Luv Ranjan directored romantic comedy
Updated on Mar 08, 2023 | 11:59 AM IST | 292.2K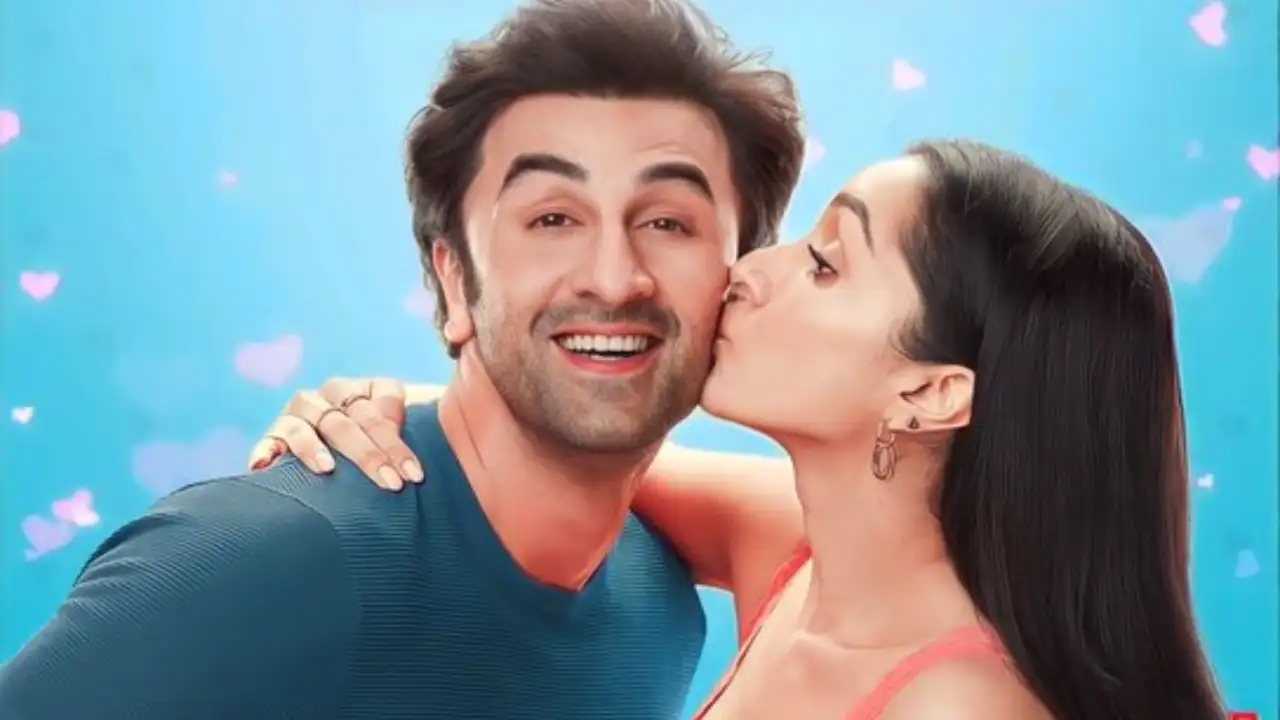 Name: Tu Jhoothi Main Makkaar
Director: luv ranjan
Cast: Ranbir Kapoor,Shraddha Kapoor
Rating: 4 / 5
Plot:
Mickey (Ranbir Kapoor), a break up guru by profession, goes on a bachelor trip to Spain with his friend, Dabbas (Anubhav Singh Bassi). Interestingly, Dabbas is joined by his own fiancé, Kinchi (Monica Chaudhary) and her friend, Tinni (Shraddha Kapoor), on what was supposed to be his bachelors' trip. As it goes, Mickey and Tinni fall in love with each other. There's a lot that happens through the screenplay and without spoiling the elements of plot for the audience, what follows in brief is an episode of romance, emotions and a lot of humour centred around the families. The film also is a ideological fight of perspectives between men and women around families.
What works?
Tu Jhoothi Main Makkaar delivers big on the entertainment front. Luv Ranjan and Rahul Mody's writing is crisp, to the point and dabbles well to switch from comedy to drama and vice versa. Both the leads, Ranbir and Shraddha, get an impactful introduction, which sets the base for a ride of wholesome entertainment that the film has to offer. After a while, there's a Hindi film that celebrates romance and family values at this scale and Luv excels in doing so with perfection. Tu Jhoothi Main Makkaar has all the elements that have been missing from Hindi cinema – a good love story, memorable music album, good scale, effective situational comedy, and strong family values.  
While the first half of the film rides on the lighter quotients of romance, the intermission block sets the conflict right. Despite being a love story, the plot points in the second half are far off from being predictable – which is another victory for writer director Luv Ranjan. Some of the best moments of the films include the introductory sequence of Mickey including Pyaar Hota Kahin Baar Hai, first meeting of Mickey and Tinni, Tere Pyaar Mein, Tinni's first interaction with Mickey's grandmother, the interval block, the conflict around O Bedardiya, and the last 30 minutes. Special mention to the laugh-a-riot climax emotion post a rather intelligently integrated emotional turmoil between the two leads alongside the family.
The dialogues are out right funny when needed, and don't even shy away from going too serious and philosophical when demanded by the situation.  The soul of Tu Jhoothi Main Makkaar rests in the emotions, which are relatable for both the men and women, as also the families.
What doesn't work?
There isn't much to dislike in Tu Jhoothi Main Makkaar. While the first half will appeal to the youth, the second half will find appreciation from the families. The film could have been shorter by about 5 - 7 minutes, but that isn't really a major issue to complain about as one will leave the auditorium with a smile on their faces.
Ranbir Kapoor returns to the rom-com space and aces it like a boss. His comic timing is to the point and he doesn't miss a single punch. Through the years, we have spoken about how his eyes and facial expressions reflect emotions, but in Tu Jhoothi Main Makkaar, they evoke humorous moments too. From the first frame to the last, it's an out and out Ranbir Kapoor show. He will make the guys aspire to be like him and ensure that the girls dream of their Mr. Perfect to be as charismatic as he is. Shraddha Kapoor also makes an appearance on screen after a long time and it's a delight to watch her. She is at her ease as an actor, and get's her moments to shine. This is probably the best introductory scene of her career and by the end of TJMM, you wonder why Shraddha isn't seen often on the screen. This can qualify to be her best act till date Anubhav Singh Bassi makes a formidable debut, and is among the surprise packages of the film. He does well not just in comedies but also the emotional moments. His chemistry with Ranbir is heart-warming. Dimple Kapadia also gets a chance to touch upon her comic side and bring in laughter at frequent intervals. Her expressions in the climax are hilarious. Boney Kapoor makes a confident acting debut with Tu Jhoothi Main Makkaar, and get's a character that's closer to his real self.  Watch out for his 'driving dialogue' in the climax – it's sure to bring out laughs. Jatinder Kaur gets some funny one-liners, whereas Inayat Verma has an adorable screen presence. Two cameos come across as the surprise package in the 2nd half.
There's a lot that comes together in Tu Jhoothi Main Makkaar, which makes it a supremely entertaining romantic comedy driven by family emotions. The first half sets the base whereas the conflict beautifully comes together in the second half, with the final 30 minutes in itself warranting a repeat watch. The marriage of modern love story with the Indian family values is what makes Luv Ranjan's story a unique big screen entertainer. Go for it!
ALSO READ: Tu Jhoothi Main Makkaar Box Office Preview: Ranbir, Shraddha film's runtime, screen count, advance booking
About The Author
Film Journalist and trade analyst. With over 9 years of experience, every day, Himesh attempts to be credible with ex...clusive and authentic news breaks in the era of click baits. With an MBA in Finance, he believes numbers bring in an element of objectivity in life. At Pinkvilla, he reports and analyzes the box office collections of feature films and has broken over 1000 exclusive stories. In the past, Himesh has worked with Mumbai Mirror, Catch News, and Bollywood Hungama.
Read more
Top Comments
There are no comments in this article yet. Be first to post one!