Pathaan 6th Saturday Box Office: Shah Rukh Khan led spy drama on course to grow by 100 percent on day 39
Pathaan, led by Shah Rukh Khan, Deepika Padukone and John Abraham will be crossing Baahubali 2 to become the highest Hindi nett grosser in India, tomorrow.
Published on Mar 04, 2023 | 07:30 PM IST | 106.1K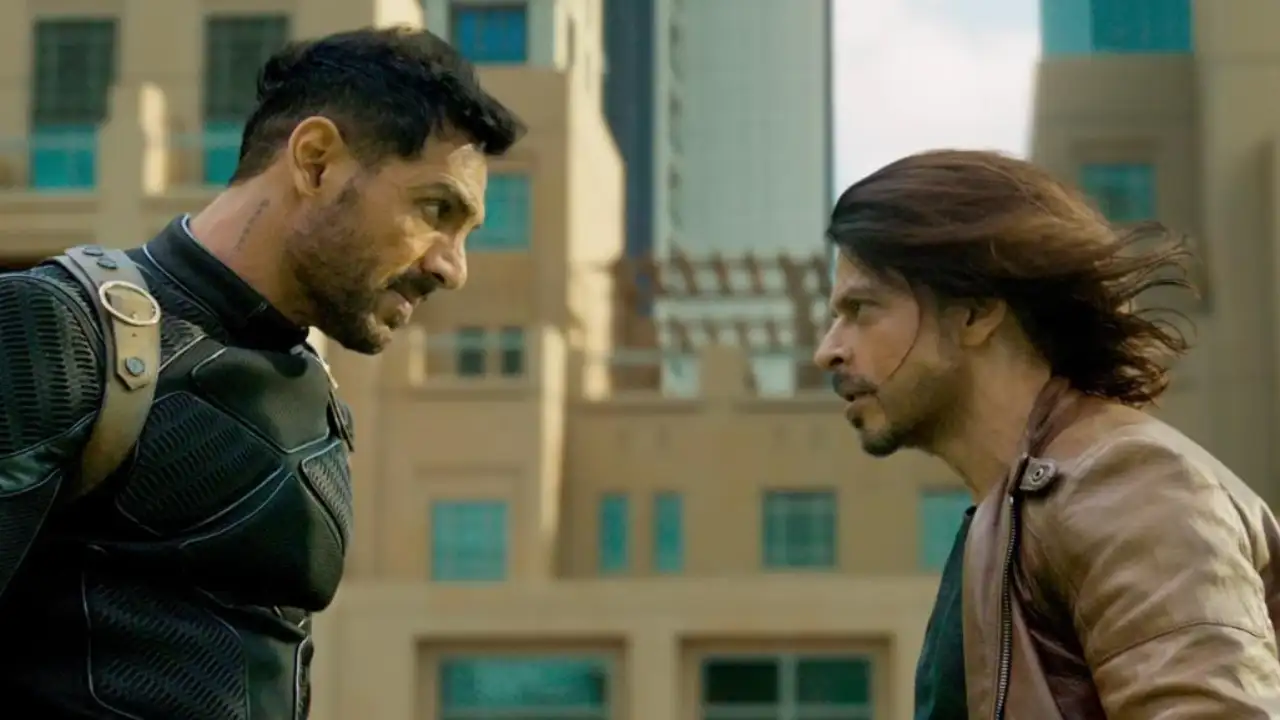 Shah Rukh Khan, Deepika Padukone and John Abraham led Pathaan, directed by Siddharth Anand, is having an absolute dream run at the box office. The film is now the closest it has been to become the highest grossing Indian film for the Hindi nett version in India, after 39 days. It will cross Baahubali 2's Hindi nett total in India, tomorrow, and that will be the first time in over five and a half years that a Hindi film tops the Hindi version film list. With a Rs. 1 crore sixth Friday and a Rs. 2 crore sixth Saturday based on early estimates, the 39 day nett total of Pathaan stands at a massive Rs. 510.30 crores nett. The film still has a lot of steam left and shall keep running in limited shows probably till the Eid release Kisi Ka Bhai Kisi Ki Jaan.
Pathaan Is The Second Highest Grossing Hindi Film For The Dubbed Versions
Pathaan has mustered slightly under Rs 20 crores nett from its dubbed versions, making it the second highest grossing Bollywood film for the dubbed versions, after Brahmastra Part 1: Shiva. Unlike Brahmastra that got majority of its south collections from its dubbed versions, Pathaan did majority of its business down south from the original version. 
Pathaan Is Heading Towards A Full Run Of Around Rs 525 Crores Nett For Its Hindi Version In India
The film is showing very strong legs and in the final run, it is expected to do a business of around Rs 525 crores nett in Hindi and it is unprecedented and unheard of. In gross terms for the Hindi version in India, the film is only behind Baahubali 2 and that's going to be the final scenario too as the gap is too big to cover. Baahubali 2 managed to gross over Rs 700 crores in India and Pathaan is almost three quarters of a century away from Baahubali 2.
Pathaan Has Collected Over Rs 1000 Crores From Its Hindi Version Alone, Worldwide
Again, Pathaan takes the top spot when it comes to the worldwide gross box office collections for the Hindi version as it has eclipsed Rs 1000 crores and is likely to end up doing around Rs 1015 - 1020 crores gross for its Hindi version, worldwide. This will keep the film around 25 percent ahead of Baahubali 2, which did a little more than Rs. 800 crores gross worldwide for its Hindi version. 
It May Take An Established Intellectual Property To Challenge New Box Office Records
Baahubali 2 is truly a landmark film for the Indian Film Industry and it is a film whose records will be reiterated for years to come. Baahubali 2 managed what it managed in Hindi, without much support from the south since it was preferred either in its original version or the regional dubbed version. The all India footfalls stand at a massive 10 crores and of that, over 5 crores have come from the Hindi version. Seeing the trajectory of films doing big business in India, it seems like it will take an established IP to break further records. Indian movie business is going the Hollywood way where big franchises are bigger stars than the big movie stars themselves.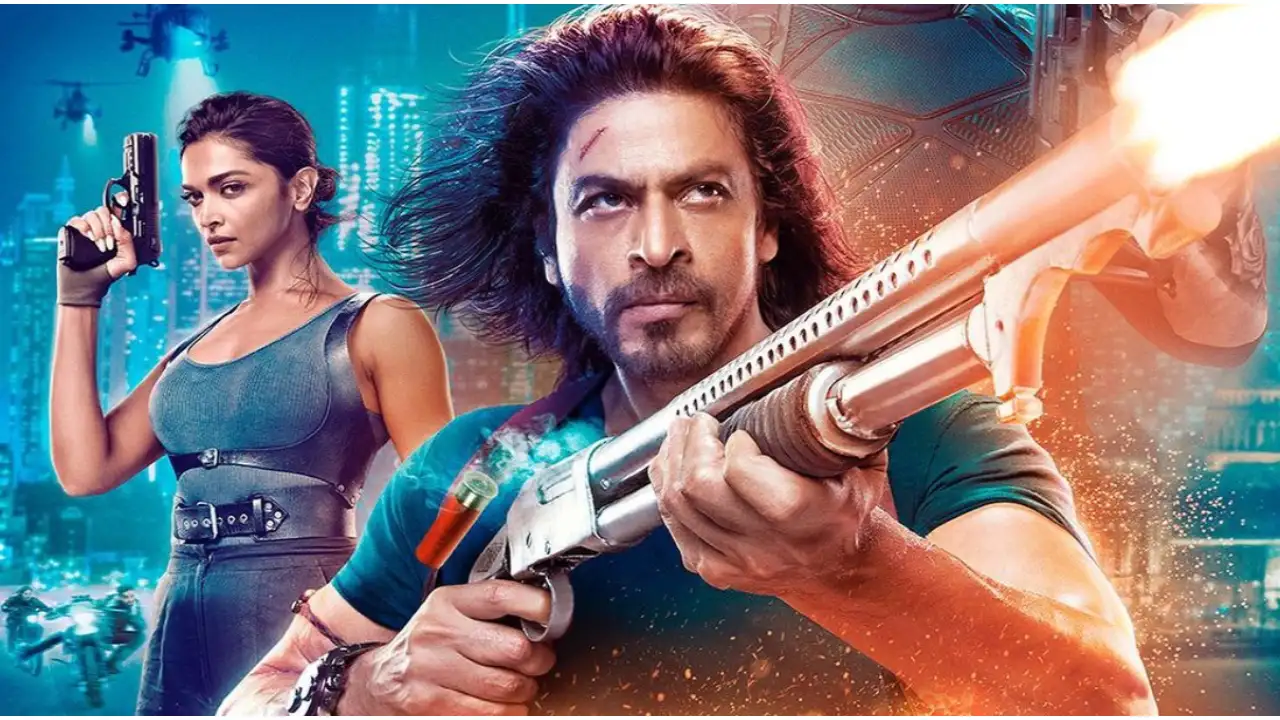 The day-wise nett box office collections of Pathaan are as follows:-
Day 1 - Rs 55 cr
Day 2 - Rs. 68 cr
Day 3 - Rs. 38 cr
Day 4 - Rs. 51.50 cr
Day 5 - Rs. 58.50 cr 
Day 6 - Rs. 25.50 cr
Day 7 - Rs. 21.50 cr
Day 8 - Rs. 17.50 cr
Day 9 - Rs. 15 cr
Day 10 - Rs. 13 cr
Day 11 - Rs 22.5 cr
Day 12 - Rs. 27 cr 
Day 13 - Rs. 8.25 cr
Day 14 - Rs. 7.25 cr
Day 15 - Rs. 6.50 cr
Day 16 - Rs. 5.75 cr
Day 17 - Rs. 5.75 cr
Day 18 - Rs 10.50 cr
Day 19 - Rs 12.50 cr
Day 20 - Rs 4 cr
Day 21 - Rs 5.40 cr
Day 22 - Rs 3.50 cr
Day 23 - Rs 3.20 cr
Day 24 - Rs 2.20 cr
Day 25 - Rs 3.25 cr 
Day 26 - Rs 4.10 cr
Day 27 - Rs 1.20 cr
Day 28 - Rs 1.10 cr
Day 29 - Rs 1.05 cr
Day 30 - Rs 1 cr
Day 31 - Rs 1 cr
Day 32 - Rs 2 cr
Day 33 - Rs 2.40 cr
Day 34 - Rs 80 L
Day 35 - Rs 75 L
Day 36 - Rs 75 L
Day 37 - Rs 75 L
Day 38 - Rs 1 cr
Day 39 - Rs 2 cr
Total = Rs. 510.30 cr nett Hindi after 39 Days
You can watch Pathaan at a theatre near you. Stay tuned to Pinkvilla for more such box office articles.
ALSO READ: Shah Rukh Khan's Pathaan has a HUGE Rs. 650 crores plus recovery, Highest ever for Bollywood beating Dangal
About The Author
A journalist who is perennially hungry for entertainment. Loves tracking and analyzing box office collections of movi...es. Also enjoys studying the functioning of different economic bodies associated with the film industry.
Read more
Top Comments
There are no comments in this article yet. Be first to post one!