Tu Jhoothi Main Makkaar shows its muscle power on Saturday; Headed for a 14 crore plus day 4 at box office
The four day total of this Ranbir Kapoor and Shraddha Kapoor led romantic comedy stands at Rs 47 crore and the film is targeting an opening weekend of Rs 62 crore. Detailed box office report
Updated on Mar 11, 2023 | 09:22 PM IST | 118.9K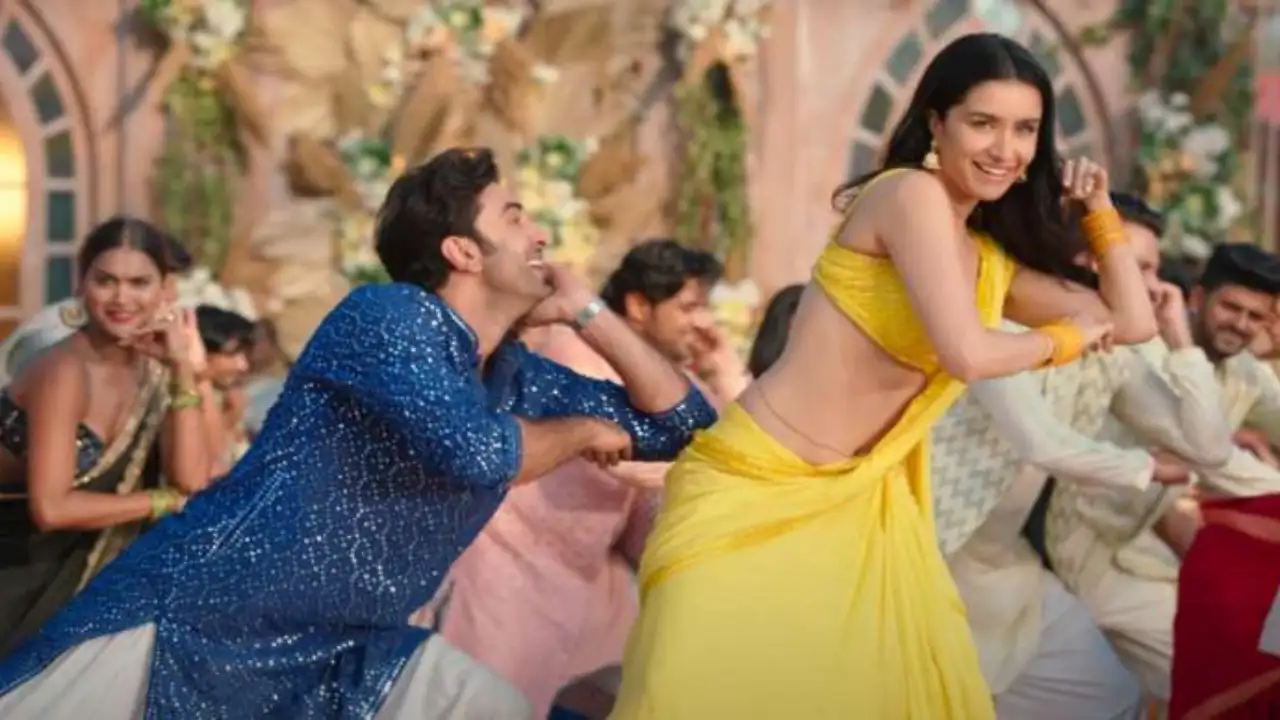 The Ranbir Kapoor and Shraddha Kapoor led romantic comedy, Tu Jhoothi Main Makkaar is showing it's muscle power on Saturday, as the film has shown excellent growth in the centres that matter the most for an urban film. According to early estimates, Tu Jhoothi Main Makkaar is headed for a day in the range of Rs 14 to 15 crore, taking the four-day total in the vicinity of Rs 47 crore. On Saturday till 7.30 PM, the national chains have gone up by 88% and this is expected to consolidate itself to a growth of 65% by the end of day.
Tu Jhoothi Main Makkaar gains big in urban centres
If we have to give an absolute early estimate for Saturday, Tu Jhoothi Main Makkaar is looking at a day in the range of Rs 14.50 crore.  The national chain total at 7.30 PM stands at Rs 7.05 crore, as compared to Rs 3.76 crore on Friday at the same time. The national chains are expected to close around Rs 8.50 crore, which is around 5% more than the Wednesday total of Rs 7.85 crore.  A centre like Rajhans, operating in Gujarat has also gone up on Saturday and this does indicate a positive sign for Tu Jhoothi Main Makkaar. Rajhans on Friday at 4.30 PM stood at Rs 2.60 lakh as compared to Rs 5.15 Lakh on Saturday at the same time. Being a Saturday, the mass belts have gone a little down, and these markets are expected to show some gains on Sunday. The jump in national chains will be around 75 to 80% from Friday, but this would consolidate itself around the 67 to 72% jump depending on the drops in smaller centres.
There is a notion within the industry to pull the film down for varied reasons but the film is showing its muscle and fighting the "in industry negativity" through it's four-day run. Of course, there was a potential for the film to do marginally better, but these are by no means low numbers and a hold on Monday will put the film in a position to hit Rs 125 crore mark by end of it's run.
This same mistake was done by a lot in trade during the Christmas 2021 release, 83 too (including the author), but given how films have fared in post pandemic world, 83 was indeed a film that found some sort of acceptance in a section of audience. Tu Jhoothi Main Makkaar Box Office:
Wednesday: Rs 14.25 crore
Thursday: Rs 9.25 crore
Friday: Rs 9.00 crore
Saturday: Rs 14.50 crore (Early Estimate)
Total: Rs 47 crore
Tu Jhoothi Main Makkaar targets Rs 63 crore weekend
Tu Jhoothi Main Makkaar will hit Rs 63 crore mark by the end of extended weekend, and then it would all boil down to the crucial Monday test. If the film holds above the Rs 5 crore mark, it will be in the race to hit Rs 125 crore in the long run, which would be a decent / reasonable result for a rom-com, more so in the post pandemic world. The costs are on the higher side due to delays in production through the last 3 years, which should have been under control, but, standalone, the weekend numbers so far are still good for a rom-com in the post pandemic world. The run of TJMM makes a statement that the rom-com's still have theatrical potential.
The jump on Saturday is a positive signal as it does indicate some acceptance from a section of audience and if the film consolidates the growth tomorrow too, it will sail through with respectable numbers in long run. In the post pandemic world, the audience reports start impacting the film from evening shows itself and here, TJMM is showing bigger jump on day 4 as compared to what most films did on their second day. All eyes are now on the Sunday and Monday numbers. Stay tuned to Pinkvilla for more updates.
ALSO READ: Tu Jhoothi Main Makkaar Day 1 Box Office: Ranbir, Shraddha film gains momentum; Heads for 14 - 15 crore start
About The Author
Film Journalist and trade analyst. With over 9 years of experience, every day, Himesh attempts to be credible with ex...clusive and authentic news breaks in the era of click baits. With an MBA in Finance, he believes numbers bring in an element of objectivity in life. At Pinkvilla, he reports and analyzes the box office collections of feature films and has broken over 1000 exclusive stories. In the past, Himesh has worked with Mumbai Mirror, Catch News, and Bollywood Hungama.
Read more
Top Comments
There are no comments in this article yet. Be first to post one!