Bigg Boss 16 EXCLUSIVE: Evicted Soundarya Sharma on relationship with Gautam Singh Vig: Don't want to comment
Soundarya Sharma is the latest contestant, who got eliminated from the Salman Khan-led reality show, Bigg Boss 16.
Published on Jan 22, 2023 | 11:51 PM IST | 134.9K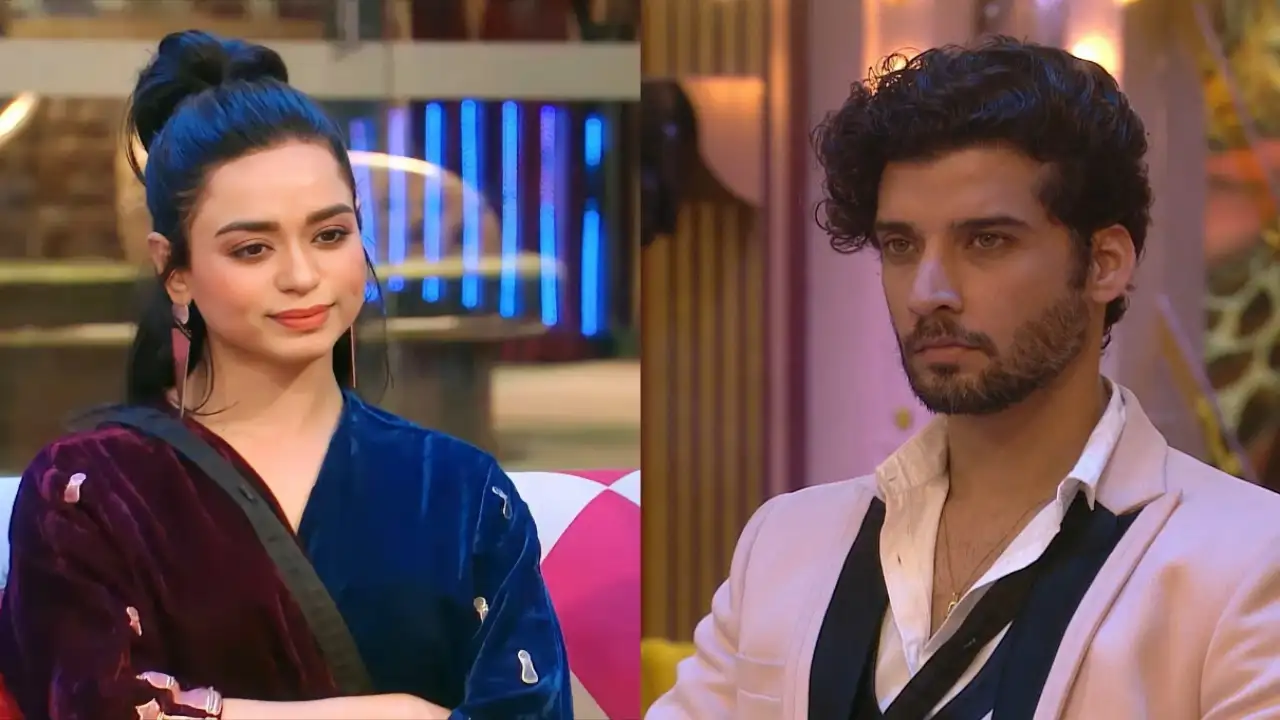 Soundarya Sharma, after getting eliminated from Bigg Boss 16, did an exclusive interview with Pinkvilla, where she opened up about her entire journey. The actress also talked about her organic bond with co-contestant Archana Gautam, her future projects, the first thing she did after stepping out of the house. She also addressed the elephant in the room - her relationship with former contestant Gautam Singh Vig. Read the interview to know more:
Were you expecting your eviction?
Not really today but it's a journey and every journey has to end somewhere. I can't say that I am on top of the world but I am happy about the journey. Only 20 days are left for the finale, and I was more hopeful but it's fine, I am happy with the journey. I have learnt a lot.
What has your learning been throughout this journey?
It has taught me a lot. More than being challenging, it has taught me to be patient and I learned Hindi. In a nutshell, I can say that stones were thrown at me and I am really out building my own castle today, and that has been a good learning experience. 
Are you satisfied with your Bigg Boss 16 journey? Is there something that you think you could have done differently?
I don't know if I am satisfied or not satisfied, it's too early for me to judge and come to a conclusion but it has been quite enriching. Today, if I sit and look back, I definitely feel there I was having trust issues whenever it came to emotional involvement. I could have dealt with it very differently but it wasn't planned. I am a spontaneous and impulsive person, whether it's friendship, equations, or acquaintances. I used to rework them but I have learned from my experiences. 
How would you describe your equation with Archana Gautam?
It was very pure. Surprisingly, Archana Gautam and I became very good friends, and her dialogue 'Maar Maarke Mor Bana Dungi' started when she had her first fight with me. Everybody was against her but I relate with her because my roots are also in Uttar Pradesh, and she's from Meerut. I have never been there but I have learnt the tonality and learned a few things. Her topics would always be very correct and I got that friend in her and even she became very attached to me. I felt that nobody listened to her and therefore I developed a soft spot for her. I am genuinely fond of her. Not everybody is in the house but she is a sweet girl.
Who do you think is less deserving and is still in the house and should have gone out instead of you?
(Laughs) The most deserving one is giving you an interview right now. I will not question who is less deserving and to each their own. I just wish them good luck and they should do well now. So, I can't say anything about it right now.
What is the first thing that you did after reaching home?
I was just lying on the floor and looking at the fan, and then I just cuddled and hugged my dog. Then I hugged my papa and I cried endlessly because I realised that I missed this ambience so much. I screamed and felt that I'd come to Pluto.
Will you meet Gautam Singh Vig? Do you wish to continue the relationship you'll had inside the house?
I will wait and see how it goes now, and I will see what he holds for me, and what he talks about because I also have a lot of things about it. The communication gap is massive, it is double the time that he stayed inside the house. It's the 17th week now, I got evicted in the 16th week and he was out in the 7th week. So, it has been pretty long. Let's see how it goes. I don't want to comment or say anything that looks fancy right now because things are very different when you are inside the house, and emotions play really high on you. Your emotions are in the purest and highest form. It's quite an investment for me. Let's see how it goes now.
Who do you see as the winner?
The winner is sitting and talking to you right now because we all are winners. At times, Virat Kohli also gets out at no ball or just makes 10 runs. I pray the best one wins but I would want my friend Archana to be there because she's real.
A contestant, you feel interferes in everyone's fights and should stop doing that?
You all know my answer but everyone interferes in everyone's fights because everyone wants belongingness. They feel that if they don't do that then they will be tagged as someone who just follows the herd, plays on the back foot and is rather maintaining friendships. Priyanka (Chahar Choudhary) has done a Ph.D. in this but to an extent, even Shiv (Thakare) does that. Everyone manages to find something or the other in this game. I am not going to blame them or say anything negative because I don't feel there's anything negative. When you are in the house, those fights are the only things in the name of involvement.
What plans do you have in mind to do now?
I received a call this morning, and have a few scripts to read and a few meetings. I am also planning a vacation with my parents because I want to change my energy and vibe first. After that, God is kind, and I will get back to work. I am really grateful to Bigg Boss because I haven't met anyone yet but I am already feeling that vibe that a lot has changed and a lot will change.
Ekta Kapoor is entering the house as a guest and will be picking up a female contestant for her web show and a female contestant for a film. Do you feel sad that this will be happening just a day after your elimination?
I don't feel sad. In fact, I have worked with Ekta ma'am in a web show as a lead, which is yet to be released. We shot that in 2022. My patchwork of 4-5 days is still left and it's a fantastic role, which is based on true events. I think I will be meeting Ekta ma'am very soon. I am very hopeful. It's said that 'Jiska daana paani jahaan tak likha hai, uska vahin hoga.'
Do you sense favouritism?
It's Bigg Boss' house and everything is the same for everyone. Different people from different walks of life are there on the show on the same pedestal. There is definitely groupism, which leads to favouritism. The Bigg Boss platform is amazing and it's very commendable how the show is being conducted. I have lived that life and returned. In between, I did feel that 1-2 people are faces of Colors channel and I am from the web background and I don't have a fanbase. Whatever love that I have received is through Bigg Boss but I feel that everything and everyone becomes equal because their real personality, knowingly or unknowingly, comes out on the show. There are a few contestants' whose personalities are yet to come out and a few of the contestants showed their real personality after 1.5 months. If you stay inside the house with the intention of playing the game then you'll never be able to live or enjoy it. Yes, to survive inside the Bigg Boss house, you need a support system. There's a mandali where Priyanka got Ankit (Gupta) from the outside. It's difficult for those 16 contestants to stay alone inside the house and there's nothing wrong with that.
ALSO READ: Bigg Boss 16: Astrologer asks Priyanka Chahar Choudhary to move on- 'Can't see your future with Ankit Gupta'
About The Author
With 7 years of experience in entertainment and a bachelor's degree in mass media, Gayatri thrives to be better a...t her work by applying hardcore journalistic ethics. In the past, she has worked with Mid-day, Deccan Chronicle, and The Times of India. Her motto is to provide meaty and first-hand exclusive content straight from the lives of starry television celebrities.
Read more
Top Comments
There are no comments in this article yet. Be first to post one!