105 Pick-up Lines for Him to Make Your Guy Blush
Don't be hesitant in making the first move and engage in a conversation with your crush. Take cues from these pick-up lines for him to break the ice, and grab a date!
Updated on Feb 01, 2023 | 11:12 AM IST | 876.6K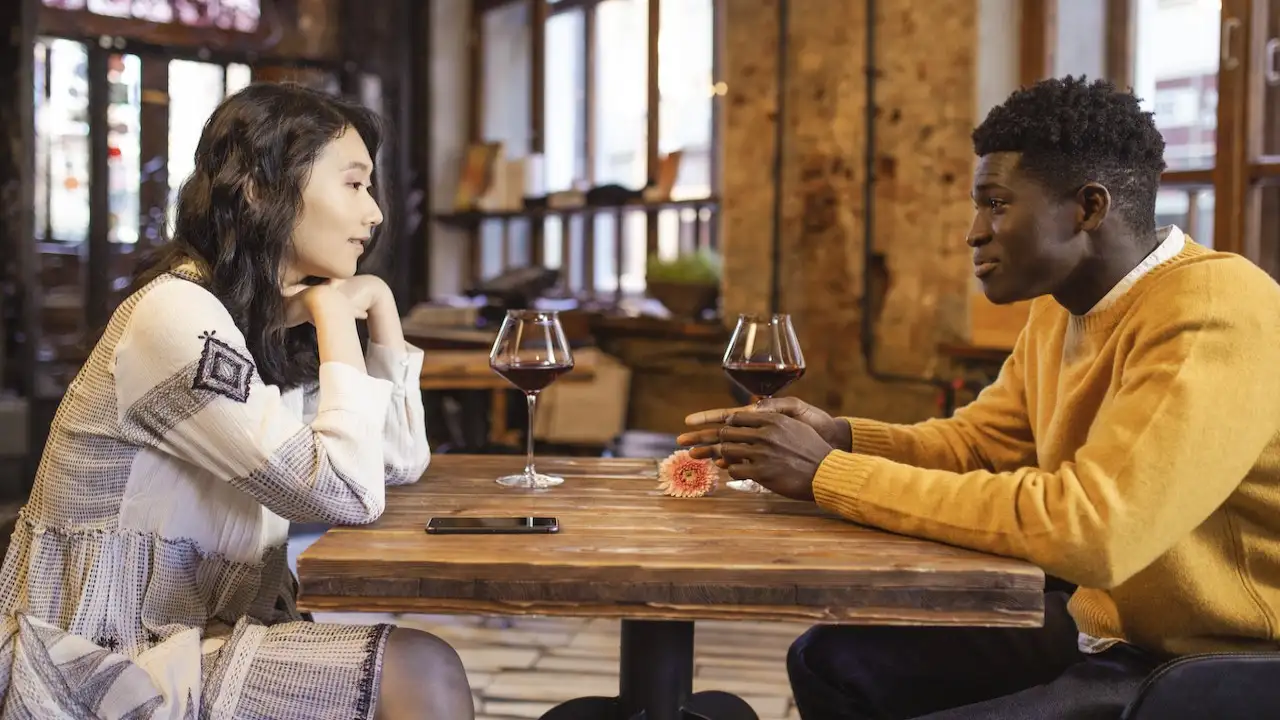 Pick-up lines are best for starting a conversation with the intent to engage a person for dating. They allow you to show your funny and witty side and are a great way to impress someone. Although pick-up lines for him are mostly used to impress someone for a date, they can also be used by people in long-term relationships. When using these pick-up lines for the first time, make sure not to sound unconfident because that can make you lose all your charm. Be funny and sophisticated to impress your crush with subtlety. Also, remember that there is no age to flirt with your partner, so whether you are in your 30s or 40s, make your partner's cheeks red with flirty pick-up lines. 
1. My mobile phone has stopped working because it doesn't have your phone number.
2. Are you sure you are not a magnet? Because I am getting attracted to you!
3. Only two things can wake up my senses: you and coffee! 
4. I used to think love at first sight is a theory until I saw you. 
5. You make my heart skip a beat!
6. Hey, please hold me! I might fall for you any moment!
7. Do you have an extra heart? Because mine just got stolen!
8. You are so sweet that you can give direct competition to Hershey's. 
9. Do you have GPS on your cell phone? I am going to get lost in your striking eyes!
10. If you were a song, you would be the best track on my smartphone!
11. I am pretty; you are cute. Together we can make a pretty cute couple!
12. Are you a wi-fi? Because I feel a strong connection with you!
13. If I had to tell you how gorgeous you are, days and nights would pass by.
14. You are a king that reigns in my heart!
15. My heart is locked, and only you have the key to it!
16. If you don't believe in love at first sight, I can walk past you again!
17. I am no thief, but I can steal your heart!
18. I was going to say something cute, but your dashing looks have made me speechless. 
19. Even though I don't drink, you intoxicate me!
20. All the beauty of this world is in your eyes!
21. I am happy I have life insurance because your attractiveness has made my heart stop!
22. I am not an artist, but you are my muse!
23. This might sound cheesy, but I really think you are great. 
24. I don't know how to click photos, but I can picture us together!
25. Did you hurt yourself when you fell from heaven?
26. Are you tired? I can hold your hands for you!
27. You add sparkle to my life just like glitter!
28. You are so beautiful! The sun, the stars, and the universe must be jealous of you!
29. I might go to jail because I have stolen your heart.
30. The safest place for my heart is your soul. 
31. Would you like to have a cup of coffee with me because I like you a latte!
32. I think God listened to my prayers! Here's my prince charming standing right in front of me!
33. If you were a fruit, you would be a 'fine-apple!' 
34. Oh wait, there is something on your face! It's a lot of cuteness!
35. Please don't look so good. I can't focus on my work!
36. How does it feel to be the most beautiful person on this Earth?
37. Are you cold? You can use me as a blanket to warm you up!
38. I need to call God right now and inform one of the angels from heaven is missing!
39. You shine better than a star!
40. Can I follow you on Instagram? My parents have always told me to follow my dreams!
Hilarious Pick-up Lines for Him
41. If you were a triangle you would have been an acute one. 
42. Are you feeling exhausted? I am asking because you keep running on my mind all day!
43. I need a map because I get lost in your eyes every single time I see you!
44. Are you a criminal? It's not legal to be this adorable!
45. I want to live in your shoes so I can be with you every step!
46. I love playing hide and seek but won't play with you. That's because it is impossible to find a treasure like you!
47. Are you an electrician? Because you light up my world!
48. For me, happiness doesn't start with an 'h'; it starts with 'u.'
49. I used to think Disneyland was the most magical place on Earth, but everything changed when I stood next to you!
50. Are you Google? Because you have everything I have been searching for!
Witty Pick-up Lines for Him
51. Here's a secret - Your name is saved in my phone as 'future.'
52. You can call me a vaccine because I can do anything to keep you safe!
53. Are you a Bluetooth device? You pair well with me!
54. You must be the guy who's going to buy me a drink tonight!
55. Are you a soccer player? Because you are a keeper!
56. Boy, are you a sunscreen? Because I need you every day!
57. Let's play a game - flip a coin! Head, I am yours, and tails, you are mine!
58. I know aliens are real because you just abducted my heart!
59. I need a parachute because I am falling for you!
60. Which sweetener do you like? Honey or dates with me?
Hot Pick-up Lines for Him
61. Are you Alexa? Because I want to request a few things from you later tonight!
62. I am in love with your clothes! They match perfectly with my bedsheets!
63. Are you free tonight? Because I want to rock your world!
64. Let me buy you dinner, and I'll be your dessert!
Dirty Pick-up Lines for Him
65. Your clothes are made of 100% boyfriend material! They look awesome on you!
66. Can I share your bed tonight? Mine is broken!
67. Your driving license should be canceled because you drive me crazy!
68. You look cold. Let me warm you up!
69. How can you be so hot and attractive and still manage to survive being arrested?
70. My place or yours?
Cute Flirty Pick-up Lines for Him
71. Are you sure you are not a keyboard? Because you are my type!
72. You must be a thesaurus because you add meaning to my life!
73. Please grab my arm so I can tell my friends an angel has touched me!
74. You are so sweet; I might get a toothache!
75. Are you sure you are not an artist? Because you draw me in so easily!
76. Do you have a first-aid kit? Because I hurt my knees falling head over heels in love with you!
77. I wasn't sure what I wanted in a man until I met you.
78. Hi, there! Do the angels in heaven miss you since you are here?
79. You and my future partner look alike!
80. Your cuteness can make anyone envy you!
Smooth Pick-up Lines for Him to Use over Text
81. I think there is something wrong with my eyes. Because they sparkle with joy everytime I think of you. 
82. Hello, my name is Chance. Do I have one with you?
83. Hi, I have an excellent name for you. It's 'mine.' 
84. In case you are wondering, I am single. 
85. Let me make your heart tingle!
86. Can we skip the small talk and start flirting?
87. I am making the first move by sending you a text. I hope you make the next move by meeting with me tomorrow. 
88. I am not a genie, but I can fulfill all your wishes.
89. Four plus four equals eight, and you plus I equals fate!
90.You are the man of my dreams!
Sweet Pick-up Lines for Him
91. Please let me tie your shoes because I don't want you to fall in love with anyone else. 
92. You are so sweet that you can give me diabetes!
93. If nothing lasts forever, will you be my nothing?
94. Bees must love you a lot because you are as sweet as honey.
95. I am not a hoarder, but I wish to keep you as mine forever!
96. I don't go anywhere without my phone in my hands. But right now, I want to hold you!
97. You don't need any key to drive me crazy!
98. Are you a broom? Because you just swept me off my feet!
99. Remember me? No? Oh, that's because I met you in my dreams!
100. If you were a vegetable, you would be a cute cucumber!
Cowboy Pick-up Lines for Him
101. Apart from looking handsome, what else is your hobby?
102. Are you a good kisser? I might let you join my gang!
103. I have got to save a horse and ride a cowboy!
104.You & I, country music, pickup trucks, cowboy boots - life's set!
105. Man, I really hope to foal-fill all your needs.
Unique Pick-up Lines for Him
106. I thought this was a cafe, but I must have stepped into a museum because you are a great work of art!
107. I am not able to buy a drink at the bar, because you keep distracting me with your handsomeness!
108. You are hotter than the bottom of my laptop!
109. I should take rent from you because you have been spending so much time in my head. 
110. Are you made of grapes? Because you are fine as wine!
Conclusion
It's 2023 and women don't wait for men to ask them out in this modern era! If you are ogling at someone and want to make a first move, don't hesitate to use pick-up lines for him. You can be cute, sexy, or cheesy, depending on the situation, and make the guy swoon all over you. Confidence is a turn-on for a majority of people, so don't be shy. Have a smile on your face and use the pick-up lines to flirt with a guy. Be straightforward in your approach, and grab the date!
ALSO READ: 61 Valentine's Day Pick-Up Lines to Woo Your Crush
About The Author
Aastha is a certified Relationship coach and she strives to help those who seek expert advice on relationships. As a ...professional writer, Aastha believes that her content will create a positive change in the lives of people who search solutions for to their everyday problems on the internet. Leaning towards a positive and joyful approach is what makes her content more relatable to her readers.
Read more
Top Comments
There are no comments in this article yet. Be first to post one!