EXCLUSIVE: Samantha, Sushruthi Krishna's Saaki new collection, launching brand at onset of pandemic and more
In an exclusive chat, Sushruthi Krishna opened up about teaming with Samantha, experience of running a fashion label and also shared the challenges they faced during pandemic due to supply chain halt
Updated on Jun 05, 2023 | 12:05 PM IST | 523.2K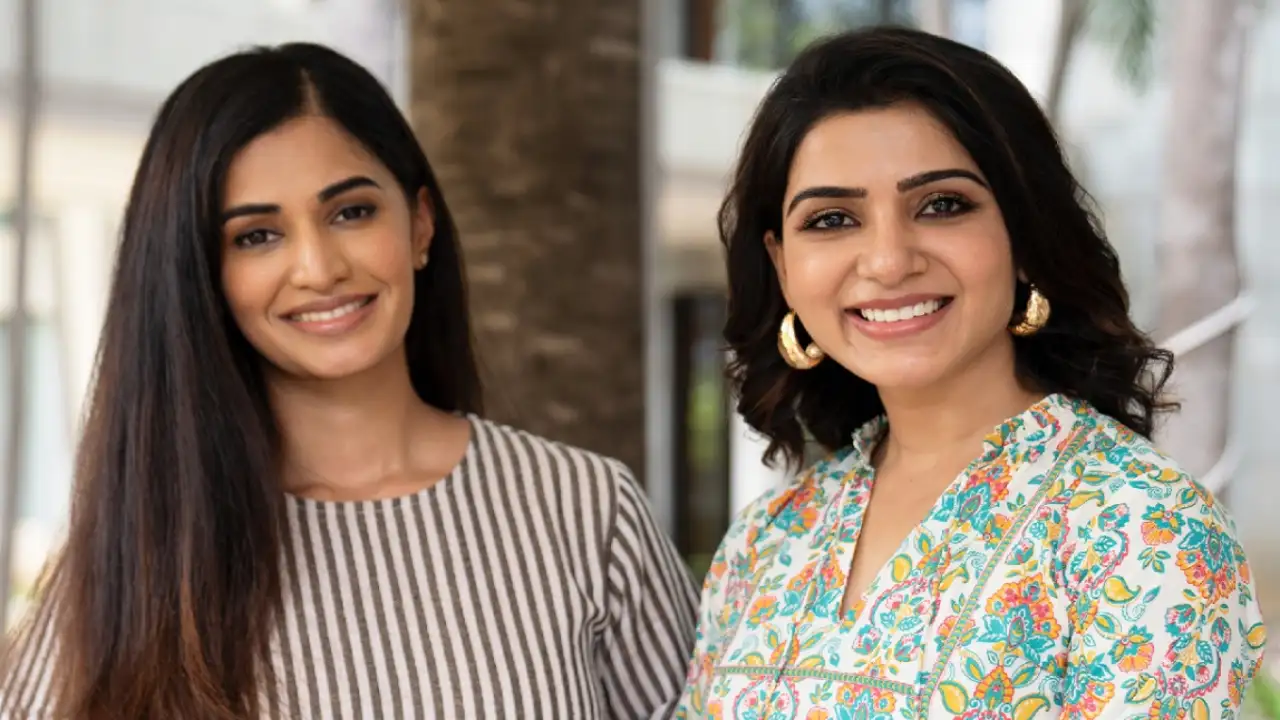 Samantha, as we all know is now an entrepreneur as well. The Family Man 2 actress started her fashion label called Saaki in 2020 with Sushruthi Krishna, a Miss India 2016 1st runner-up. In an exclusive chat with Pinkvilla, Sushruthi Krishna opened up about teaming with Samantha Ruth Prabhu, the challenges faced to keep the fashion label up and running in getting their factories to deliver goods on time due to the supply chain halt during the pandemic, and launching a new collection for the wedding season. 
"For both, me and Samantha, the journey has been like this, we both are from a humble background and we have access to fashion because of the platforms that came our way-films for her and Miss India for me. But I think, back from earlier parts of our life, we would ideally look up to this kind of designer clothes. So, we thought this is the way for both of us to connect and to pin for the consumers who would love this kind of fashion and also at an affordable price. Also, I think, with a fashion sensibility point of view, it is feminine and still, both of us have an edgy take," said Sushruthi on why she and Sam decided to collaborate. 
Together, they faced challenges as Saaki was being launched just when the pandemic hit the world. More challenging to coordinate the launch since Sushruthi and Samantha were working from 2 cities. (Sushruthi from Bangalore and Samantha from Hyderabad). "When we gave the whole project the green light, it was during the March of 2020 just when Covid started, and one of the challenges we faced was getting goods delivered on time due to a supply chain halt. Samantha was in Hyderabad and the entire team was set in Bangalore, so logistically it was very different for us to handle but we managed to navigate things between those windows," revealed Sushruthi Krishna, who runs the brand.
Samantha was in Hyderabad and the entire team was set in Bangalore, so logistically it was very different for us to handle but we managed to navigate things...
Sushruthi Krishna
Since Samantha is busy with the shooting of her films and ADs, they together decided to divide the work accordingly and made a deal right from the start of their fashion label. "Given the fact, she is a lot more occupied with films, and commercials, that was the conscious choice even when we got into partnership saying that she will have a lot of time and liberty to continue to do that and I will handle the brand operation. The show runs from here (Bangalore) because to scale a brand you need many layers of work. More and so that works through me. When we ideat fashion and new collections, we do it with her (Samantha)," she said adding she is still rooted in culture. 
Her first venture, which she launched at the age of 23 did not succeed. She then found a partnership with Samantha Ruth Prabhu, and together they marked the beginning of Saaki. "I have done this before as well, launched my brand after my Miss India  2017 but I couldn't scale it. Though I saw some success. So, I have had that experience of what works and what one needs to be careful of. Beyond that, the team is extremely important. We have a very solid team that comes from a lot of experience in brand building on large scale projects because data plays a huge role to decide the success and failure of any project in this business," shares Sushruthi Krishna. 
Adding more to the collection, she reveals, "This wedding season, we are getting more into friends of the brides or sisters of the brides' collection. During this whole bridesmaid phase, we are introducing lehengas, a lot more party-wear dresses, and chiffon saree that are easy to drape. A collection that our generation would want to wear instead of heavy silk sarees." 
Do you think we still have miles to go before we have an equal representation of women entrepreneurs in the business world? To this, she replied, "I think what kind of ecosystem you need women to be in the business is very different. Women play a lot more roles in society and in the workplace and the business environment caters to building that. I think these days, the business world is more favourable to men, we need to change the term in the way we operate. Even with Saaki, we aim at doing this because 70 percent of people working are women."
Also Read| Rashmika Mandanna's multicoloured sari came with a sexy strappy blouse that's perfect for Diwali party 
About The Author
A post-graduate in journalism and an alumna of KC College, Khushboo, a Mumbai-based writer has a keen interest in
...
Read more
Top Comments
There are no comments in this article yet. Be first to post one!