Watched Pathaan in theatres? Here's what more you can watch in the extended cut of this Shah Rukh Khan starrer on OTT
Shah Rukh Khan, Deepika Padukone and John Abraham's Pathaan, directed by Siddharth Anand, has finally released digitally and can be watched on the movie's respective OTT platform.
Updated on Mar 22, 2023 | 10:13 AM IST | 236.7K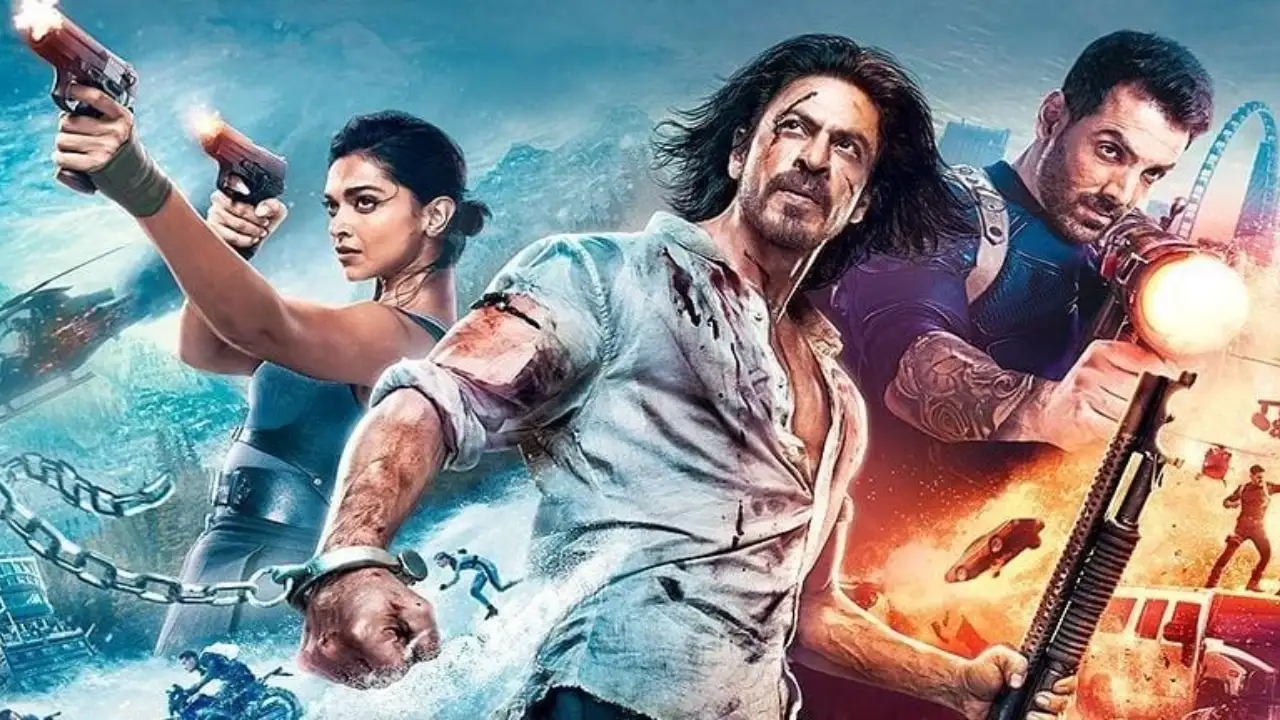 After a glorious run at the box office, Shah Rukh Khan, Deepika Padukone and John Abraham's Pathaan, directed by Siddharth Anand, has finally dropped digitally. The espionage thriller marked the comeback of Shah Rukh Khan on the big screen after over 4 years and it certainly was worth the wait as it managed to win many hearts in the course of its phenomenal theatrical journey. The version of the film that released digitally has a couple of minutes of exclusive footage that wasn't there in the film's theatrical cut. The extended cut consists of a few scenes which were integral from the story perspective but were chopped for a tighter run time.
Pathaan's Digital Version Has 2 Minutes Of Exclusive Footage Which Wasn't Part Of The Theatrical Version
Most readers interested to know about the additional scenes of Pathaan are the ones who may have caught the film theatrically. Those who haven't watched the film in theatres don't really have to worry as their very first watch digitally will include all the exclusive scenes that we will be talking about, later on in this article. The rest of the article will have a few SPOILERS and readers can read it at their very own discretion.
Scenes From Pathaan's Extended Cut
The extended cut of Pathaan consists of three very vital scenes. Each of the scene either takes the story of the film forward or acts as a justification for the decisions that the characters took, in the movie.
1. The scene, right after Pathaan's arrest in Russia
Pathaan gets caught in Russia when he tries to break into the vault that has 'Rakhtbeej', a virus which John Abraham's character Jim is going to use, to mutate a stronger virus that poses a threat to mankind. Pathaan is arrested in the Black Prison due to his unlawful act of stealing the virus sample. He is tortured by Russian jailers and officials who try hard to get Pathaan to blurt out vital details. Pathaan keeps his calm and doesn't share a single detail. The scene shows how capable Pathaan is to handle extreme pain. It also shows that he has a playful side to him, even in the deadliest of situations.
2. The scene, right after Pathaan knows about what Rakhtbeej is
Team JOCR gets information about Rubai's (Deepika Padukone's character) whereabouts, through a CCTV footage at a train station in Paris. Pathaan follows Rubai to Paris and points a gun at her, right when he gets hold of her. Rubai asks Pathaan if he wants to know about what Rakhtbeej is. Next, Rubai briefs Pathaan about what Rakhtbeej is. Pathaan has his apprehensions because he was caught during the Russian heist, only due to her. Rubai assures that she wants to mend things and she too doesn't want to be responsible for the death of civilians. Pathaan returns to the headquarters and briefs his team about how they will break into the lab where the virus is being mutated. The scene is shot very stylishly and Shah Rukh Khan in his long hair looks a million bucks. In this scene, it is also shown how good a rapport Pathaan shares with his team and how ready they are to take any immediate action, if and when required.
3. Rubai's Interrogation Scene
Rubai's head crashes with an iceberg after a chase sequence on the ice. She drowns with a Rakhtbeej in her hands. Pathaan dives in the water to save Rubai and to get hold of the Rakhtbeej. He returns to the lab with Rubai and the Rakhtbeej. Colonel Luthra asks Pathaan for the Rakhtbeej and orders local police forces to take Rubai into custody for interrogation purposes. In the interrogation, Rubai reveals that no one knows about Jim's plans and that he always has a backup plan in mind in case things don't go the way he has planned them to go. This scene shows Rubai's vulnerability and honesty.
Watch Pathaan Digitally
Apart from the additional scenes listed above, a few camera shots in the Dubai chase sequences have also been added. They don't add much to the runtime of the film. The action-packed thriller drama can be watched on its respective digital platform, without breaks and interruptions. Which is your favourite part from Pathaan?
About The Author
A journalist who is perennially hungry for entertainment. Loves tracking and analyzing box office collections of movi...es. Also enjoys studying the functioning of different economic bodies associated with the film industry.
Read more
Top Comments
There are no comments in this article yet. Be first to post one!