10 Best Bollywood cricket movies of all time: Chain Kulii Ki Main Kulii, Iqbaal to Lagaan
As the ICC World Cup approaches, it's an ideal time to indulge in some cricket-themed films. Explore our curated list of the best Bollywood cricket movies from Lagaan, Iqbal, Jersey, to Shabash Mithu.
Updated on Nov 20, 2023 | 12:36 PM IST | 55.9K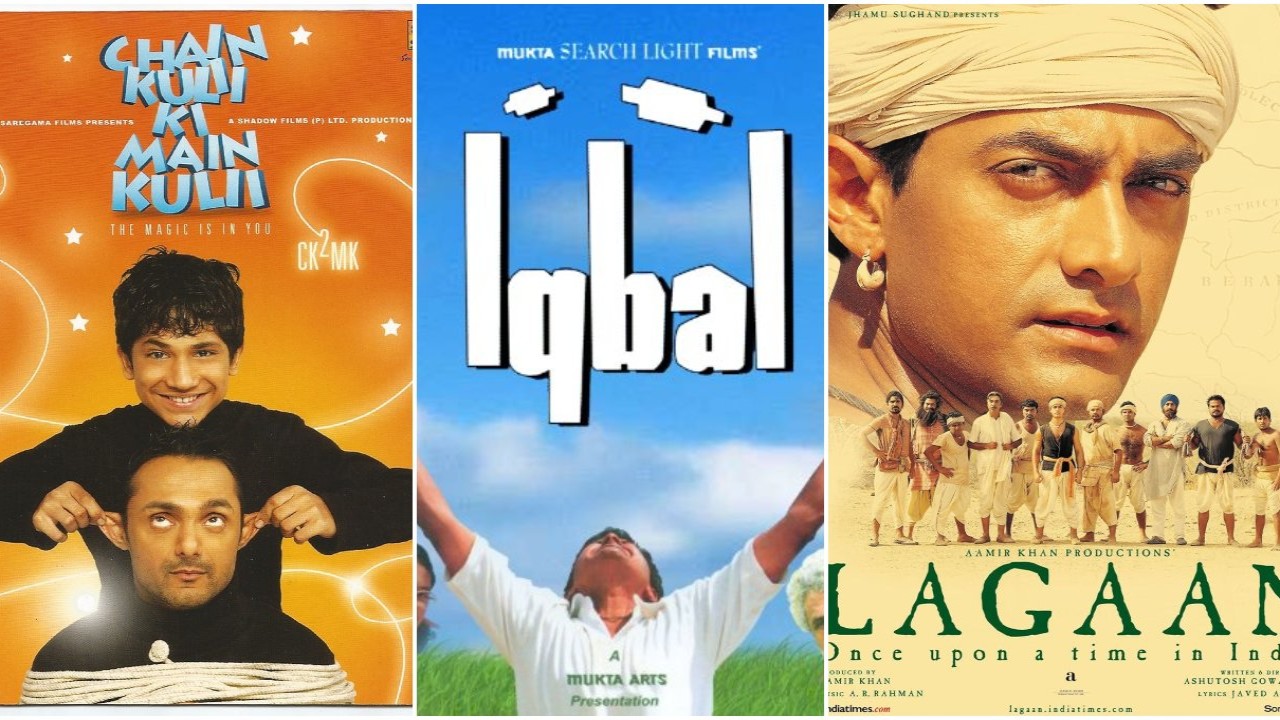 In cricket-loving India, Bollywood cricket movies go beyond mere entertainment; they embody a revered emotion resonating with the fervor of an India vs. Pakistan ICC World Cup match. These films, with their inspirational plots and gripping underdog narratives, consistently captivate audiences. Today, we bring you a curated list of the top 10 cricket-based Bollywood films, each encapsulating the spirit, camaraderie, and deep love for the game.
10 Must-watch Indian Movies on Cricket for every enthusiastic fan of the game
1. Shabaash Mithu (2022)
Shabaash Mithu is a biopic that delves into the life and hurdles overcome by Mithali Raj, the accomplished Indian cricketer and former captain of the national women's cricket team. The narrative intricately traces the pivotal moments in her journey through the world of women's cricket, portraying both the challenges she faced and the exhilarating moments of her rise in the sport.
2. Jersey (2022)
Jersey is the Hindi adaptation of its 2019 Telugu counterpart featuring South superstar Nani. It unfolds the tale of a retired cricketer grappling with financial turmoil. Driven by his son's dream of possessing a revered cricket jersey, he embarks on an extraordinary comeback to the sport. This heartwarming narrative underscores the potency of dreams, the significance of second chances, and the profound lengths one can go to for their family. A truly endearing watch!
3. Kaun Pravin Tambe? (2022)
Kaun Pravin Tambe? is one of the best cricket based Bollywood films that unfolds the life of Pravin Tambe, a leg-spinner who entered the Indian Premier League at the age of 41. This heartwarming movie acts as a poignant reminder that the pursuit of one's goals knows no age limits. A compelling choice for cricket enthusiasts and those inspired by tales of determination, Kaun Pravin Tambe? guarantees a lasting impact, resonating with viewers well beyond the end credits.
4. 83 (2021)
Many regard 83 as one of the best cricket films of Indian cinema, and rightly so. It stands as an exhilarating biographical sports film, plunging audiences into the victorious odyssey of the Indian national cricket team during the 1983 Cricket World Cup. This cinematic gem revitalizes a world that had lost faith in Team India, only to witness an incredible turnaround on the cricket field. A saga of resilience, steadfast determination, and an unshakeable belief in the seemingly impossible, 83 enthralls viewers with its compelling narrative of grit and glory.
5. Sachin: A Billion Dreams (2017)
Sachin: A Billion Dreams is a Bollywood film/documentary that chronicles the life of Sachin Tendulkar, the iconic Indian cricketer. Featuring Sachin Tendulkar as the narrator, the film traces his remarkable journey from a young boy to becoming one of the greatest cricketers in history.
6. M.S. Dhoni: The Untold Story
M.S. Dhoni: The Untold Story is a compelling biopic in the genre of Indian movies on cricket. It traces the remarkable journey of Captain Cool, Mahendra Singh Dhoni, portrayed by the late Sushant Singh Rajput. From a budding cricketer in Ranchi to the triumphant leader of the Indian Cricket Team, the film honors Dhoni's life, love, and unwavering determination. The adrenaline-pumping ICC Cricket World Cup Final at Mumbai's Wankhede Stadium takes center stage, showcasing Sushant's brilliant portrayal.
7. Azhar (2016)
Azhar explores the life of Mohammad Azharuddin, the ex-captain of the Indian cricket team. Regarded as one of the best Bollywood cricket movies, it offers a genuine portrayal of a professional cricketer's life, shedding light on the intricacies and challenges inherent in the journey.
8. Kai Po Che (2013)
Derived from Chetan Bhagat's 2008 novel The 3 Mistakes of My Life, Kai Po Che narrates the tale of three friends who establish a cricket academy for aspiring players. Amidst an earthquake, political instability, and communal riots, they strive to realize their ambitions. The film delves into themes of friendship, ambition, and betrayal, offering a compelling choice for those who enjoy a blend of drama and sports.
9. Ferrari Ki Sawaari (2012)
Ferrari Ki Sawaari is a heartwarming and light-hearted Bollywood cricket film. It follows Rusy, a man who goes to great lengths to fulfill his son's dream of playing at Lord's Cricket Ground, including stealing a Ferrari. The story takes a delightful turn when they realize the stolen car belongs to none other than cricketing legend Sachin Tendulkar.
10. Patiala House (2011)
Patiala House unfolds as a family drama centered on Gattu, who passionately embraces cricket despite his father's disdain for the sport. When he earns a spot on an English cricket team, Gattu faces a crucial decision between pursuing his dreams and honoring his father's wishes.
11. Dil Bole Hadipaa! (2009)
Dil Bole Hadippa! is a romantic drama set against the backdrop of cricket. The story revolves around Veera, a cricket enthusiast from Punjab, who aspires to join the men's cricket team for the World Cup. In order to pursue her dream, she disguises herself as a man and becomes part of the team, all while unexpectedly falling in love with the coach, Rohan.
12. Victory (2009)
Victory is the ultimate cricket fan's dream movie, featuring a squad of cricket legends—Allan Border, Tony Greig, Mohinder Amarnath, Brett Lee, Mike Hussey, Smith, and many more. The story follows Vijay Shekhawat, a dude who's all about making it big in the Indian cricket team. He messes up big time with his overconfidence but decides to bounce back and work his way back into the game.
13. Chain Kulii Ki Main Kulii (2007)
Chain Kulii Ki Main Kulii is this cool Bollywood cricket flick about a 13-year-old cricket fanatic named Karan. He's all about Kapil Dev's epic 175 not out in the 1983 World Cup. And guess what? He lucks out and gets his hands on the very bat Kapil used. This stroke of luck turns Karan into the youngest cricketer to represent the country. But here's the twist: just before the final match, his magic bat mysteriously disappears, and things get a bit messy.
14. Iqbal (2005)
Iqbal stands out as one of the best cricket movies of Indian cinema. The film chronicles the journey of Iqbal, a deaf-mute individual with grand aspirations of achieving cricket stardom. Moving from casual backyard cricket to seeking guidance from a former cricketer grappling with personal challenges, the narrative delves into profound themes such as poverty and family dynamics.
15. Lagaan (2001)
No list of Bollywood cricket movies is complete without Lagaan. The story shows a village team's fight against the British to beat an oppressive tax system, reflecting India's spirit during the colonial era. Lagaan also mirrors cricket's history in India, embodying determination, unity, and triumph against all odds.
ALSO READ: Bollywood movies to ease pain of a tough breakup: From Jab We Met, Tu Jhooti Mai Makkaar to Dear Zindagi
FAQs
Which bollywood movie is based on cricketers?
Films such as Azhar, M.S. Dhoni: The Untold Story, Sachin: A Billion Dreams, Kaun Pravin Tambe, 83, and numerous others draw inspiration from the real-life stories of cricket players.
---
Which was the first Bollywood cricket movie?
In 1959, Bollywood saw its first cricket-themed film directed by Subodh Mukherjee. Titled Love Marriage, the movie features Dev Anand and Mala Sinha in the lead roles.
---
What is the name of the girl cricket movie?
Shabaash Mithu is centered around Mithali Raj, the accomplished Indian cricketer and former captain of the national women's cricket team. Chakda 'Xpress is an upcoming cricket movie based on Indian cricketer Jhulan Goswami.
---
About The Author
Sanchi Gupta is your ultimate Bollywood buff. She traded in her finance and HR degree for the glitz and
...
Read more
Top Comments
There are no comments in this article yet. Be first to post one!