15 Football Movies That Score Big on the Silver Screen: From 80 For Brady to Safety
Here are 15 top football movies featuring the greatest characters like Bobby Boucher, Rudy, and even the talented Air Bud. Get ready for an exciting list of the best football movies ever made.
Updated on Sep 08, 2023 | 11:17 PM IST | 139.5K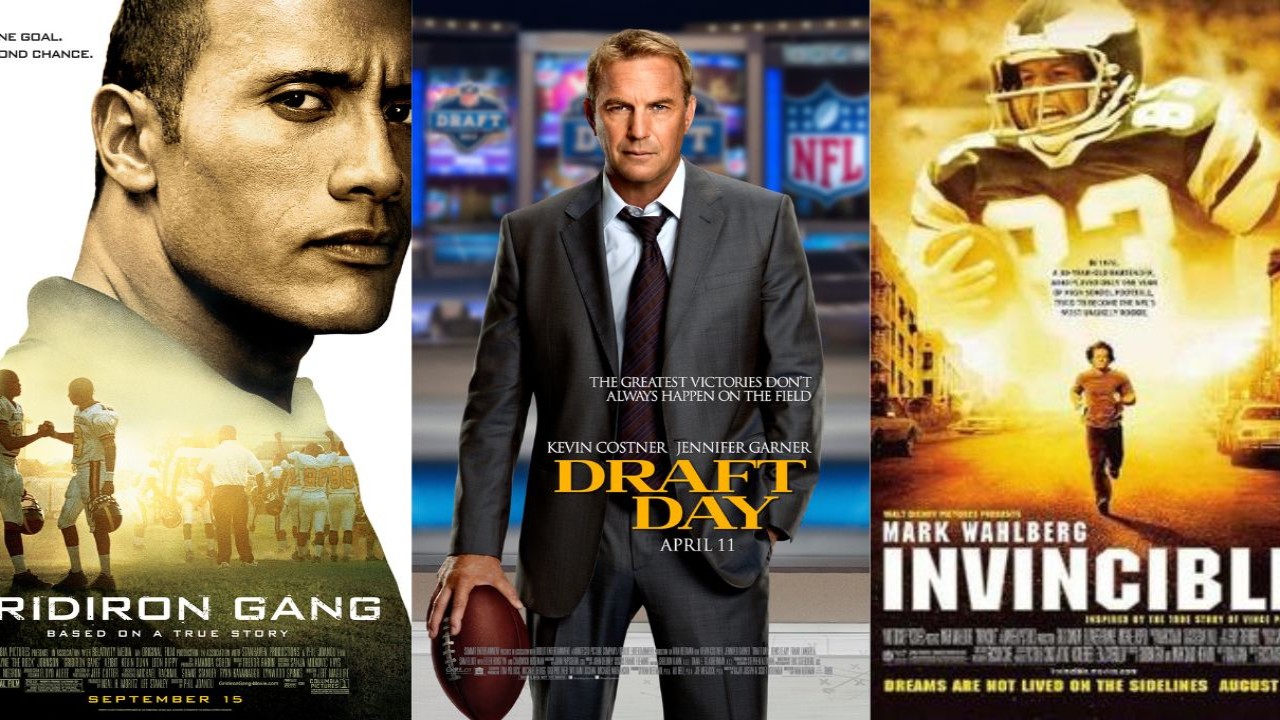 Football, a uniquely American sport, has inspired numerous films that capture its excitement and drama. From funny Adam Sandler comedies like "The Waterboy" to heartwarming football dramas like "Friday Night Lights," Hollywood has celebrated this beloved game.
Some films will make you laugh, like "Air Bud: Golden Receiver," where a dog joins the team. Others will touch your heart, bringing tears to your eyes. Football movies range from feel-good, crowd-pleasers that make you cheer to insightful glimpses into the business and drama surrounding the sport.
So, whether you're watching at the stadium or from the comfort of your home, these football movies are sure to entertain and captivate you. So, here are some of the best football movies ever made!
1. 80 For Brady
Genre: Comedy/Sport
Star Cast: Lily Tomlin, Jane Fonda, Rita Moreno, Sally Field, Tom Brady
Director: Kyle Marvin
Writer: Kyle Marvin
Run time: 1h 38m
Year of release: 2023
OTT Platform: Amazon Prime
IMDb rating: 5.8/10
80 For Brady is a heartwarming movie about four elderly women who are huge fans of Tom Brady, the football star. They have an amazing dream: to see him play in the 2017 Super Bowl. The film stars Rita Moreno, Jane Fonda, Lily Tomlin, and Sally Field, portraying lifelong friends who are determined to make their dreams come true, no matter what it takes.
This movie is based on the inspiring true story of four best friends who are die-hard New England Patriots fans. They embark on a life-changing journey to Super Bowl LI, just to witness their hero, Tom Brady, in action. The story unfolds with lots of excitement and chaos as they navigate through the thrilling atmosphere of the biggest sporting event in the country.
2. Draft Day
Genre: Sport/Drama
Star Cast: Kevin Costner, Chadwick Boseman, Jennifer Garner, Frank Langella, Chris Berman
Director: Ivan Reitman
Writer: Ivan Reitman
Run time: 1h 50m
Year of release: 2014
OTT Platform: Amazon Prime
IMDb rating: 6.8/10
"Draft Day" is an American football movie centered on the Cleveland Browns' General Manager. The story unfolds in the hours before the NFL Draft, bringing forth turbulent drama, complex relationships, and chaotic situations. As the clock ticks, the GM faces tough decisions that will shape the team's future. Will he overcome challenges and find success? The movie offers a gripping portrayal of the high-stakes world of professional football, where pressure and emotions run high. With its compelling storyline and turbulent events, "Draft Day" is a must-watch for sports enthusiasts and moviegoers alike. Get ready for a rollercoaster ride of emotions as the draft unfolds.
3. Safety
Genre: Sport/Drama
Star Cast: Jay Reeves, Javien Jackson, Thaddeus J. Mixson, Corinne Foxx, Matthew Glave
Director: Reginald Hudlin
Writer: Reginald Hudlin
Run time: 2h 2m
Year of release: 2020
OTT Platform: Hotstar
IMDb rating: 6.8/10
"Safety" (2020) is a moving drama based on the true story of Ray McElrathbey, a former Clemson University football safety. Despite tough situations, Ray's determination leads him to overcome numerous challenges and achieve success. This empowering film showcases his unwavering dedication and triumph over adversity. With Jay Reeves portraying the inspiring lead, "Safety" captures the heartwarming journey of a young man's resilience and persistence. This heartfelt story resonates with viewers as it unfolds the power of courage and the strength of the human spirit.
4. Paper Lion
Genre: Comedy/Sport
Star Cast: Alan Alda, Lauren Hutton, Joe Schmidt, Alex Karras, John Gordy
Director: Alex March
Writer: Alex March
Run time: 1h 47m
Year of release: 1968
OTT Platform: NA
IMDb rating: 6.2/10
"Paper Lion" is a 1968 comedy/sports film. It tells the story of a writer who joins a football team to experience the game from the inside. The film is humorous and filled with sports excitement. Released in America, it showcases the writer's comical adventures as he tries to fit in with the athletes and navigate the challenges of professional football. This entertaining movie provides a light-hearted look at the world of sports and will leave you laughing and cheering for the team. Enjoy the fun and thrills of "Paper Lion" as it takes you on a unique football journey!
5. Invincible
Genre: Sport/Drama
Star Cast: Mark Wahlberg, Greg Kinnear, Elizabeth Banks, Kevin Conway, Michael Rispoli
Director: Ericson Core
Writer: Ericson Core
Run time: 1h 45m
Year of release: 2006
OTT Platform: Hotstar
IMDb rating: 7/10
"Invincible" is a sports drama based on a true story. The film follows Vince Papale, a bartender, who gets a chance to play for the Philadelphia Eagles football team. Despite facing challenges, he proves his talent and determination. The film showcases his journey from an ordinary guy to an NFL player, inspiring audiences with his perseverance and passion. With compelling performances and an uplifting storyline, "Invincible" captivates and motivates viewers, reminding them that dreams can come true with hard work and belief in oneself. It's a heartwarming and triumphant film that leaves a lasting impression.
6. Fantasy Football
Genre: Thriller/Sports
Star Cast: Marsai Martin, Estella Kahiha, Rudie Bolton, Omari Hardwick, Kelly Rowland
Director: Anton Cropper
Writer: Anton Cropper
Run time: 1h 38m
Year of release: 2022
OTT Platform: NA
IMDb rating: 5.9/10
Fantasy Football is a heartwarming father-daughter sports fantasy. Callie A. Coleman (Marsai Martin) discovers she can magically control her dad Bobby (Omari Hardwick) on the football field in "Madden NFL 23." Bobby goes from struggling to becoming a star running back for the Atlanta Falcons, alongside his wife Keisha (Kelly Rowland). They keep the magic a secret as they navigate newfound success and the NFL Playoffs. Meanwhile, Callie must balance her commitment to her robotics team and her friends. Together, they learn the true meaning of family and face the highs and lows of their extraordinary journey.
7. Air Bud: Golden Receiver
Genre: Family/Comedy
Star Cast: Kevin Zegers, Cynthia Stevenson, Tim Conway, Dick Martin, Gregory Harrison
Director: Richard Martin
Writer: Richard Martin
Run time: 1h 30m
Year of release: 1988
OTT Platform: NA
IMDb rating: 4.5/10
Air Bud: Golden Receiver, released in 1998, is a sports comedy directed by Richard Martin. It serves as the sequel to Air Bud and was filmed in Vancouver, British Columbia, Canada. The movie is the final one in the Air Bud series to be shown in theatres. The story follows Buddy, the talented golden retriever, as he showcases his amazing sports skills, this time in football. With its amusing and heartwarming plot, the film is sure to entertain audiences of all ages.
8. Undefeated
Genre: Documentary/Sport
Star Cast: Bill Courtney, O.C. Brown, Montrail 'Money' Brown
Director: Daniel Lindsay, T. J. Martin
Writer: Daniel Lindsay, T. J. Martin
Run time: 1h 53m
Year of release: 2011
OTT Platform: NA
IMDb rating: 7.7/10
"Undefeated" is a 2011 documentary about the Manassas Tigers football team. They faced challenges due to lack of funds and resources, often serving as practice opponents for better-off schools. But with Coach Bill Courtney's guidance, their luck changed. He transformed the team's destiny, leading them to victory. The film showcases their inspiring journey from underprivileged to undefeated, offering a heartwarming story of determination and triumph in the face of adversity.
9. The Game Plan
Genre: Comedy/Family
Star Cast: Dwayne Johnson, Madison Pettis, Kyra Sedgwick, Roselyn Sanchez, Morris Chestnut, Hayes MacArthur, Brian White, Jamal Duff.
Director: Andy Fickman
Writer: Andy Fickman
Run time: 1h 50m
Year of release: 2007
OTT Platform: Hotstar
IMDb rating: 6.4/10
The Game Plan (2007) is a heartwarming American sports family comedy directed by Andy Fickman. Dwayne "The Rock" Johnson stars as Joe Kingman, a conceited athlete at the peak of his career. His life takes an unexpected turn when he discovers he has a young daughter, thrusting him into the challenges of fatherhood. Balancing work and family becomes Joe's new journey, filled with humorous and touching moments. Madison Pettis and Kyra Sedgwick co-star in this delightful film that reminds us about the importance of family bonds and finding a balance between our ambitions and loved ones. Get ready for laughter and love in this enjoyable family flick.
10. Gridiron Gang
Genre: Sport/Drama
Star Cast: Dwayne Johnson, Xzibit, Kevin Dunn, Leon Rippy, L. Scott Caldwell
Director: Phil Joanou
Writer: Phil Joanou
Run time: 2h 5m
Year of release: 2006
OTT Platform: Netflix
IMDb rating: 7.1/10
"Gridiron Gang" is a 2006 sports drama directed by Phil Joanou and featuring Dwayne Johnson, Xzibit, L. Scott Caldwell, and Kevin Dunn. It's based on the real-life story of the 1990 Kilpatrick Mustangs. The movie was released on September 15, 2006, in the United States. Dwayne Johnson plays a coach who helps troubled teens through football. The story is inspiring and showcases the team's struggles and triumphs on and off the field. With its powerful performances and gripping plot, "Gridiron Gang" delivers an uplifting message about the transformative power of sports and mentorship.
11. Everybody's All-American
Genre: Drama/Romance
Star Cast: Jessica Lange, Dennis Quaid, Timothy Hutton, John Goodman, Carl Lumbly
Director: Taylor Hackford
Writer: Taylor Hackford
Run time: 2h 7m
Year of release: 1988
OTT Platform: NA
IMDb rating: 6.2/10
"Everybody's All-American," a 1988 sports drama, also known as "When I Fall in Love," was directed by Taylor Hackford. It's based on Frank Deford's 1981 novel. The movie follows the life of a former college football hero, Gavin Grey. Warner Bros. released it internationally. The story explores the challenges and triumphs of an athlete's life after the glory days. With themes of love, fame, and ambition, the film takes audiences on an emotional journey through the ups and downs of sports stardom. "Everybody's All-American" is a compelling and heartfelt tale that captivates viewers with its engaging storytelling and performances.
12. The Blind Side
Genre: Sport/Drama
Star Cast: Quinton Aaron, Sandra Bullock, Tim McGraw
Director: John Lee Hancock
Writer: John Lee Hancock
Run time: 2h 9m
Year of release: 2009
OTT Platform: Netflix
IMDb rating: 7.6/10
"The Blind Side" is based on a true story. The story is about Michael Oher. He's a homeless teenager. Leigh Anne Tuohy, a kind-hearted woman, takes him in. She helps him and gives him a loving family. Michael's life changes for the better. He became a successful football player. The film shows how love and support can make a big difference in someone's life. It's a heartwarming and inspiring tale. The Blind Side teaches us about compassion and the power of giving people a chance.
13. Little Giants
Genre: Sport/Comedy
Star Cast: Rick Moranis, Ed O'Neill, Shawna Waldron, Devon Sawa
Director: Duwayne Dunham
Writer: Duwayne Dunham
Run time: 1h 47m
Year of release: 1994
OTT Platform: Amazon Prime
IMDb rating: 6.4/10
"Little Giants" is a 1994 film. It's a family sports comedy. The story follows a group of kids who form a football team. They're not as big or skilled as the rival team, but they have determination. The team is led by two siblings, Becky and Danny. They have different coaching styles. Throughout the film, the kids face challenges and learn valuable life lessons. It's a heartwarming and funny movie suitable for all ages. The film teaches the importance of teamwork and believing in yourself. Overall, "Little Giants" is an enjoyable and inspiring watch.
14. Necessary Roughness
Genre: Sport/Comedy
Star Cast: Callie Thorne, Scott Cohen, Mehcad Brooks, Marc Blucas, Hannah Marks
Director: Stan Dragoti
Writer: Stan Dragoti
Run time: 1h 48m
Year of release: 1991
OTT Platform: Amazon Prime
IMDb rating: 6.2/10
"Necessary Roughness" is a 1991 American sports comedy film, directed by Stan Dragoti. The cast includes Scott Bakula, Héctor Elizondo, Robert Loggia, and Harley Jane Kozak, along with Larry Miller, Sinbad, Jason Bateman, Kathy Ireland, Rob Schneider, and Fred Dalton Thompson. The movie follows a college football team facing challenges and overcoming them with humor and determination. With a star-studded lineup, it promises lots of laughs and feel-good moments. Directed by Dragoti, it marks his final film. "Necessary Roughness" delivers an enjoyable and entertaining experience for sports and comedy enthusiasts.
15. North Dallas Forty
Genre: Sport/Drama
Star Cast: Nick Nolte, Charles Durning, Mac Davis, Dayle Haddon, Bo Svenson
Director: Ted Kotcheff
Writer: Peter Gent
Run time: 1h 59m
Year of release: 1979
OTT Platform: NA
IMDb rating: 6.9/10
"North Dallas Forty" is a 1979 sports film with Nick Nolte, Mac Davis, and G. D. Spradlin. It's about American pro football in the late '70s. The movie, directed by Ted Kotcheff, is based on Peter Gent's popular 1973 novel. The story delves into the indulgent world of pro football, following the lives of players in that era. Nick Nolte stars in a captivating performance. The movie showcases the glitz and excess of the sport, bringing to light the struggles and challenges faced by the players. It remains a classic portrayal of the football scene from that time.
Also read: Must-Watch Guy Ritchie Movies: Rated From Best to Worst
FAQs
What are some popular football movies?
Remember the Titans, Rudy, The Blind Side, Friday Night Lights, and Any Given Sunday.
---
Are there any comedy football movies?
Yes, The Waterboy starring Adam Sandler is a popular football comedy film.
---
What is the highest-grossing football movie of all time?
The Blind Side holds the record as the highest-grossing football movie, earning over $300 million worldwide.
---
About The Author
Introducing Khushi Srivastava, an aspiring and enterprising content writer with a passion for weaving captivating stories through the
...
Read more
Top Comments
There are no comments in this article yet. Be first to post one!